These cassava flour cookies are soft and chewy, just like you'd expect from a classic chocolate chip cookie BUT without the grains, gluten and dairy. Of the friends I've shared them with, everyone has said they can't even tell the difference!
Product brands I recommend for this recipe
For consistency, these are the product brands that I use and recommend for this recipe. Feel free to use different brand names for the ingredients in this recipe, or check the recipe substitutions or variations section below if you want to swap some of the ingredients out.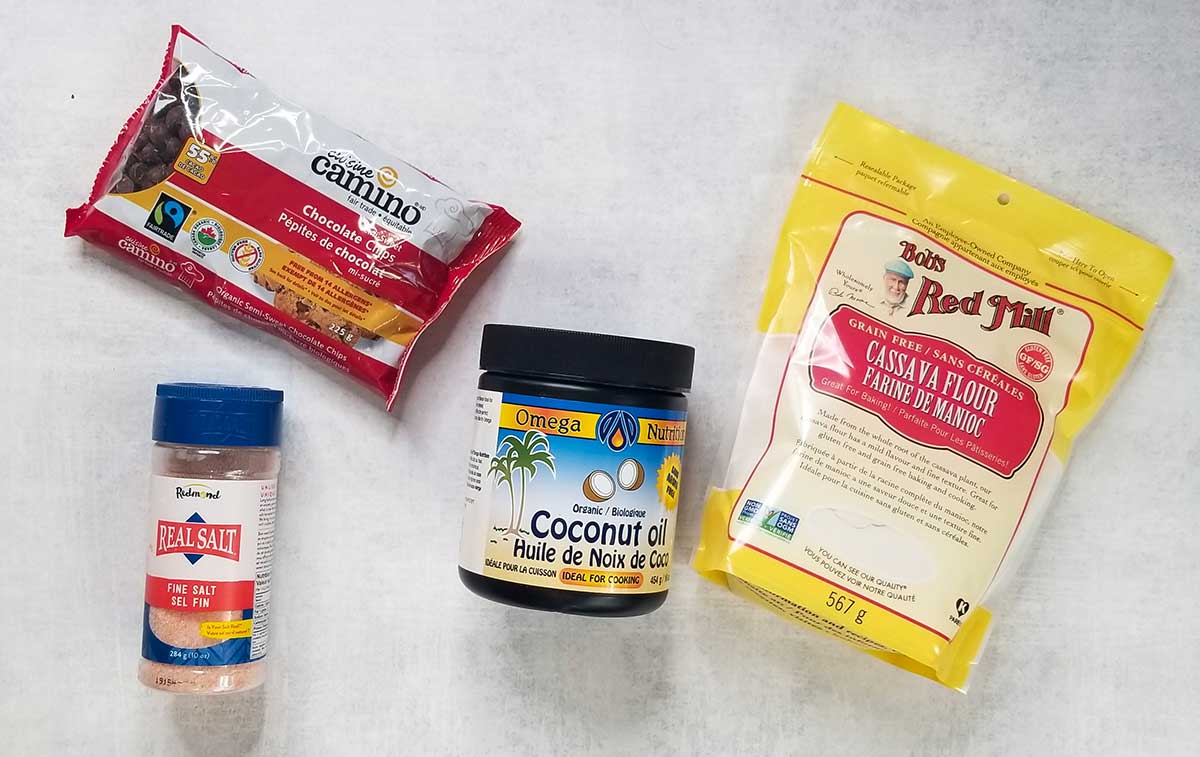 Equipment you will need for this recipe
For this recipe, I use a KitchenAid stand mixer. This stand mixer is one of the best investments we have ever made! We use it for practically everything. Forget tiring out your arm by constantly having to hand mix everything. It also comes with a number of attachments and you can buy additional attachments. We have even made pasta with it!
Recipe ingredient substitutions
Cassava flour substitutions: If you can't find Bob's Red Mill cassava flour, you can also use Otto's cassava flour. If you don't have or can't find cassava flour, you can swap it out with a gluten free or grain-free flour blend, coconut flour, tapioca flour / tapioca starch, or white rice flour. Consult the inter-webs first though because not all flours substitute 1-to-1. There are a lot of great substitution guides online!
Coconut oil substitutions: I suggest using Omega nutrition coconut oil because it is essentially flavorless and makes a fantastic substitution for seed or vegetable based oils. You can also use other coconut oils but just be aware that you may be able to taste the flavor of coconut in your cookies if you use a full-flavored one. If you prefer using butter, you can use vegan butter or regular cows milk butter if you tolerate dairy. Either way just make sure it's melted.
Brown sugar substitutions: Swap it out for granulated cane sugar. If you prefer to use a more natural sugar, you can swap out the brown sugar for coconut palm sugar which is actually quite similar in flavor and texture. I don't suggest using liquid sweeteners such as pure maple syrup or honey because it will throw off the wet to dry ingredients ratio and will affect the end result.
Egg substitutions: If you are allergic to eggs or want to make this recipe vegan, swap out the two eggs for two egg replacements such as flax, chia or gelatin eggs.
Chocolate chips substitutions: Sub these out for dark chocolate chips, milk chocolate chips, or white chocolate chips.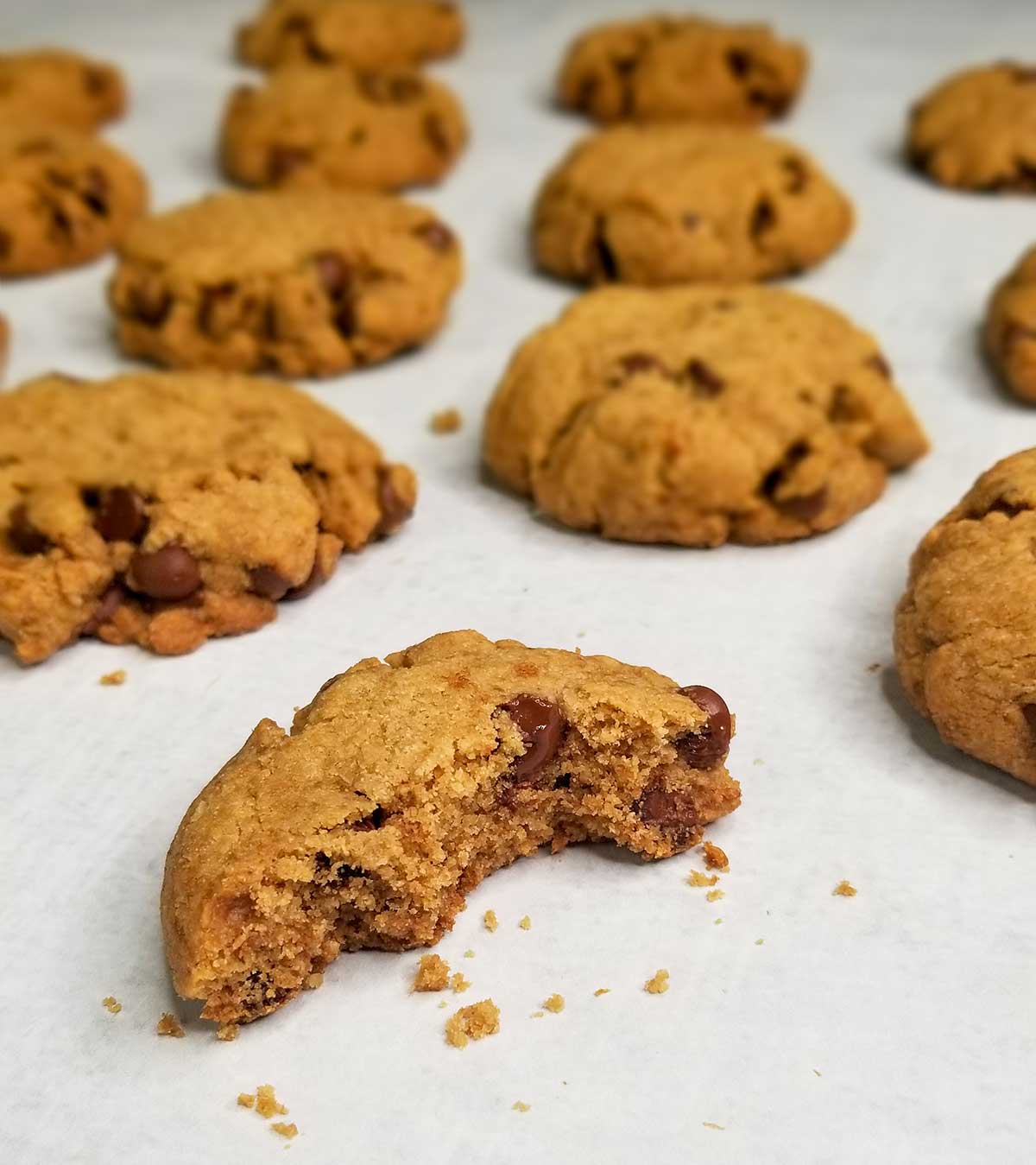 Dietary modifications
Make this recipe lower carb: Swap out the flour for a low carb alternative like almond flour and swap the sugar for swerve (erythritol) or stevia. Make sure to read the instructions on your sugar substitute of choice as they aren't a 1:1 swap.
Make this recipe vegan: Swap the egg out for a flax egg. To do this, combine 1 tbsp flax and 2.5 tbsp of water and let sit for 5 minutes until thickened. The best part about making them vegan is you can eat the raw cookie dough or turn it into cookie dough balls!
Pro tips for this recipe
Make sure the coconut oil or butter is fully melted: One time when I made this recipe I did not melt the coconut oil completely, and the cookies ended up being a bit dry and crumbly (even though they still tasted amazing). Using melted coconut oil or butter will ensure your cookies turn out super soft and chewy, and that the consistency is just as good as the taste.
Make sure your cookies are uniformly shaped: Roll the dough for each cookie in your hands and make a small uniform sized ball. If you've got a cookie scoop, now's the time to use it! Place each ball on the parchment paper lined baking sheet and press down on each ball to flatten the dough out a bit. This will ensure your cookies are the same size and shape when they come out of the oven.
Recipe pairing ideas
These paleo chocolate chip cookies taste amazing served with a nice glass of dairy free milk. Oat milk is my favourite, but I imagine it would also taste fantastic with coconut milk, almond milk or cashew milk.
FAQS
How do you make cookies more moist and chewy?
The trick to making cookies more moist and chewy is to make sure they have a sufficient amount of fat and liquids. If your cookie dough seems dry, you will get a harder, more crumbly cookie. It's also important to not overcook your cookies. You'll want to take them out of the oven when they still look a bit soft. They always harden up a bit once they cool.
How do you make cookies with crispy edges?
Simple! Just cook them for 3-5 minutes longer than the recipe calls for!
Is cassava flour good for baking?
Cassava flour is excellent for baking because it is very similar in texture and starchiness to white flour.
Is cassava flour healthy?
Cassava flour is a healthy substitute to white flour because it's free of nuts, grains, wheat and gluten. This makes it an excellent alternative for people with food allergies and sensitivities. It is suitable for anyone following a paleo or autoimmune paleo diet. Learn more about the benefits of cassava flour.
Is cassava flour AIP approved?
Yes, cassava flour is AIP approved because it does not contain grains, wheat/gluten, or nuts. It is made from a starchy root vegetable called cassava (also known as yuca).
Can you swap cassava flour 1:1 with regular wheat flour?
Not exactly. 1 cup of white flour = roughly 3/4 cups of cassava flour. It does make a great substitute though because it is very similar in texture to white flour!
Tried the recipe?
Please leave me a rating and review below, and post a picture of the dish to Instagram and tag me at @foodsnfeels 🙌
Want more paleo recipes?
Check out my free 7 day paleo meal plan, and my other paleo recipes on the blog.
If you are looking for a bit more, I also offer a 1 month paleo meal plan and a paleo recipe book that comes with 140 recipes (35 for breakfast, 35 for lunch, 35 for dinner and 35 for snacks/desserts).
You might also like:
If you like this recipe, you might also like my other cassava flour recipes:
Or my other chocolate chip cookie recipes:
If you are looking for more, download one of my free seven day meal plans!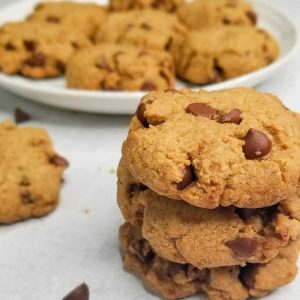 Paleo Cassava Flour Chocolate Chip Cookies (Soft & Chewy)
This recipe is also grain free, gluten-free, dairy free, soy free, and nut free.
Instructions
Preheat your oven to 325°F.

Combine all of the dry ingredients in your stand mixer (except the chocolate chips).

Sift dry ingredients together with a spoon or fork. You can do this in the stand mixer but the cassava flour may go flying since its so light!

Add all your remaining wet ingredients to the stand mixer bowl.

Mix on medium speed until smooth and there are no chunks remaining.

Pour in the chocolate chips last.

Quickly mix until they are evenly distributed in the dough.

Line your cookie sheets with parchment paper and scoop 18 portions of cookie dough onto the sheets.

Bake the cookies for roughly 18 minutes, checking after 15. Cookies will be starting to look golden brown around edges but will still appear a bit soft in the middle. They will firm up once cooled.

Store leftover cookies in an airtight container in the fridge.
Notes
Above in the blog post, I provide recipe ingredients substitutions, dietary modifications, and commonly asked questions. 
Nutrition
Calories:
234
kcal
Carbohydrates:
25.5
g
Protein:
1.4
g
Fat:
13.5
g
Saturated Fat:
9.7
g
Polyunsaturated Fat:
0.3
g
Monounsaturated Fat:
0.8
g
Cholesterol:
20.7
mg
Sodium:
122.8
mg
Potassium:
45
mg
Fiber:
1.3
g
Sugar:
15.3
g
Disclaimer: This recipe post contains Amazon affiliate links. This means that if you click on a link and make a purchase, I will receive a small commission (at no extra cost to you). This helps support me so that I can continue to put out high quality, free recipes for you guys! Thank you 😁🙌