These cookies are soft, chewy and dangerously good – just like classic chocolate chip cookies! It's the perfect recipe for everyone, regardless of whether you have a gluten sensitivity or not.
Although, if you are celiac or have a gluten sensitivity, make sure you get certified gluten-free oat flour that is labelled as such. Oats are often cross contaminated.
If you can't find store-bought oat flour, you can make your own homemade oat flour using a high-speed blender and oatmeal.
If you make these into vegan cookies (described below), you can eat the oat flour cookie dough uncooked as cookie dough balls. If you're like me, you're always looking for great recipes where you can scoop dough out of the bowl and eat it raw!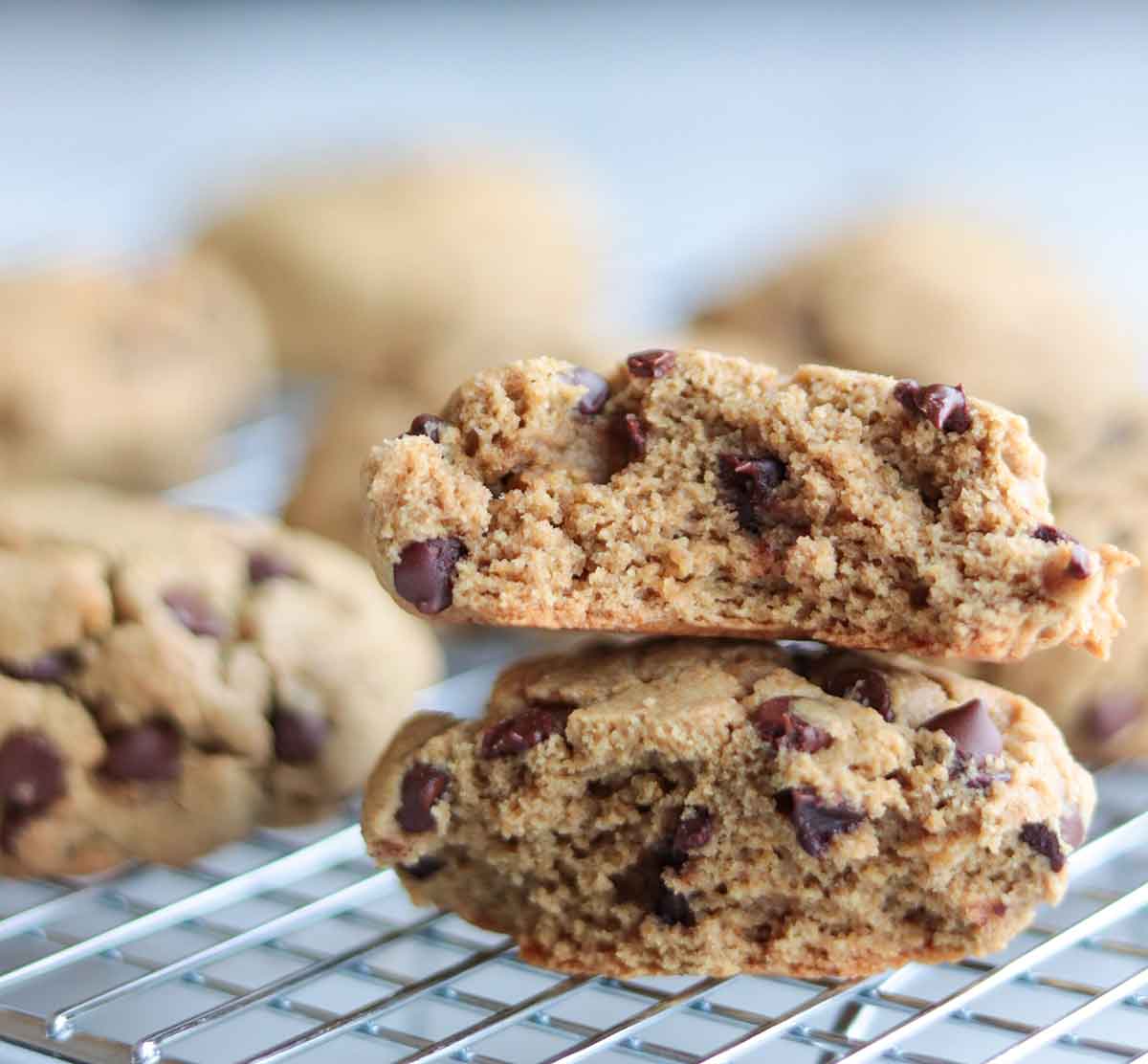 Recipes substitutions
Oat flour substitutions: In this recipe I call for all oat flour, but you can split it between oat flour and rolled oats. For example, use 1 cup oat flour and 1 cup rolled oats. I have never tried this recipe with other gf flours but presumably you could also use a gluten-free flour mixture in place of the oat flour.
Maple flakes substitutions: If you aren't able to find maple flakes (I used the Rogers brand maple flakes), swap it out for granulated maple sugar, coconut sugar, regular white sugar or light brown sugar. I wouldn't recommend swapping the maple flakes out for liquid maple syrup because that will change the wet to dry ingredient ratio and the recipe may not turn out as intended.
Dairy free chocolate chip substitutions: I generally buy the Enjoy Life brand which has chocolate chips or chocolate chunks. However, you can use any type of chocolate chip you'd like.
Coconut oil substitutions: Instead of using coconut oil, you can also use vegan butter, regular unsalted butter or any other cooking oil of choice. If you use coconut oil or butter, be sure to melt it for making this recipe.
Vanilla extract substitutions: Instead of liquid vanilla extract, you can also use vanilla bean paste or powdered vanilla bean.
Egg substitutions: Instead of using regular eggs, feel free to use an egg substitute such as chia, flax or gelatin eggs.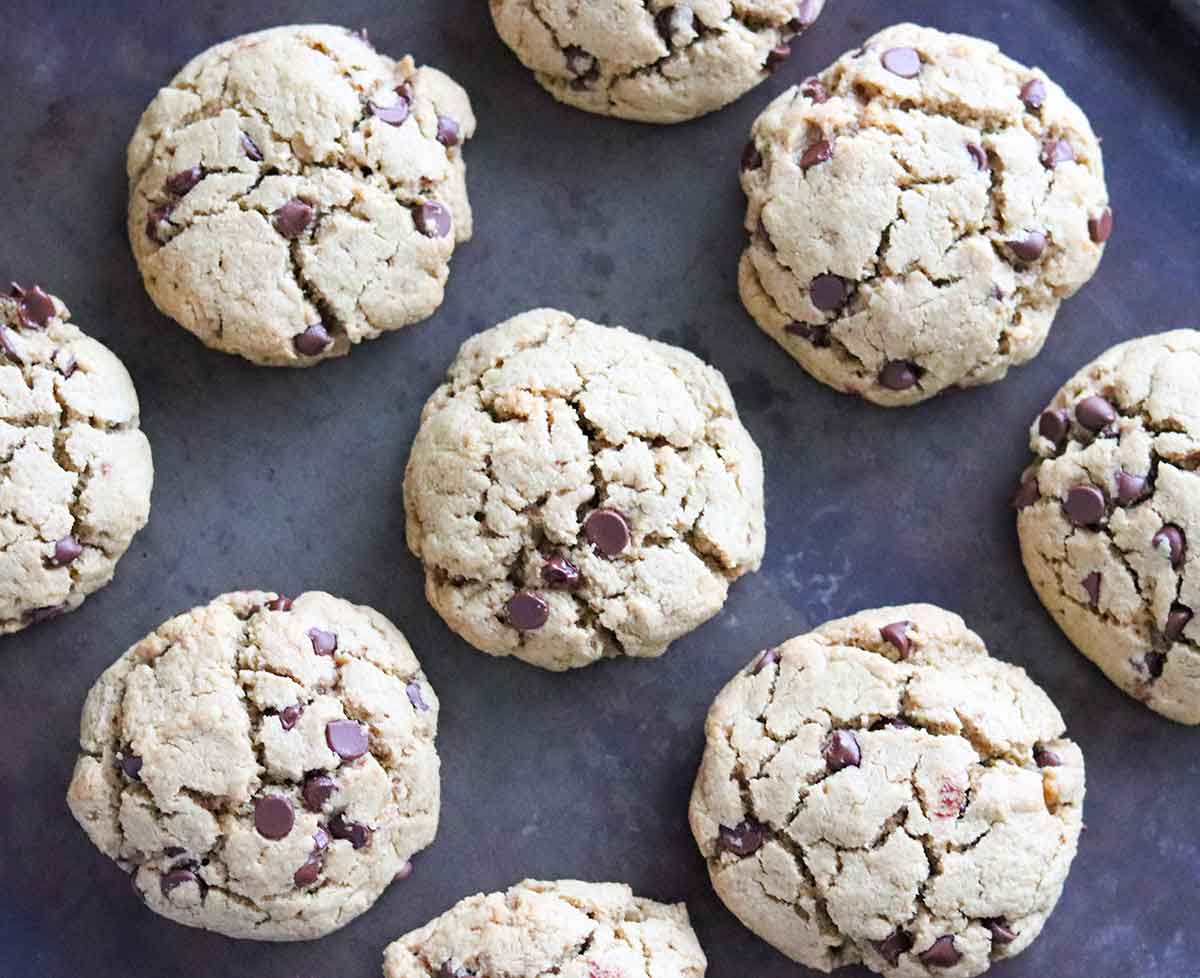 Dietary modifications for this recipe
Make this recipe vegan: Omit the egg and replace it with an egg substitute such as chia, flax egg or gelatin eggs.
Make this recipe lower sugar: Instead of using maple flakes or sugar for this recipe, swap it out for a lower calorie/carb granulated sweetener such as Swerve.
Pro tips for this recipe:
Make sure you melt the coconut oil
For this recipe, it is super important that you melt the coconut oil (or butter) before adding it to your mixer. Otherwise, it can be hard to break down/mix in and it will change the consistency of the dough and make it more dry and crumbly.
Don't overcook these cookies
The trick to soft and chewy cookies is to not overcook them. Take them out when they start browning around the edges, even if they still appear a bit soft. They will firm up once cooled, but will still be soft and chewy. If you cook your cookies too long, they get hard and crumbly once cooled.
Recipe FAQs
How long do these cookies last in the fridge?
I recommend eating these cookies up within 1 week if you are storing them in the fridge. If you need them to keep longer, freeze them in a sealed container or bag for up to 6 months.
Can I freeze these cookies?
These cookies freeze really well. Store them in a sealed container or bag for up to 6 months. If you have leftover cookie dough you can use a measuring cup or kitchen scale to portion out raw cookies and freeze them in an airtight container. This frozen cookie dough can be stored in the freezer for up to 6 months. Let's be honest though, you're not going to wait that long to eat these again.
Tried my recipe for maple oat chocolate chip cookies?
Please leave me a rating and review below, and post a picture of the dish to Instagram and tag me at @foodsnfeels 🙌
You might also like:
If you liked this, you might also like my other chocolate chip cookie recipes:
Or my other oat flour recipes:
If you are looking for more, download one of my free seven day meal plans!
Maple Oat Flour Chocolate Chip Cookies (Gluten Free)
These maple oat flour chocolate chip cookies are soft, chewy and dangerously good.
Instructions
Preheat your oven to 350 Fahrenheit.

Mix all of your dry ingredients together in a stand mixer or large bowl at medium speed.

Add all of your wet ingredients and mix thoroughly.

Finally, add your dark chocolate chips and stir until they are evenly mixed in.

Line a cookie sheet with a single layer of parchment paper.

Form your dough into 12 small balls and place evenly on the prepared baking sheet. Using your hand or a spoon/fork, press down slightly on each cookie to flatten it out a bit.

Bake cookies at 350°F for 12 to 15 minutes, starting to check after 10. Your cookies will still appear a bit soft when you take them out, but will harden up once cooled. Cool on a cooling rack. If you want crispier cookies, or just crispy edges, add an extra 5 minutes on to the cook time.

Keep these cookies in the fridge for up to one week, or in the freezer for longer.
Notes
Above in the blog post I provide recipe ingredient substitutions as well as dietary modifications.
In the video I also provide step-by-step instructions to make this recipe.
Nutrition
Calories:
220
kcal
Carbohydrates:
21
g
Protein:
4.2
g
Fat:
13
g
Saturated Fat:
9
g
Polyunsaturated Fat:
1
g
Monounsaturated Fat:
1
g
Trans Fat:
0
g
Cholesterol:
31
mg
Sodium:
97
mg
Potassium:
82
mg
Fiber:
2.5
g
Sugar:
9
g
Disclaimer: This recipe post contains Amazon affiliate links. This means that if you click on a link and make a purchase, I will receive a small commission (at no extra cost to you). This helps support me so that I can continue to put out high quality, free recipes for you guys! Thank you 😁🙌