This cassava flour muffin recipe uses a combination of cassava and tiger nut flour that makes them light and fluffy, high in fiber and easy to digest. Cassava root is a tuber that grows in South America and Africa. It's a staple in those cuisines. It has almost no flavor but the flour is an excellent substitute for regular wheat flour. Fun fact: Cassava is the unrefined version of tapioca. It's just the whole root instead of just the starch. I make a lot of cassava flour recipes because I think it's one of the best tasting grain-free flours. I usually make a double batch and freeze them for later.
These muffins are paleo, gluten free, dairy free, and can be made AIP and vegan with the instructions I provide below.
This recipe can also be used as the base to make many different types of muffins: blueberry, cranberry, strawberry, lemon poppy seed, or whatever your heart desires! Make these into whatever muffins your whole family enjoys!
Recipe substitutions
Cassava flour substitutions: If you aren't able to access cassava flour, you could swap it out for a gluten-free flour mix. Because cassava absorbs a bit more liquids than regular gluten-free flour, you may need to up the quantity of gluten-free flour. Start with 2 cups though, and once you have added all dry and wet ingredients, determine whether your muffin batter is too wet. Muffin batter should be thinner than cookie batter but not as thin as say pancake batter. Other options include coconut flour or tapioca flour.
Tiger nut flour substitutions: If you want to make this recipe lower carb or aren't able to access tiger nut flour, swap it out for almond flour. This is the only other flour that is somewhat similar to tiger nut flour. You may have to adjust the quantities up or down though depending on how much liquid the almond flour absorbs.
Egg substitutions: Replace 2 eggs with 2 egg substitutes.
Coconut oil substitutions: The coconut oil in this recipe can be swapped out for any other cooking oil, vegan butter or even regular butter if you tolerate dairy.
Pure maple syrup substitutions: The maple syrup in this recipe can be swapped out for liquid honey or agave syrup. I don't suggest swapping it out for granulated sugars or coconut sugar, otherwise the liquid to dry ingredient ratio will be off. Another good option would be apple sauce if you don't want them too sweet. Just make sure to add less dairy free milk so that the batter isn't too runny.
Dairy free milk substitutions: For this recipe you can use any type of dairy free or non dairy free milk such as almond milk, coconut milk, cashew milk, oat milk, macadamia milk, or cows milk.
Vanilla extract substitutions: Instead of vanilla extract, you can also use vanilla bean powder, vanilla bean paste, or non alcohol based vanilla extract.
Raspberry substitutions: You can use fresh blueberries, strawberries, cranberries or any other berry for that matter. Frozen blueberries or other berries will also work.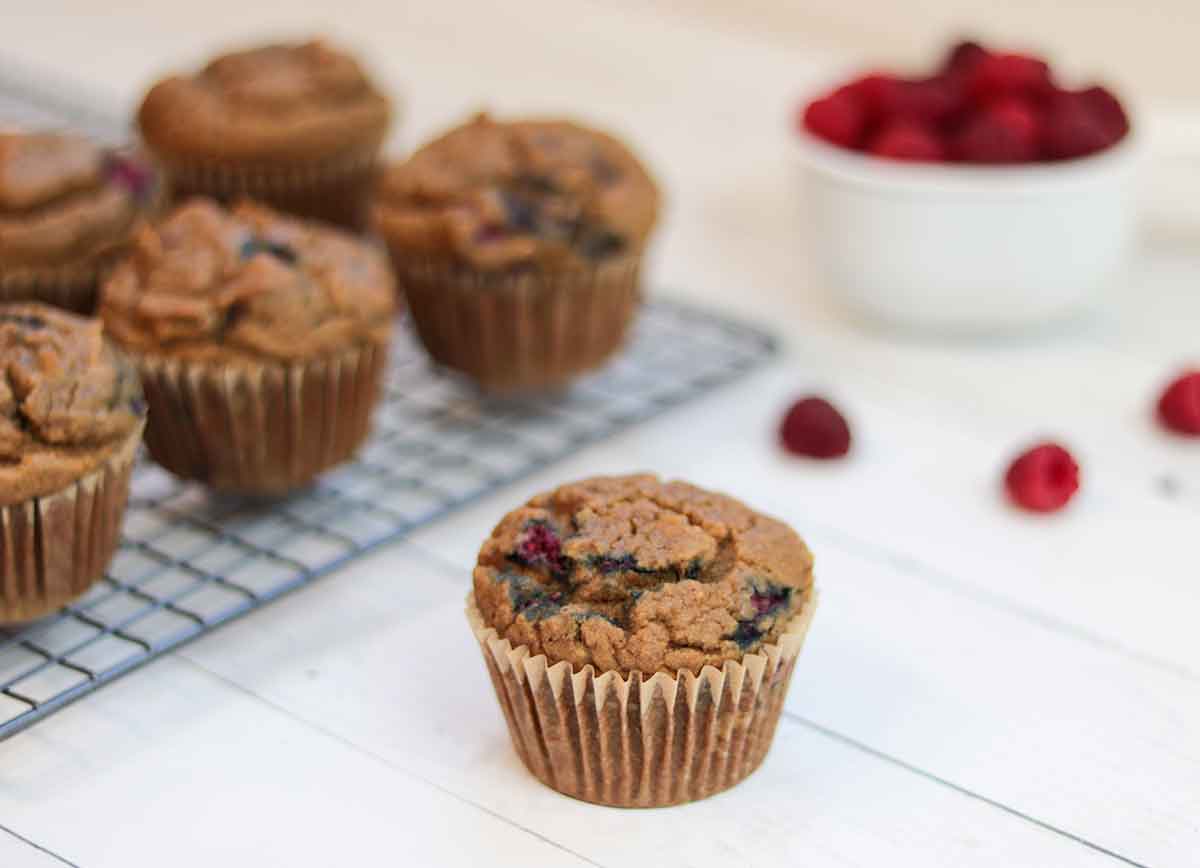 Recipe variations
Make this recipe AIP: Omit the eggs from this recipe and replace with gelatin based "eggs".
Make this recipe vegan: Replace 2 eggs with 2 vegan egg substitutes of your choice (chia or flax eggs).
Make these muffins different flavors: These gluten free raspberry muffins can be made with many different types of berries and flavours. Instead of raspberries, you can also use blueberries, cranberries, strawberries, raisins, chocolate chips, and anything else your heart desires!
Mashed bananas and pumpkin pie spice will also work if you want to change up the flavors.
Lemon juice also works well to add some additional zing.
This recipe is based on my lemon poppyseed muffin recipe which is also excellent.
Make this recipe lower sugar: Replace the maple syrup with a liquid sweetener such as stevia. Just make sure to add a bit more liquid to compensate and follow the directions on the package. Stevia and other sweeteners have different ratios for sweetness.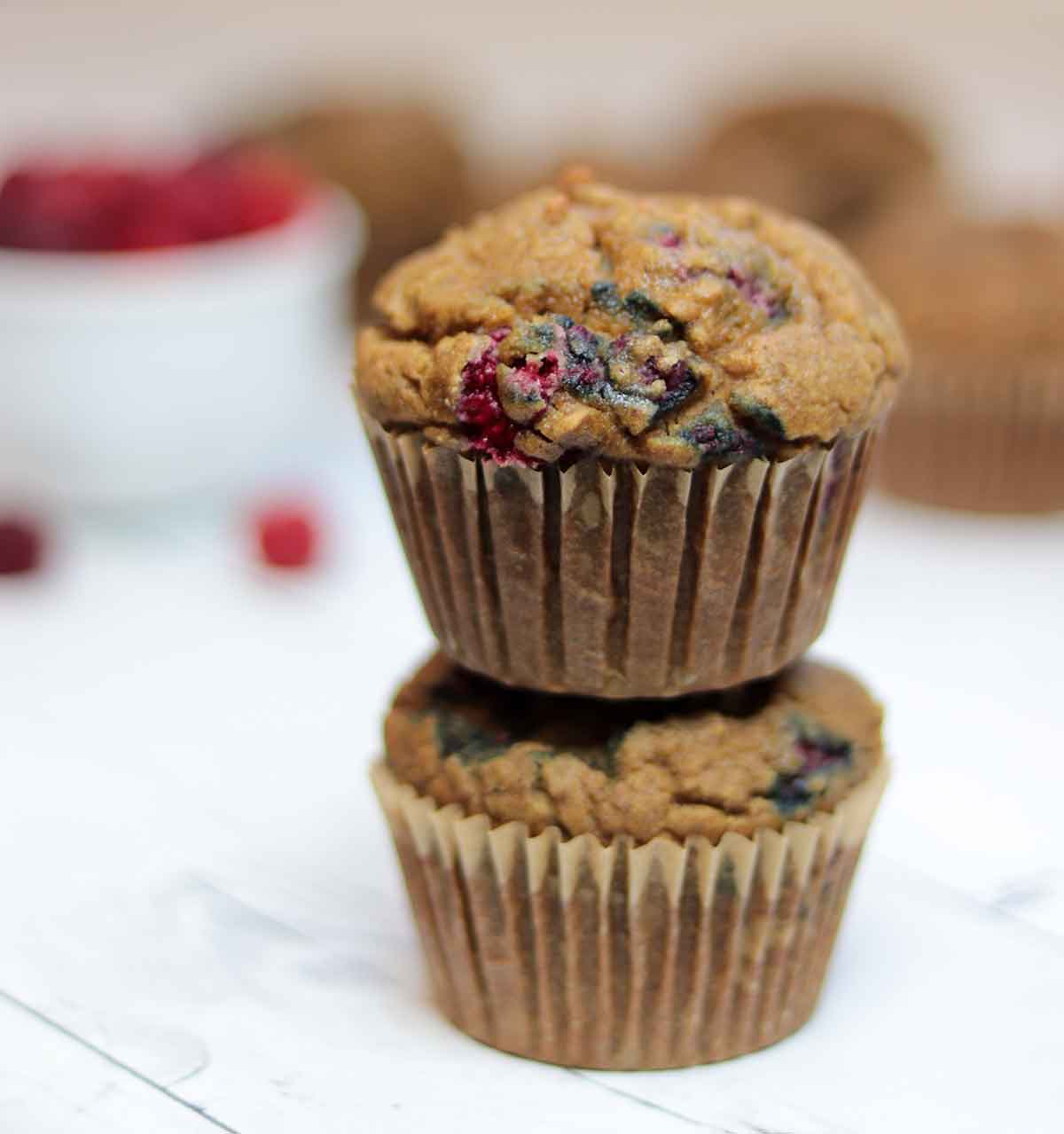 FAQ
Where can I find cassava flour? Bob's red mill cassava flour or Otto's cassava flour can be found at most of the big box stores but will also definitely be at your local natural health food store. You can also order it online using my link below in the ingredients section!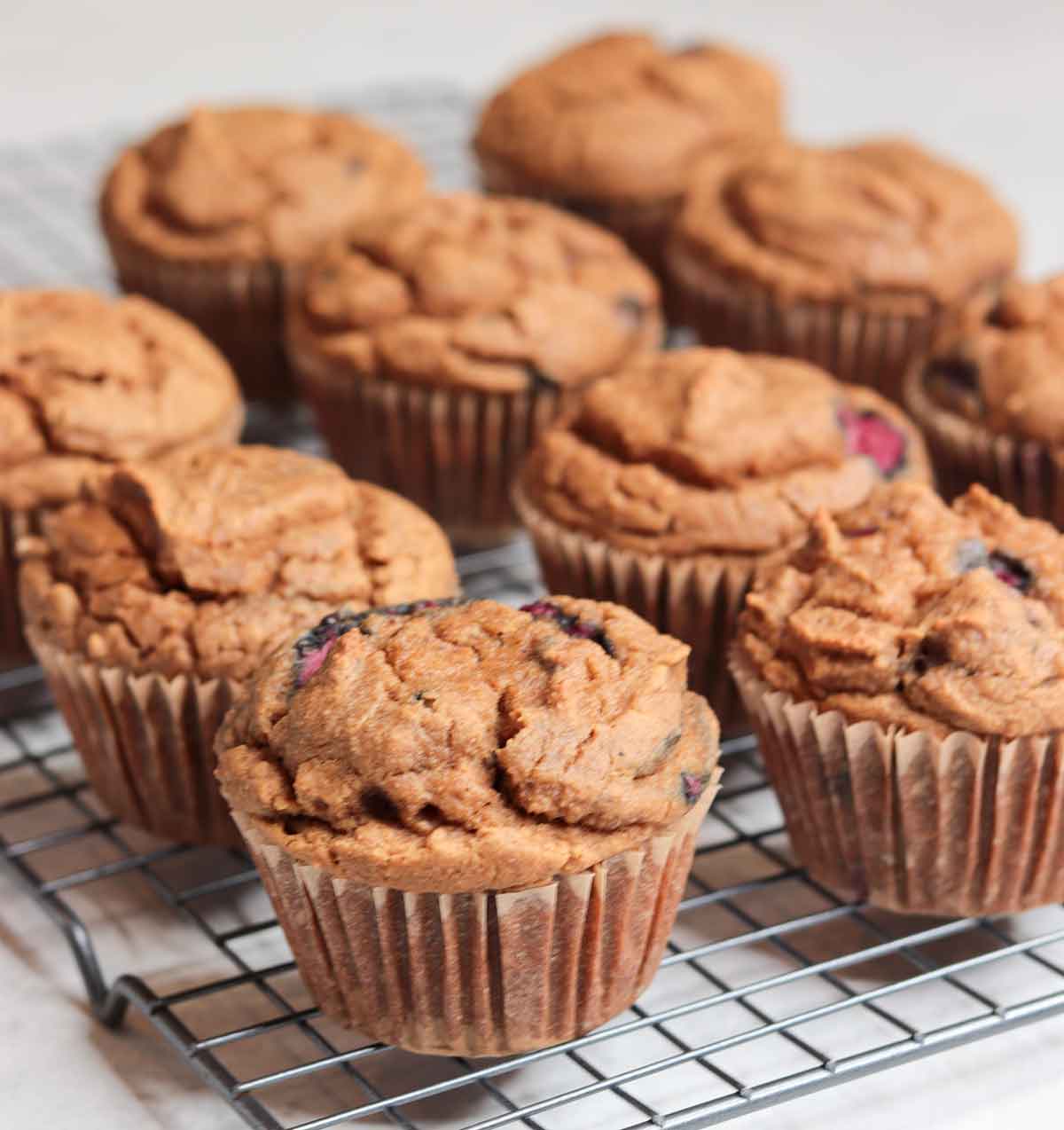 You might also like:
If you like this recipe, you might also like my other cassava flour recipes:
If you are looking for more, download my free 7 day paleo meal plan!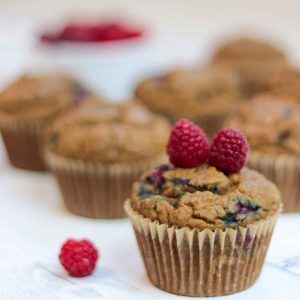 Raspberry Cassava Flour Muffins
They are paleo, gluten free, dairy free, and can be made AIP.
Instructions
Preheat your oven to 350 Fahrenheit.

In a large bowl or stand mixer, mix together all the dry ingredients.

Add your dairy free milk, maple syrup, vanilla and two eggs and mix thoroughly.

Once that is mixed, add your melted coconut oil while still continuing to mix. This will ensure your melted coconut oil does not harden when it comes into contact with colder ingredients.

Once all your dry and wet ingredients are mixed together thoroughly, remove your bowl from the mixer and add your fresh raspberries.

Using a spatula, gently fold your raspberries in until they are distributed evenly.

Line your muffin tin with 12 parchment muffin cups. Distribute the batter evenly amongst them using a small spoon.

Bake your muffins in your preheated oven for roughly 30 minutes or until a toothpick comes out clean.

Let cool to room temperature and enjoy these amazing gluten-free muffins. My personal favorite way to enjoy them is by cutting them in half and spreading some dairy free butter on each side. Yum!
Notes
In the blog post above, I provide suggestions for ingredient substitutions as well as recipe variations to make these gluten free raspberry muffins AIP and vegan.
Nutrition
Serving:
12
g
Calories:
275
kcal
Carbohydrates:
40.9
g
Protein:
2.7
g
Fat:
10.6
g
Saturated Fat:
5.3
g
Polyunsaturated Fat:
0.3
g
Monounsaturated Fat:
0.6
g
Trans Fat:
0
g
Cholesterol:
31
mg
Sodium:
244
mg
Potassium:
314
mg
Fiber:
9.1
g
Sugar:
12.6
g
Disclaimer: This recipe post contains Amazon affiliate links. This means that if you click on a link and make a purchase, I will receive a small commission (at no extra cost to you). This helps support me so that I can continue to put out high quality, free recipes for you guys! Thank you 😁🙌