These edible peanut butter chocolate chip cookie dough bites are super easy and fast to make, and are made with healthy, simple ingredients.
There is no added sugar other than a small amount in the chocolate chips, but they will still satisfy that cookie dough craving. And, they contain no milk, eggs or flour which makes them totally vegan and gluten-free!
Everyone likes eating raw cookie dough, but raw eggs can be a concern due to the potential for harmful bacteria. Rest assured, unlike regular cookie dough, these are totally safe to be eaten raw.
They can be stored in an airtight container in the fridge for up to 1 week, or much longer in the freezer. For that reason, these are great to prepare for snacks during the week.
Recipe ingredient substitutions
Rolled oat substitutes
Instead of rolled oats, you can use quick oats, oat groats, instant oats, or oat flour. You can even make your own homemade oat flour by blending it in your food processor!
Peanut butter substitutes
Instead of peanut butter, swap it out for cashew butter, almond butter, sunflower seed butter, hazelnut butter, pumpkin seed butter or any other seed butter of choice.
Or you can mix together peanut butter powder and a bit of unsalted butter (or vegan butter), coconut oil or a little bit of milk such as almond milk, oat milk, soy milk, coconut milk, or a couple tablespoons of heavy cream.
Vanilla extract substitutes
Instead of liquid vanilla extract, you can also use ground vanilla bean powder or vanilla bean paste.
Chocolate chip substitutes
I used vegan chocolate chips for this recipe, but you can also use regular chocolate chips. Or instead of using regular chocolate chips, you can use white chocolate chips, peanut butter chips, butterscotch chips, dark chocolate chips, or mini chocolate chips.
Salt substitutes
Feel free to omit the salt altogether, or use No Salt.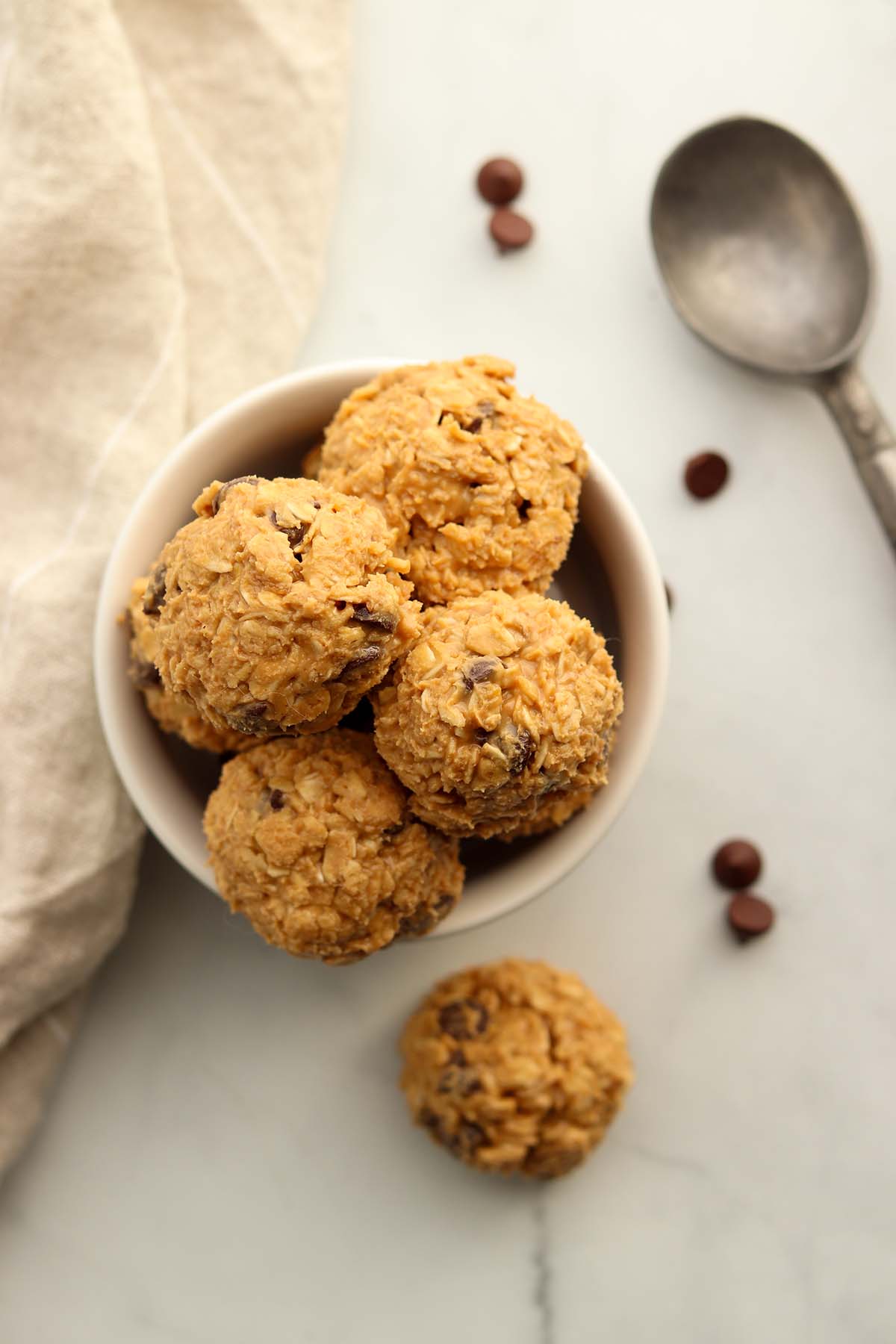 Ingredient additions
To make it taste more like traditional cookie dough, you can add additional ingredients such as flour, butter, sugar and baking soda. Feel free to mix and match ingredients in this recipe for the ultimate tasty treat!
Recipe variations
Sweeten it up
Although this edible cookie dough is made with no added sugar, it can be easily sweetened with a small amount of white sugar, brown sugar, coconut sugar, or a sugar-free granulated alternative such as Swerve.
I wouldn't suggest using liquid sweeteners such as maple syrup, agave or honey because the dough will end up being too wet and will not stick together.
However, if you want to use liquid sweetener, you can add a little bit of gluten-free flour, all-purpose flour, white rice flour, oat flour, cassava flour, almond flour, tiger nut flour, coconut flour, tapioca or arrowroot starch. This will firm the cookie dough balls up again. Add small amounts at a time to make sure that your cookie dough bites don't get too dry.
Add a bit of flour
If you find the cookie dough bites a bit too wet and sticky, consider adding a bit of your choice of flour.
Ditch the salt
If you are watching your salt levels, omit the salt from this recipe. There will likely already be a bit of salt in the peanut butter and chocolate chips.
Make just a single serving
If you just want enough to eat in one sitting, cut the recipe in half or in quarters.
Meal prep this recipe
If you want to make a lot of edible cookie dough for snacks during the week, double or triple the recipe! Then divide it out into individual glass containers and store it in the fridge or freezer. Take out as needed throughout the week!
Recipe pairings
This recipe pairs well with:
store-bought or homemade ice cream
a tall glass of regular or chocolate milk (or dairy free milk such as oat milk)
chocolate syrup
a drizzle of maple syrup
A dash of flaky sea salt
Storage tips
Store your cookie dough in the fridge for up to 1 week. You can simply cover it in plastic wrap, or put it in a sealed container.
I don't recommend keeping it at room temperature because it gets quite soft. I find it best served chilled.
You can also freeze it for much longer in an airtight container. Once you are ready to eat it, take it out and thaw it on the counter or in the fridge until it is completely thawed.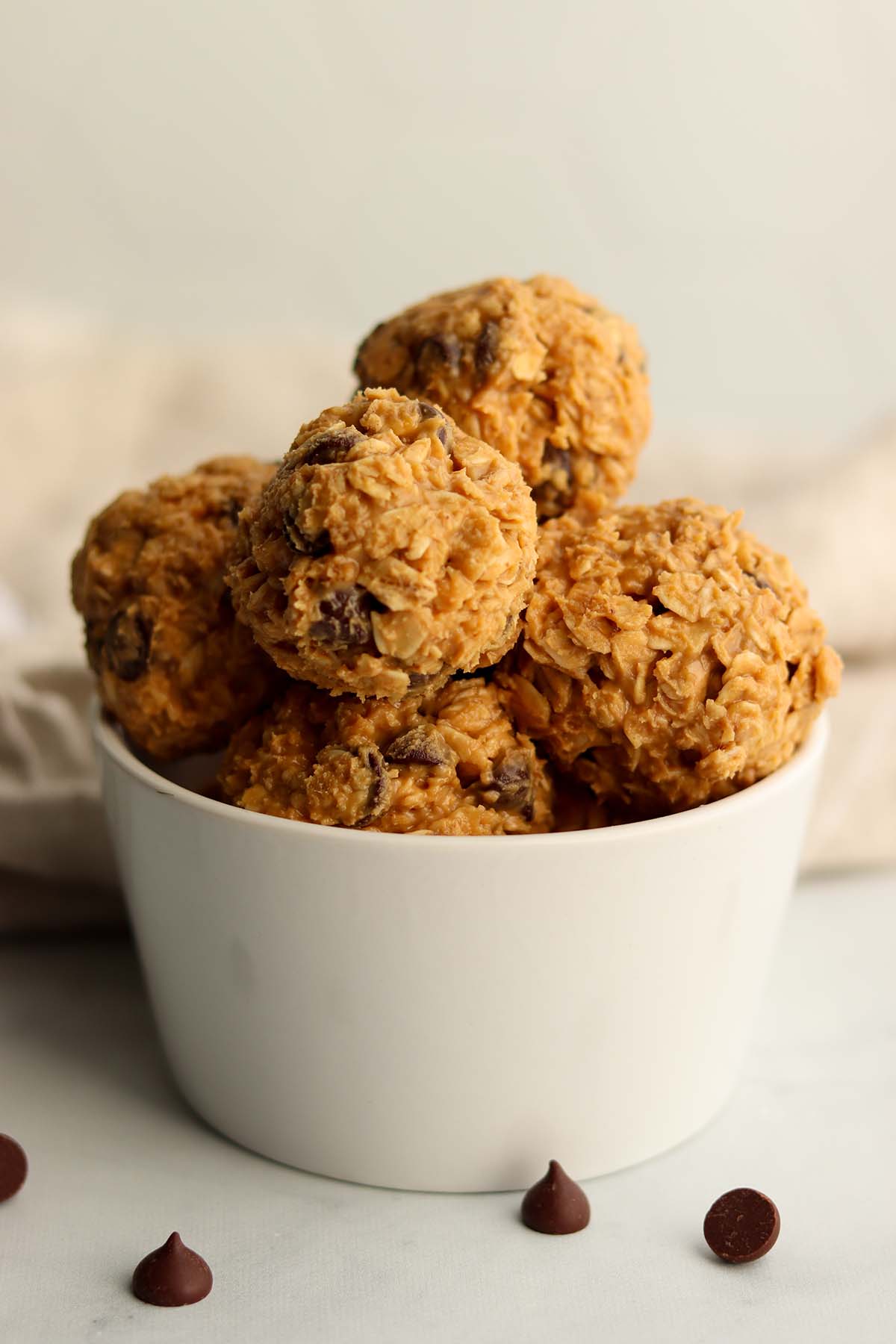 Tried my easy edible cookie dough recipe?
Please leave me a rating and review below, and post a picture of the dish to Instagram and tag me at @foodsnfeels 🙌
You might also like
If you liked this recipe, check out my chocolate chip cookies:
If you are looking for more, download one of my free seven day meal plans!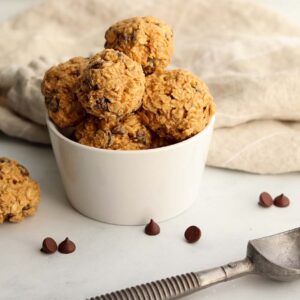 Healthy Edible Cookie Dough Recipe (Without Flour & Milk)
These edible peanut butter chocolate chip cookie dough bites are super easy and fast to make, and are made with healthy, simple ingredients. And, they contain no milk, eggs or flour which makes them totally vegan and gluten-free!
Ingredients
1 1/2

cups

rolled oats

1

cup

organic all-natural peanut butter

1

tsp

vanilla extract

1/4

tsp

salt

1/3

cup

vegan chocolate chips
Instructions
In the bowl of your stand mixer, mix together all of your wet ingredients including peanut butter and vanilla.

Then add the dry ingredients including the rolled oats and salt.

Mix thoroughly until everything is blended together.

Eat the raw dough with a spoon! 😂

Optional: roll the cookie dough into 12 small balls and place them on a parchment-lined baking sheet. Cool them in the fridge until they harden up a bit.
Notes
Above in the blog post I provide ingredient substitutions, recipe variations, and storage tips.
Nutrition
Calories:
216
kcal
Carbohydrates:
16.6
g
Protein:
7.8
g
Fat:
14.3
g
Saturated Fat:
3.5
g
Polyunsaturated Fat:
3.3
g
Monounsaturated Fat:
5.3
g
Trans Fat:
0
g
Cholesterol:
0
mg
Sodium:
92.7
mg
Potassium:
33.7
mg
Fiber:
3.3
g
Sugar:
4.3
g
Disclaimer: This recipe post contains Amazon affiliate links. This means that if you click on a link and make a purchase, I will receive a small commission (at no extra cost to you). This helps support me so that I can continue to put out high quality, free recipes for you guys! Thank you 😁🙌