Think delicious greasy fried chicken, but without the guilt! This paleo fried chicken recipe is made with cassava flour instead of white flour for the batter, and is deep-fried in pork lard instead of vegetable oil. You can serve it with any dip you like, but I highly recommend a mixture of honey, mustard and homemade mayonnaise. A paleo diet friendly ranch dressing would also be amazing.
This is my take on traditional fried chicken and is the best way to avoid all the non-paleo flour and oil in the takeout version.
Recipe ingredient substitutions
Cassava flour substitutions: If you aren't able to find cassava root flour at your local grocery store or natural food store, you can also swap it out for a gluten-free flour mixture, white rice flour, or tapioca flour (tapioca starch). Be careful though, not all gluten-free flours are paleo.
Garlic powder substitutions: Instead of using 1 teaspoon of garlic powder, you could swap it out for 2 finely diced fresh garlic cloves.
Onion powder substitutions: Instead of using 1 teaspoon of onion powder, you can swap it out for roughly 2 tablespoons worth of finely diced white onion.
Sugar substitutions: Instead of using coconut palm sugar, swap it out for granulated white sugar, brown sugar or simply omit the sugar altogether.
Baking soda substitutions: Instead of using baking soda, you can also use baking powder. If you use baking powder, use 1 teaspoon instead of ½ teaspoon that the recipe calls for.
Club soda substitutions: Instead of club soda, you could also use GF beer or any other carbonated beverage. If you don't have anything fizzy some coconut milk or even water will also work.
Chicken thigh substitutions: Instead of boneless skinless chicken thighs, you can also use boneless skinless chicken breasts, or pork chops. Or feel free to swap it out for a white fish such as cod. My partner prefers chicken breast. Use whatever chicken pieces suit your fancy!
Pork lard substitutions: Instead of using pork lard, you can also swap it out for beef suet, duck fat, bacon fat etc. Or you could use coconut oil or any other cooking oil of choice. Just pick something with a high smoke point so that your oil doesn't burn. Avocado oil is great for this (don't use olive oil).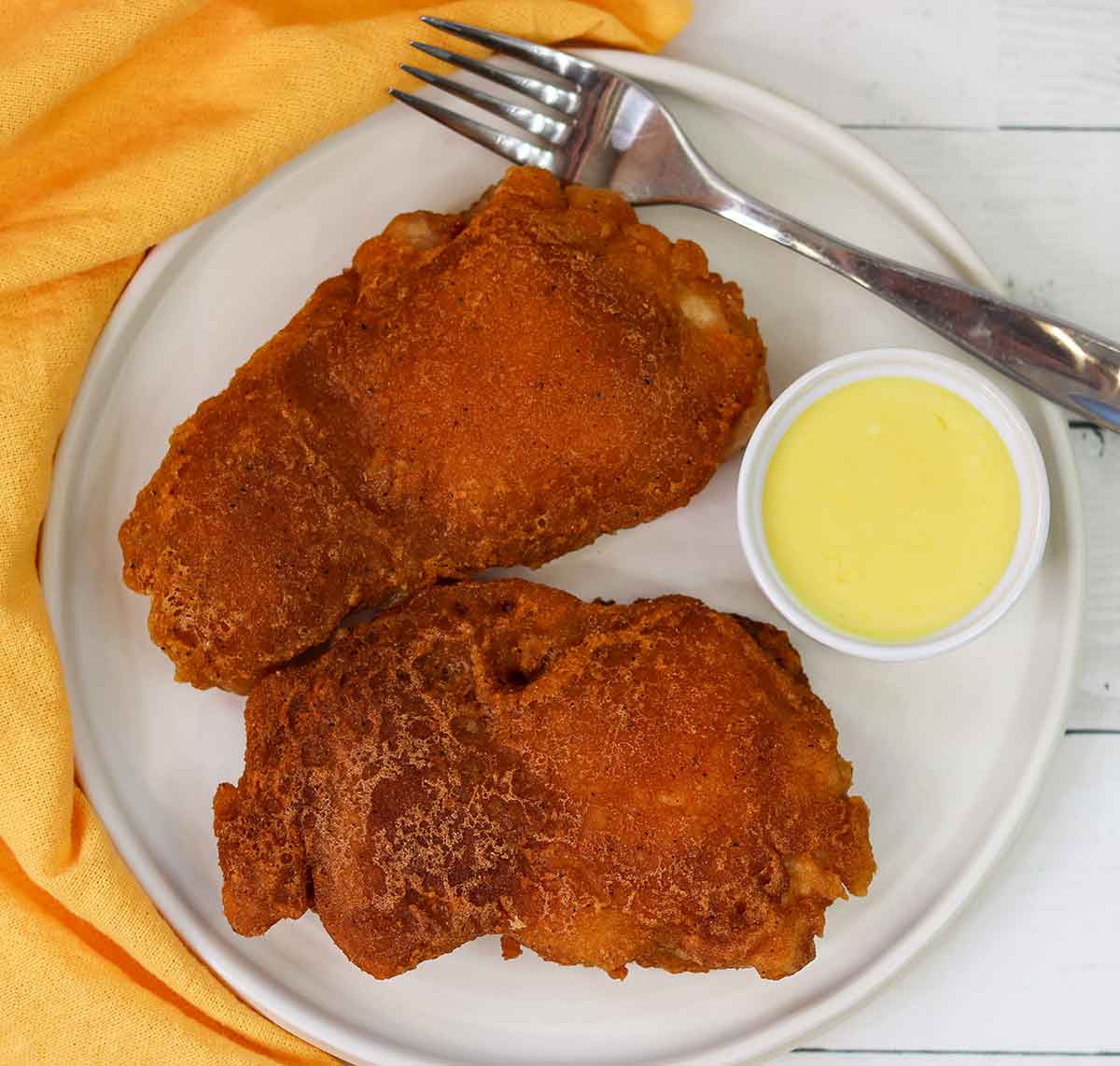 Dietary modifications
Make this recipe AIP
Omit the paprika and pepper.
Make this recipe lower oxalate
Instead of using cassava flour, use white rice flour and/or potato starch.
Make this recipe lower FODMAP
Omit the garlic powder and onion powder. You could also substitute the club soda for water.
Make this recipe elimination diet friendly
Omit the paprika.
Make this recipe candida diet friendly
Omit the 2 teaspoons of sugar.
Make this recipe low carb
Swap out the cassava flour for almond flour, or a mixture of mostly almond flour and a small amount of coconut flour.
Make this recipe lower calorie
Simply use less oil in your cast iron skillet. You will still need enough though to crisp up your chicken and to avoid burning.
Recipe pairings
Paleo chicken tenders: Cut your pieces of chicken into strips before battering. Easy to get the whole family on board if you turn it into finger food. Serve with a salad and some cauliflower rice to lighten things up.
Chicken cutlets: Use a meat pounder to flatten your chicken (also works with pork) before deep frying. You can make an amazing chicken sandwich on paleo bread with a little tomato, some onion, and some my favorite sauce (honey, mustard, and mayo!).
Make chicken parmesan by topping your fried chicken with vegan parmesan and tomato sauce.
Flavor pairings: You can also add cayenne pepper for a little kick. Once the chicken is done you can serve it with BBQ sauce, hot sauce, ranch dressing or buffalo sauce if you want some extra flavor.
Pro tips for this recipe
Serve immediately after deep frying
You're trying to make crispy fried chicken so serve it as soon as possible. Because cassava is a starchy root vegetable, it can get a bit gummy after it cools down and sits for a while. If you have leftovers and you are storing this in the fridge to eat later, I recommend reheating it in a toaster oven or your regular oven to crisp it up again.
Frequently asked questions
Can I make this in an air fryer?
I wouldn't recommend it. It's a wet batter and I think it will just drip off onto the bottom of your air fryer and make a mess.
Can I make this in a deep fryer?
Yes! cook at 375 for 15-20 minutes until golden brown.
Tried my crispy paleo fried chicken?
Please leave me a rating and review below, and post a picture of the dish to Instagram and tag me at @foodsnfeels 🙌
You might also like
If you like this, you might also like my other cassava flour recipes:
If you are looking for more, download my free 7 day paleo meal plan!
Paleo Fried Chicken
Think delicious greasy fried chicken, but without the guilt!
Instructions
Measure and add all dry ingredients to a large bowl.

With a whisk, blend all the dry ingredients together thoroughly.

Slowly pour in the club soda starting with 1 1/4 cup. If your batter is too dry, add up to 1/4 cup more as you stir.

You will want your batter to be just as thick as pancake batter, but not as thin as cake batter.

Dip each piece of chicken in the batter, making sure to coat each side with a thick layer.

On the stove, heat a large cast-iron skillet on low to medium heat and add roughly 1/2 cup to 1 cup of pork lard (or cooking oil of choice) to the bottom of the pan. Around an inch of oil should be sufficient. Hot oil is dangerous, do not fill your pan higher than half way up or you might burn yourself when it spatters, or start a fire.

Immediately put your battered chicken thigh into your large skillet. You will generally be able to fit 3 battered chicken thighs in your pan at a time.

After about 5 to 7 minutes, or when the chicken thigh starts getting brown and crispy on the bottom, carefully flip it over to the second side using a metal flipper. Be careful not to spray yourself with the hot lard! I suggest wearing oven mitts and an apron. Cook for another 5 to 7 minutes until golden brown.

Once your battered chicken thighs are done, carefully use tongs to scoop them out and place them on a plate lined with paper towel. This will soak up some of the extra grease. Cut into the thickest chicken thigh to make sure that the chicken is cooked through. If it's not, drain out some of the grease and put them back in the pan at a lower temperature to allow them to cook through more thoroughly. Use a meat thermometer to make sure that your chickens internal temperature is at least 165°F.

Serve as soon as possible! They will be nice and crisp when they first come out of the pan, but quickly lose their crispy texture. Serve with a mixture of 1 tablespoon honey, 1 tablespoon yellow mustard, and 2 tablespoons of homemade mayonnaise in a shallow bowl for dipping. Trust me!
Notes
Above in the blog post I provide recipe ingredient substitutions as well as recipe variations.
Nutrition
Serving:
6
g
Calories:
293
kcal
Carbohydrates:
20.5
g
Protein:
23
g
Fat:
13
g
Saturated Fat:
4.4
g
Polyunsaturated Fat:
1
g
Monounsaturated Fat:
4
g
Trans Fat:
0
g
Cholesterol:
103
mg
Sodium:
805
mg
Potassium:
151
mg
Fiber:
1.2
g
Sugar:
2.3
g
Disclaimer: This recipe post contains Amazon affiliate links. This means that if you click on a link and make a purchase, I will receive a small commission (at no extra cost to you). This helps support me so that I can continue to put out high quality, free recipes for you guys! Thank you 😁🙌