Similar to traditional donuts, these guys are super fluffy and have an amazing chewy texture. They will easily become a family favorite!
They are cake donuts, so they are baked instead of deep fried. They also do not contain yeast like regular donuts usually do.
Most of the ingredients for this recipe can be found at your local grocery store, except maybe cassava flour. First check the natural foods aisle, and if not visit your local natural health food store.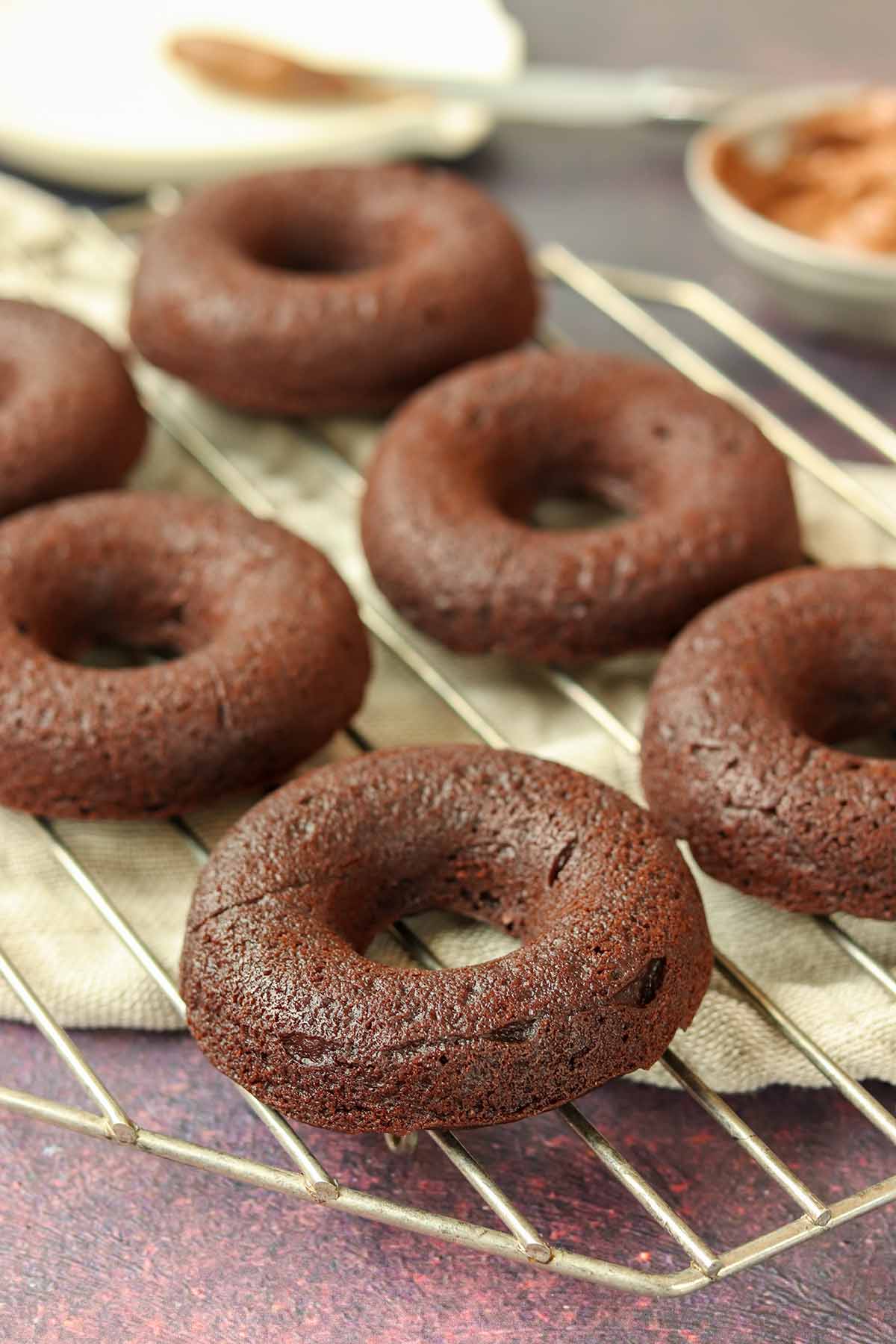 Recipe ingredient substitutions
Cassava flour substitutions
Instead of cassava flour, you can use tapioca starch/tapioca flour, potato starch, corn starch or arrowroot starch/flour. These have the most similar consistency to cassava. There are many other gluten free flour blends that would also work. I like the ones that contain rice flour, starch, and xanthan gum.
I wouldn't recommend using coconut flour, oat flour, millet flour or almond flour because they all have a very different consistency and absorb different amounts of liquid. This may affect the end result.
White sugar substitutions
Instead of white sugar, you can swap it out for brown sugar, cane sugar, or coconut palm sugar. If you want to make these sugar-free, you can also use a granulated erythritol substitute such as Swerve. I wouldn't suggest using liquid sugars such as maple syrup, honey or agave because they will throw off the wet to dry ingredients ratio and will affect the end result and consistency.
Cacao powder substitutions
Instead of using cacao powder (which is the minimally processed form of cocoa powder), you can also use dutch processed cocoa powder. They swap out 1:1.
Egg substitutions
Instead of regular eggs, you can swap it out for egg alternatives such as flax eggs, chia eggs or gelatin eggs.
Dairy free milk substitutions
For this recipe you can use any type of dairy free milk such as coconut milk, almond milk, cashew milk, oat milk, soy milk, etc. If you tolerate dairy, you can also use regular milk.
Coconut oil substitutions
Instead of melted coconut oil, you can use liquid coconut oil or MCT oil. Alternatively, swap it out for vegan butter, regular butter, avocado oil, light tasting olive oil, canola oil, or a vegetable oil blend.
Vanilla extract substitutions
Instead of liquid vanilla extract, you can also use ground vanilla bean powder or vanilla bean paste.
White vinegar substitutions
Instead of white vinegar, you can swap it out for apple cider vinegar or fresh squeezed lemon juice.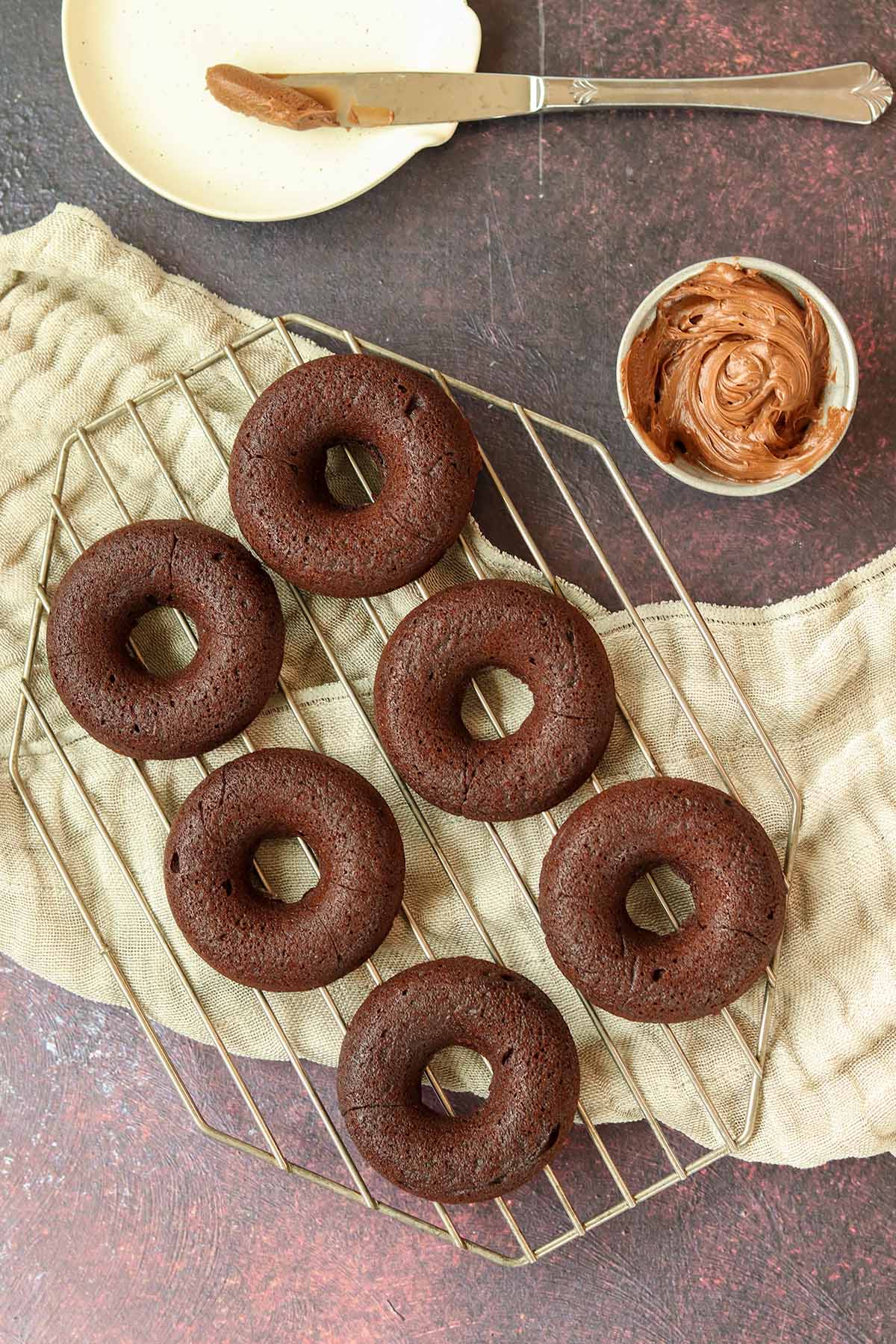 Recipe variations
Make chocolate cupcakes instead
Make these into cupcake form by following my cassava flour chocolate cupcake recipe.
Dietary modifications
Make vegan donuts
Swap out the egg for a chia or flax egg. All other ingredients are vegan!
Make lower carb/sugar donuts
To make this a truly healthy donut recipe, swap out the regular sugar for a sugar-free granulated alternative such as Swerve.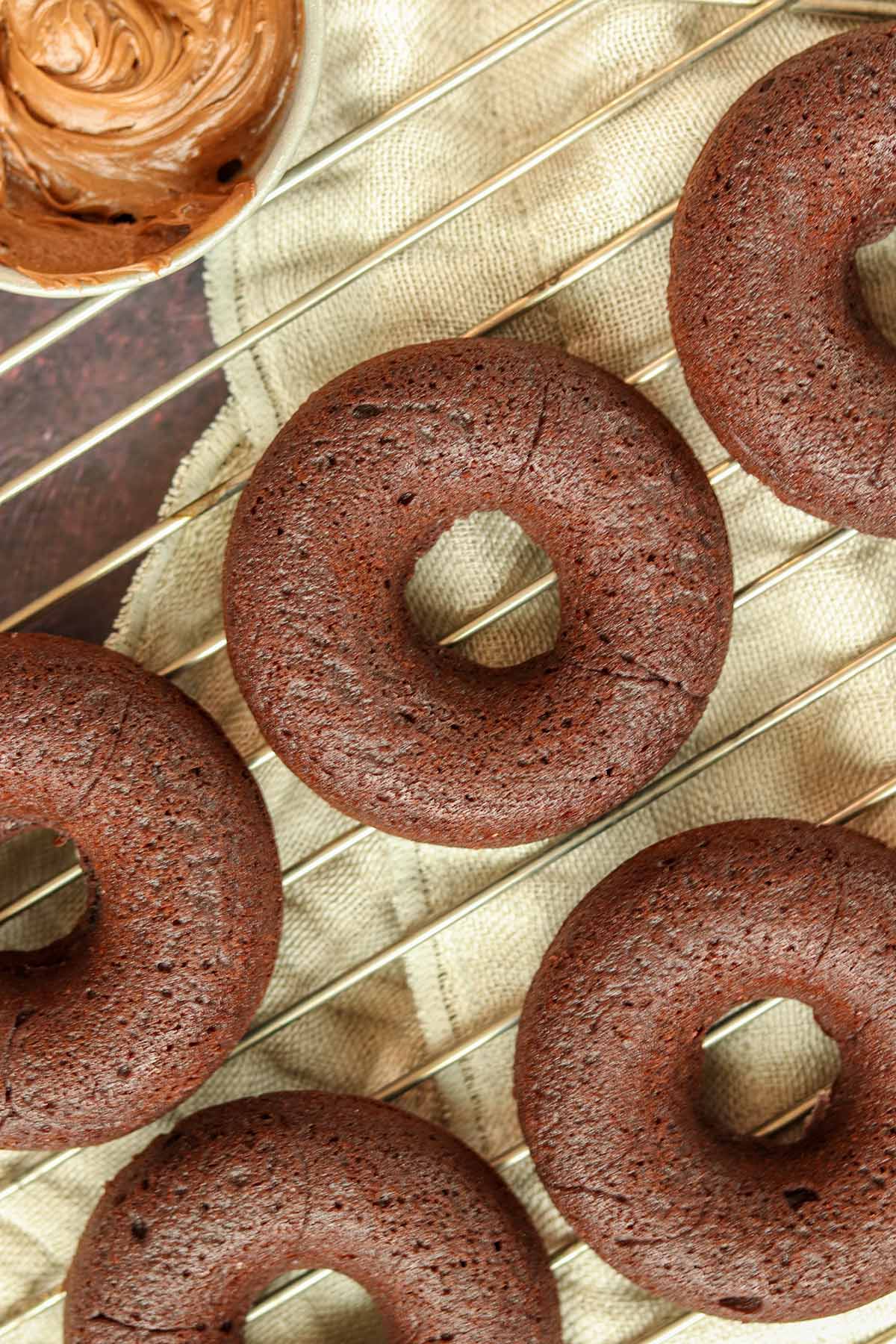 Recipe pairings
These gluten-free donuts are great on their own, but they also taste amazing with icing or glaze. Here are some options:
Store-bought icing if you want to keep it simple
Storage tips
Store your leftover donuts in an airtight container in the fridge for up to 1 week. You can also keep them in a deep glass baking dish with plastic wrap over top.
If you have to layer them, you can separate them with parchment paper, paper towel or aluminum foil.
You can also freeze them in a sealed container or freezer bag.
Tried my chocolate paleo donuts recipe?
Please leave me a rating and review below, and post a picture of the dish to Instagram and tag me at @foodsnfeels 🙌
You might also like
If you liked this recipe, check out my other cassava flour recipes:
If you are looking for more, download my free 7 day paleo meal plan!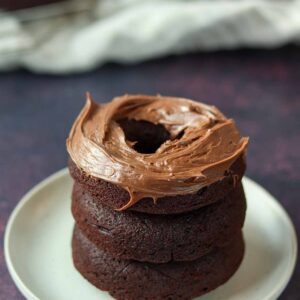 Baked Chocolate Cassava Flour Donuts (Paleo)
Similar to traditional donuts, these are super fluffy and have an amazing chewy texture. And they are cake donuts, so they are baked instead of deep fried.
Equipment
Donut baking pan

Coconut oil cooking spray
Instructions
Preheat your oven to 325°F.

In a stand mixer or large bowl, add all of your dry ingredients and mix together.

Next add all of the wet ingredients except for the boiling water.

Mix together all of the dry and wet ingredients thoroughly.

Next, add boiling water and continue mixing until it is fully incorporated. You should now have a fairly thin cake-like batter.

Spray your donut pan with cooking oil and fill each of the 6 donut holes with batter. If you don't have a donut pan, you can also use a mini muffin pan.

Bake them for roughly 10 minutes or until they rise up and look fully cooked through. It's hard to tell whether they are getting golden brown because they are chocolate, but you can also use a toothpick to test out whether they are done. Cooking time may vary between ovens.

Transfer your donut pan over to a wire rack and let them come down close to room temperature. Then turn them over and gently shake the doughnuts out of the pan.

Repeat the process of spraying the pan again, filling it up with batter, and baking them. Let them cool again and gently shake them out.

Once they have completely cooled off, use a knife or piping bag to top them with an icing or glaze of choice. I've linked up to some options in the above blog post!

Store your leftover donuts in an airtight container in the fridge for up to 1 week. Or if you want them to last longer, freeze them. To avoid them sticking together or breaking apart, you can separate them into layers by using parchment paper or paper towel.
Notes
Above in the blog post I provide ingredient substitutions, recipe variations, dietary modifications, and storage tips.
The nutritional information above is based on 1 donut without any added frosting or glaze.
Nutrition
Calories:
148
kcal
Carbohydrates:
24.8
g
Protein:
1.1
g
Fat:
5.4
g
Saturated Fat:
4.2
g
Polyunsaturated Fat:
0.2
g
Monounsaturated Fat:
0.4
g
Trans Fat:
0
g
Cholesterol:
15.5
mg
Sodium:
211
mg
Potassium:
50
mg
Fiber:
1.3
g
Sugar:
16.6
g
Disclaimer: This recipe post contains Amazon affiliate links. This means that if you click on a link and make a purchase, I will receive a small commission (at no extra cost to you). This helps support me so that I can continue to put out high quality, free recipes for you guys! Thank you 😁🙌