These grain and gluten free brownies are far more healthy than your average brownie, and actually come packed with super nutritious ingredients, the most important one being cacao powder.
These brownies do not compromise on flavor though, and you won't be able to tell the difference between these and your average brownie. They are made with cassava flour, which is made from the cassava root vegetable. I find it is the closest grain free alternative to wheat flour. It is quite easy to find in most grocery stores these days but if you can't, try your local natural health food store.
I also provide options below on making this recipe keto/low carb, vegan and candida diet friendly.
Product brands I recommend for this recipe
Here are the brands that I used for this recipe to keep it consistent and get the best result for this recipe.
Nutiva butter flavored coconut oil
Bob's Red Mill cassava flour
Prana cacao powder
President's Choice organics granulated cane syrup
Real Salt
Recipe substitutions
Coconut oil substitutions: if you can't access butter flavored coconut oil, you can also swap it out for regular coconut oil (either virgin cold pressed or refined and flavorless). Alternatively, you can also swap this out for vegan butter or any other oil of your choice.
Sugar substitutions: instead of using white and brown sugar for this recipe, you can also use coconut palm nectar in its place. Or if you are on a low carb diet, feel free to swap it out for a granulated sugar free substitute. I don't suggest using any liquid sweetener such as maple syrup because it will throw off the wet ingredients to dry ingredients ratio and will affect the end result.
Flour substitutions: if you don't have cassava flour, you can also use a gluten-free flour blend. If you do this though, I suggest using slightly more gluten-free flour than you would cassava flour because I find cassava flour soaks up more liquid. There are also other starches you can use such as tapioca flour / tapioca starch, arrowroot starch, potato starch etc.
Cacao powder substitutions: if you don't have cacao powder (which is the unprocessed form of the cocoa bean), you can also use dark cocoa powder which is very similar in flavor but goes through more processing than the more natural cacao powder.
Dietary modifications
Make this recipe paleo: instead of using white and brown sugar, use one full cup of coconut palm nectar sugar (granulated, not syrup).
Make this recipe vegan: replace the two eggs in this recipe with two vegan egg replacements.
Make this recipe keto: replace the white and brown sugars with a low carb granulated sugar alternative such as swerve. If you don't do well with sugar alcohols, try using powdered stevia or liquid stevia drops.
Make this recipe candida diet friendly: instead of using white and brown sugar, swap it out for a sugar-free granulated alternative such as Swerve. There are mixed opinions about whether cassava flour is candida diet friendly, but I personally find myself that it does not aggravate my symptoms because although it is higher in carbohydrates, it is quite low in sugar. If you know you can't do cassava flour, you could also try using a combination of almond flour and coconut flour but I haven't tested it out so I'm not sure if you will get different results. If you try it, let me know in the comments!
Interested in learning more about the paleo diet?
If you are interested in learning more about the paleo diet or trying it out, grab my free seven day paleo meal plan.
If you are loving it and want to keep going, I also offer a paleo 1 month meal plan in my online store, among many other meal plans for various health needs.
Tried my cassava brownies recipe?
Please leave me a rating and review below, and post a picture of the dish to Instagram and tag me at @foodsnfeels 🙌
You might also like:
If you liked my brownie recipe, you might also like my other cassava flour recipes:
Or my other brownie recipes:
If you are looking for more, download my free 7 day paleo meal plan!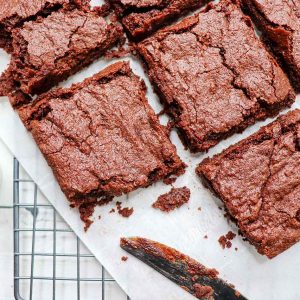 Cassava Flour Brownies Recipe (Paleo & Gluten Free)
These brownies are gluten free, dairy free, paleo, grain free and soy free.
Instructions
Preheat your oven to 325F.

In a large mixing bowl or kitchen aid mixer, mix together all the dry ingredients including cassava flour, cacao powder, sugar, baking powder, and salt.

Add 2 room temperature eggs, melted coconut oil and vanilla to the dry ingredients and mix thoroughly until the batter is smooth.

Grease a 9 x 9" baking pan with coconut oil, or line it with parchment paper.

Using a spatula, transfer all of the chocolate mixture into the baking pan.

Bake brownies at 325°F for 25 minutes. The brownies will still be quite soft when you take them out of the oven, but they will firm up once they cool down.

Let the brownies cool completely before removing them from the pan and cutting them. This will prevent them from falling apart! These bad boys are super chewy and rich with crunchy edges and fudgy middles.
Nutrition
Calories:
240
kcal
Carbohydrates:
28.2
g
Protein:
3.2
g
Fat:
13.7
g
Saturated Fat:
0
g
Polyunsaturated Fat:
0.4
g
Monounsaturated Fat:
1.2
g
Trans Fat:
0
g
Cholesterol:
41.3
mg
Sodium:
80
mg
Potassium:
267
mg
Fiber:
3.2
g
Sugar:
18.6
g
Disclaimer: This recipe post contains Amazon affiliate links. This means that if you click on a link and make a purchase, I will receive a small commission (at no extra cost to you). This helps support me so that I can continue to put out high quality, free recipes for you guys! Thank you 😁🙌