You'd never know this cassava flour banana bread does not contain grains, gluten or dairy. It has tons of banana flavor, a great texture, just the right amount of sweetness, and is a great way to use up bananas that are over-ripe. This is truly a recipe that the whole family will enjoy, and uses simple ingredients that you can get at your local grocery store!
Below I also provide recipe ingredient substitutions and variations to make this recipe AIP, vegan, lower calorie/fat, and lower sugar/carb.
Recipe substitutions
Ripe banana substitutions: Instead of using super ripe bananas that have started to get black spots, you can also use ripe bananas that have not started browning, or even bananas that are still slightly green. If they are super green though, I wouldn't recommend it because they will be more starchy and less sweet. Frozen bananas also work great, as well as bagged and sliced frozen bananas (use the equivalent of about four bananas).
Coconut oil substitutions: Instead of using coconut oil, you can use any other type of cooking oil or fat such as butter (vegan or otherwise), avocado oil, etc.
Coconut sugar substitutions: Instead of using coconut sugar, you can also use brown sugar (if you don't care about it being paleo) which is the most similar in taste and consistency to coconut sugar. Alternatively, you could also use white granulated sugar. I wouldn't suggest using liquid sugars such as pure maple syrup or honey because it will change the ratio of wet to dry ingredients and the recipe may not turn out.
Egg substitutions: Instead of using eggs, you could swap it out for a vegan egg substitute such as chia or flax. For a non-vegan egg substitute, you could use a gelatin egg substitute.
Cassava flour substitutions: Instead of using cassava flour with this grain free banana bread, you could swap it out for a gluten-free flour blend or oat flour. If you do this, I suggest upping the amount of flour to about 1 1/4 cup or 1 1/2 cup since gluten-free flours generally absorb less liquids than cassava flour. Start at 1 1/4 cup and go up slowly until you've reached the desired consistency – very similar to muffin batter. If you want to keep it grain free and paleo, you could also use coconut flour. In this case, I would suggest using less than the recipe calls for because coconut flour soaks up more liquids than cassava flour does. Other alternatives to cassava flour are tapioca flour, arrowroot starch, or potato starch.
Baking soda substitutions: Instead 1 teaspoon of baking soda, use 1.5 teaspoons of baking powder.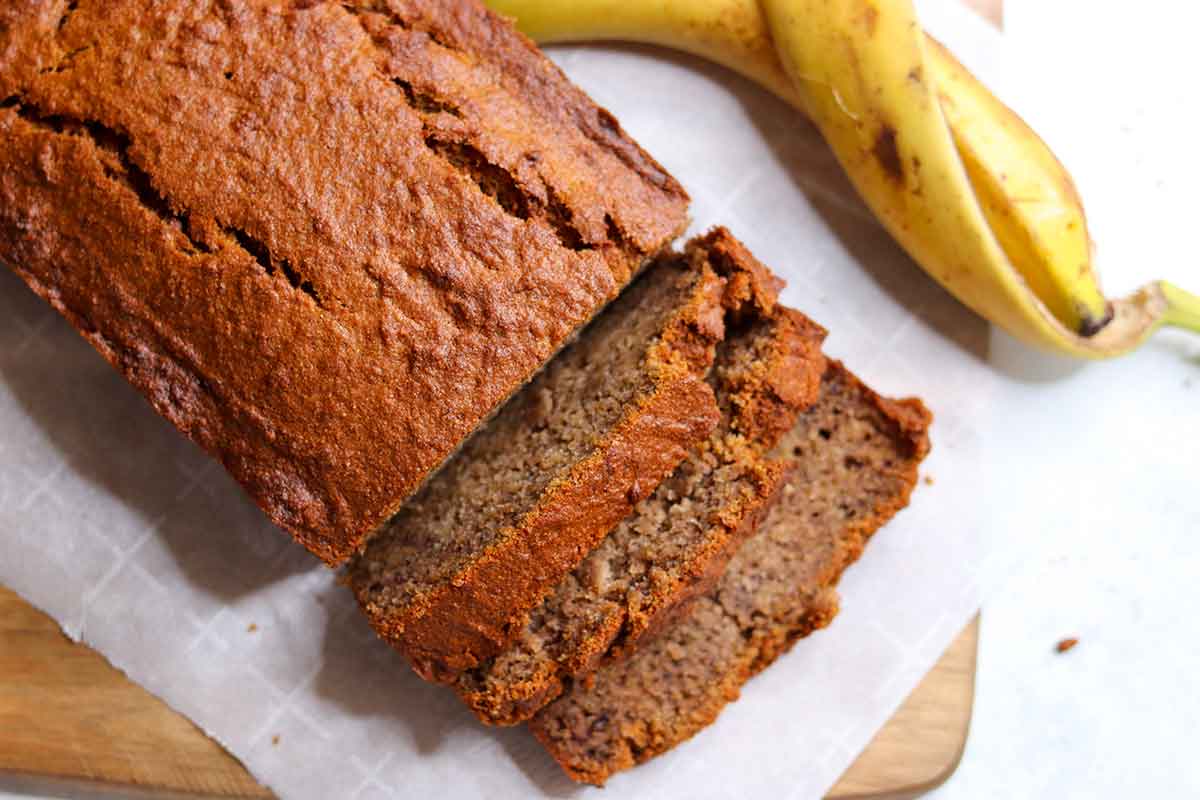 Dietary modifications
Make this recipe lower calorie/fat: Reduce the amount of coconut oil to ¼ cup and add ¼ cup of unsweetened dairy free milk (coconut milk, cashew milk, almond milk, etc.). To go even lower, reduce the amount of coconut oil to ⅛ of a cup and add ¼ cup +⅛ of a cup of dairy free milk. To further reduce the calories, consider swapping out the brown sugar for a zero calorie sweetener such as Swerve.
Make this recipe lower sugar/carb: Instead of using added sugar, swap it out for a low carb granulated sugar such as stevia or Swerve. You can use different flours such as almond flour / almond meal (or any of the other nut flours) to reduce the carbs even more.
Make this recipe vegan: Swap out the eggs for vegan egg alternatives (like a chia or flax egg).
Make this recipe AIP: Swap out the eggs for gelatin egg substitutes.
Recipe variations
Make paleo banana muffins or mini loaves: If you're planning on bringing this to feed a group of people, consider making them into muffins or miniature loaves! Instead of baking it in a bread loaf pan, use a muffin or mini loaf tin greased with coconut oil or lined with parchment muffin cups. Follow my paleo banana muffins recipe.
Add different flavors: You can also add things like pecans or raisins and other dried fruit. You could also use almond butter and dairy free chocolate chips (or dark chocolate chunks) for a different flavor altogether! Peanut butter also works. Be aware though, peanuts aren't paleo.
Use an Instant Pot Air Fryer Oven for this recipe: The first time I made this recipe, our oven broke so I had to resort to using our Instant Pot Air Fryer Oven. Turns out, it also works great! If by chance you also have one and want to try it, follow the recipe exactly the same but instead of using your regular oven, use the bake setting at 300 Fahrenheit for roughly 40 minutes.
Make it with oat flour
If you aren't concerned with keeping it paleo, oat flour makes the most delicious muffins and bread – texture and flavor wise. Check out my recipes for oat flour banana muffins and oat flour banana bread.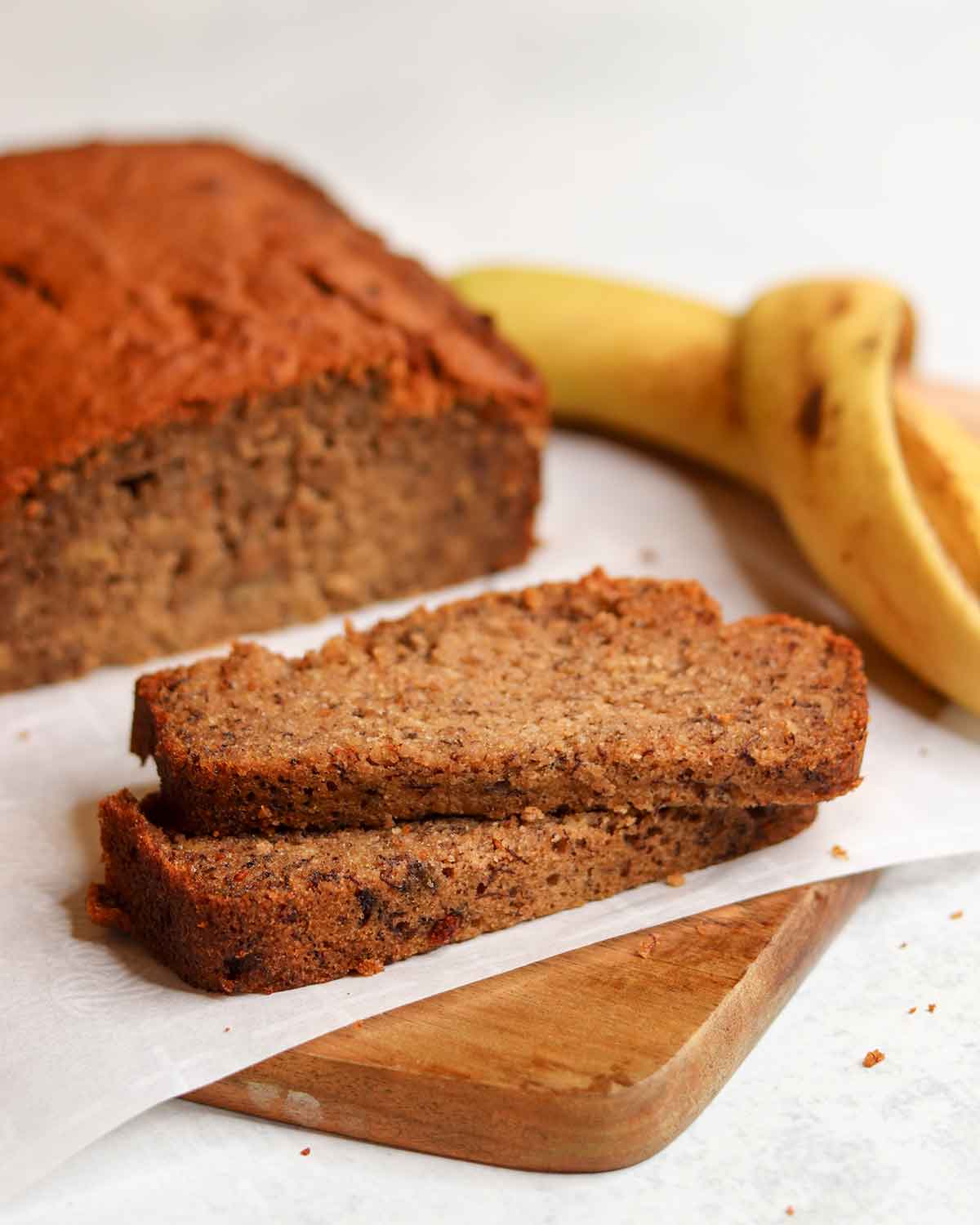 Pro tips for this recipe
Grease your baking pan adequately: This could be the difference between your paleo banana bread sliding out clean and easy, and it falling apart as you try and pry it out. Make sure you let the banana bread cool down completely before removing it from the baking pan as well. This will also help prevent it falling apart.
Use super ripe brown bananas: Even though you can use bananas that are not super ripe, you will get the best results and flavor using bananas that are overripe and browning. It makes them easier to break down in your food processor or mixer, and gives it a really nice flavor, texture and color.
Make sure your coconut oil is completely melted: Because coconut oil is high in saturated fats and is solid at room temperature, it can be hard to break down and mix thoroughly into your banana bread batter if it's not melted.
Use room temperature eggs: You'll want your eggs to be room temperature so that they don't harden up your melted coconut oil when you are adding all the wet ingredients. Because coconut oil is a saturated fat, it will harden up when it's cold and it could create lumps in your batter. You want it to be distributed and mixed in thoroughly.
Storage tips
This banana bread will last up to seven days or so in the fridge. It freezes really well though, so it can last multiple months in the freezer. I suggest slicing it up before freezing and storing it in serving size containers.
Tried my healthy banana bread recipe?
Please leave me a rating and review below, and post a picture of the dish to Instagram and tag me at @foodsnfeels 🙌
You might also like:
If you like this recipe, you might also like my other cassava flour recipes:
If you are looking for more, download my free 7 day paleo meal plan!
Paleo Banana Bread (Cassava Flour)
You'd never know this cassava flour banana bread does not contain grains, gluten or dairy. It is super tasty and satisfying, and is made with super clean and healthy ingredients.
Instructions
Preheat your oven to 325 Fahrenheit.

In your stand mixer or large mixing bowl, mix all dry ingredients together. Go slow because cassava flour is very light and will poof up and get everywhere!

Then once you've got all your dry ingredients mixed together, add all wet ingredients and mix on high speed until thoroughly mixed together and no lumps remain. Pro tips: Make sure your coconut oil is completely melted and use room temperature eggs. This will prevent your coconut oil from getting cold and hardening when it touches the eggs. Also, it's sometimes easier to make mashed bananas in a bowl before adding them to the mixture.

Grease your 5 x 9 bread pan adequately with melted coconut oil (or use parchment paper). Don't be shy! This will be the difference between your banana bread sliding out easily and it falling apart and getting stuck in the pan.

Pour the banana mixture into your greased bread pan using a spatula, and then smooth the batter down to make it evenly distributed.

Bake at 325 Fahrenheit for 45 to 55 minutes, or until it's golden brown and a toothpick comes out clean. All ovens are different so start checking around the 40 minute mark.

Let your banana bread cool down before attempting to remove it from the pan.

Slice into 12 servings and enjoy! Keeps in the fridge for up to one week, or freezes for multiple months. Store in an airtight container.

Reheat leftovers in the toaster oven or microwave.
Nutrition
Calories:
199
kcal
Carbohydrates:
23.5
g
Protein:
1.7
g
Fat:
11.1
g
Saturated Fat:
8.3
g
Polyunsaturated Fat:
0.3
g
Monounsaturated Fat:
0.9
g
Trans Fat:
0
g
Cholesterol:
31
mg
Sodium:
155.5
mg
Potassium:
24.7
mg
Fiber:
1.4
g
Sugar:
10.3
g
Disclaimer: This recipe post contains Amazon affiliate links. This means that if you click on a link and make a purchase, I will receive a small commission (at no extra cost to you). This helps support me so that I can continue to put out high quality, free recipes for you guys! Thank you 😁🙌