These caribou burgers are packed with extra beef tallow and seasonings to make them super juicy and flavourful. Caribou meat can be a little bit "gamey" because it is a wild animal, but with all the incredible flavours in this recipe you wouldn't know!
This recipe is a result of a collaboration between me and Candace at Northern Nomad Outdoors & Yoga in Whitehorse, Yukon. She supplied the ground caribou meat, and I developed the recipe 😊.
Please keep in mind that Candace, as an Outfitter, practices ethical selective harvest hunting. This means not shooting the first animal they see as well as going for the older males that are on their way out. This promotes the increase of population, not a decline. Outfitters are stewards of the land, conservationists and wildlife managers. It is important to Candace and I that we respect and make use of the whole animal – a term many call "nose to tail" eating. An example of this is using both the bones from an animal to make bone broth, and the extra fat to make tallow or lard.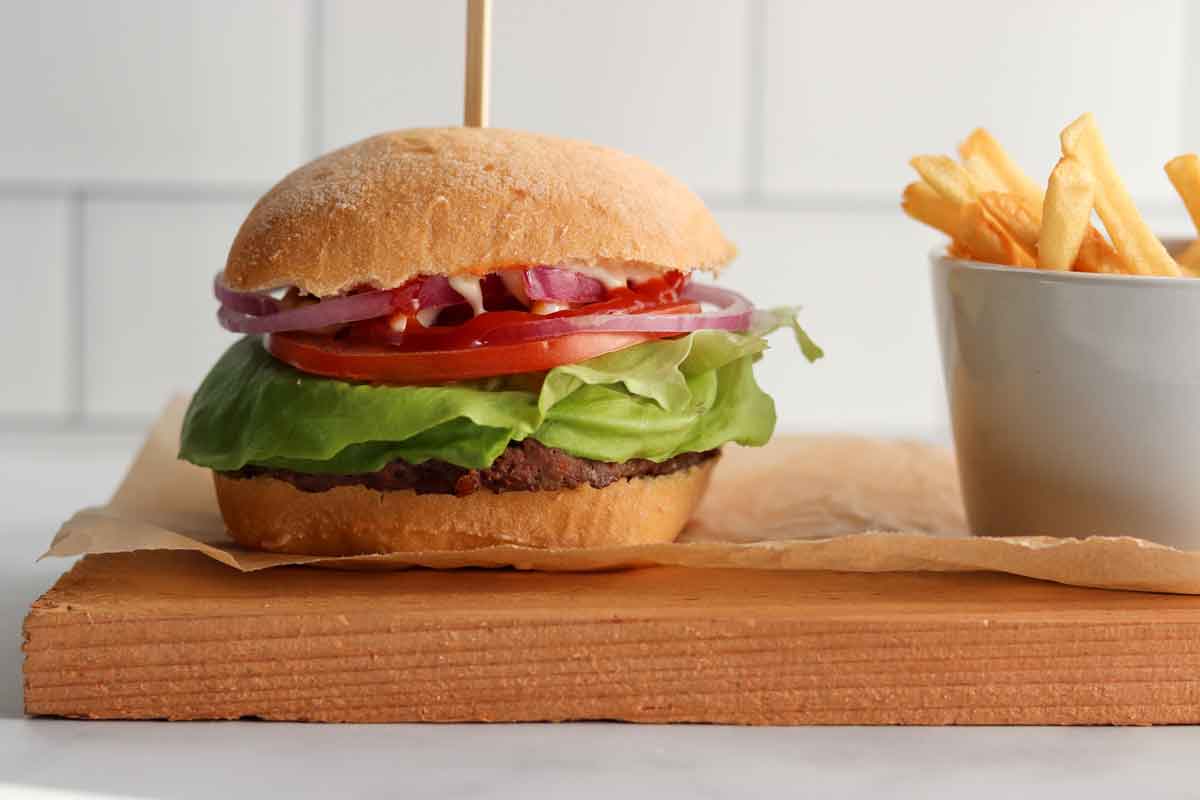 Recipes substitutions and variations
Ground caribou meat substitutions: Instead of ground caribou meat, this recipe also works with ground moose meat or any other wild game such as bison, elk or sheep. If you don't have access to wild game, you can of course also use lean ground beef.
Egg substitutions: Instead of using 1 egg in this recipe, add an additional 1 tablespoon of flour. This will help the burger stick together and not fall apart when you are frying it, or eating it for that matter!
Gluten-free flour substitutions: Instead of using gluten-free flour, you can also swap it out for regular wheat flour or any other flour of your choice. It would also work with starches such as tapioca starch, cassava flour, potato starch or cornstarch.
Garlic powder substitutions: Instead of garlic powder, you can use 3 fresh diced up garlic cloves.
Onion powder substitutions: Instead of onion powder, you can swap it out for 1/2 of a diced up white onion.
Beef tallow substitutions: instead of using beef tallow to add some additional fat to your burgers, you could also use pork lard, coconut oil, olive oil, butter or any other oil or fat of choice.
Gluten-free bun substitutions: I used gluten-free buns for this recipe, but you can also use regular wheat flour hamburger buns or a lower carb keto friendly bun.
Recipe pairing ideas
This recipe is mostly about the actual caribou burger patties, and you can dress them up however you like! But here are some suggestions on toppings and condiments. These are the same toppings that you see in the burger photos for this recipe.
Hamburger bun, sliced in half and buttered and then fried on low – medium heat on the stove.
Lettuce
Sliced tomato
Diced up red onion
Condiments: mayonnaise, mustard and ketchup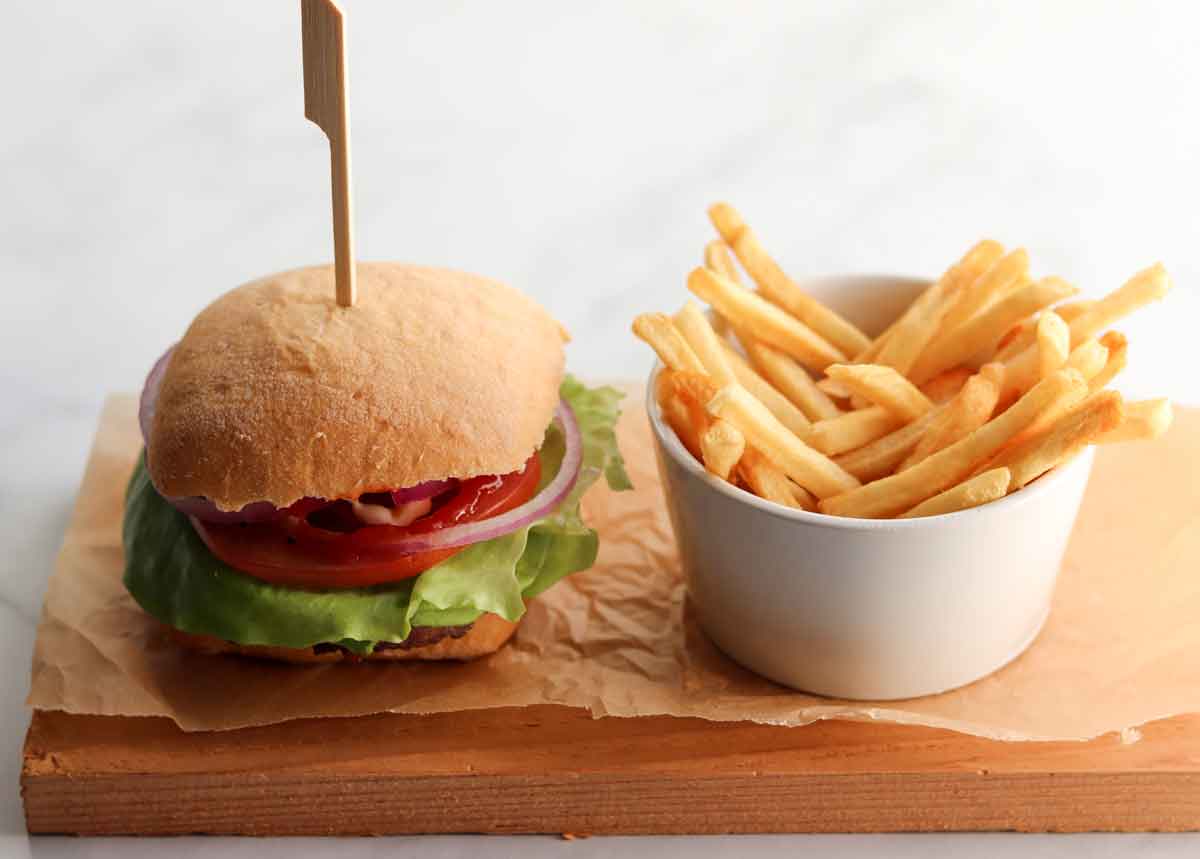 Tried my caribou burgers?
Please leave me a rating and review below, and post a picture of the dish to Instagram and tag me at @foodsnfeels 🙌
You might also like:
If you liked my post on how to make caribou burgers, you might also like my other wild game and nose to tail recipes: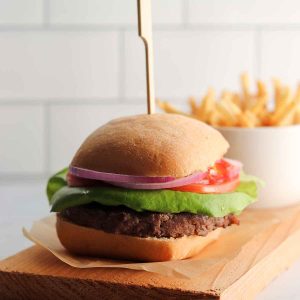 Juicy Caribou Burgers
These caribou burgers are packed with extra beef tallow and seasonings to make them super juicy and flavourful. Caribou meat can be a little bit "gamey" because it is a wild animal, but with all the incredible flavours in this recipe you wouldn't know!
Equipment
Large mixing bowl

Hamburger press

Stove top

Cast iron pan

Flipper

Cutting board

Large knife
Ingredients
Caribou burger patties
2

pounds

ground caribou meat

2

tbsp

melted beef tallow

(plus extra for frying)

1

egg

2

tbsp

flour

(I used gluten free)

1

tsp

salt

1

tsp

onion powder

1

tsp

garlic powder

1/2

tsp

pepper

1/2

tsp

paprika
Toppings
Hamburger buns

Butter

Lettuce

Red onion

Mayonaise

Mustard

Ketchup
Instructions
Caribou burger patties
Remove the packaging on your thawed ground caribou meat and put it all in a large mixing bowl.

Add all remaining wet and dry ingredients to the bowl with your caribou meat.

Press roughly 7 to 8 burger patties in a hamburger press. If you don't have a hamburger press, you can also form them into burger patty shapes with your hands.

Heat a cast iron pan on low to medium heat and add some additional beef tallow to the pan so that the burgers don't stick.

Add your caribou burger patties to the pan and cook for roughly 4 to 5 minutes.

Using a flipper, flip your burger patty and fry on the second side for roughly 3 to 4 minutes or until cooked through.
Burger fixing
While your burger patties are cooking, heat a second pan on low heat. Cut your hamburger buns in half and butter the inside of both pieces. Place each bun face down in the pan and fry until the bottoms are getting crispy and starting to brown.

Assemble your burger with your buttered and toasted hamburger bun, the caribou burger patty, lettuce, sliced tomato, diced red onion, mayonnaise, mustard, and ketchup. Enjoy!
Notes
The nutritional information is based on just the burger patty and not the other burger fixings.
Nutrition
Calories:
189
kcal
Carbohydrates:
2
g
Protein:
26.4
g
Fat:
7.6
g
Saturated Fat:
3.3
g
Polyunsaturated Fat:
0.8
g
Monounsaturated Fat:
2.7
g
Trans Fat:
0
g
Cholesterol:
120
mg
Sodium:
350
mg
Potassium:
285
mg
Fiber:
0.5
g
Sugar:
0
g
About the author Tara Klippert
Tara Klippert is a Registered Health and Nutrition Counselor and holds a diploma in Holistic Nutrition and Health Coaching. She shares her gluten free, dairy free & allergy friendly recipes.