Friday night pizza night just got a bit healthier! This cassava pizza crust can be loaded up with all of your favorite toppings to make the perfect paleo pizza.
All of the ingredients for this recipe can be found at your local grocery store.
Recipe ingredient substitutions
Cassava flour substitutions
Instead of cassava flour, you can swap it out for a gluten-free flour blend. For the most consistent result, look for blends that contain rice flour, potato starch, tapioca starch and xanthan gum.
If you use a gluten-free flour mixture, you may need to add a bit more than the recipe calls for because it doesn't absorb as much liquid.
I wouldn't swap the cassava flour out for other grain-free flours such as almond flour and coconut flour because they differ greatly in consistency and absorb different amounts of liquids. This will affect the end result!
Tapioca starch substitutions
Swap out the tapioca starch/flour for arrowroot powder, cornstarch, or potato starch. You can even just replace the starch with additional cassava flour.
Baking soda substitutions
Swap out the baking soda for 1 teaspoon baking powder.
White vinegar substitutions
Swap out the white vinegar for apple cider vinegar, white wine vinegar, rice vinegar or freshly squeezed lemon juice.
Egg substitutions
Swap out the regular eggs for flax eggs, chia eggs or gelatin eggs.
Olive oil substitutions
Swap out the olive oil for avocado oil, melted coconut oil, vegan butter, regular butter or vegetable oil.
Make a bacon, mushroom and truffle oil pizza
There are many different flavor combinations that you can top your pizza with. Here are my favorite toppings, and the same ones I've used in the pictures below!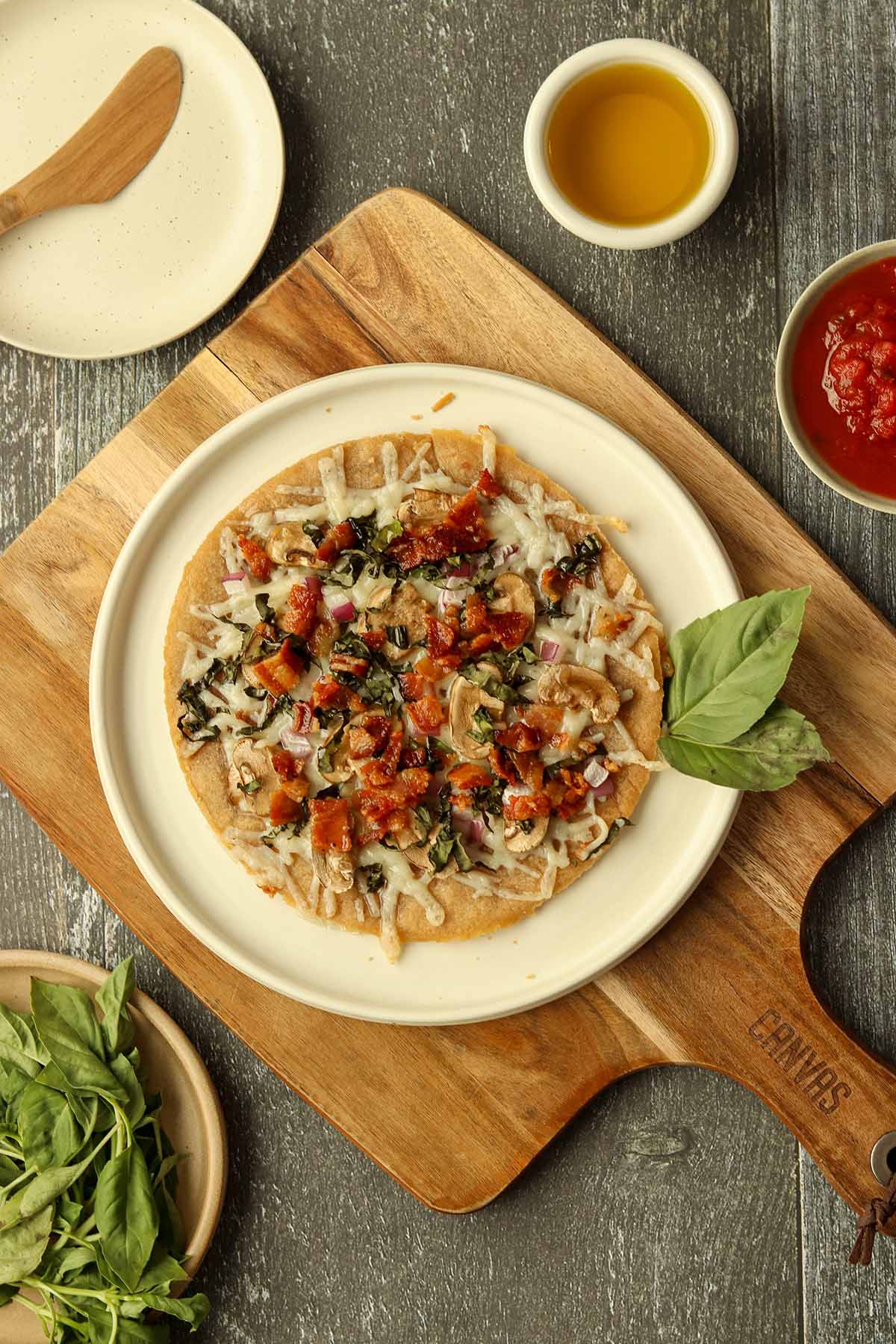 additional olive oil for brushing the crust with
fresh basil
mozzarella style dairy free cheese
sliced red onion
diced mushrooms (white button or cremini)
fresh homemade bacon bits
truffle oil for drizzling
Other pizza topping ideas
tomato sauce/pizza sauce
mozzarella cheese, cheddar cheese, or shredded vegan cheese
pepperoni
ham
bacon
mushrooms
red or green peppers
diced tomatoes
white or red onion
pineapple
fresh herbs such as oregano or basil
Add additional seasonings and flavors to your pizza crust
I kept this homemade pizza crust recipe pretty basic, but you can spice it up by adding garlic powder, onion powder, italian seasoning, red pepper flakes, oregano, basil, black pepper or nutritional yeast. To add a touch of sweetness, consider adding a little bit of coconut sugar.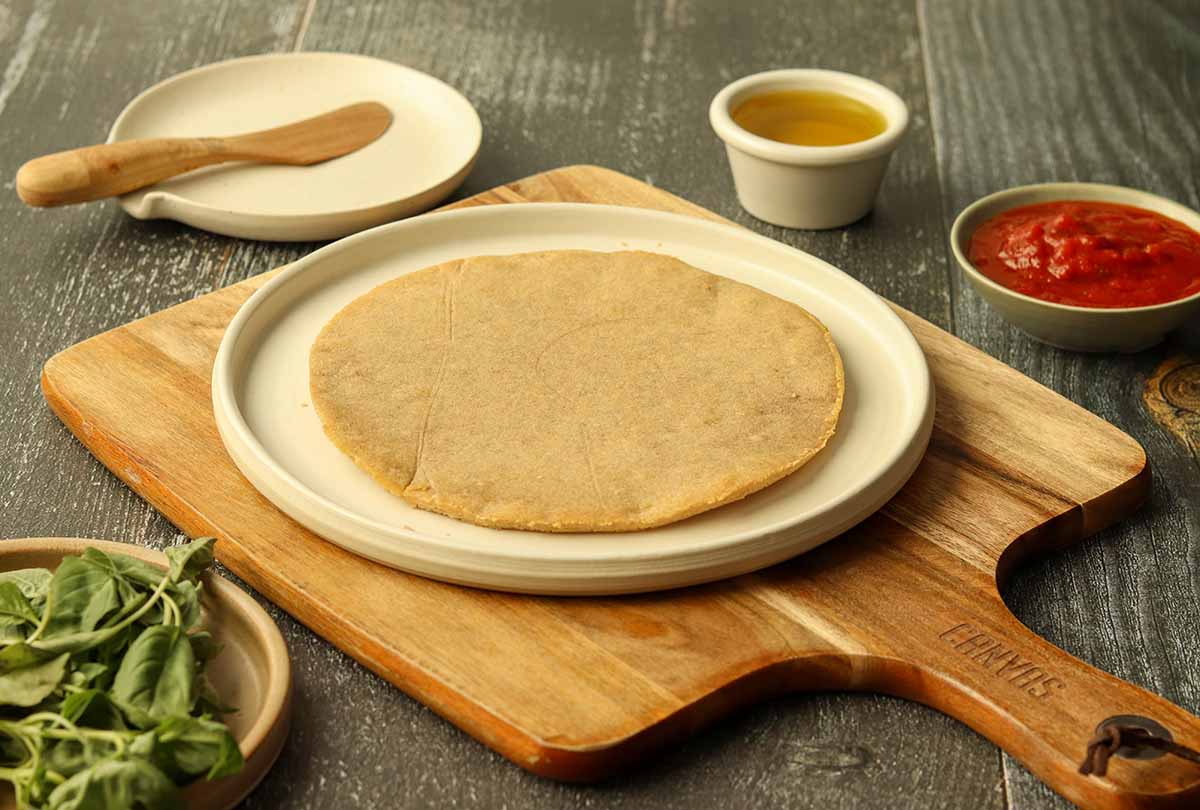 Dietary modifications
Make this recipe lower calorie: Swap out half of the olive oil for water. Use egg whites instead of whole eggs.
Make this recipe candida diet friendly: Omit the vinegar.
Make this recipe AIP friendly: Swap out the regular eggs for gelatin eggs.
Make this recipe elimination diet friendly: Swap out the egg for chia egg, flax egg or gelatin egg.
Make this recipe vegan: Swap out the egg for chia or flax egg.
Storage tips
Store your leftover cooked pizza in an airtight container in the fridge for up to 3 days or so. You can separate each piece of pizza with parchment paper to avoid it sticking together.
You can also freeze your leftover pizza the same way in the freezer.
If you don't use up all of your raw pizza crust or dough, you can freeze it between sheets of parchment paper in a large freezer bag.
Tried my paleo pizza crust recipe?
Please leave me a rating and review below, and post a picture of the dish to Instagram and tag me at @foodsnfeels 🙌
You might also like
If you liked this recipe, check out my other gluten-free pizza crust recipe:
Or my other cassava flour recipes:
If you are looking for more, download my free 7 day paleo meal plan!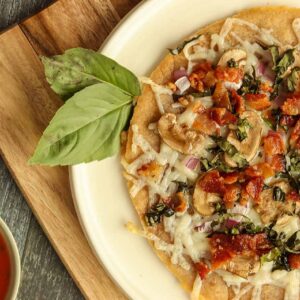 Cassava Flour Pizza Crust Recipe (No Yeast)
Friday night pizza night just got a bit healthier! This cassava pizza crust can be loaded up with all of your favorite toppings to make the perfect paleo pizza.
Equipment
2 large baking sheets

(or pizza pan / pizza stone)
Instructions
Preheat your oven to 400°F.

In a large bowl, add all of your dry ingredients and mix them together thoroughly.

Then add all of the wet ingredients and mix together using a fork or wooden spoon. You can slowly mix water in until the dough forms and you've got a good consistency. The dough will be a bit crumbly, but not so dry that it won't form a dough ball. If it is too wet and sticky to form a dough ball, add some additional cassava flour. If it is too dry, add a little bit of extra water.

Transfer your ball of pizza dough over to a piece of parchment paper on the counter.

Top the ball of dough with an additional piece of parchment paper and start rolling it out with your rolling pin.

You can choose how thin or thick you want your pizza crust to be. I generally do about 1/4 – 1/2 inches thick.

Gently peel the top piece of parchment paper off the rolled out pizza crust.

Using a large bowl or glass container, turn it upside down and use the rim of it to cut out 1-2 round pizza crusts. Repeat this process as many times as you can before you run out of rolled out dough. I use this method to ensure I get equal portions in each crust, but you can also just divide and roll the dough out in whatever shape you like! You can even just press it out with your hands. This recipe makes roughly 3 large crusts or 6 small crusts.

Transfer your cut out pizza crusts over to baking pans lined with parchment paper.

Repeat the process again by rolling the remaining dough back into a ball and pressing it between 2 pieces of parchment paper. Use your rolling pin to roll it out again and cut out as many additional pizza crusts as possible. If you have any leftover dough, you can cook it as breadsticks alongside the crusts.

Optional: brush your pizza crusts with a little olive oil.

Bake your plain pizza crusts for roughly 10 – 13 minutes at a high temperature (400°F).

Take your baked pizza crusts out of the oven and then top them with pizza sauce and all of your favorite pizza toppings (I've included some suggestions above in the blog post!).

Put them back in the oven and bake for an additional 10 – 15 minutes or until your cheese is melted and the pizza is starting to brown up.
Notes
Above in the blog post I provide ingredient substitutions, recipe variations, dietary modifications, storage and reheating tips.
Nutritional information is based on 1 whole pizza crust (and making 3 total large crusts).
Nutrition
Serving:
1
crust
Calories:
826
kcal
Carbohydrates:
105
g
Protein:
6.5
g
Fat:
41
g
Saturated Fat:
6.5
g
Polyunsaturated Fat:
5
g
Monounsaturated Fat:
28
g
Trans Fat:
0
g
Cholesterol:
186
mg
Sodium:
1445
mg
Potassium:
75
mg
Fiber:
6
g
Sugar:
1.5
g
Disclaimer: This recipe post contains Amazon affiliate links. This means that if you click on a link and make a purchase, I will receive a small commission (at no extra cost to you). This helps support me so that I can continue to put out high quality, free recipes for you guys! Thank you 😁🙌