Same taste and texture as you would get with regular cookies, but without the grains, gluten, dairy and seed oils. Each one of these cookies also comes with 5 g of fiber. Most cookies can't say that!
Never heard of tiger nut flour? Tiger nuts are not actually nuts! They are a small root vegetable that is high in fiber as well as vitamins and minerals. When dried out and ground they make an excellent grain free flour alternative for baking in all your favourite recipes. It has a bit of a nutty taste and a similar texture to almond flour.
Recipe ingredient substitutions
Cassava flour substitutions: instead of using cassava flour, swap it out for tapioca flour, arrowroot flour or potato starch. You could even use coconut flour, but if you do reduce the amount called for in this recipe by at least half. Coconut flour absorbs a lot more liquid than cassava flour does.
Tiger nut flour substitutions: if you want to swap out all or some of the tiger nut flour, almond flour has a very similar consistency and from my experience swaps out pretty much 1:1 with tigernut flour in recipes.
Coconut oil substitutions: instead of coconut oil, you can also use light tasting olive oil or avocado oil. Vegan butter or regular butter would also work great.
Cane sugar substitutions: instead of cane sugar, you can also use brown sugar, coconut palm sugar, or even a granulated sugar free alternative such as Swerve. I don't recommend using liquid sugars such as maple syrup because it will throw off the balance of wet to dry ingredients.
Egg substitutions: instead of eggs, you can use flax eggs. Mix 1 tbsp ground flax with 2.5 tablespoons of water to make 1 egg substitute. This added flax will make your cookies even higher in fiber!
Baking powder and baking soda substitutions: if you only have baking powder and not baking soda, use 1.5 teaspoons baking powder in this recipe. Or vice versa, if you only have baking soda and not baking powder, use 3/4 teaspoons baking soda in this recipe.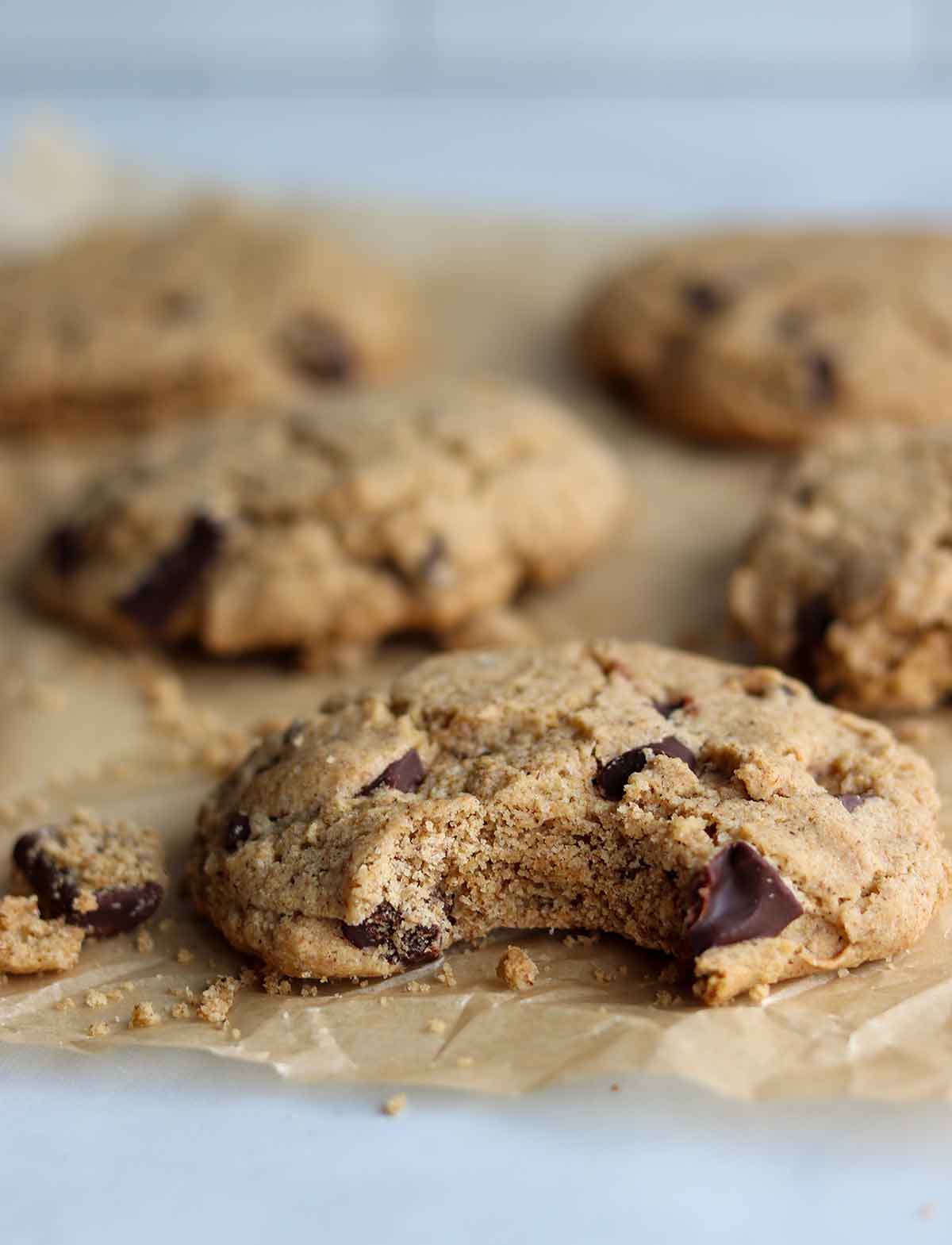 Dietary modifications
Make this recipe low carb: swap out the tigernut flour for almond flour, and swap out the sugar for a sugar-free granulated sugar alternative such as Swerve.
Make this recipe vegan: swap out the 2 eggs for 2 flax eggs. To make a flax egg, mix together 1 tablespoon of ground flax seeds and 2.5 tablespoons of water.
Recipe variations
Make these cookies with less sugar and higher in fiber: To make this cookie recipe lower in added sugar, reduce the amount of sugar to 1/2 cup, and increase the amount of tigernut flour to 1 1/2 cups. I often make this recipe variation myself if I'm looking for something less sweet and more nutritious – So I can eat them every day and not feel terrible about it! They turn out a bit fluffier this way but otherwise bake the exact same as the original recipe.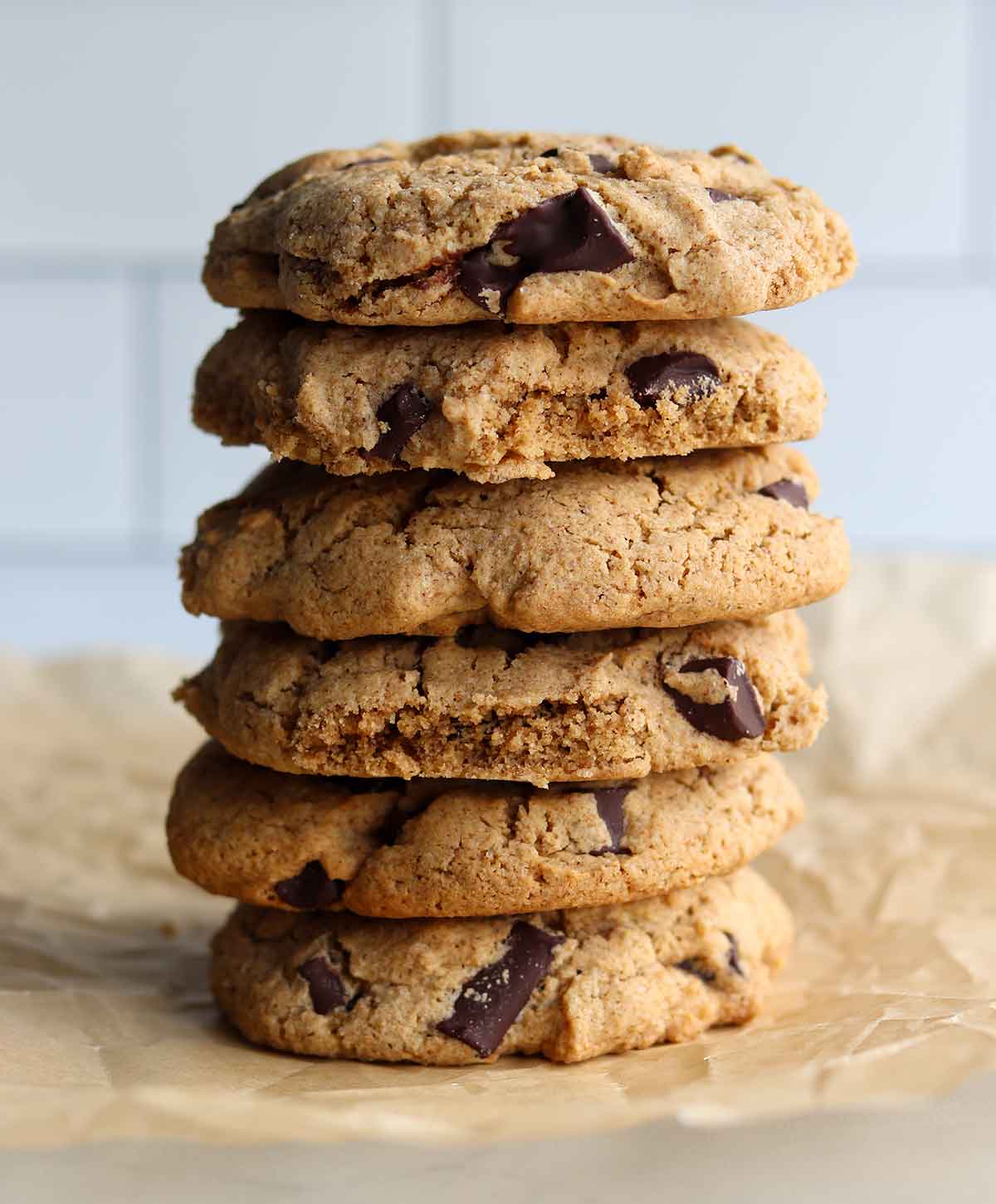 Storage tips
Keep these cookies stored in the fridge in an airtight container for up to 1 week. Or you can freeze these cookies for multiple months. I often keep these cookies stored in my freezer, and they thaw really quickly for when I must consume one immediately HAHA.
Tried my paleo tigernut chocolate chip cookies recipe?
Please leave me a rating and review below, and post a picture of the dish to Instagram and tag me at @foodsnfeels 🙌
You might also like:
If you liked this tigernut flour cookies recipe, check out my other tigernut flour recipes.
Or my other chocolate chip cookie recipes:
If you are looking for more, download one of my free seven day meal plans!
Tigernut Flour Chocolate Chip Cookies (Paleo, Grain & Gluten Free)
Same taste and texture as you would get with regular cookies, but without the grains, gluten, dairy and seed oils. Each one of these cookies also comes with 5 g of fiber. Most cookies can't say that!
Instructions
Preheat your oven to 325 Fahrenheit

In a large mixing bowl, food processor or electric mixer, mix together your dry ingredients (except for chocolate chips).

Add all of your wet ingredients and mix together thoroughly. For the best results, try not to let your melted coconut oil sit for too long with your other wet ingredients. Your coconut oil may harden up alongside other cold ingredients.

Then add your chocolate chips and mix them in evenly.

Line a baking sheet with parchment paper and form the cookie dough into roughly 12 evenly sized cookie dough balls. Feel free to press them down a bit with a fork or your hand.

Bake cookies for roughly 18 to 20 minutes. Your cookies will still appear soft, but will harden up after they have cooled and reached room temperature. If you like a crispier cookie, feel free to leave them in for an additional five minutes or so.

Transfer your cookies onto a cooling rack carefully. They will be really soft when they are still hot.
Notes
Above in the blog post I provide recipe ingredient substitutions and variations.
I also provide dietary modifications and storage tips.
Nutrition
Calories:
317
kcal
Carbohydrates:
32
g
Protein:
2.5
g
Fat:
21.5
g
Saturated Fat:
14.5
g
Polyunsaturated Fat:
0.5
g
Monounsaturated Fat:
1
g
Trans Fat:
0
g
Cholesterol:
31
mg
Sodium:
182
mg
Potassium:
161
mg
Fiber:
5
g
Sugar:
21
g
Disclaimer: This recipe post contains Amazon affiliate links. This means that if you click on a link and make a purchase, I will receive a small commission (at no extra cost to you). This helps support me so that I can continue to put out high quality, free recipes for you guys! Thank you 😁🙌