Chicken pot pie is one of my favorite comfort foods. It's great to meal prep for those busy weeknights when you don't have time to cook something from scratch, or for taking to work with you. Truly a family favorite, no matter what time of day!
For this recipe, I use store-bought gluten & dairy free pie crusts, but you can easily make the pie dough from scratch as well! Either way, you'll get that delicious flaky crust and creamy filling!
This recipe makes 2 chicken pot pies. If you only want to make one, cut this recipe in half.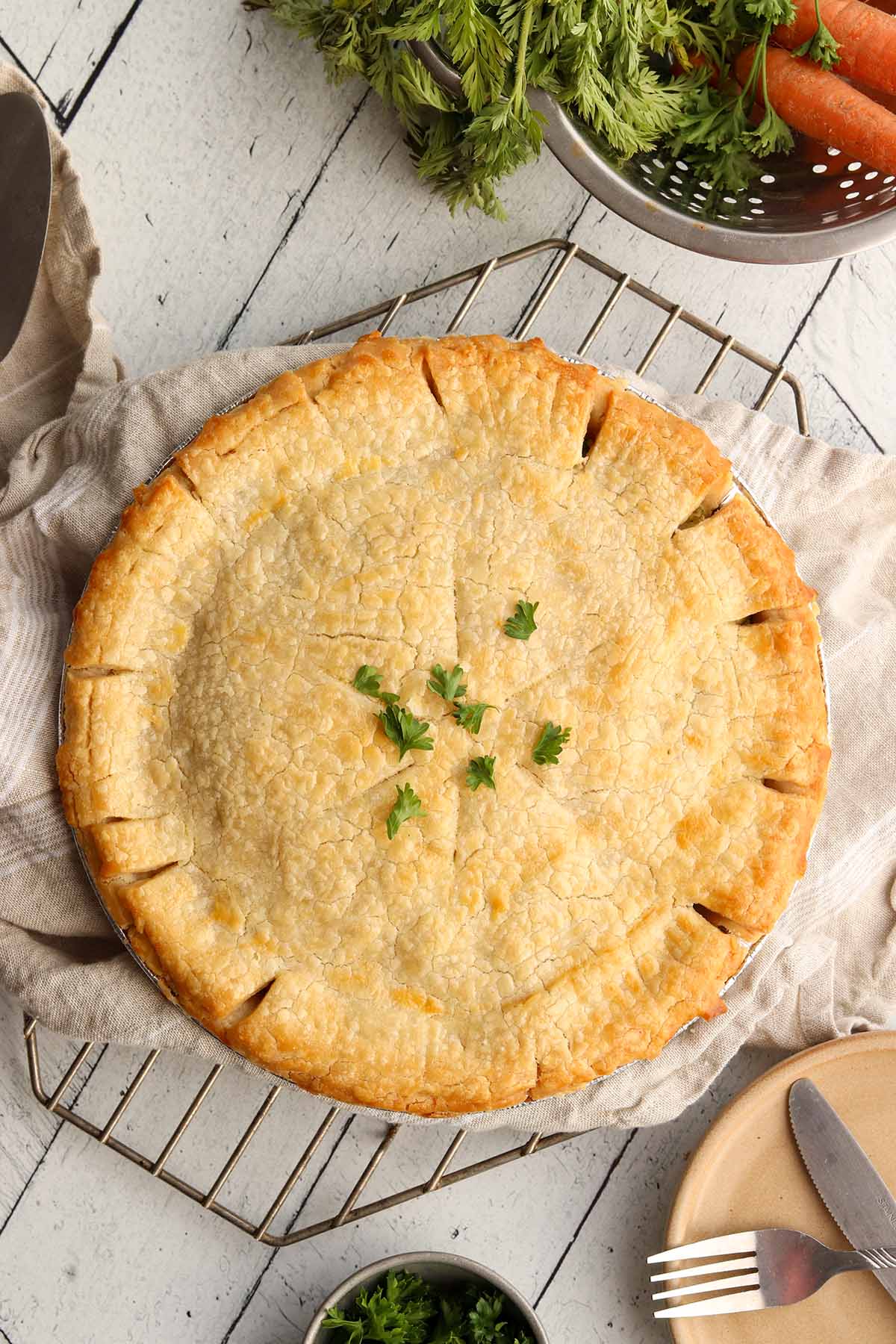 Product brands I recommend for this recipe
For the best results, I recommend these brands:
Recipe ingredient substitutions
Pie crust substitutions
I used Wholly Gluten Free pie shells in this recipe, but you can swap it out for any other store-bought pie crusts. There are plenty of different brands that are free from dairy and gluten. Or if you want to make your own, try this pie crust recipe by Mama Knows Gluten Free.
Cooked chicken substitutions
This recipe works great with cooked leftover chicken, but you can also start with raw chicken breasts and bake them ahead of time. Simply line a baking sheet with parchment paper and bake at 350°F for roughly 30 minutes or until cooked through. Other options include leftover turkey, or a store-bought rotisserie chicken. I prefer white meat chicken, but you can also use brown meat as well!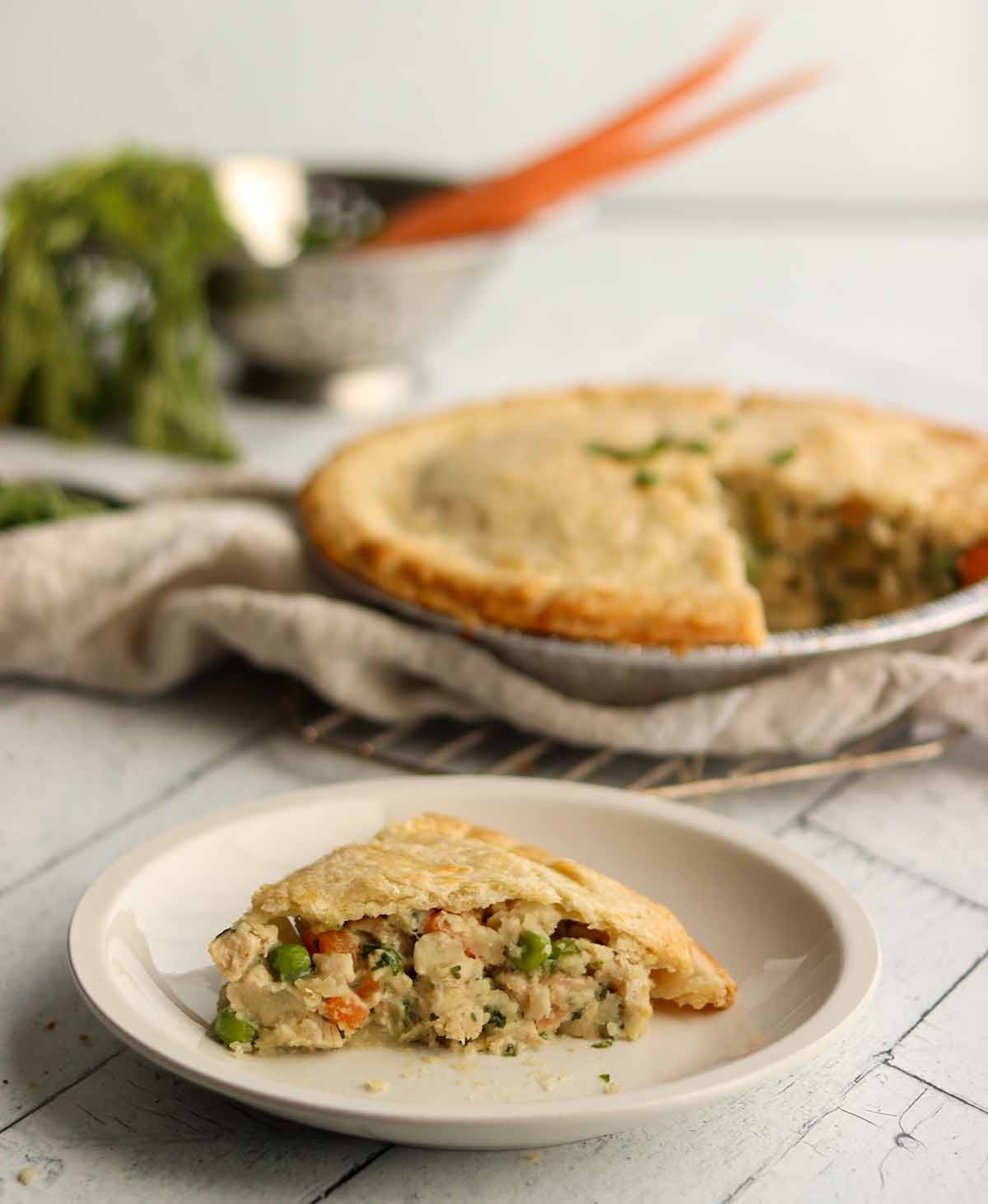 Dairy-free butter substitutions
Feel free to swap this out for olive oil, coconut oil, avocado oil, pork or beef lard, or any other oil or fat of choice.
White onion substitutions
Instead of white onion, swap it out for yellow onion, red onion, shallots, green onions or chives. You can also use 2 teaspoons of onion powder.
Garlic clove substitutions
Instead of fresh garlic cloves, swap it out for 1 – 2 teaspoons of garlic powder.
Gluten-free flour substitutions
Instead of gluten-free flour, you can swap it out for tapioca flour, arrowroot starch, potato starch, corn starch, white rice flour or cassava flour. Other gluten free flour blends would also work. I wouldn't recommend using almond flour since it will not thicken up into a creamy sauce.
Chicken stock substitutions
Swap this out for homemade bone broth or mix bouillon cubes with water.
Dairy free cream substitutions
If you aren't able to find Silk brand creamer, swap it out for full fat coconut milk, coconut cream, almond milk, cashew milk, oat milk, soy milk or any other non-dairy milk of your choice.
Egg substitutions
The egg in this recipe is used to do an egg wash on the top crust which helps it get nice and golden brown. However, it's totally not necessary so feel free to omit the egg completely. Or you can just use the egg yolk.
Recipe variations
Add different vegetables
For this recipe I used the classic ingredients that you normally find in chicken pot pie – carrots, onion, and green peas. But you can put in anything your heart desires! Green beans, broccoli, sweet potatoes, regular white or red potatoes. Another easy option is to buy a bag of frozen mixed vegetables.
Switch up the seasonings
I stuck to parsley, but you can add additional fresh herbs such as rosemary, thyme, or sage.
Make a vegan or vegetarian pot pie
Omit the chicken and replace it with a meat substitute for additional vegetables. If you are vegan, also omit the egg wash. Make sure your pie crusts are also vegan friendly.
Meal prep this recipe
This recipe is great for meal prep. Because it makes 2 pies, you will get anywhere from 8 – 12 servings depending how big or small you want them. Once it's cooled down, cut it up and divvy it out into individual glass containers. Store them in the fridge or freezer to take out for lunches or dinners throughout the week.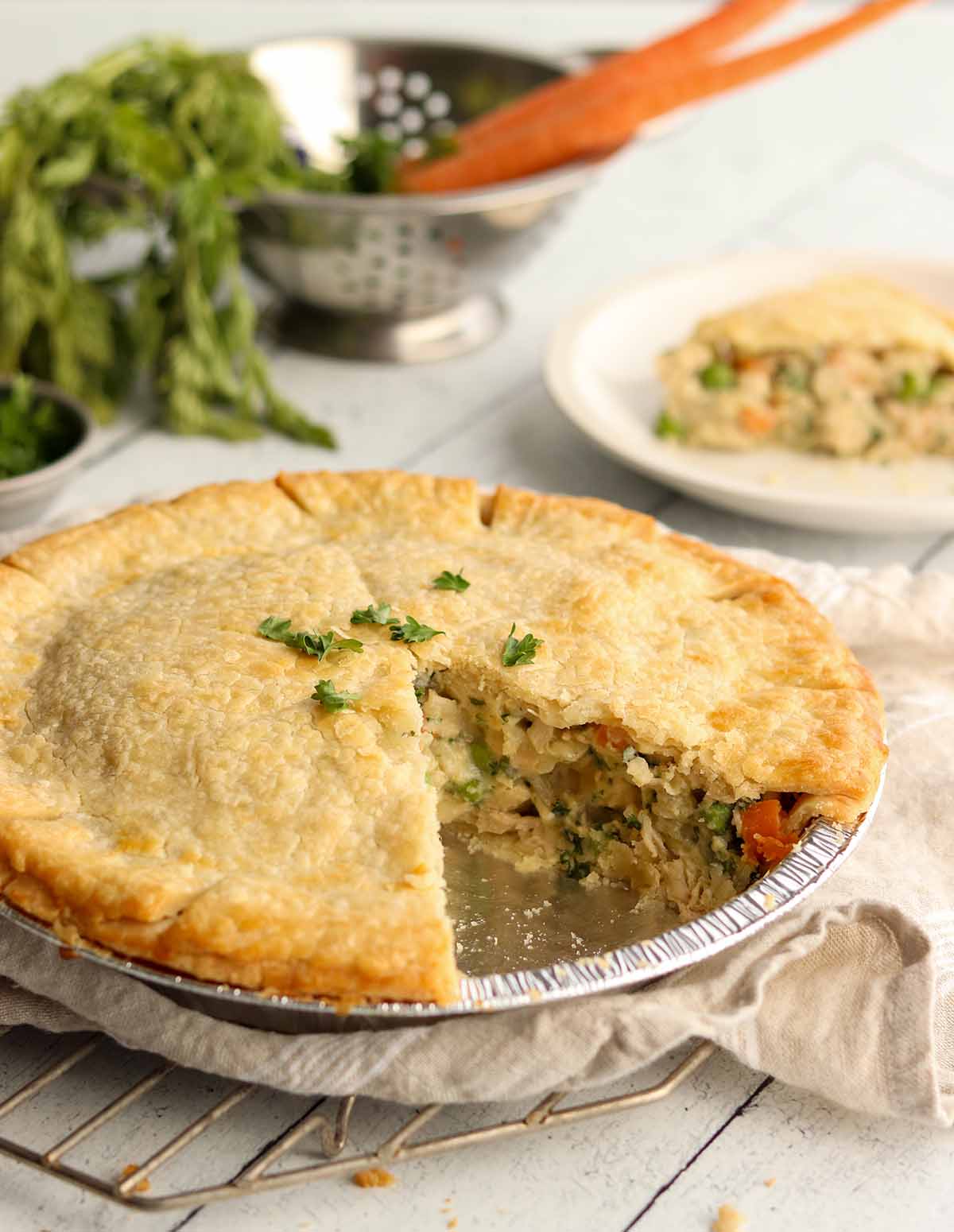 Tried my gluten & dairy-free chicken pot pie recipe?
Please leave me a rating and review below, and post a picture of the dish to Instagram and tag me at @foodsnfeels 🙌
You might also like
If you liked this recipe, check out my other chicken recipes:
If you are looking for more, download my free 7 day gluten & dairy free meal plan!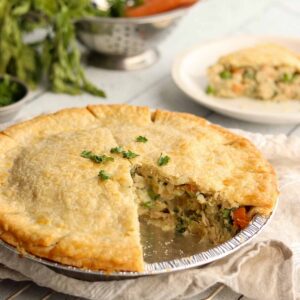 Gluten & Dairy Free Chicken Pot Pie Recipe
For this recipe, I use store-bought gluten & dairy free pie crusts, but you can easily make the pie dough from scratch as well! Either way, you'll get that delicious flaky crust and creamy filling!
Ingredients
2

store-bought gluten & dairy free pie crusts

 (With two shells in each – to make a total of 4 crusts. I like the Wholly Gluten Free brand.)

4

cups

shredded cooked chicken

1/3

cup

vegan butter

1

white onion

(roughly 1 cup)

3 – 4

carrots

(roughly 1 cup)

4

garlic cloves

1

cup

frozen green peas

1/3

cup

gluten free flour

1/2

cup

chicken broth

1

cup

dairy free heavy cream

(I like Silk Half-And-Half Oat and Coconut Creamer)

1/4

tsp

salt

(optional)

1/8

tsp

black pepper

1

bunch fresh parsley

1

egg
Instructions
Chop up your onion and carrots into small chunks. Dice up your garlic and parsley finely.

Heat your skillet at medium heat and add your vegan butter to the pan.

Add your chopped onion and carrots to the pan, stirring often. .

Meanwhile, chop up your cooked chicken into small cubes.

Once your onion and carrots are mostly cooked through, add the rest of the ingredients including your garlic, salt, pepper, parsley, frozen peas and cooked chicken and fry for an additional 2-3 minutes.

Mix together your dairy free heavy cream and chicken stock in a large bowl. Add your gluten-free flour into the liquid and with a fork or whisk, whisk it up until all the lumps are gone.

Add your liquid mixture into your chicken and vegetables and continue stirring until it starts thickening up.

Once it has thickened up, remove it from the heat and let it cool down a bit. It doesn't have to be room temperature.

Preheat your oven to 400°F.

Separate out your 2 frozen pie crusts and spoon your chicken mixture evenly into both. Smooth out the pot pie filling so that it is evenly distributed amongst the pie crusts.

Carefully flip your additional 2 pie crusts upside down and carefully place them on the top of the filling. As they thaw they will sink onto the top of your pies. Then you can gently smooth them out and press the edges down along the sides. Doesn't have to look pretty! It will most likely crack around the edges as it flattens out.

Crack an egg into a small bowl and whisk it until it's mixed together. Then using your pastry brush, brush the egg wash onto the top of your pie crusts evenly.

Using a knife, gently cut small slits into the top of your pie crusts so that they can breathe while they are baking.

Bake your pies for 30 – 40 minutes until the tops are getting golden brown. Cooking time may vary between ovens.

Allow the pot pie to cool down a bit before cutting and serving if you don't want it to fall apart. If you don't care, get right in there!

Store leftovers for the next day in an airtight container in the fridge. Or just cover up your pie pan with plastic wrap. It will last for a couple days there, or in the freezer for much longer.
Notes
This recipe makes 2 chicken pot pies. If you only want to make one, cut the recipe ingredients in half.
The nutritional information is based on cutting each pie into 4 servings (8 servings in total).
Nutrition
Calories:
662
kcal
Carbohydrates:
60
g
Protein:
27
g
Fat:
34
g
Saturated Fat:
13.6
g
Polyunsaturated Fat:
2.8
g
Monounsaturated Fat:
4.8
g
Trans Fat:
0
g
Cholesterol:
88.5
mg
Sodium:
960
mg
Potassium:
395
mg
Fiber:
1.5
g
Sugar:
10.5
g
Disclaimer: This recipe post contains Amazon affiliate links. This means that if you click on a link and make a purchase, I will receive a small commission (at no extra cost to you). This helps support me so that I can continue to put out high quality, free recipes for you guys! Thank you 😁🙌