These banana oat flour muffins are great for snacks or desserts, and are made with simple ingredients that you can get at all grocery stores. They are sweetened only with bananas, but I provide options below to make them sweeter!
When it comes to baking, oat flour is a really good alternative to refined white flour because it is higher in fiber and nutrients.
Recipe ingredient substitutions
Oat flour substitutions
Instead of store-bought oat flour, you can also make homemade oat flour. To make your own oat flour, simply put rolled oats into a food processor and blend at high speed until you get a fine powder. Use the same amount of ground oats as you would regular oat flour.
You can also mix half oat flour and half rolled oats (or quick-cooking oats) to make oatmeal banana muffins.
If you are celiac or have a gluten intolerance, make sure your oat flour is labelled gluten-free as oats are often cross contaminated with wheat.
Overripe banana substitutions
If you don't have brown bananas, You can also use regular yellow ripe bananas. I wouldn't suggest using green bananas though as they are much less sweet and they are higher in starch. You can also use frozen banana pieces, but if you do, take them out of the freezer ahead of time to thaw so that they are easier to mash.
Egg substitutions
Instead of regular eggs, use any egg substitute such as chia, gelatin or flax eggs.
Baking soda substitutions
Instead of 2 teaspoons of baking soda, swap it out for 1 tablespoon of baking powder.
Melted coconut oil substitutions
Instead of melted coconut oil, you can also use light tasting olive oil, avocado oil, vegetable oil, melted vegan butter or regular butter if you tolerate dairy.
Recipe variations
Make this recipe without a food processor or stand mixer
If you don't own a stand mixer, food processor or high powered blender, you can still make this recipe with a large mixing bowl and potato masher. Remove the peels from your bananas and put them in your large bowl. Using your potato masher, mash the bananas until you get them into a smooth paste. Don't worry about the odd remaining lump. Then follow the rest of the recipe as is below.
Make banana chocolate chip muffins
Follow the recipe as is, but once you've got your muffin batter ready, add anywhere from 1/2 – 3/4 cup of dark chocolate chips.
Make oat flour banana bread
You can easily make this recipe into bread by following my oat flour banana bread recipe.
Make your banana muffins sweeter
These muffins are sweetened only with bananas, but if you want them to be even sweeter, consider adding a small amount of maple syrup, brown sugar, cane sugar, coconut sugar, or honey. You can even use a little bit of apple sauce to sweeten them up with fruit only.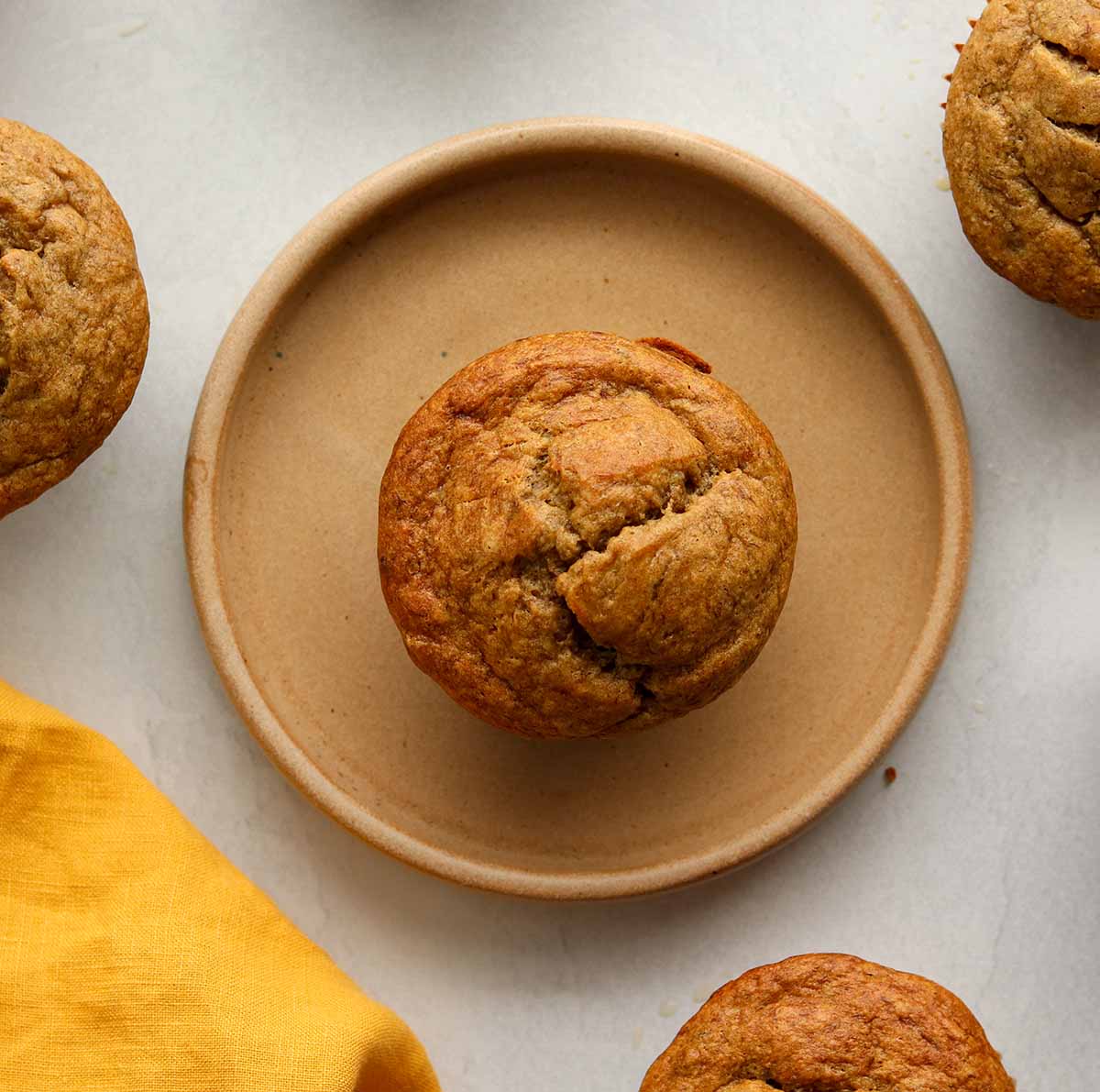 Dietary modifications
Make this recipe vegan
Swap out the regular eggs for vegan egg substitutes such as chia or flax.
Make this recipe paleo/grain free
Swap out the oat flour for either almond flour or cassava flour. If you use cassava flour, use around 1 – 1 1/4 cup because it absorbs more liquid than oat flour does. You can also check out my paleo banana muffins recipe or paleo cassava flour banana bread recipe.
Recipe pairings
These banana muffins pair great with:
peanut butter, almond butter or any other nut butter
jam
a big glass of almond milk (or regular milk if you tolerate dairy)
your morning coffee
butter (vegan or regular)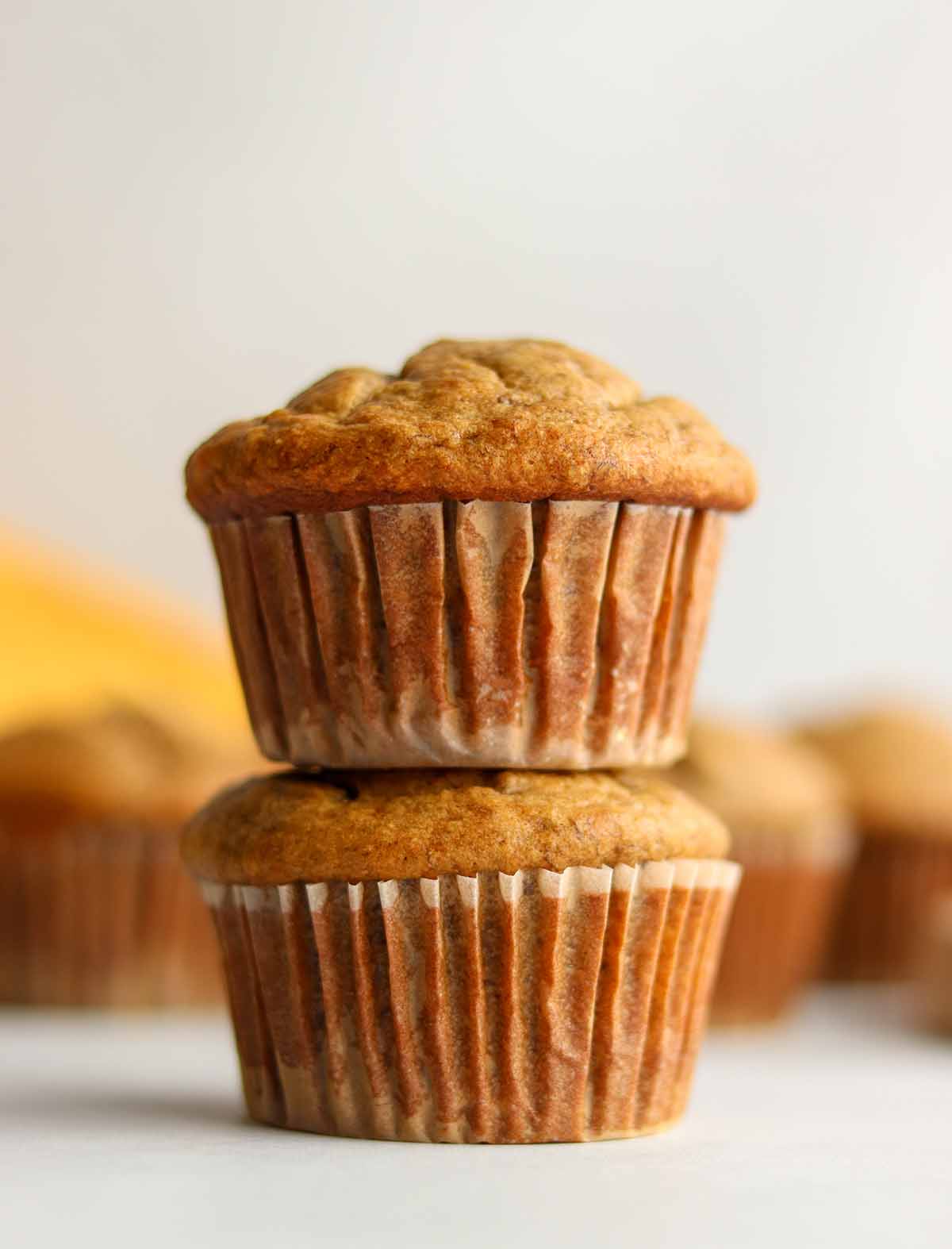 Meal prep this recipe
If you are preparing this recipe for snacks during the week, make a second batch of muffins by doubling the recipe. You'll need 2 muffin pans and 24 muffin liners.
Storage and reheating tips
Store your leftover muffins in an airtight container in the fridge for 3-4 days. Pro tip: Microwave them for 30 seconds when you are ready to eat them. This will make them super moist and warm like they are right out of the oven.
To keep them longer, store them in a freezer-safe container in the freezer for up to 3 – 6 months. When you are ready to eat them, take them out of the freezer and let them thaw in the fridge for 24 hours, or on the counter for 4 hours or so. Reheat them in the microwave for 30 seconds to make them super moist and warm.
Tried my banana muffin recipe?
Please leave me a rating and review below, and post a picture of the dish to Instagram and tag me at @foodsnfeels 🙌
You might also like
If you liked this recipe, check out my other oat flour recipes:
Or my other healthy muffin recipes:
If you are looking for more, download my free 7 day gluten & dairy free meal plan!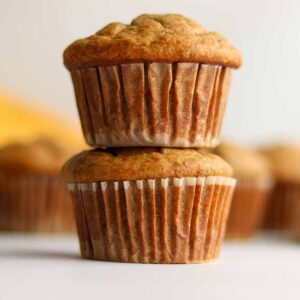 Oat Flour Banana Muffins Recipe
These banana oat flour muffins are great for snacks or desserts, and are made with simple ingredients that you can get at all grocery stores.
Instructions
Preheat your oven to 350°F.

Remove the banana peels from your overripe bananas and put them in your stand mixer bowl or food processor. Beat your bananas until they become a paste. It can be difficult to get all the lumps out of your mashed banana so don't worry if you can't.

Then add your eggs (or egg substitutes) and continue to beat.

Then add your remaining wet ingredients including melted coconut oil and vanilla extract and mix together.

Then add all of your remaining dry ingredients including oat flour, baking soda, salt and cinnamon.

Beat together until everything is thoroughly mixed.

Line your muffin pan with 12 muffin liners and evenly distribute your batter amongst all of them.

Bake your muffins for 25 – 30 minutes or until a toothpick comes out clean and they are cooked through. They should be starting to brown up nicely on the top.

Transfer them over to a cooling rack and allow them to come to room temperature before you store them in your fridge or freezer.
Notes
Above in the blog post I provide ingredient substitutions, recipe variations, dietary modifications, storage and reheating tips.
Nutrition
Calories:
213
kcal
Carbohydrates:
25
g
Fat:
11.16
g
Saturated Fat:
8
g
Polyunsaturated Fat:
1.5
g
Trans Fat:
0
g
Cholesterol:
46.5
mg
Sodium:
275
mg
Potassium:
300
mg
Fiber:
2.5
g
Sugar:
10
g
Disclaimer: This recipe post contains Amazon affiliate links. This means that if you click on a link and make a purchase, I will receive a small commission (at no extra cost to you). This helps support me so that I can continue to put out high quality, free recipes for you guys! Thank you 😁🙌