This healthy banana bread recipe is made with simple and affordable ingredients that you can find at all grocery stores.
This is a great recipe for breakfast and snacks! I especially like to enjoy a slice of warm banana bread in the morning with my coffee.
For the best results and perfect texture, follow the recipe as I've laid it out below, however I also provide some recipe variations and dietary modifications below! Whichever way you end up making it, you will enjoy it just as much as a classic banana bread recipe made with regular flour.
It's gluten-free, dairy free, and refined sugar free. Make sure to look for certified gluten-free oat flour because oats are often cross contaminated with wheat.
Happy baking!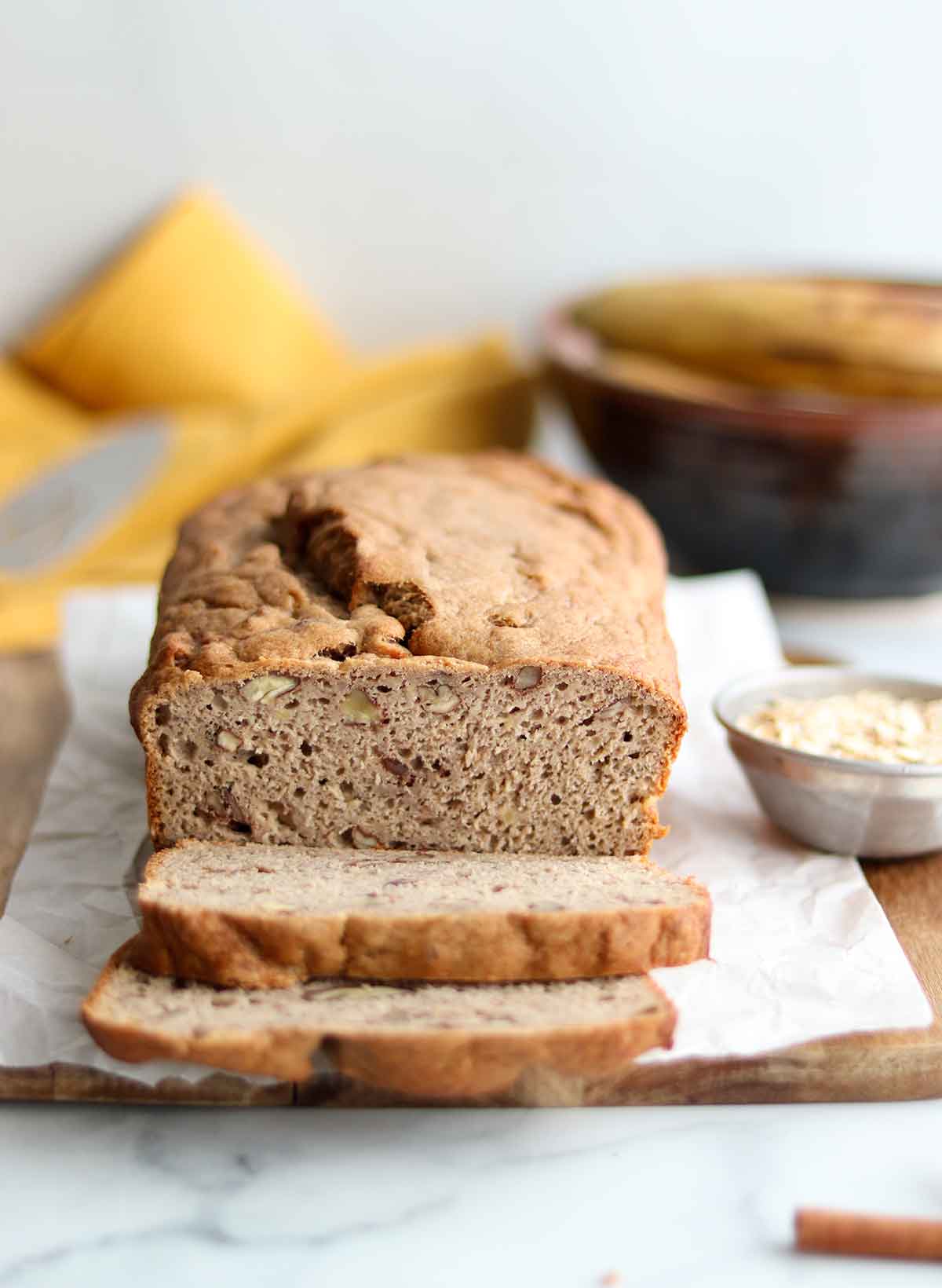 Recipe ingredient substitutions
Coconut oil substitutions: Instead of coconut oil, you can also use vegan butter, MCT oil, light tasting olive oil, or any other cooking oil. If you tolerate dairy, you could also use regular cow's milk butter.
Egg substitutions: Instead of eggs, you can swap it out for egg substitutions such as flax, chia or gelatin eggs.
Oat flour substitutions: Instead of using just oat flour, you can use a mixture of oat flour and quick oats or rolled oats, or a mixture of oat flour and brown rice flour or a gluten-free flour blend. You could also use all rolled oats to make it an oatmeal banana bread. You could also consider using a small amount of xanthan gum which helps to bind the bread together.
Baking powder substitutions: Instead of 2 teaspoons of baking powder, you can swap it out for 1 teaspoon of baking soda.
Vanilla extract substitutions: Instead of liquid vanilla extract, you can use ground vanilla bean paste or vanilla bean powder. For some extra banana flavor, you could also add a little bit of liquid banana extract.
Pecan substitutions: Instead of pecans, this recipe also tastes great with walnuts and/or chocolate chips.
Recipe variations
Make your own oat flour: To make your own homemade oat flour, add your rolled oats into a food processor or high-powered blender and blend until it turns into a fine flour. Easy peasy! Just make sure to buy gluten-free oats because oats are often cross contaminated with wheat/gluten.
Make banana muffins instead of bread
If you want to make this recipe in muffin form instead, follow my oat flour banana muffins recipe.
Add additional sweetness: I chose to make this recipe without any added sugar, and the bananas alone give it the perfect amount of sweetness! But if you want a little bit more, you could add a small amount of maple syrup, coconut sugar, brown sugar, cane sugar (white sugar), or agave syrup. For a sugar-free alternative, you could also use powdered or liquid stevia or a granulated sugar alternative such as Swerve (erythritol).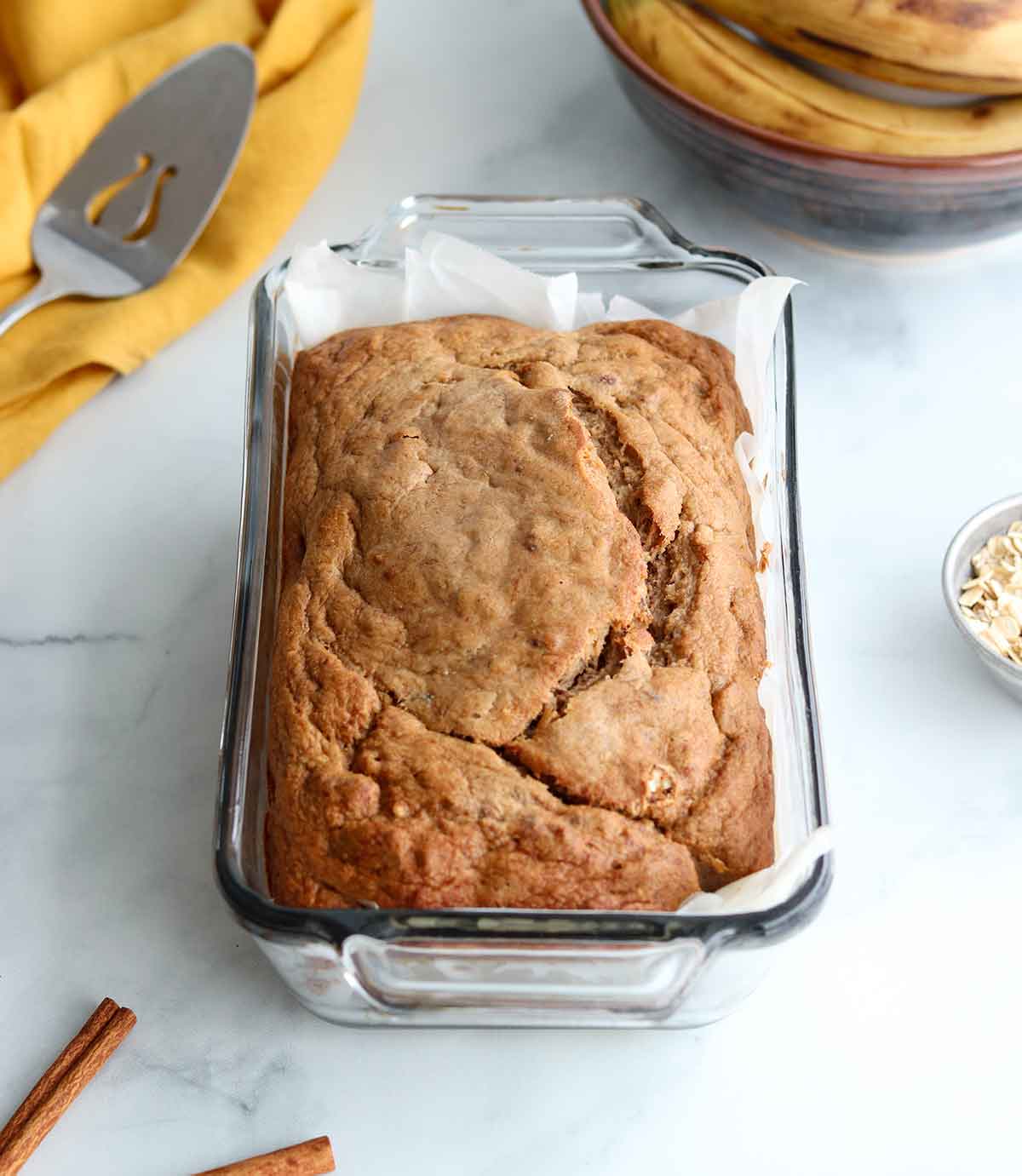 Dietary modifications
Make this recipe elimination diet friendly: Omit the eggs and replace them with flax, chia or gelatin eggs. Otherwise all other ingredients are elimination diet friendly.
Make this recipe paleo/grain free: If you are looking for a paleo version of this banana bread, check out my cassava flour banana bread or my paleo banana muffins. Or feel free to use this recipe and experiment with other grain free flours such as almond flour, tapioca flour / tapioca starch, potato starch, and coconut flour.
Make this recipe vegan: To make a vegan banana bread, simply omit the eggs in this recipe and replace them with egg substitutes such as flax eggs, chia eggs or gelatin eggs.
Recipe pairings
This banana bread tastes great with:
Peanut butter, cashew butter, almond butter, sunflower seed butter or coconut butter
Vegan butter or regular butter
Jam
Storage tips
After you cut your banana bread up into individual slices, store it in an airtight container in the fridge for up to 1 week. You can also store the whole loaf in the bread pan covered in plastic wrap. Or if you'd like to freeze some for later, I suggest freezing a couple slices in each sealed container and taking them out as needed throughout the week. Just thaw them in the fridge overnight or on the counter for a few hours before eating. They also taste great warmed up in the toaster oven or microwave.
Frequently asked questions
Why is my gluten-free banana bread rubbery?
Traditional banana bread generally uses white (wheat) flour. In gluten free banana bread, a gluten-free flour mixture is generally used. Because these flours do not contain gluten and are often higher in starch, this can sometimes result in a more gummy or rubbery texture. Thankfully when you use only oat flour (like in this recipe!), you do not get the same rubbery texture because oat flour is lower in starch and higher in fiber than your average gluten free flour.
Does banana bread contain dairy?
Banana bread generally contains dairy in the form of cow's milk butter and sometimes milk. This recipe does not contain either. Instead of butter, I used melted coconut oil. Instead of milk, the liquid in this recipe comes only from the bananas, vanilla extract, eggs and coconut oil.
What is a good substitute for butter in banana bread?
A good substitute for regular butter is either melted coconut oil or a dairy free/vegan melted butter. You can even use lard or shortening.
Tried my gluten-free banana bread recipe?
Please leave me a rating and review below, and post a picture of the dish to Instagram and tag me at @foodsnfeels 🙌
You might also like:
If you liked this recipe, check out my other oat flour recipes:
If you are looking for more, download one of my free seven day meal plans!
Oat Flour Banana Bread Recipe (Gluten & Dairy Free)
This healthy banana bread recipe is made with simple and affordable ingredients that you can find at all grocery stores. It's gluten-free, dairy free, and refined sugar free.
Instructions
Preheat your oven to 350°F.

Remove the peels from your bananas and add them to your food processor or large bowl. Beat them on high until they are completely broken down into a thick paste. If you don't have a food processor, you can also use a potato masher to mash bananas in your mixing bowl.

Then add all of your remaining wet ingredients into your mashed bananas and blend or mix together.

Add all of your dry ingredients and blend or mix together.

Line your bread pan with a large piece of parchment paper.

Pour your banana bread batter into your parchment lined bread pan. Smooth out the batter to make sure it is evenly distributed in the pan.

Bake for 55-60 minutes or until a toothpick comes out clean. The top of the loaf should also be starting to get golden brown.

Allow the banana bread to sit on a wire cooling rack until it reaches room temperature.

Carefully remove the bread from the baking pan and transfer it onto a cutting board. Cut it up into individual slices and store it in the fridge in an airtight container.
Notes
The nutritional information is based on including pecans in this recipe.
Above in the blog post I provide recipe ingredient substitutions and variations, dietary modifications, storage tips and frequently asked questions.
Nutrition
Calories:
246
kcal
Carbohydrates:
24.5
g
Protein:
5
g
Fat:
15.6
g
Saturated Fat:
7.1
g
Polyunsaturated Fat:
2.6
g
Monounsaturated Fat:
4.6
g
Trans Fat:
0
g
Cholesterol:
37
mg
Sodium:
231
mg
Potassium:
303
mg
Fiber:
3.3
g
Sugar:
7.4
g
Disclaimer: This recipe post contains Amazon affiliate links. This means that if you click on a link and make a purchase, I will receive a small commission (at no extra cost to you). This helps support me so that I can continue to put out high quality, free recipes for you guys! Thank you 😁🙌