There is nothing quite like the flavor of fresh dill! And when you combine it with simple ingredients like fresh lemon juice, shallots, garlic, salt and oil, you get a delicious and easy to make homemade dressing.
Pour this creamy dressing on a green salad topped with your favorite fresh veggies, or even use it as a marinade for baked chicken or salmon.
This recipe is candida diet friendly, paleo, AIP, gluten-free, dairy free, low carb/keto, low oxalate, low lectin and elimination diet friendly. Below I also provide instructions on making it low histamine and low FODMAP.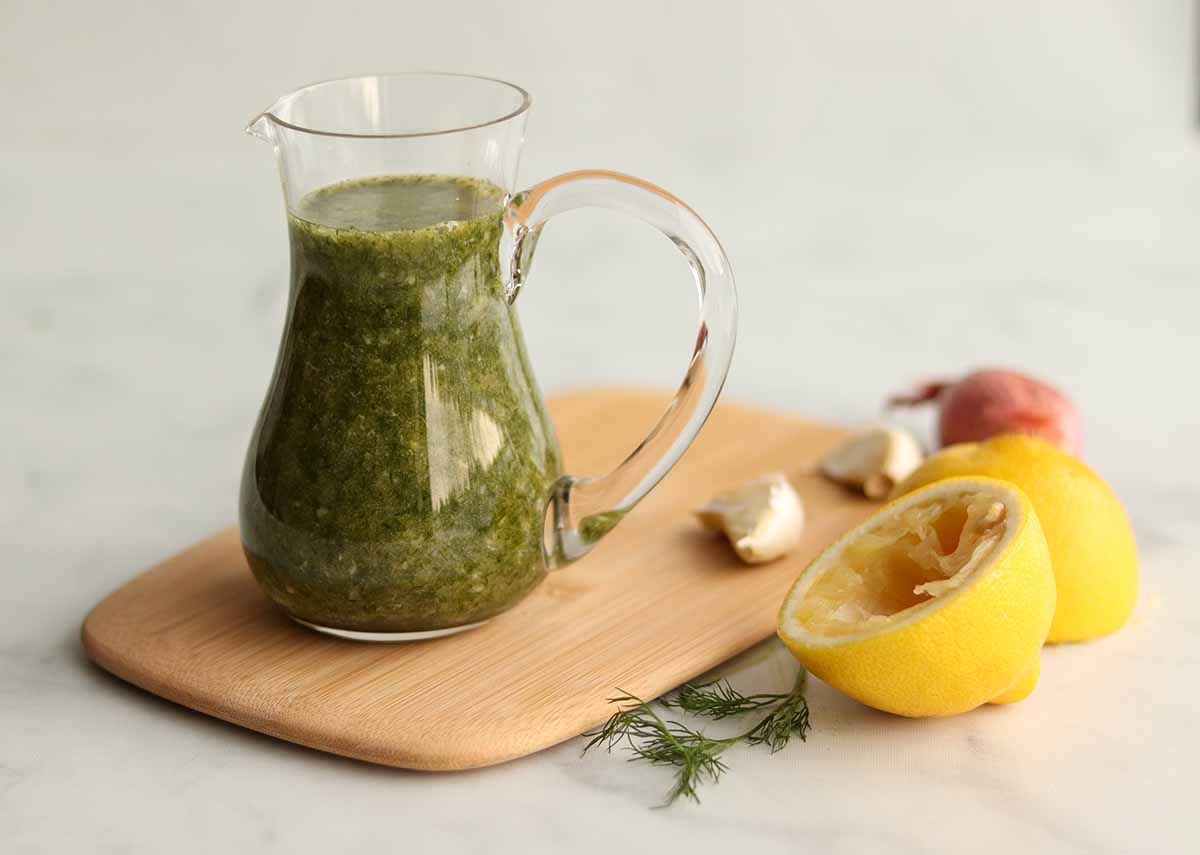 Recipe ingredient substitutions
Fresh dill substitutions: Fresh dill is not always in stock in grocery stores, but this recipe would work great with all other fresh herbs. You can also swap it out for freeze-dried dill. If you do this, use about 2 tablespoons of dried dill.
Fresh squeezed lemon juice substitutions: Instead of fresh squeezed lemon juice, you can also use white wine vinegar, balsamic vinegar, red wine vinegar, apple cider vinegar etc. You can also use a mixture of lemon juice and your choice of vinegar. Just keep in mind – if you do end up using vinegar, this recipe will no longer be candida diet friendly.
Fresh shallot substitutions: Fresh shallot in this recipe really gives it a creamy texture when blended, but you can also use 1 teaspoon of onion powder. Alternatively, you can use other types of onion such as red onion, white onion, green onions or chives.
Fresh garlic clove substitutions: Instead of fresh garlic cloves, swap it out for 1 teaspoon of garlic powder.
Extra-virgin olive oil substitutions: Extra-virgin olive oil is fantastic in salad dressings, but it can be a bit stronger in flavor. If you want a more mild taste, you can also use walnut oil, almond oil, canola oil or any other vegetable oil. You could also sub in a little bit of MCT oil which is rich in caprylic acid, a commonly used natural antifungal!
Recipe variations
Add additional flavors: I kept this recipe super easy and simple to make, but for additional flavouring consider adding dijon or yellow mustard, grated lemon zest, black pepper, cayenne or more of your favorite herbs.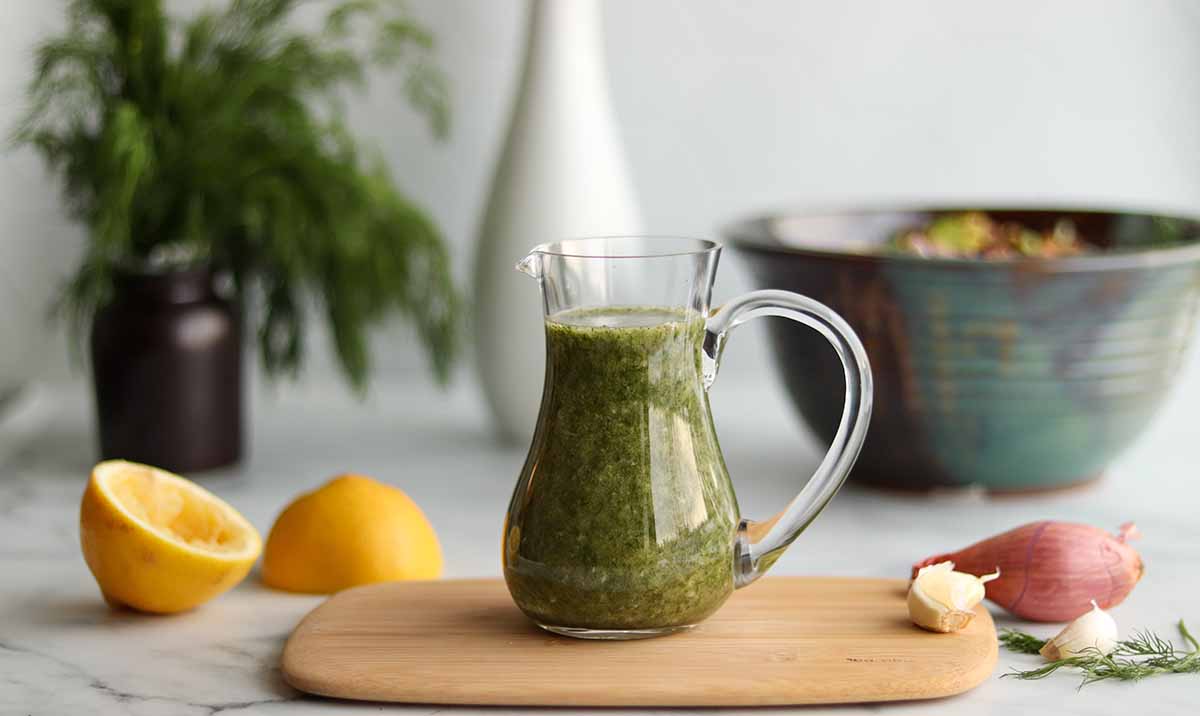 Dietary modifications
Make this recipe lower calorie: Reduce the amount of oil to 1/4 cup instead of 1/2 cup.
Make this recipe low FODMAP: Omit the shallots and garlic.
Make this recipe lower histamine: Instead of using fresh squeezed lemon juice, use distilled white vinegar which is generally thought to be lower in histamine. Or if you tolerate lemon okay but only in small amounts, consider reducing the amount of lemon juice in this recipe.
Recipe pairings
This healthy salad dressing goes great with:
A greens salad topped high with crisp cucumber, shredded carrots and beets, and maybe even some nuts and seeds such as pistachios, pumpkin seeds, or sunflower seeds.
Baked chicken
Salmon or chicken salad
Salmon patties
Roasted vegetables such as green beans, cauliflower, carrots etc.
Storage tips
Store your lemon-dill sauce in an airtight container or sealed mason jar in the fridge for up to 1 week.
Tried my lemon dill vinaigrette recipe?
Please leave me a rating and review below, and post a picture of the dish to Instagram and tag me at @foodsnfeels 🙌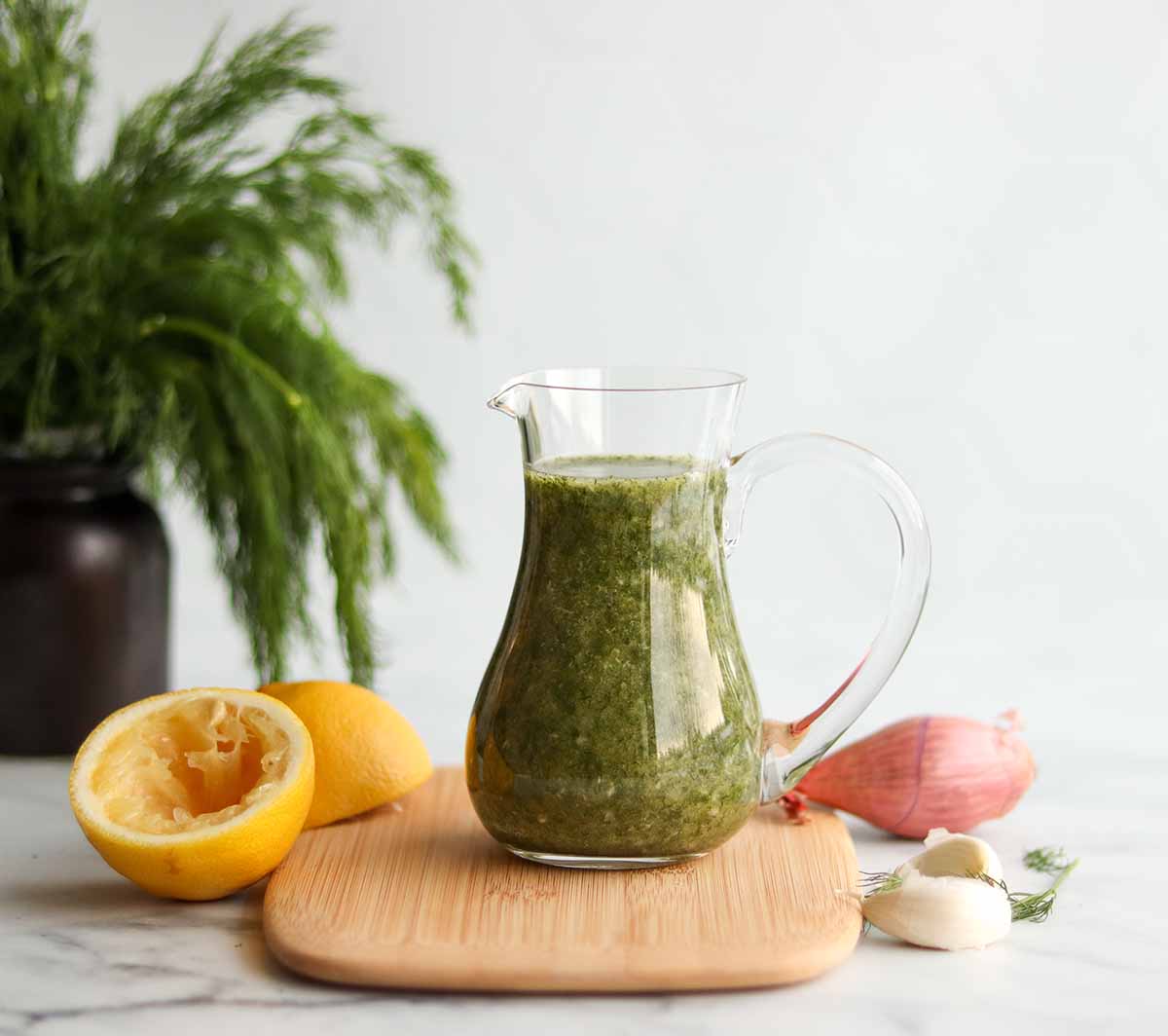 You might also like:
If you liked this recipe, check out my other homemade salad dressings:
Or my other recipes designed specifically for the candida diet:
Additional candida diet recipes and resources:
Easy Lemon Dill Salad Dressing Recipe (Candida Diet)
This lemon dill dressing is candida diet friendly, paleo, AIP, gluten-free, dairy free, low oxalate, low lectin and elimination diet friendly.
Ingredients
1/2

cup

extra-virgin olive oil

(or other oil of choice)

1/3

cup

fresh squeezed lemon juice

(juice of 2 large lemons)

1

fresh shallot

2

garlic cloves

1

bunch of frensh dill

(roughly 1 cup packed)

1/2

tsp

salt
Instructions
Add your oil into your food processor or blender.

Cut your lemons in half and juice them. Remove the seeds and measure out 1/3 cup of lemon juice. Add it into your food processor.

Peel your shallot and garlic cloves and add them to your food processor.

Pull the large stems off your fresh bunch of dill and add it all to your food processor. Don't worry about the smaller stems as everything will get broken down when blended.

Add your salt and blend everything on high-speed until it is thoroughly mixed together. It will have a very smooth and creamy consistency once blended.

Store your dressing in an airtight container or mason jar in the fridge for up to 1 week.
Notes
Above in the blog post I provide recipe ingredient substitutions and variations, dietary modifications, and storage tips.
Nutrition
Calories:
176
kcal
Carbohydrates:
2.6
g
Protein:
0.3
g
Fat:
18.7
g
Saturated Fat:
2.6
g
Polyunsaturated Fat:
2
g
Monounsaturated Fat:
13.6
g
Trans Fat:
0
g
Cholesterol:
0
mg
Sodium:
196
mg
Potassium:
51
mg
Fiber:
0.2
g
Sugar:
1.4
g
Disclaimer: This recipe post contains Amazon affiliate links. This means that if you click on a link and make a purchase, I will receive a small commission (at no extra cost to you). This helps support me so that I can continue to put out high quality, free recipes for you guys! Thank you 😁🙌
About the author Tara Klippert
Tara Klippert is a Registered Health and Nutrition Counselor and holds a diploma in Holistic Nutrition and Health Coaching. She shares her gluten free, dairy free & allergy friendly recipes.