These juicy moose hamburgers are piled high with bacon, burger sauce and all the regular burger fixings.
They taste great with french fries, sweet potato fries, onion rings, caesar salad or a side salad. And don't forget a cold beer!
Because moose meat is quite lean and the fat content is low, I've also added in some extra fat to make them super juicy.
Recipe ingredient substitutions
Ground moose meat substitutions
If you aren't able to get ground moose meat in your area or from a local hunter, you can easily swap it out for other wild game meat such as caribou, bison, elk, deer, or sheep. Alternatively, lean ground beef works great as well!
Breadcrumb substitutions
I use gluten-free bread crumbs for my burger patties, but you can easily use regular bread crumbs. Alternatively, you can also use gluten-free or regular flour – If you do this, use half the amount the recipe calls for. You can also swap out the breadcrumbs for rolled oats.
Egg substitutions
Instead of regular eggs, you can swap it out for egg alternatives such as flax eggs, gelatin eggs or chia eggs. You can also just omit the egg altogether. The breadcrumbs help hold the burgers together on their own!
Garlic powder substitutions
Instead of garlic powder, swap it out for 2 fresh diced up garlic cloves.
Onion powder substitutions
Instead of onion powder, swap it out for 1/2 a fresh white or red onion. You can also use 2 shallots. You can even swap it out for green onions or chives.
Fat substitutions
I used olive oil for additional fat, but you can also use butter, lard, or any other oil such as canola oil, vegetable oil, coconut oil, avocado oil, sunflower oil etc.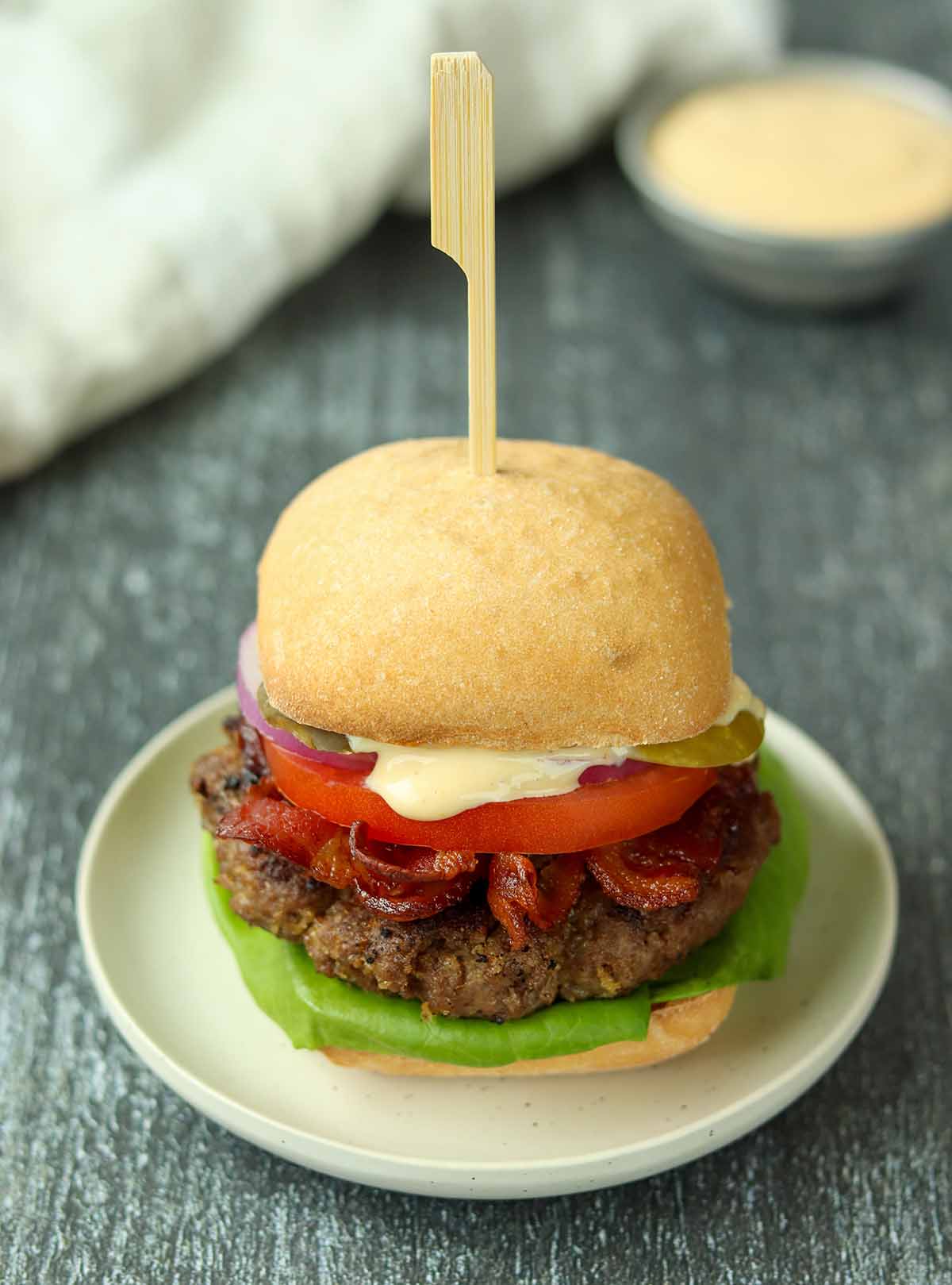 Recipe variations
Add some different flavors to your burger patties
Think of the recipe below as a base recipe to make the perfect moose burger, and then add different spices and flavors that you think would taste good! Here are some examples:
herbs such as fresh rosemary, basil, oregano, or dill.
steak sauce, barbecue sauce, ketchup, dijon mustard, or relish.
spice it up with red pepper flakes, cayenne, jalapeno or hot sauce.
Add additional toppings
Below in the recipe card I've listed some suggested burger toppings, but here are some additional ideas:
caramelized onions
fried mushrooms
cheddar cheese, mozzarella cheese, swiss cheese, provolone etc.
pickled onions
arugula or spinach
any of your other favourite toppings!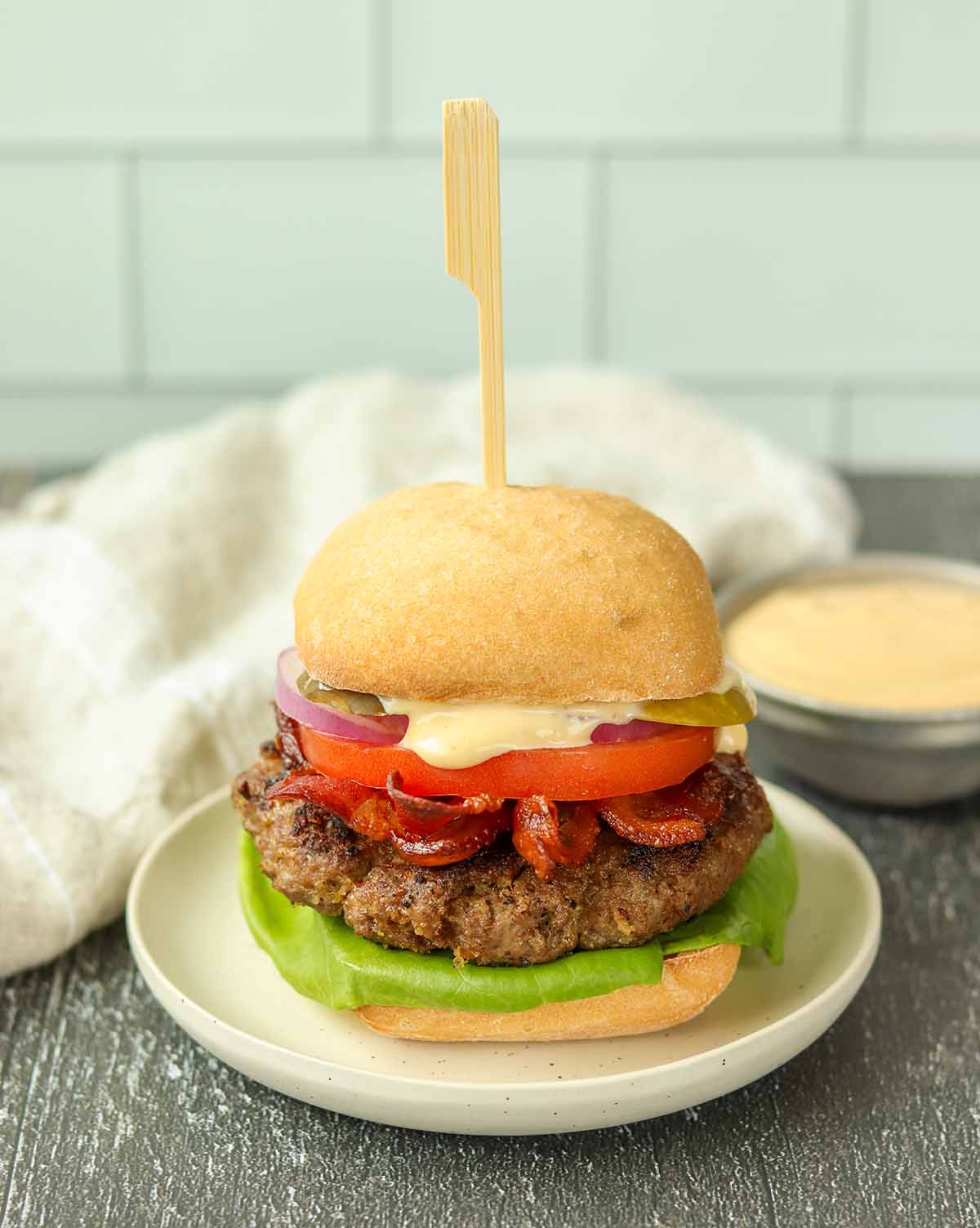 Storage tips
Store your uncooked burger patties in the freezer in an airtight container separated by parchment paper. Once you are ready to cook them, take them out of the freezer the night before and put them in the fridge. They should be thawed and ready to cook by the following day.
Store your cooked burger patties in a sealed container in the fridge for 1 – 3 days, or in the freezer for up to 3 – 6 months.
Tried my tasty moose burger recipe?
Please leave me a rating and review below, and post a picture of the dish to Instagram and tag me at @foodsnfeels 🙌
You might also like
If you liked this recipe, check out my other wild game recipes:
If you are looking for more, download one of my free seven day meal plans!
Juicy Loaded Moose Burger Recipe
These juicy moose hamburgers are piled high with bacon, burger sauce and all the regular burger fixings.
Ingredients
Burger sauce
1/2

cup

mayonnaise

1

tbsp

ketchup

1/2

tbsp

mustard
Toppings
1

pack of bacon

lettuce

tomato

red onions

pickles

buns

(gluten-free or regular)
Instructions
Get your bacon started by heating up your oven to 350°F. Line a baking sheet with parchment paper and evenly lay your bacon strips across the pan. Bake it for roughly 30 minutes. Once it's done, transfer it over to a large plate with paper towel until you are ready to top your burgers. Optionally, you can fry your bacon in a frying pan at low heat, stirring regularly.

In a large mixing bowl, mix together the ground raw meat, breadcrumbs, egg, worcestershire sauce, added fat, and additional seasonings.

Using your hands, thoroughly mix everything together until the ingredients are fully blended. Optional: if you don't want to use your hands, you can also mix everything in a stand mixer or food processor.

Using your hands or a burger press, form the burger meat into roughly 8 patties.

Heat a large cast-iron skillet to medium-high heat.

Add an additional 1 – 2 tablespoons of oil or lard to the frying pan and place roughly 3 – 4 patties in the pan carefully.

Cook the first side until they start browning up nicely and look like they are cooked about halfway through. If your burgers start cooking too fast or burning, turn the burner down to medium heat.

Flip your burger patties and cook on the second side for slightly less time, or until your burgers are cooked through.

Transfer your burgers over to a large plate. Using a meat thermometer, check to make sure they are done. Moose meat should be cooked to an internal temperature of 165°F.

Repeat this process for the next round of burger patties. If you don't want to cook them all, you can freeze each patty between sheets of parchment paper in an airtight container or freezer bags until you need them next.

Meanwhile, toast your buns and prepare your toppings. Cut up your lettuce, tomato, red onion and pickles.

Mix together your burger sauce in a small bowl or tupperware container.

Stack your buns up high with a burger patty, bacon, lettuce, tomato, red onion, pickles and burger sauce. Enjoy the best moose burger you'll ever have!
Notes
Above in the blog post I provide ingredient substitutions, recipe variations, and storage tips.
The nutritional information above is based on 1 burger patty. Toppings and ingredients are not included in these numbers because they will vary significantly.
Nutrition
Calories:
177
kcal
Carbohydrates:
5.3
g
Protein:
26.6
g
Fat:
4.8
g
Saturated Fat:
1
g
Polyunsaturated Fat:
0.7
g
Monounsaturated Fat:
3
g
Trans Fat:
0
g
Cholesterol:
90
mg
Sodium:
555
mg
Potassium:
368
mg
Fiber:
0
g
Sugar:
1
g
Disclaimer: This recipe post contains Amazon affiliate links. This means that if you click on a link and make a purchase, I will receive a small commission (at no extra cost to you). This helps support me so that I can continue to put out high quality, free recipes for you guys! Thank you 😁🙌