This slow cooker moose stew recipe will warm and nourish you on those cold, dark winter nights. It's inspired by a classic stew recipe, but with some healthy, northern twists.
My friend Pavlina had a nice chunk of moose meat that she got from a friend in Old Crow, Yukon Territory so we decided to collaborate on a moose stew recipe together.
We both tend to lean towards low carb eating, so we made this stew with turnips instead of white potatoes. But below I provide recipe substitutions and variations so you can make this however your heart desires!
Recipe substitutions
Moose meat substitutions: Instead of using moose meat, you can also use regular beef. Or alternatively, if you can get your hands on other wild game, you could also use caribou, sheep, elk, or buffalo meat. Any wild meat will work.
Broth substitutions: If you want to speed this recipe up, you can always use store-bought beef broth or bouillon cubes with cold water. But if you want the real "nose to tail" deal, I highly suggest making bone broth the day before to get all the flavours, minerals and nutrients (such as gelatin/collagen) out of the bones. You can use the bone that comes with your chunk of meat (if it has one), or you can generally get bones from your local grocery store or butcher. Although if you are a fellow northerner, and you got the moose yourself, I imagine you likely also butchered it and have access to all the bones! Follow my recipe on how to make bone broth in a crockpot.
Olive oil substitutions: Instead of olive oil, you can also brown your meat, onions and vegetables in any other cooking fat of your choice. Bacon fat, butter and pork or beef lard work excellent!
Fresh garlic clove substitutions: Instead of using fresh garlic cloves, you could swap it out for 1 teaspoon of garlic powder.
Fresh thyme substitutions: If you can't get fresh thyme, swap it out for 1 teaspoon of dried thyme.
Seasoning substitutions: In addition to the spices I've included in this recipe, you can also add worcestershire sauce, soy sauce, or fresh rosemary. All of these work great with wild meats.
Turnip substitutions: Instead of using turnips, you can swap it out for white potatoes, red potatoes, or sweet potatoes.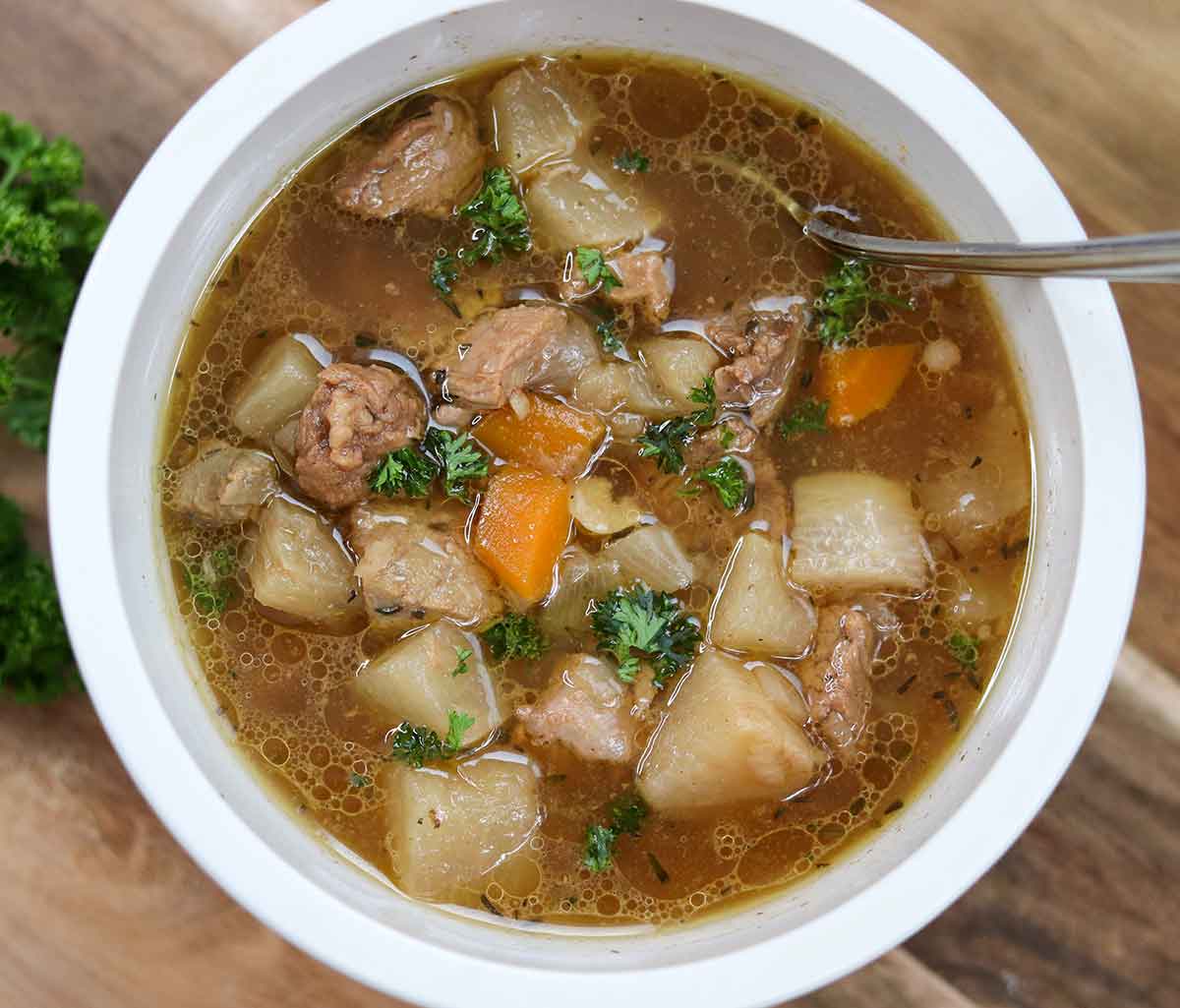 Recipe variations
Add red wine or balsamic vinegar
Many classic stew recipes call for red wine or balsamic vinegar. This gives the broth a really nice flavour. I chose not to add any to this recipe, but it would make a great addition. Add ⅛ of a cup of balsamic vinegar or ¼ cup red wine.
Add flour to thicken the stew broth
Many classic stew recipes call for a small amount of flour to help thicken up the broth. If you want to, at the very end you can add anywhere from ⅛ cup to ¼ cup of flour and mix in thoroughly until it starts to thicken. Then you can turn off your slow cooker and serve! This will turn the juices into a savoury gravy!
Throw your meat in whole
Don't feel like you need to cut your meat up into little chunks before putting it into the pan or slow cooker. If you put it in whole, then at the end you can use two forks to shred/pull apart the meat. After slow cooking it will be nice and tender.
Add more veggies
Feel free to add additional veggies if you want. Frozen green peas, tomato paste, carrots, and celery work great in stews as well. This is a great way to use up anything you've got in your fridge
Pro tips for this recipe:
Brown your meat, onions and vegetables before putting everything in the slow cooker
While you can totally just add everything into the crockpot and cook, browning your game meat, onions, garlic and vegetables in a cast iron pan with some bacon fat or pork lard ahead of time can really give it a nice added flavour. You don't have to cook it fully, just get some colour on it and then you are ready to put everything in the slow cooker.
Cook it low and slow
One of the best things about slow cookers is that you can cook your food all day long on a low temperature. This really allows the meat to tenderize as much as possible, and all the flavours to blend together really nicely. If you can, I highly recommend doing eight hours on the lowest setting.
Frequently asked questions
Can I make this if I don't have a slow cooker or crock pot?
Yes! If you have an instant pot, they have a slow cooker setting which will work. Or if you have a large pot, you can brown your onions and moose stew meat on medium-high heat for 7-8 minutes before adding all the other ingredients and bringing it all to a boil. Once it boils, turn down to low and let simmer until the moose meat is fork tender (3-4 hours). Another option is to follow the same steps in a large Dutch oven and then transfer everything to a preheated oven at low heat (250-300F) until the meat is fall off the bone tender.
Tried my moose stew recipe?
Please leave me a rating and review below, and post a picture of the dish to Instagram and tag me at @foodsnfeels 🙌
You might also like:
If you like this moose stew slow cooker recipe, you might also like my other wild game recipes:
If you are looking for more, download one of my free seven day meal plans!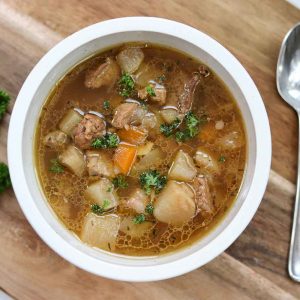 Moose Stew Slow Cooker Recipe
This moose stew slow cooker recipe will warm and nourish you on those cold, dark winter nights. It's inspired by a classic stew recipe, but with some healthy, northern twists.
Ingredients
1 ½ – 2

lb

moose meat

(or other red meat)

2

tbsp

bacon fat or lard

(or other cooking oil/fat)

4

cups

bone broth

(or store-bought beef broth)

4

large

turnips

(or white potatoes)

3

carrots

4

fresh garlic cloves

1

tsp

salt

½

tsp

pepper

1

tsp

dried thyme
Instructions
Dice up your turnips, carrots, onions and garlic.

Add about 2 tablespoons of bacon fat or lard to a cast iron pan on medium heat.

Brown your moose meat until it's got some nice colour on it. Then put your meat in the bottom of your slow cooker.

Next add your onions and garlic to the cast iron pan and sauté until they start browning and getting fragrant. Add those to your slow cooker.

If you want you can also brown your turnips and carrots before adding those to the slow cooker as well.

Once you've got everything into your slow cooker, pour in 4 cups of bone broth or beef broth. This should almost completely cover your meat and vegetables. If not, feel free to add a bit of additional broth or water.

Add in the remaining seasonings – salt, pepper, thyme, and bay leaves.

Set your slow cooker to 8 hours on low or 4 hours on high. I highly recommend going low and slow if you can for the best results! It's a long time to wait but the extra cooking time is worth it.

Once done, enjoy immediately!

Store leftovers in the fridge for the next day.
Nutrition
Calories:
286
kcal
Carbohydrates:
13
g
Protein:
39
g
Fat:
6
g
Saturated Fat:
2.2
g
Polyunsaturated Fat:
1
g
Monounsaturated Fat:
2.2
g
Cholesterol:
92.5
mg
Sodium:
543
mg
Fiber:
4
g
Sugar:
6.1
g
Disclaimer: This recipe post contains Amazon affiliate links. This means that if you click on a link and make a purchase, I will receive a small commission (at no extra cost to you). This helps support me so that I can continue to put out high quality, free recipes for you guys! Thank you 😁🙌