These bear burgers are packed with seasonings to make them super juicy and flavourful. Pile them high with loads of toppings and you will barely know you are eating wild game.
This recipe is a result of a collaboration between me and Candace at Northern Nomad Outdoors & Yoga. She supplied the ground bear meat, and I developed the recipe 😊.
Please keep in mind that Candace, as an Outfitter, practices ethical selective harvest hunting. This means not shooting the first animal they see as well as going for the older males that are on their way out. This promotes the increase of population, not a decline. Outfitters are stewards of the land, conservationists and wildlife managers. It is important to Candace and I that we respect and make use of the whole animal – a term many call nose to tail eating. An example of this is using both the bones to make bone broth, and the extra fat to make tallow or lard.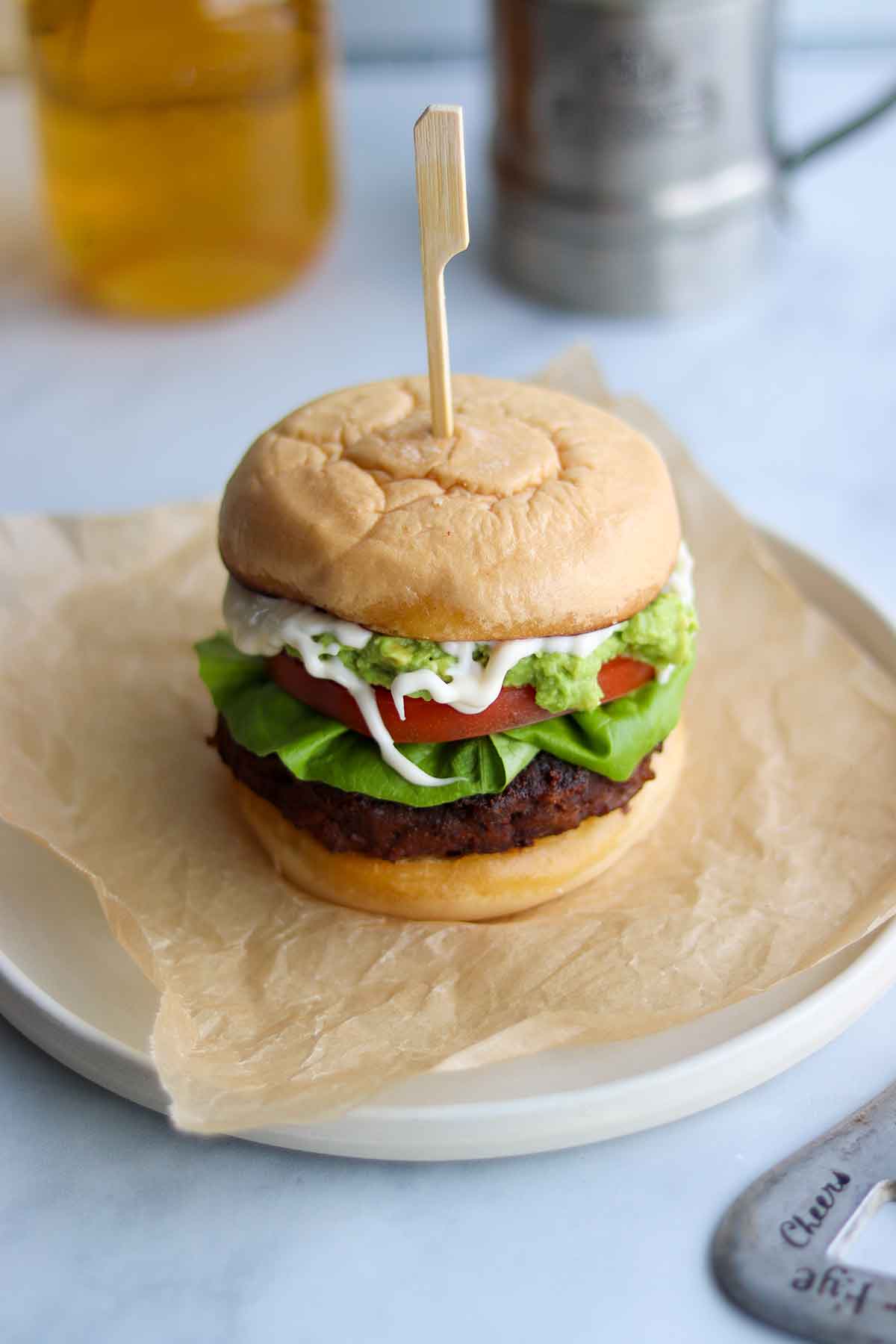 Recipes substitutions and variations
Ground bear meat substitutions: Instead of ground bear meat, this recipe also works with ground moose meat or any other wild game such as bison, elk, or sheep. If you don't have access to wild game, you can also use ground beef.
Egg substitutions: Instead of using 2 eggs in this recipe, add an additional 1 tablespoon of flour. This will help the burger stick together and not fall apart when you are frying it.
Gluten-free flour substitutions: Instead of using gluten-free flour, swap it out for regular wheat flour or any other flour of your choice.
Garlic powder substitutions: Instead of garlic powder, use 3 fresh diced up garlic cloves.
Onion powder substitutions: Instead of onion powder, swap it out for 1/2 of a diced up white onion.
Beef tallow substitutions: Instead of using beef tallow to fry your bear burgers, you could also use pork lard, coconut oil, olive oil, butter or any other oil or fat of choice. Ground bear meat has a decent amount of fat in it already, so you could probably get away with no oil or fat in the pan.
Gluten-free bun substitutions: I used gluten-free buns for this recipe, but you can also use regular wheat flour hamburger buns or a lower carb keto friendly bun such as lettuce.
Paprika substitutions: If you want your burger to be more spicy, you can swap out the paprika for cayenne. Use 1/2 teaspoon instead of 1 whole teaspoon.
How to make ground bear burgers
Thaw out your ground bear meat ahead of time. Once it is thawed, add it to a large mixing bowl. If there is any liquid in the bottom of the package, try to avoid pouring that into the bowl.
Measure and add all of the remaining dry and wet ingredients to your ground meat.
Using clean hands, mix the ground meat with your seasonings and eggs until everything is thoroughly mixed together.
Using a hamburger press (or your hands), form the seasoned meat into roughly 10 hamburgers.
Now you are ready to either freeze, refrigerate or cook your bear burgers. See the recipe card below for full instructions on cooking them as well as which toppings I recommend.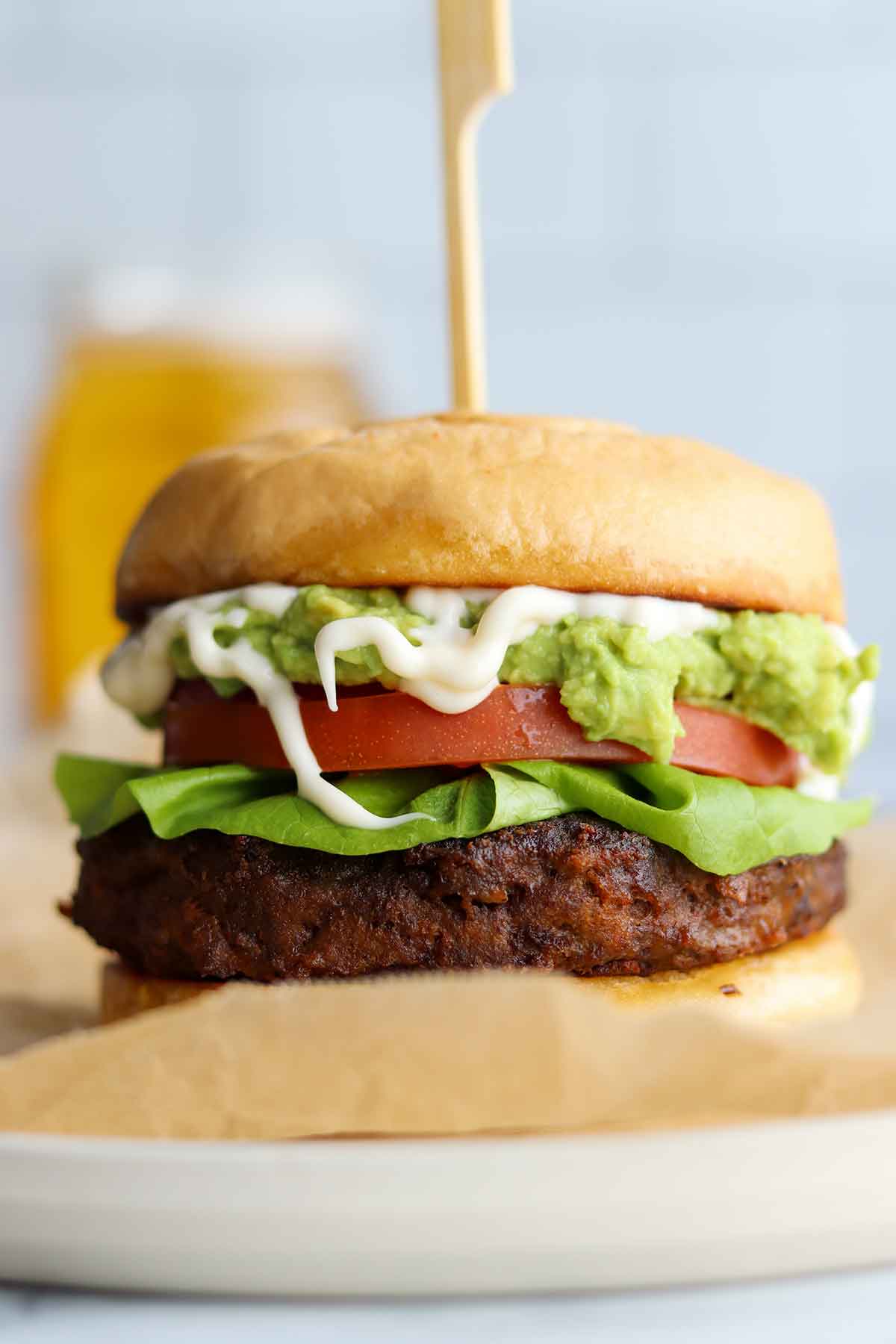 Recipe pairing ideas
Here are some suggestions on toppings and condiments. These are the toppings that I used for my black bear burgers, and I can tell you that they were an amazing combination! But of course you can dress these burgers up however your heart desires.
Hamburger bun, sliced in half and buttered and then fried on low – medium heat on the stove.
Lettuce
Sliced tomato
Diced up red onion
Ripe avocado
Mayonnaise (or your choice of sauce – ketchup or mustard)
Additional toppings – A slice of cheese such as cheddar, mozzarella or swiss
Sides – regular or sweet potato fries, garden salad or caesar salad
Frequently asked questions
Is bear meat good for burgers?
Bear meat is very similar to beef and other red meats, so it is excellent for making burgers. It is not as lean as other red meats, which makes for a juicy and flavourful burger.
What can you make out of bear meat?
Because bear meat is somewhat similar to red meat and other wild game, you can use it in any recipe that calls for beef. This includes dishes such as stew, soup, taco meat, burgers, and steak.
How do you prepare bear meat?
Bear meat can be prepared just like you would any other meat, however you will want to make sure that you cook the meat thoroughly as you do not want to consume it raw.
Tried my black bear burgers?
Please leave me a rating and review below, and post a picture of the dish to Instagram and tag me at @foodsnfeels 🙌
You might also like:
If you liked my post on how to make ground bear burgers, you might also like my other wild game and nose to tail recipes:
If you are looking for more, download one of my free seven day meal plans!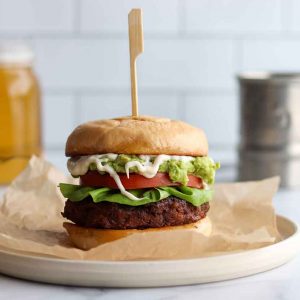 Black Bear Burgers Recipe
These bear burgers are packed with seasonings to make them super juicy and flavourful. Pile them high with loads of toppings and you will barely know you are eating wild game.
Ingredients
Toppings
hamburger buns

butter

lettuce

Tomato

ripe avocado

Red onion

mayonnaise
Instructions
Bear burger patties
Remove the packaging on your ground bear meat and put it all in a large mixing bowl.

Add all remaining wet and dry ingredients to the bowl with your meat.

Press roughly 10 burger patties in a hamburger press. If you don't have a hamburger press, you can also form them into burger patty shapes with your hands, but they will be much more even and well-formed if you use a press.

Heat a cast iron pan on low to medium heat and add 1 tbsp beef tallow to the pan so that the burgers don't stick.

Add your burger patties to the pan and cook for roughly 4 to 5 minutes.

Using a flipper, flip your burger patties and fry on the second side for roughly 3 to 4 minutes or until cooked through.
Burger fixings
While your burger patties are cooking, heat a second pan on low heat. Cut your hamburger buns in half and butter the inside of both pieces. Place each bun face down in the pan and fry until the bottoms are getting crispy and starting to brown.

Assemble your burger with your buttered and toasted hamburger bun, the bear burger patty, lettuce, sliced tomato, diced red onion, avocado and mayonnaise.
Notes
In the blog post above you will find recipe ingredient substitutions as well as frequently asked questions and recipe pairing ideas.
The nutritional information is based on just the burger patty and not the other burger fixings.
Nutrition
Calories:
218
kcal
Carbohydrates:
2.5
g
Protein:
25
g
Fat:
12
g
Cholesterol:
39
mg
Sodium:
350
mg
Potassium:
31
mg
Fiber:
0
g
Sugar:
0
g
Disclaimer: This recipe post contains Amazon affiliate links. This means that if you click on a link and make a purchase, I will receive a small commission (at no extra cost to you). This helps support me so that I can continue to put out high quality, free recipes for you guys! Thank you 😁🙌