These juicy elk burgers are easy to make and can be piled high with all of your favourite burger toppings. It can be daunting to make burger patties from wild game meat, but it's actually quite similar to working with lean ground beef so don't fret! With some simple spices, you may not even be able to tell the difference between these and regular beef burgers.
If you aren't able to get your hands on elk meat (you often can't buy elk meat in your local grocery store), these burgers can also be made from lean ground beef or any other wild game such as moose, caribou, sheep etc.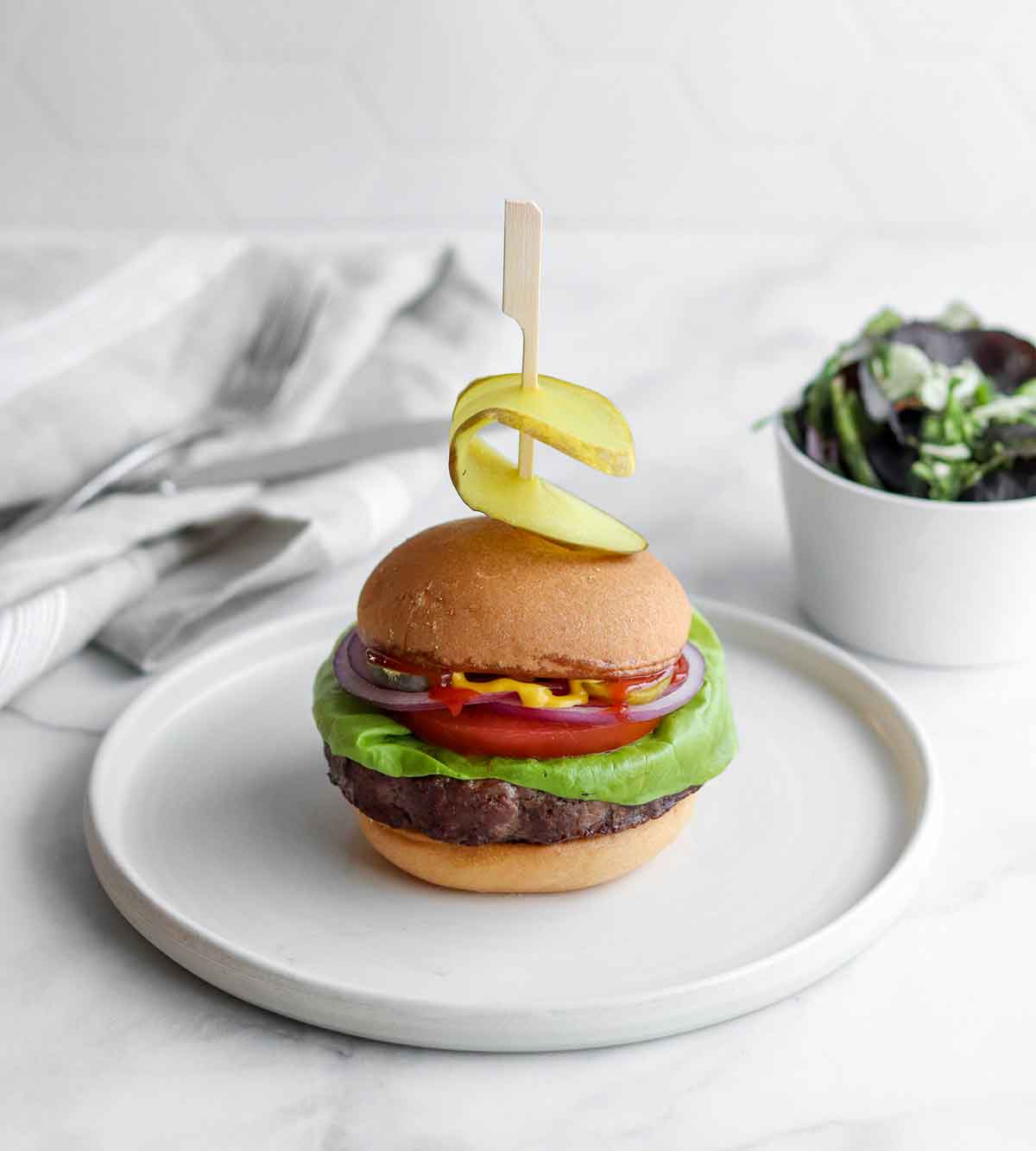 Recipe ingredient substitutions
Ground elk substitutions: Sometimes you can access elk meat from your local butcher shop, but if you can't get elk meat, this recipe also works great with lean ground venison, beef, bison, moose, caribou etc. Basically, any lean ground red meat.
Gluten free flour substitutions: Any flour will work great in this recipe including white flour, whole wheat flour, white rice flour or other starches including tapioca starch, corn starch, potato starch etc. If you use one of the starches, you probably only need 1 or 2 tablespoons instead of the 3 tablespoons of flour the recipe calls for. The starch in this recipe is really just to hold the burger patties together from crumbling apart.
Garlic powder substitutions: You can also use fresh garlic cloves. Use anywhere from 3 to 6 fresh cloves and dice them up finely before adding to the mixing bowl.
Onion powder substitutions: You can also use fresh diced up onion. Use roughly 1/2 of a white onion, diced up finely. Around 4 tablespoons.
Recipe variations
Add some extra flavour: These elk patties are pretty darn tasty on their own, but if you want to add some additional flavour and spice, try some bbq sauce or worcestershire sauce.
Recipe pairings
This recipe just contains ingredients for the elk burgers, so I wanted to include some suggestions for toppings:
Burger buns (duh!)
Cheddar cheese, blue cheese or pepper jack cheese (or a slice of dairy free cheese if you don't do dairy!)
Red onion, caramelized onions, or fresh white onion
Iceberg lettuce
Slice of tomato
Pickles
Condiments: ketchup, mustard, relish, mayonnaise
Storage tips
Store the raw uncooked burger patties: The uncooked burger patties store really well in the freezer. Store them in an airtight container with a small piece of parchment paper separating each burger patty. Once you are ready to use them, you can take them out of the freezer and thaw them on the counter for a few hours or in the fridge overnight. You can also cook them from frozen.
Store the cooked burger patties: Store the cooked burger patties in an airtight container in the fridge for up to a few days, or in the freezer for up to a few months.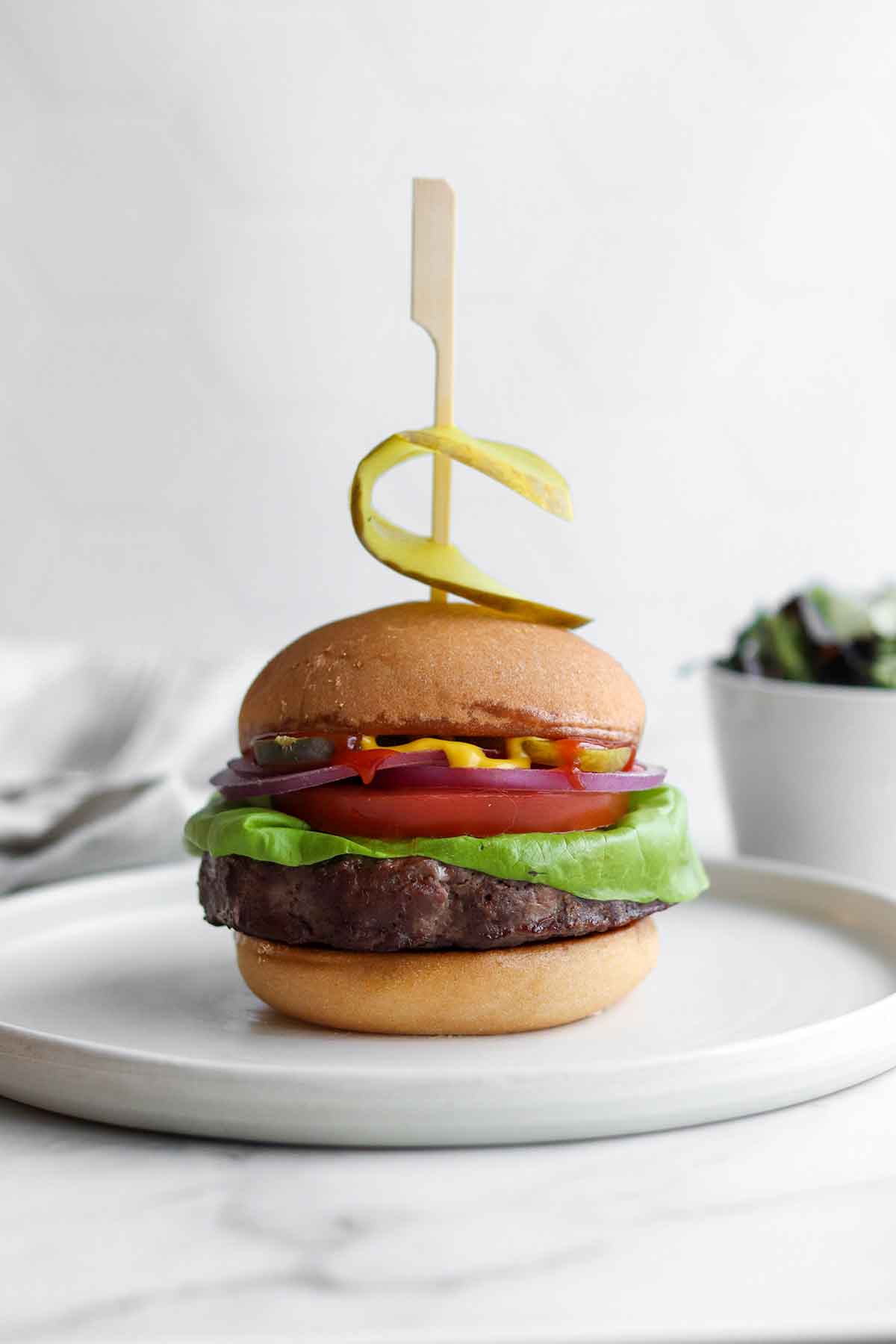 Tried my juicy burger recipe?
Please leave me a rating and review below, and post a picture of the dish to Instagram and tag me at @foodsnfeels 🙌
You might also like:
If you liked my post on how to cook elk burgers, check out my other wild game burgers & wild game recipes:
If you are looking for more, download one of my free seven day meal plans!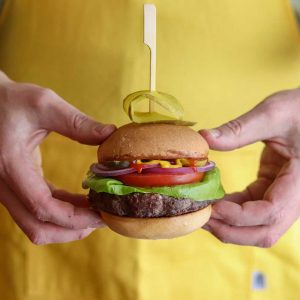 Easy Homemade Elk Burgers Recipe
These juicy elk burgers are easy to make and can be piled high with all of your favourite burger toppings.
Instructions
In a large bowl, combine the ground meat, flour, salt, garlic powder, onion powder, black pepper (and your added fat if you're using some) and mix thoroughly using your hands.

Form equal portions of your ground mix into roughly 6 burger patty shapes. Or if you have one, you can use a hamburger presser.

Place the burgers in a cast-iron skillet over medium heat. You may have to do a few at a time depending on the size of your skillet.

Cook the first side for roughly 4 – 5 minutes and then flip each of them carefully.

Cook the second side for about the same amount of time or until they are fully cooked through and the top of the burgers have browned nicely.
Notes
Above in the blog post I provide recipe ingredient substitutions, variations and storage tips. I also provide suggestions on burger toppings and condiments!
Nutrition
Calories:
235
kcal
Carbohydrates:
3.5
g
Protein:
40
g
Fat:
3
g
Saturated Fat:
1
g
Polyunsaturated Fat:
0.6
g
Monounsaturated Fat:
0.7
g
Trans Fat:
0
g
Cholesterol:
110
mg
Sodium:
470
mg
Potassium:
460
mg
Fiber:
0.5
g
Sugar:
0
g
Disclaimer: This recipe post contains Amazon affiliate links. This means that if you click on a link and make a purchase, I will receive a small commission (at no extra cost to you). This helps support me so that I can continue to put out high quality, free recipes for you guys! Thank you 😁🙌