These bison tacos are made with homemade taco seasoning, and loaded up with lots of fresh colourful ingredients.
I've suggested some toppings in the recipe below, but there are endless ways to dress them up!
Recipe ingredient substitutions
Ground bison substitutions
These days you can get ground bison meat at most grocery stores (I got mine at my local Save-On Foods). You can also try asking friends that hunt. But if you aren't able to find any, you can switch it out for lean ground beef which is very similar in taste and texture. You can also use ground turkey, ground chicken, or ground pork. If you don't have ground bison but you do have bison steaks, cut them up into thin strips and fry them as you would the ground beef.
Homemade taco seasoning substitutions
If you want to speed things up, no need to make your own homemade taco seasoning! You can also buy store-bought taco seasoning, or just toss in a little bit of unmeasured cumin, chili powder, oregano, paprika, garlic powder, onion powder and salt.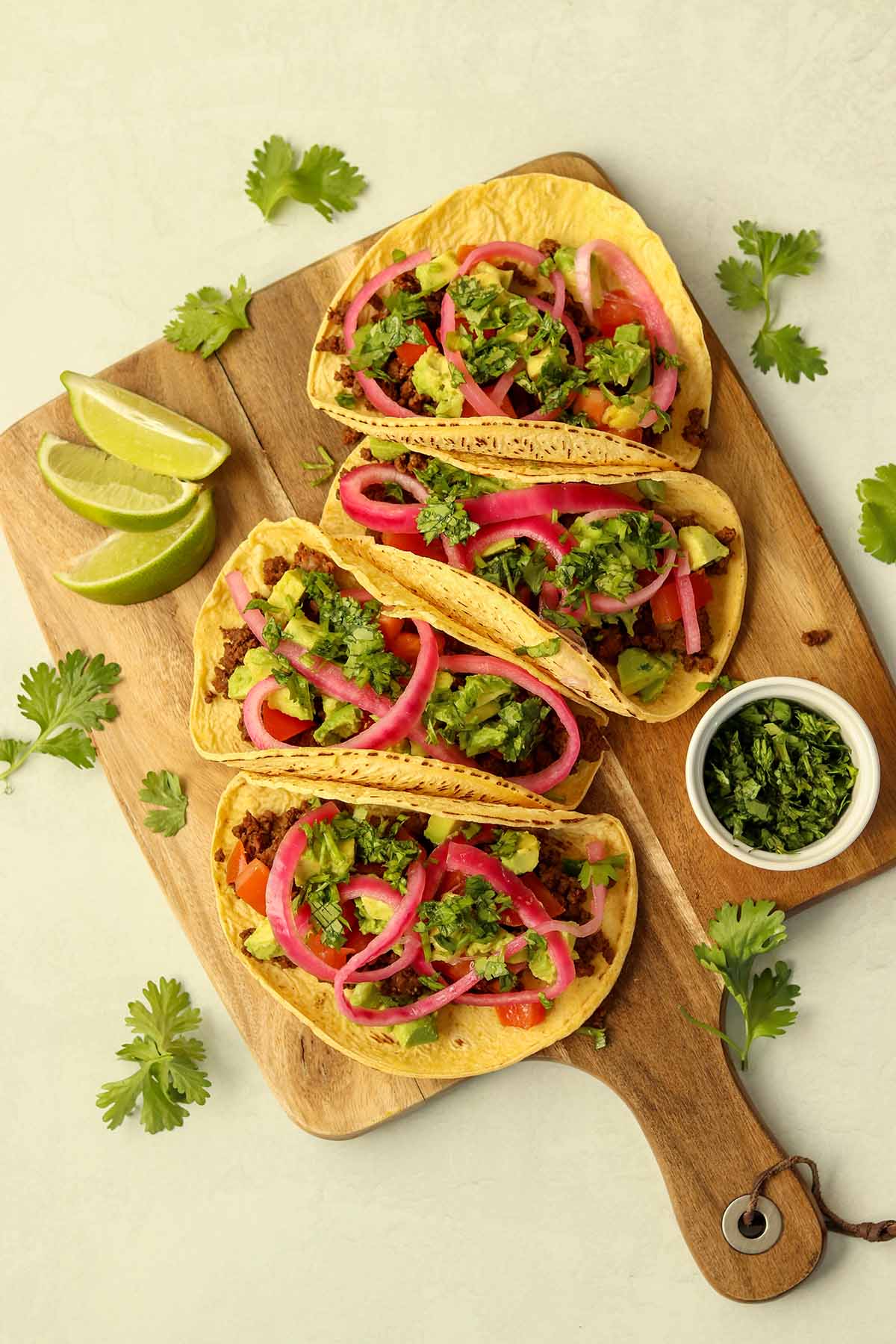 Avocado substitutions
Instead of just cutting up plain ripe avocados, you can also make homemade guacamole or even buy store-bought guacamole.
Fresh cilantro substitutions
Instead of fresh cilantro, you can add dried or freeze-dried cilantro to the taco meat.
Fresh lime substitutions
Instead of squeezing the juice out of your own fresh lime, you can buy lime juice at the grocery store. Alternatively, instead of lime you can also use lemon.
Pickled onion substitutions
If you don't want to make your own pickled red onions, or can't find it at the grocery store, swap it out for fresh diced up red onion, white onion, shallot, green onion or chives.
Soft corn tortilla substitutions
Instead of using soft corn tortillas, you can swap them out for hard corn shells. Alternatively, you can also use flour tortillas (regular or gluten-free made with rice flour). Or forget the tortillas and eat your taco meat and fresh toppings over salad or rice!
Micro greens substitutions
Instead of micro greens, you can use any type of green/lettuce. Iceberg lettuce, romaine lettuce, butter lettuce, spinach, spring mix, arugula etc.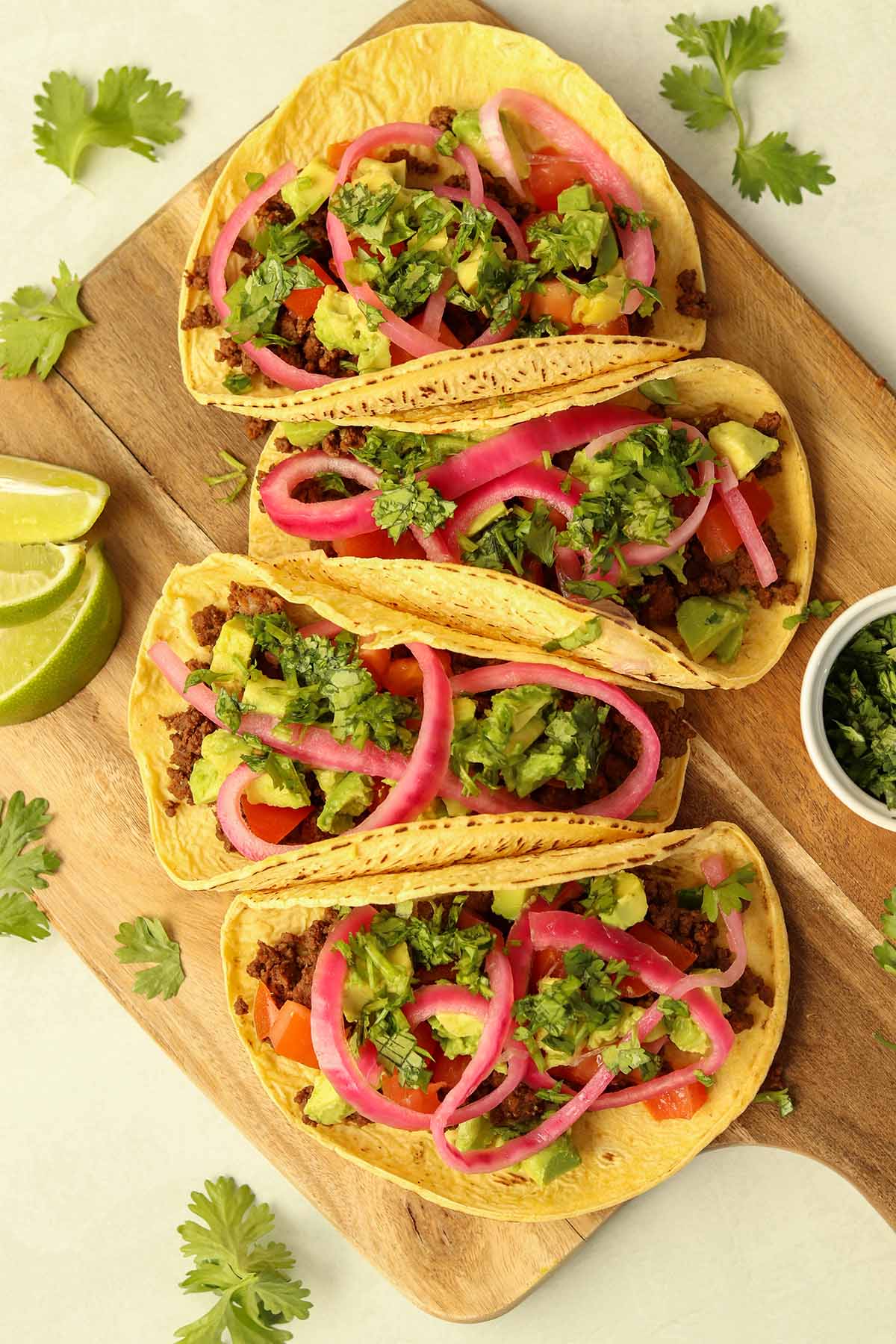 Recipe variations
Switch up the taco toppings
There are a ton of different ways to dress tacos up with your favorite toppings! Here are some ideas:
sour cream
shredded cheddar cheese, mozzarella cheese, or a combination of the two
shredded green or red cabbage
garlic aioli
chipotle sauce
radish slices
green onions or chives
homemade or store-bought salsa/salsa verde
homemade or store-bought guacamole
cooked black beans or refried beans
chopped up lettuce, spinach or arugula
Add homemade guacamole or salsa
In this taco recipe I use most of the ingredients you find in guacamole but I don't mix them together. If you want to make actual guacamole, toss the avocado, tomato, lime juice, and cilantro into your food processor and blend it together until you've reached the consistency you want.
To make your own salsa, toss the tomatoes, cilantro, pickled onions and lime juice into your food processor with a pinch of salt and blend together just enough to start breaking everything down. With salsa you don't want it to be too thin.
Make taco bowls or taco salad
Ditch the tortillas and instead serve your cooked meat and all of your favorite taco toppings on top of cooked rice, fry bread or salad greens.
Storage and reheating tips
If you have leftovers, I suggest storing them separately in airtight containers in the fridge. Put your meat in one container, your soft corn tortillas in another, and the remaining fresh ingredients in a 3rd one. Or if you have more containers, you can split out the fresh ingredients as well. Avocados tend to brown quickly after they have been cut, so I suggest only cutting up as much as you need for the current meal.
When you are ready to eat your leftovers, heat up the ground seasoned meat in your microwave for roughly 30 – 45 seconds. No need to heat anything else up before assembling your tacos again!
If you have left over meat and you are not going to eat it again soon, freeze it in a sealed container for much longer. Next time you take it out, put it in the fridge the night before and it should be thawed for the remaining day. Or you can put it in the microwave on defrost.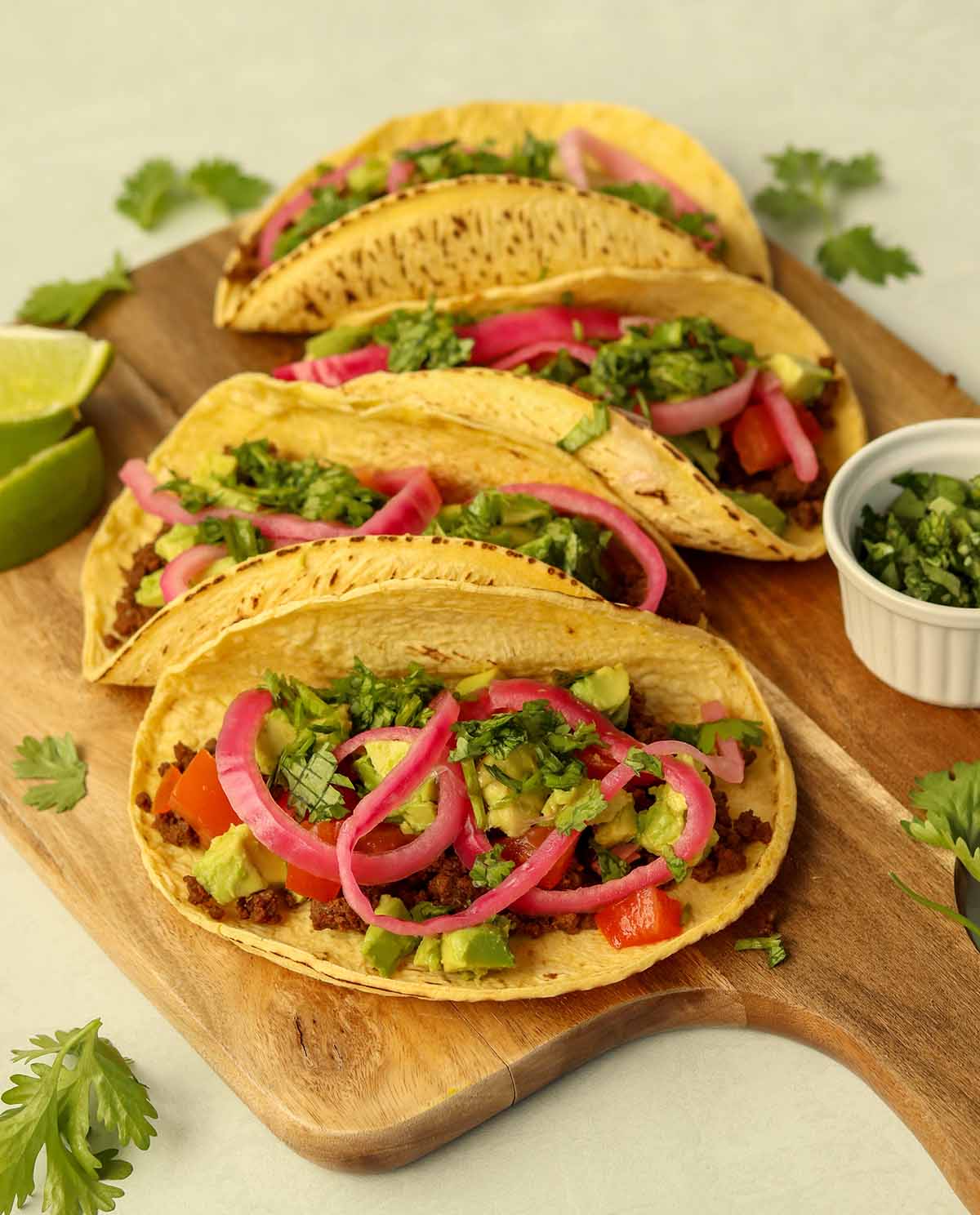 Tried my ground bison tacos recipe?
Please leave me a rating and review below, and post a picture of the dish to Instagram and tag me at @foodsnfeels 🙌
You might also like
If you liked this recipe, check out my other wild game recipes:
If you are looking for more, download one of my free seven day meal plans!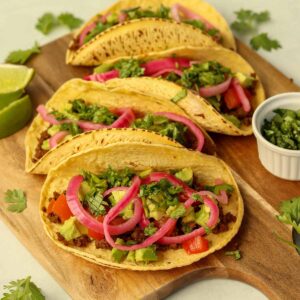 Ground Bison Meat Tacos Recipe
These bison tacos are made with homemade taco seasoning, and loaded up with lots of fresh colourful ingredients.
Ingredients
1

lb

lean ground bison meat

2

tbsp

olive oil

2

ripe avocados

2

fresh tomatoes

2

limes

1

bunch

fresh cilantro

2

cups

microgreens

(or lettuce)

1

cup

pickled red onions

8

soft corn tortillas
Instructions
First make your homemade taco seasoning before you start cooking the meat. To speed things up, you can also use a premade taco seasoning mix.

Then start chopping all of your fresh toppings up including avocado, tomatoes, limes, and cilantro.

Heat a large skillet on medium heat and add your ground meat to the pan.

Using a metal flipper or wooden spoon, continuously stir the meat until it's cooked through and starting to brown up. Bison meat should be cooked to an internal temperature of 160°F.

When the meat is close to being done, stir in your taco seasoning. Once cooked through, taste a little bit of taco meat to see if it is seasoned enough for your liking.

If not, add more seasoning.

Once your meat is cooked, you can start assembling your tacos. Start with a soft corn tortilla, and then add some cooked ground meat followed by all of your toppings.

Optionally, finish it off with some garlic aioli or chipotle sauce.
Notes
Above in the blog post I provide ingredient substitutions, recipe variations, storage and reheating tips.
Nutrition
Calories:
250
kcal
Carbohydrates:
22.2
g
Protein:
15
g
Fat:
12.2
g
Saturated Fat:
3.3
g
Polyunsaturated Fat:
0.7
g
Monounsaturated Fat:
3.7
g
Trans Fat:
0
g
Cholesterol:
32.5
mg
Sodium:
270
mg
Potassium:
510
mg
Fiber:
5.1
g
Sugar:
3.2
g
Disclaimer: This recipe post contains Amazon affiliate links. This means that if you click on a link and make a purchase, I will receive a small commission (at no extra cost to you). This helps support me so that I can continue to put out high quality, free recipes for you guys! Thank you 😁🙌