A healthy twist on classic fritters! And a great recipe if you need an appetizer or side dish to complement your main course. These crispy zucchini fritters are made with simple ingredients that you can find at your local grocery store.
This recipe is gluten-free, dairy free and I also provide additional ingredient substitutions and dietary modifications below.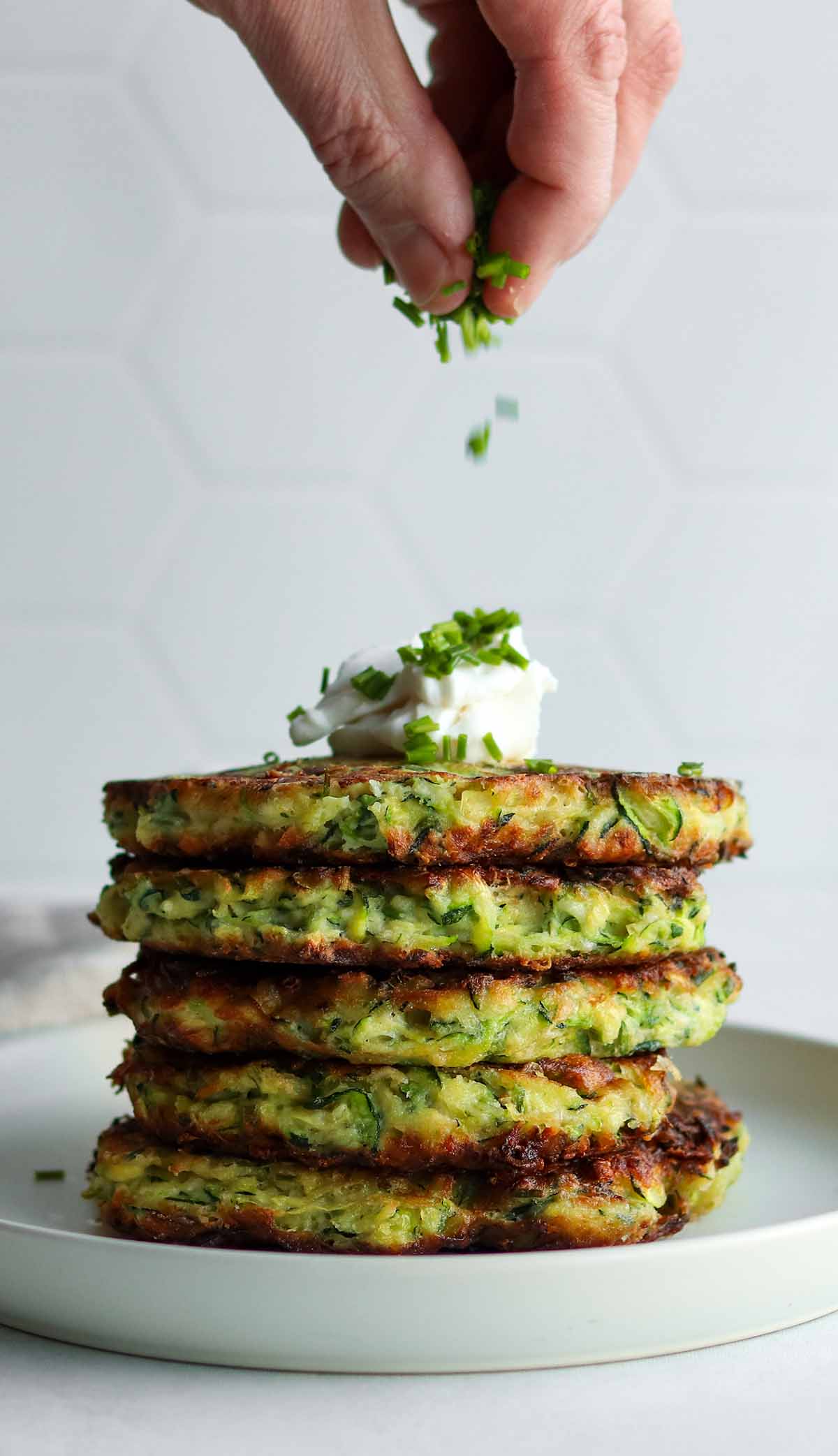 Recipe ingredient substitutions
Zucchini substitutions: These fritters can also be made with shredded potatoes instead of shredded zucchini.
Gluten-free flour blend substitutions: I like to use the Robin Hood gluten-free flour blend because it is most similar to all purpose white flour. If you can't find it, you can use any other gluten-free flour blend. Try to find one that contains rice flour, potato starch, tapioca starch and xanthan gum. But alternatively, you can also use chickpea flour, oat flour or just straight rice flour.
Egg substitutions: Instead of regular eggs, you can substitute for chia, gelatin or flax eggs.
Fresh garlic clove substitutions: Instead of 3 fresh garlic cloves, use 1 teaspoon of garlic powder.
Fresh chive substitutions: Instead of chives, you can use green onions. If you can't get fresh, you can also use freeze-dried chives or green onions. Or you can swap it out for a bit of diced white or red onion.
Unflavoured coconut oil substitutions: Instead of unflavoured coconut oil, swap it out for pork lard, beef lard, or vegetable oil. You could use olive oil but it isn't as good at high temperatures.
Vegan parmesan shreds substitutions: If you tolerate dairy, feel free to use regular cow's milk parmesan shreds.
Recipe variations
Add additional veggies: If you want to add some colour and texture, consider adding extra veggies such as shredded potatoes, carrots, sweet potatoes, butternut squash etc.
Add additional flavours: These have a pretty mild flavor but if you want to add some heat, try a bit of cayenne pepper or black pepper. Also consider adding fresh herbs.
Make baked zucchini fritters: If you prefer to bake and not fry, follow all of the same steps but instead of frying them in oil in your skillet, bake them at 400°F on a parchment paper lined baking sheet until they are cooked through, and they crisp up and get golden brown.
Dietary modifications
Make this recipe low carb/keto: Instead of gluten-free flour, use a low carb grain free alternative such as almond flour.
Make this recipe candida diet friendly: Swap out the gluten-free flour blend for almond flour, and omit the vegan parmesan shreds and sour cream.
Make this recipe AIP friendly: Swap out the gluten-free flour blend for 1/4 cup cassava flour, and the eggs for 2 gelatin eggs. Omit the vegan parmesan and sour cream.
Make this recipe low FODMAP: Omit the garlic cloves. Check the ingredients on the vegan parmesan shreds and omit if they contain garlic or onion.
Make this recipe lower oxalate: Make sure to use a gluten-free flour that is lower oxalate such as white rice flour or potato starch. Avoid almond flour or cassava flour.
Make this recipe vegan: For vegan zucchini fritters, replace the eggs with flax eggs. Make sure to use vegan parmesan shreds. Otherwise, all other ingredients are vegan friendly.
Make this recipe elimination diet friendly: Omit the eggs and replace them with chia, flax or gelatin eggs. Consider omitting the vegan parmesan shreds as they may have ingredients that are not elimination diet friendly.
Make this recipe paleo/grain free: Swap out the gluten-free flour blend for cassava flour, coconut flour or almond flour.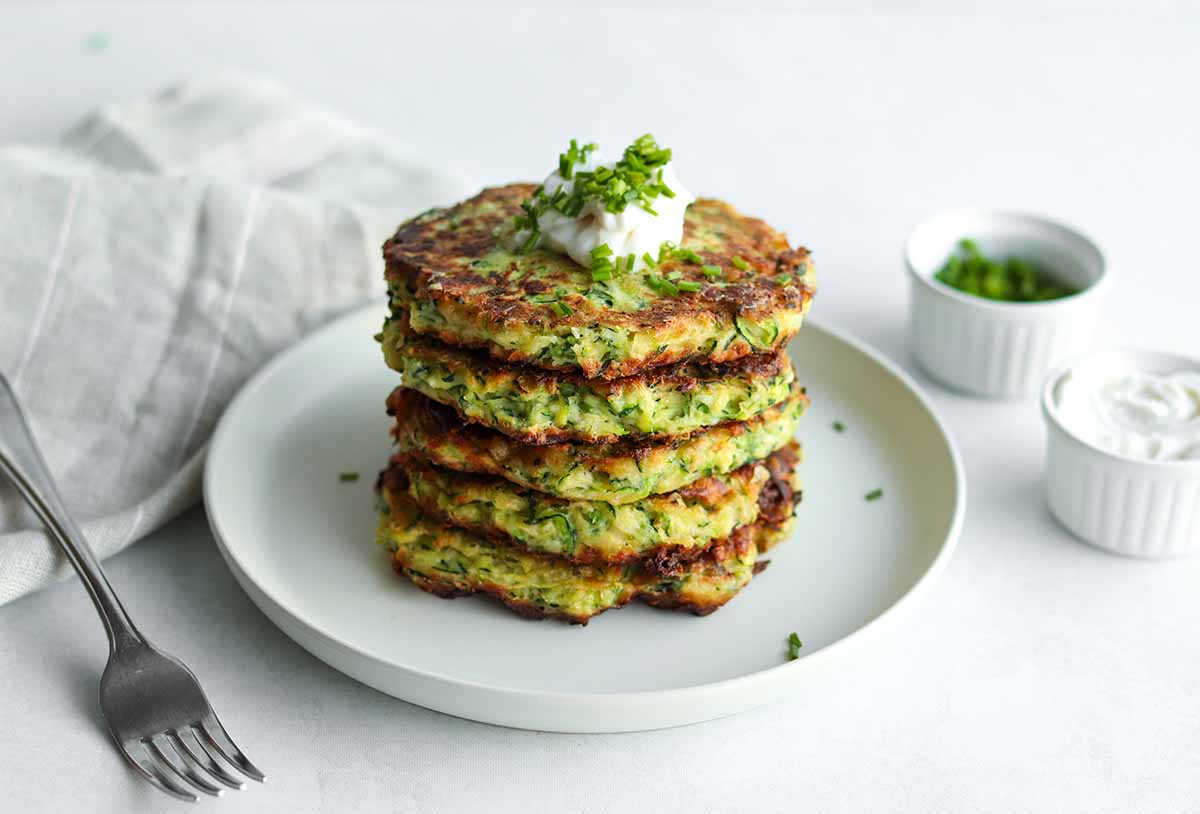 Recipe pairings
I eat these crispy fritters with dairy free sour cream and fresh diced chives, but you can also pair them with:
Feta cheese
Greek yogurt
Dipping sauce of choice such as ranch sauce, mayonnaise, or garlic aioli
Storage tips
Store your zucchini fritters in an airtight container in the fridge for 1 – 2 days or in the freezer for 3 – 6 months.
Tried my healthy zucchini fritters recipe?
Please leave me a rating and review below, and post a picture of the dish to Instagram and tag me at @foodsnfeels 🙌
You might also like:
If you liked this recipe, check out my other appetizer recipes:
If you are looking for more, download one of my free seven day meal plans!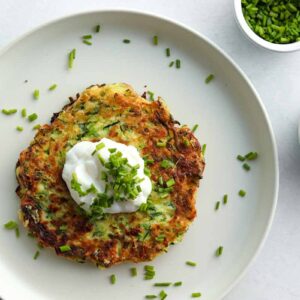 Gluten Free Zucchini Fritters Recipe
A healthy twist on classic fritters! And a great recipe if you need an appetizer or side dish to complement your main course.
Instructions
Wash your zucchinis and cut the ends off of them. Using a cheese grater or food processor with a grating attachment, shred your zucchini. I prefer to use the larger shred as opposed to the smaller one. This will give your fritters more texture and crispiness.

Transfer your shredded zucchini over into a large bowl and mix in 1 teaspoon of salt. Let your zucchini sit for about 15 minutes. The added salt will help to pull out excess moisture from the zucchini. This is an important step and will prevent you from ending up with soggy fritters.

Take your salted and shredded zucchini and put it into your nut milk bag or cheesecloth. Over a large bowl, squeeze your nut milk bag or cheesecloth full of grated zucchini until you have removed as much excess water as possible.

Once you remove as much water as possible (you will be impressed at how much comes out!), transfer your zucchini shreds over into a clean and dry large bowl.

Add all of your dry and wet ingredients and mix everything up until everything is thoroughly blended together.

Heat your coconut oil in a frying pan or skillet on medium heat.

Once your oil is ready, use a measuring cup (1/3 cup works great) to scoop your zucchini mixture into your skillet. Use the bottom of the measuring cup or a spoon to flatten out the zucchini fritters until they are about 1/2 inch thick. You will probably be able to fit about 3 or 4 of them at a time in the pan.

Fry them for about 3-5 minutes per side or until the top of the fritters start to brown up nicely.

Flip your zucchini patties super carefully (as you do not want to get sprayed with hot oil!) and fry on the other side for about the same amount of time. Check often as you do not want them to burn.

Continue this process until all of your fritters are cooked. You may have to add some additional oil if the pan starts getting dry.

Transfer your cooked fritters onto a large plate with paper towel or parchment paper to soak up excess oil.

Serve with dairy free or regular sour cream and diced up chives.
Notes
Above in the blog post I provide recipe ingredient substitutions and variations, dietary modifications, recipe pairings and storage tips.
Nutrition
Calories:
183
kcal
Carbohydrates:
14.6
g
Protein:
4.3
g
Fat:
12.8
g
Saturated Fat:
9.5
g
Polyunsaturated Fat:
1.1
g
Monounsaturated Fat:
1.3
g
Trans Fat:
0
g
Cholesterol:
62
mg
Sodium:
295
mg
Potassium:
303
mg
Fiber:
1.3
g
Sugar:
2.6
g
Disclaimer: This recipe post contains Amazon affiliate links. This means that if you click on a link and make a purchase, I will receive a small commission (at no extra cost to you). This helps support me so that I can continue to put out high quality, free recipes for you guys! Thank you 😁🙌