This stuffed mushrooms recipe is a great appetizer or side dish for parties, family gatherings or for serving over the holiday season. It uses easy to find, simple ingredients that you can get in most grocery stores. AND this recipe can easily be doubled if you want to make a big batch.
This recipe is dairy free, vegan, gluten free, paleo and elimination diet friendly.
Product brands I recommend for this recipe
Chives & Garlic Spread'Em Cream Cheeze – This cashew based spreadable cheese is already seasoned with garlic and chives, and is the perfect consistency for stuffed mushroom caps. I do provide some substitution suggestions below though if you can't find it!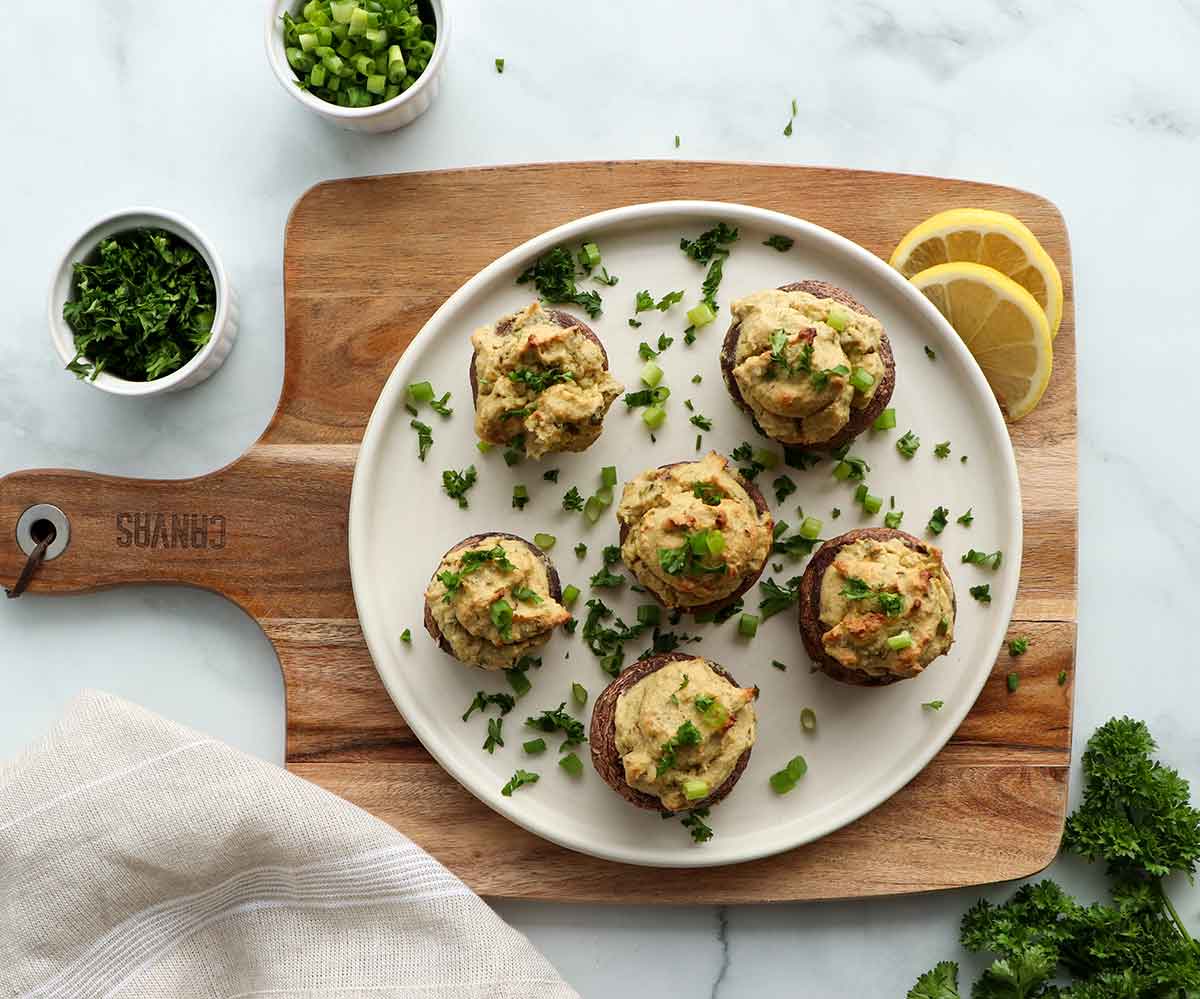 Recipe ingredient substitutions
Cremini mushroom substitutions: All different kinds of mushrooms will work for this recipe including white button mushrooms, baby bella mushrooms, or even large portobello mushrooms! Whether you use larger or smaller mushrooms, this recipe will turn out just as good!
Cashew cheese substitutions: Instead of spreadable cashew cheese, you can use any type of vegan cream cheese or other dairy free spreadable cheese. This recipe uses flavoured cashew cheese and then adds additional ingredients for extra flavour, but it also works great with an unflavoured cashew cheese base.
Fresh green chives substitutions: Instead of chives, you can also use fresh green onions. Alternatively, you can buy freeze-dried chives. If you aren't able to get fresh, you can swap it out for 1/2 teaspoon of onion powder or 2 tbsp regular diced onion.
Garlic powder substitutions: Instead of garlic powder, you could use 1 – 2 fresh garlic cloves.
Fresh squeezed lemon juice substitutions: Instead of lemon juice, you could use balsamic vinegar, white vinegar, white wine vinegar etc. Or omit it altogether. Cashew cheese is generally cultured which gives it a nice tang already without adding additional acidity.
Fresh parsley substitutions: Instead of parsley, you can use any other fresh herbs such as fresh basil, fresh sage, fresh oregano etc.
Nutritional yeast substitutions: Instead of nutritional yeast, you could omit it altogether. Or alternatively, you could try to find a spreadable vegan cheese that already has nutritional yeast added to it.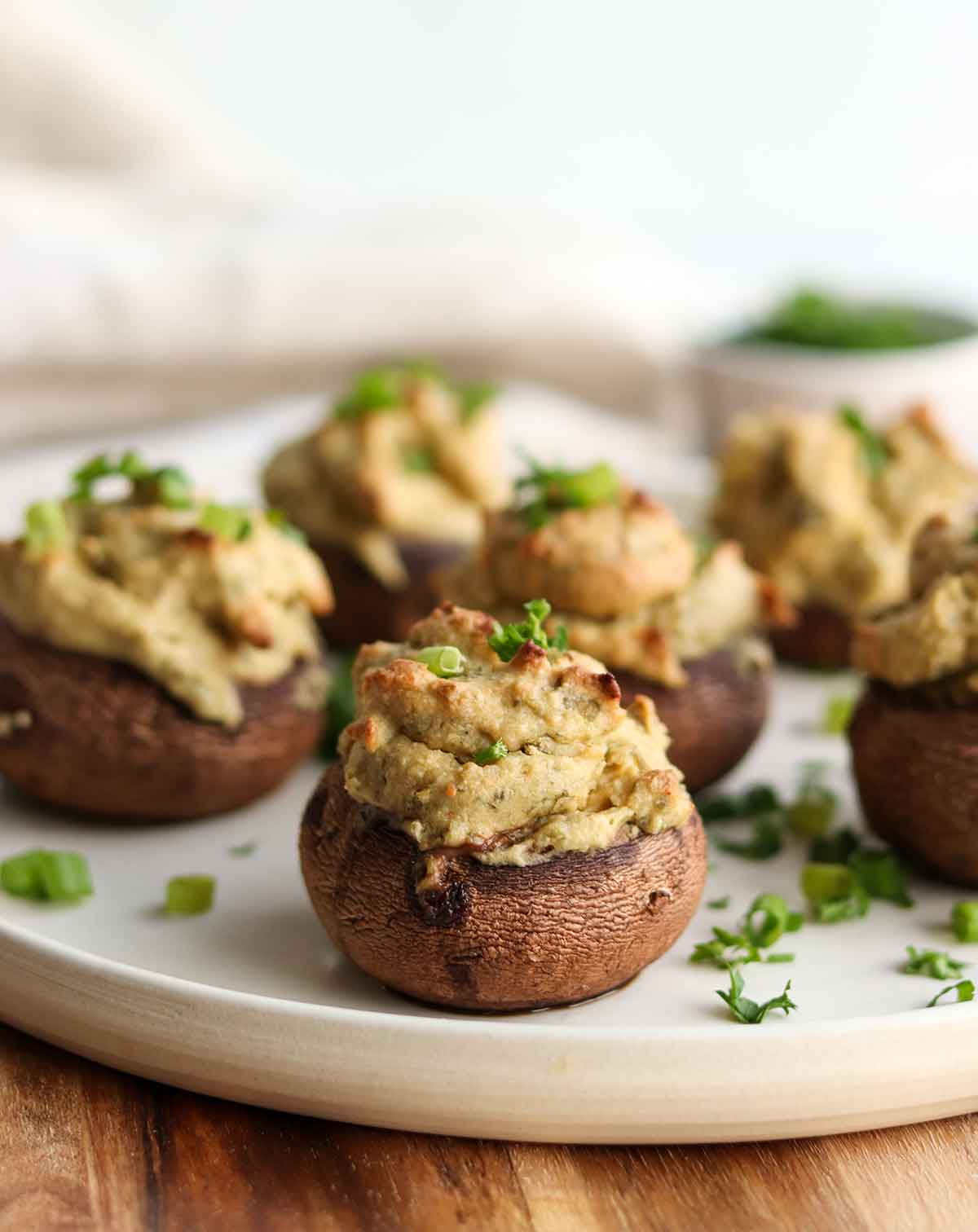 Dietary modifications
Make this recipe lower oxalate: To make this recipe lower oxalate, avoid using cashew or almond based vegan cheese. Instead try to find spreadable vegan cream cheese that uses coconut oil and potato starch as a base.
Storage tips
I highly suggest serving these stuffed mushrooms right after they are cooked as they are best eaten fresh. Although if you do have leftovers, you can store them in an airtight container in the fridge for 1-2 days. You may find though that the texture of the mushrooms get a bit soggy or rubbery after they sit in the fridge. In this case, you can reheat them again at medium-high heat which should help bring them back to life.
Tried my vegan stuffed mushrooms recipe?
Please leave me a rating and review below, and post a picture of the dish to Instagram and tag me at @foodsnfeels 🙌
You might also like:
If you liked this recipe, check out my other dairy free appetizers:
If you are looking for more, download one of my free seven day meal plans!
Garlic & Chive Stuffed Mushrooms (Dairy Free & Vegan)
This stuffed mushrooms recipe is a great appetizer or side dish for parties, family gatherings or for serving over the holiday season.
Ingredients
1

lb

large cremini mushrooms

(anywhere from 10-20 mushroom caps depending on size)

2

cups

spreadable cashew cheese

(I used Spread'Em garlic and chive cashew spread)

1 – 2

tbsp

 fresh squeezed lemon juice

(the juice of 1/2 lemon)

2

tbsp

nutritional yeast

2

tbsp

diced fresh chives

3

tbsp

diced fresh parsley

1

tsp

garlic powder

1/4

tsp

ground black pepper

1/4

tsp

sea salt

(optional – if cashew cheese doesn't already have it)
Instructions
Preheat your oven to 400°F.

Start by cleaning your mushroom caps. The easiest way is to rinse them under the tap, however some argue that this changes their texture and makes them too wet. You can also use a damp paper towel to scrub the dirt off your mushroom caps.

Remove the stems off each mushroom. This will create a little bowl inside the undersides of the mushroom where you will put your stuffing mixture. You can discard your chopped mushroom stems or save them to use in another dish.

Line a cookie sheet with parchment paper and place all of your mushroom caps with the undersides facing up. Optional: you can brush your mushroom caps with a little olive oil.

Next, finely dice up your fresh chives and parsley.

In a small food processor or mixing bowl, mix together your spreadable cashew cheese, your freshly diced chives and parsley, and the nutritional yeast, garlic powder, pepper and salt.

Juice half a lemon and after removing the seeds, pour the lemon juice into your food processor or bowl.

Mix everything together thoroughly.

Using a small spoon, scoop the cashew cheese mixture into the mushroom caps evenly. If you have any left over, you can keep piling the mushroom caps up higher or you can freeze this mixture to use for next time.

Bake your stuffed mushrooms for roughly 30 minutes or until the cashew cheese mixture starts browning nicely.

Serve immediately and enjoy!
Notes
The nutritional information is based on roughly 15 total mushroom caps, however depending on the size of your mushrooms you may end up with more or less.
Above in the blog post I provide recipe ingredient substitutions, dietary modifications, and storage tips.
Nutrition
Calories:
70
kcal
Carbohydrates:
3.5
g
Protein:
3
g
Fat:
5
g
Trans Fat:
0
g
Cholesterol:
0
mg
Sodium:
182
mg
Potassium:
230
mg
Fiber:
0.5
g
Sugar:
1
g
Disclaimer: This recipe post contains Amazon affiliate links. This means that if you click on a link and make a purchase, I will receive a small commission (at no extra cost to you). This helps support me so that I can continue to put out high quality, free recipes for you guys! Thank you 😁🙌