This dairy free bacon wrapped jalapeno poppers recipe Is another delicious recipe in my healthy "bar" food series. Now you don't have to salivate over the menu when you see other people eating bacon wrapped jalapeno poppers filled with dairy, because you can make your own without it!
What you'll need to make this recipe
You won't need any fancy equipment to make this dairy free jalapeno poppers recipe as it's pretty straightforward and easy, but you will need a couple standard kitchen tools.
Cutting board
Sharp knife
Baking sheet
Parchment paper
Toothpicks
Optional: rubber gloves – those jalapeno peppers can get pretty freaking hot so if you want to protect your fingers (and therefore also your eyeballs), you'll want them while you are cutting up the jalapeno peppers.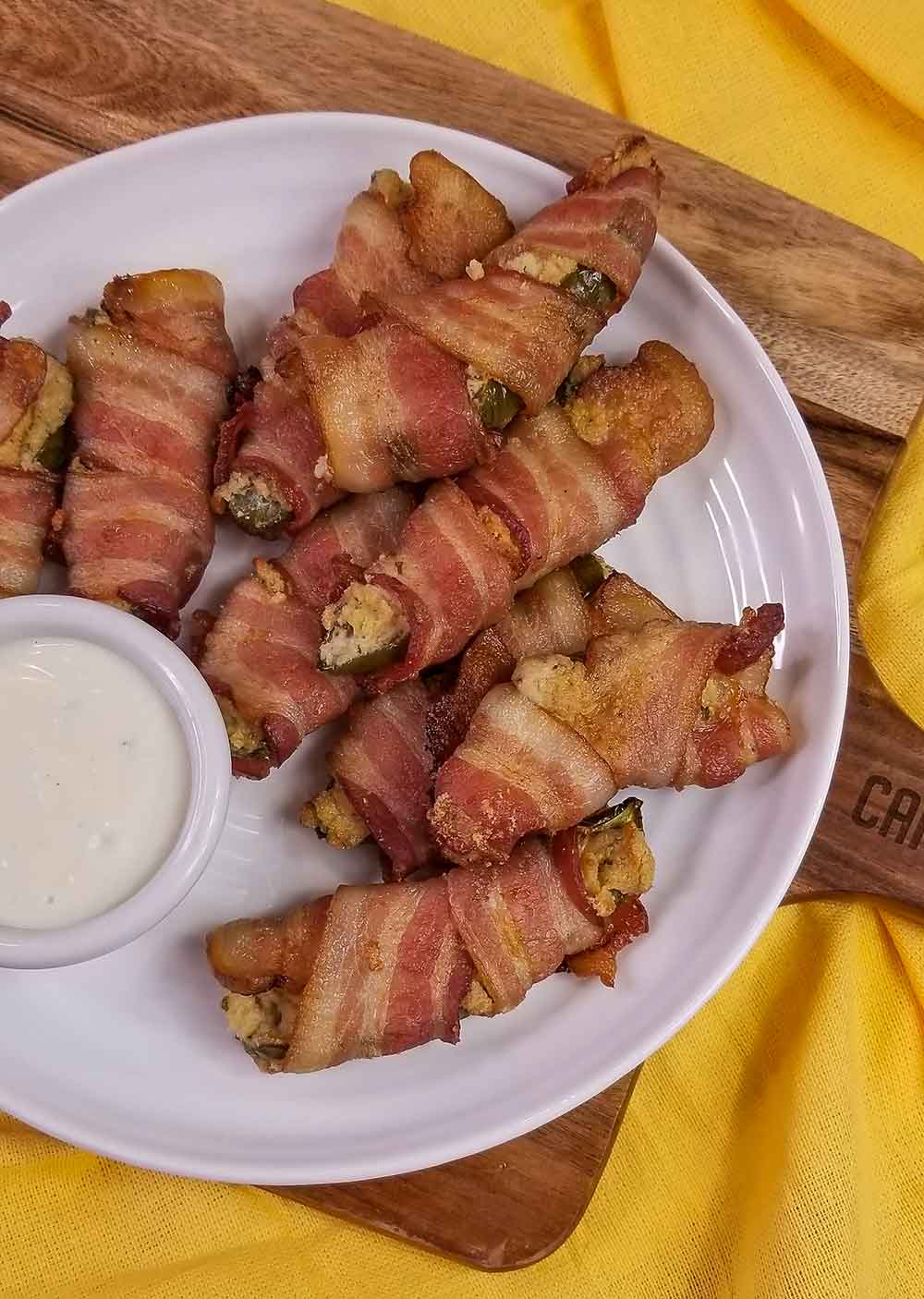 Recipe substitutions and variations for dairy free jalapeno poppers
Jalapeno peppers: if you are unable to find 5 large jalapeno peppers, you could also use 10 small ones, but instead of wrapping each pepper in one whole slice of bacon, use just half a slice of bacon.
Cashew cheese: if you aren't able to get your hands on cashew cheese, you could also sub in other dairy free cheeses. One disclaimer I will make though is that I've never tried it with other cheeses, so I'm not sure how it would affect temperature and time. If you try it with another dairy free cheese, leave me a comment and let me know what you found!
If you tolerate dairy: feel free to use regular cream cheese or a mixture of cream cheese and shredded cheddar. Again though, I've never tried this recipe with regular cheese, so I'm not sure how it would affect the oven temperature and time. Let me know if you try it!
Watch the cooking video for this recipe
You can find the full instructions for this dairy free bacon wrapped jalapeno poppers recipe below in the recipe card, but if you want to watch a step-by-step cooking video on how to make it, check out the video below.
Dipping sauce ideas
These poppers could be paired with any type of sauce, but here are a few suggestions:
Make a dairy free ranch dressing (here is one by Simply Whisked!)
Mix mayonnaise with a bit of garlic powder, onion powder, parsley, dill, salt, pepper and chives – or any combination of these ingredients. You've basically just made ranch sauce. Congratulations! 😆
Forget the sauce and just eat the poppers on their own. They are delicious as is!
Pin this dairy free jalapeno poppers recipe for later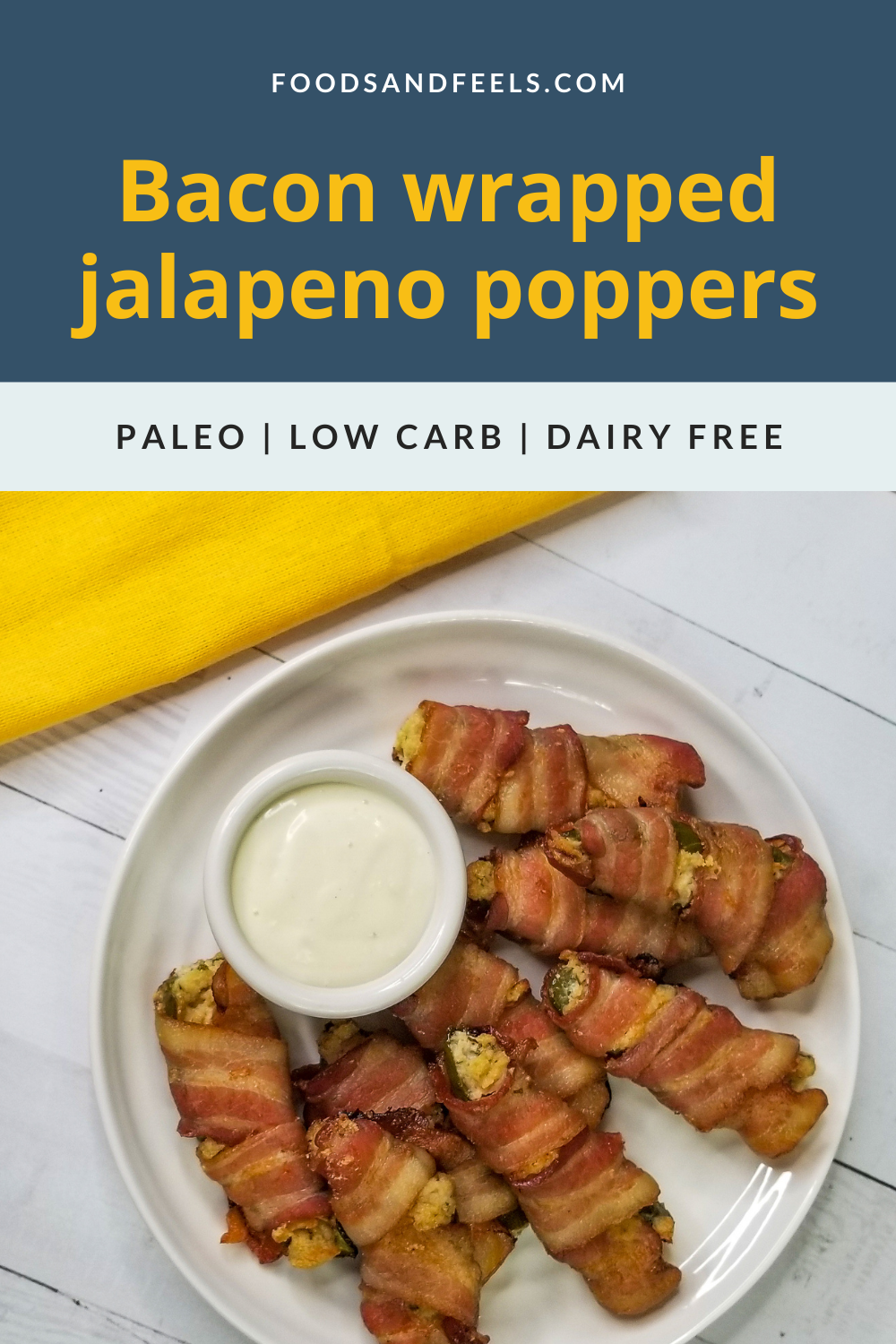 Looking for more dairy free recipes?
Check out my other dairy free recipes on my blog (in fact, all my recipes are dairy free, cuz so am I! 😁), or if you're looking for more, grab my gluten and dairy free recipe book which comes with 140 recipes in total (35 each for breakfast, lunch/dinner, snacks and desserts).
I hope you like this recipe and please let me know what you think of it in the comments. I'm always looking for feedback on how to improve my recipes. See you in the next one!
Bacon Wrapped Jalapeno Poppers (Dairy Free)
This recipe is gluten free, dairy free and paleo.
Equipment
Tooth picks

Baking sheet

Parchment paper
Ingredients
5

large

jalapenos

10

strips

bacon

1

cup

spreadable cashew cheese

(we use Spread-em chive and garlic)
Instructions
Preheat oven to 400F and gather ingredients

Slice 5 jalapenos in half lengthwise

Scrape seeds out with spoon and rinse with water to get remaining seeds off

Fill jalapeno "boats" with cashew cheese

Wrap filled jalapeno boats with one strip of bacon and secure with toothpicks

Bake for 50-55 minutes or until bacon is cooked to desired crispiness

Remove from oven, remove tooth picks and serve
Nutrition
Calories:
112
kcal
Carbohydrates:
4.6
g
Protein:
4.4
g
Fat:
9.1
g
Saturated Fat:
2.1
g
Cholesterol:
9
mg
Sodium:
120
mg
Potassium:
34.7
mg
Fiber:
0.4
g
Sugar:
0.5
g
About the author Tara Klippert
Tara Klippert is a Registered Health and Nutrition Counselor and holds a diploma in Holistic Nutrition and Health Coaching. She shares her gluten free, dairy free & allergy friendly recipes.