The perfect appetizer for potlucks, family get-togethers, a summer BBQ or the big game! On top of that you only need three simple ingredients for this easy recipe.
These poppers are low carb, keto, paleo, gluten free and dairy free and can be made vegan. Each one of these poppers comes out to about 4 net carbs.
Product brands I recommend for this recipe
Spread'Em cashew cheese: This brand works for this recipe really well. It is thick enough that it won't melt out of the jalapeno peppers in the oven. I also love that this brand makes multiple different flavours of cashew cheese so you can pick and choose which one to use. You can also grab a couple different kinds and make different variations of flavours. My favourite is their chives and garlic, but they also have dill and truffle, jalapeno and lemon, lemon and black pepper, and their original unflavoured. If you aren't able to get this brand at your local grocery store, that is okay! There are so many different brands of spreadable cashew cheeses these days that would work great for this recipe.
Recipe ingredient substitutions
Large jalapeno pepper substitutions: If you are unable to find 5 large jalapeno peppers, you could also use 10 small ones, but instead of wrapping each pepper in one whole slice of bacon, use just half a slice of bacon.
Cashew cheese substitutions: If you aren't able to get your hands on cashew cream cheese, you could also sub in other dairy free cheeses like vegan cream cheese and/or cheddar style shreds. If you do tolerate dairy, you could also use a mixture of regular cream cheese, sour cream and cheddar cheese. Or if you want to get real fancy, you could make your own creamy filling by blending raw cashews or sunflower seeds, lemon juice and nutritional yeast in a high speed blender or food processor.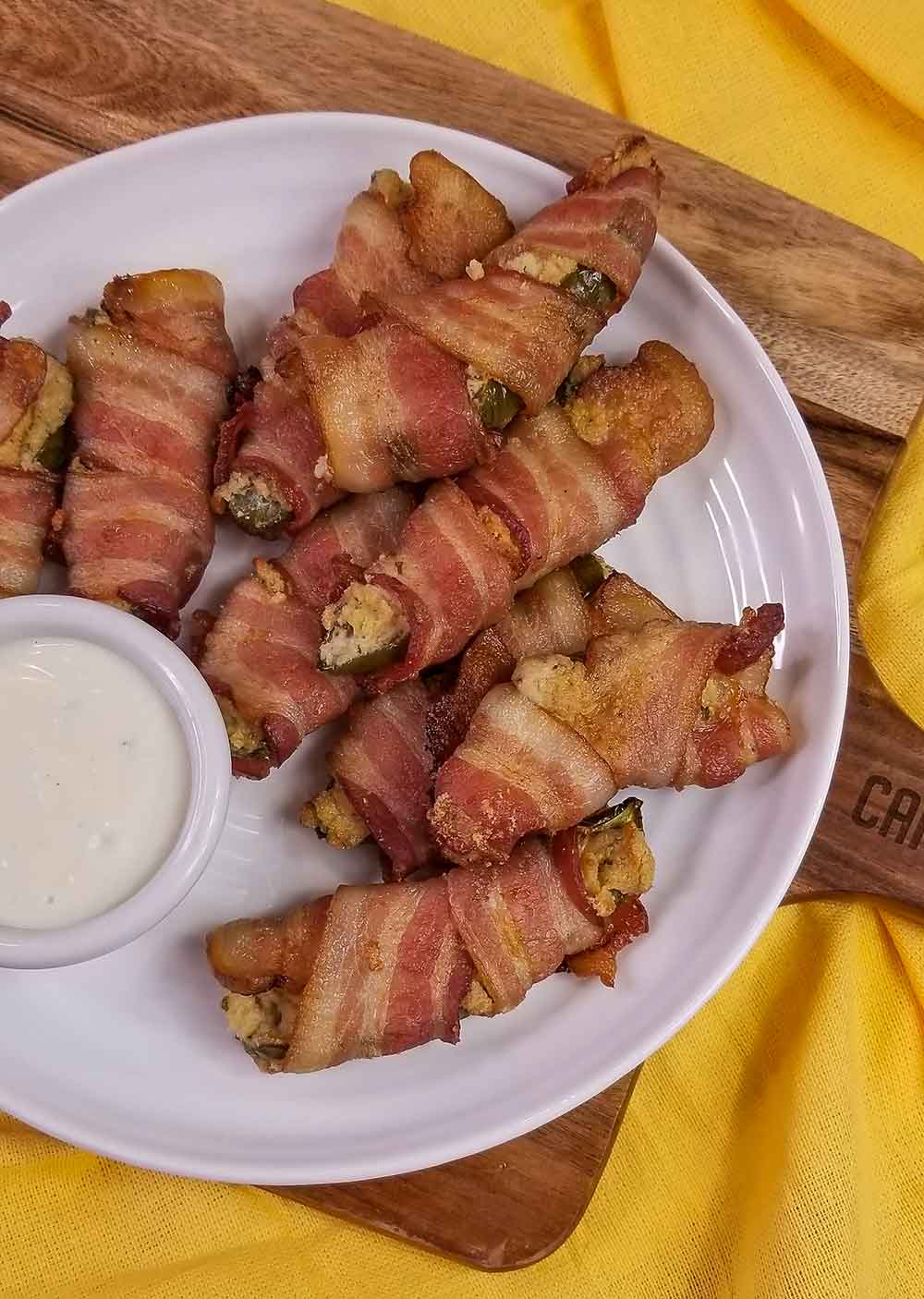 Recipe variations
Make vegan jalapeno poppers: To do this, simply omit the bacon from this recipe or use a vegan bacon alternative. You will not need to bake these for anywhere near as long as the recipe calls for if you are not wrapping it in real bacon. The bacon is what takes the longest to cook and crisp, although you will want the jalapeno peppers to soften up and cook through. Check them after about 30 minutes and go from there.
Add some additional flavours: Consider adding some additional ingredients to your cream cheese mixture like nutritional yeast, diced green onion, lemon juice, or fresh herbs.
Make them less spicy or more spicy: The trick to making these either more or less spicy is the amount of jalapeno seeds that you leave inside them. If you like spicy food, maybe leave a few inside the jalapenos while you are hollowing them out. If you do not like spicy food, make sure you get every last seed out and even rinse the hollowed out jalapeno boats under the tap to make sure you've got them all off.
Dipping sauce ideas
These poppers could be paired with any type of sauce, but here are a few suggestions:
Make a dairy free ranch dressing (here is one by Simply Whisked!)
Mix mayonnaise with a bit of garlic powder, onion powder, parsley, dill, salt, pepper and chives – or any combination of these ingredients. You've basically just made ranch sauce. Congratulations! 😆
Forget the sauce and just eat the poppers on their own. They are delicious as is!
Pro tips for this recipe
Wear gloves! These spicy peppers will get all up in your fingers and fingernails and can really sting your eyes and skin after handling them.
Storage tips
Keep your poppers in an airtight container in the fridge for 2-3 days. If you want them to last longer, they freeze really well. When you are ready to eat them again, you can simply take them out to thaw on the counter for a few hours and then microwave them or you can even bake them in the oven again to reheat.
Looking for more dairy free recipes?
Check out my other dairy free recipes on my blog (in fact, all my recipes are dairy free, cuz so am I! 😁), or if you're looking for more, grab my gluten and dairy free recipe book which comes with 140 recipes in total (35 each for breakfast, lunch/dinner, snacks and desserts).
Tried my bacon-wrapped jalapeno poppers recipe?
Please leave me a rating and review below, and post a picture of the dish to Instagram and tag me at @foodsnfeels 🙌
You might also like:
If you liked this easy appetizer recipe, check out my other dairy free appetizers:
If you are looking for more, download one of my free seven day meal plans!
Bacon Wrapped Jalapeno Poppers (Dairy & Gluten Free)
This recipe is gluten free, dairy free and paleo.
Ingredients
5

large

jalapenos

10

strips

bacon

1

cup

spreadable cashew cheese

(we use Spread-em chive and garlic)
Instructions
Preheat the oven to 400F.

Slice the 5 jalapenos in half lengthwise.

Scrape the seeds out with a spoon and rinse them with water to get the remaining seeds off.

Using a small spoon, fill your jalapeno "boats" with your dairy-free cream cheese mixture.

Wrap each of the filled jalapeno boats with one strip of bacon and secure them with toothpicks. Check out the video for this recipe to see how to wrap and secure the jalapeno peppers in bacon.

Bake the wrapped jalapenos for 50-55 minutes or until the bacon is cooked to your desired crispiness!

Remove them from the oven, remove the tooth picks and serve them with your favorite jalapeno popper dip!
Nutrition
Calories:
112
kcal
Carbohydrates:
4.6
g
Protein:
4.4
g
Fat:
9.1
g
Saturated Fat:
2.1
g
Cholesterol:
9
mg
Sodium:
120
mg
Potassium:
34.7
mg
Fiber:
0.4
g
Sugar:
0.5
g
Disclaimer: This recipe post contains Amazon affiliate links. This means that if you click on a link and make a purchase, I will receive a small commission (at no extra cost to you). This helps support me so that I can continue to put out high quality, free recipes for you guys! Thank you 😁🙌