The idea of making a charcuterie board that is both gluten and dairy free may sound daunting, but thankfully it's actually quite easy and straightforward.
Most classic charcuterie board ingredients are already gluten and dairy free such as meats, pickles, nuts, olives, dried fruit, and seasonal ingredients like fresh fruit and berries.
Then you just have to add gluten free crackers (that do not contain any milk products), and a variety of vegan cheeses and that's it! Thankfully these days, there are great options that you can find at all grocery stores. Gone are the days of having to get this stuff at specialty natural health food stores.
Assemble everything on a wooden cutting board and serve it to your family and friends for special occasions, parties, or for the holiday season. It can be served as an appetizer, or even a main meal!
Even though this is perfect for people with a dairy or gluten intolerance, even people without dietary restrictions will love it!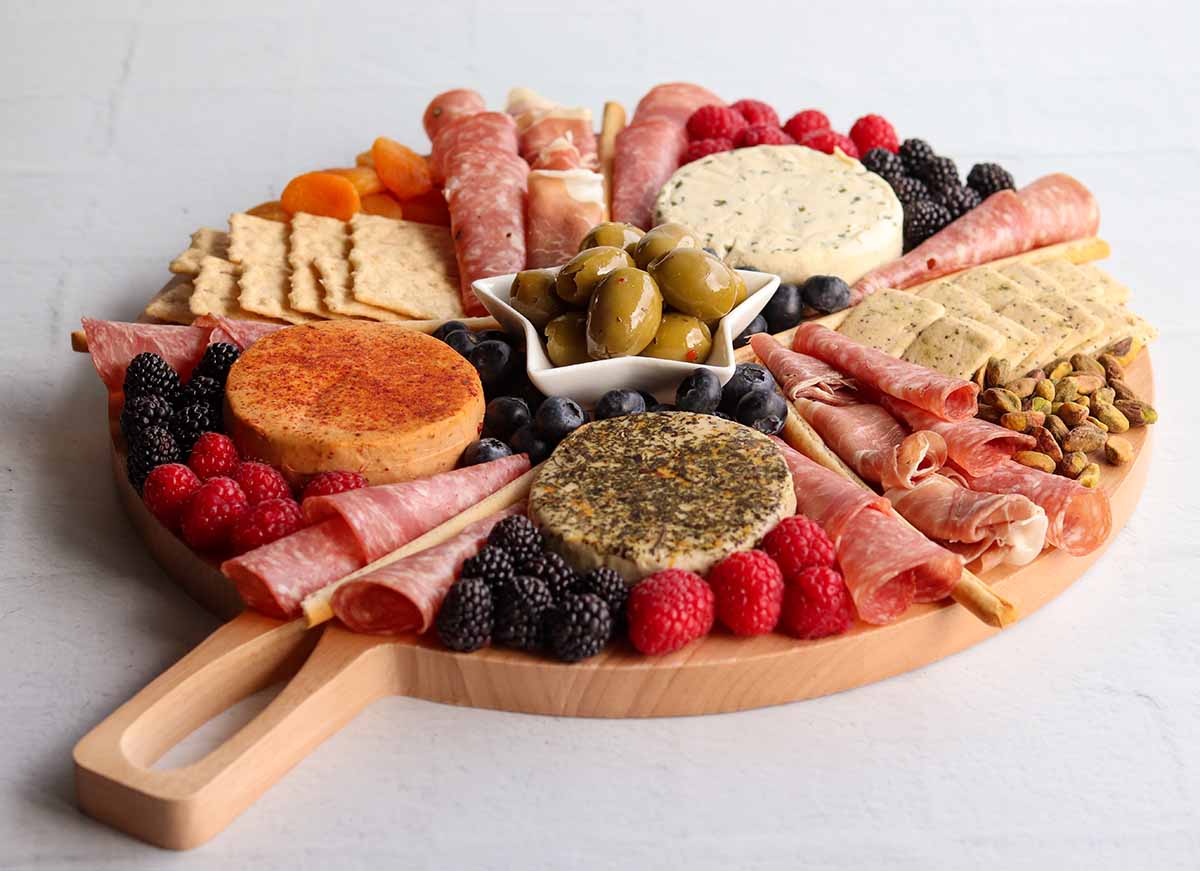 Product brands I used for this recipe
There are a million ways to make the perfect charcuterie board, but if you'd like to make it exactly how I did, here are the products I used:
Blue Heron cheese – 1 wheel of "The Crown" and 1 wheel of "Herb and Garlic" cashew based cheese
Charcuterie board ingredient variations
Below in the recipe card I list the ingredients I used for my charcuterie board, but here is an additional list of ingredient ideas that you can mix and match to your heart's content!
A variety of fresh fruits such as apple slices, grapes, bananas, or oranges.
Fresh berries such as blueberries, blackberries, raspberries, cherries, or strawberries.
Fresh vegetables such as cut up broccoli, cauliflower, celery, carrot sticks (or baby carrots), cucumber or red peppers. Try to go for seasonal produce that you can get at your local farmers market!
A variety of cured meats including genoa salami, pepperoni, prosciutto, bacon, beef jerky, or black forest ham.
Decorate or garnish with fresh herbs such as basil, oregano, parsley, or rosemary.
Dips such as hummus, guacamole, bruschetta, or any other dairy free dips – there are a lot in the grocery store these days! Or you can try my dairy free artichoke dip, mango avocado salsa, or basil walnut pesto.
All the pickled things – pickled onions, pickled beets, pickled asparagus, and actual pickle pickles!
Different types of olives or marinated artichokes.
Nuts such as peanuts, cashews, almonds, walnuts, pecans, hazelnuts or pine nuts.
Jams and jellies.
Tortilla chips or potato chips.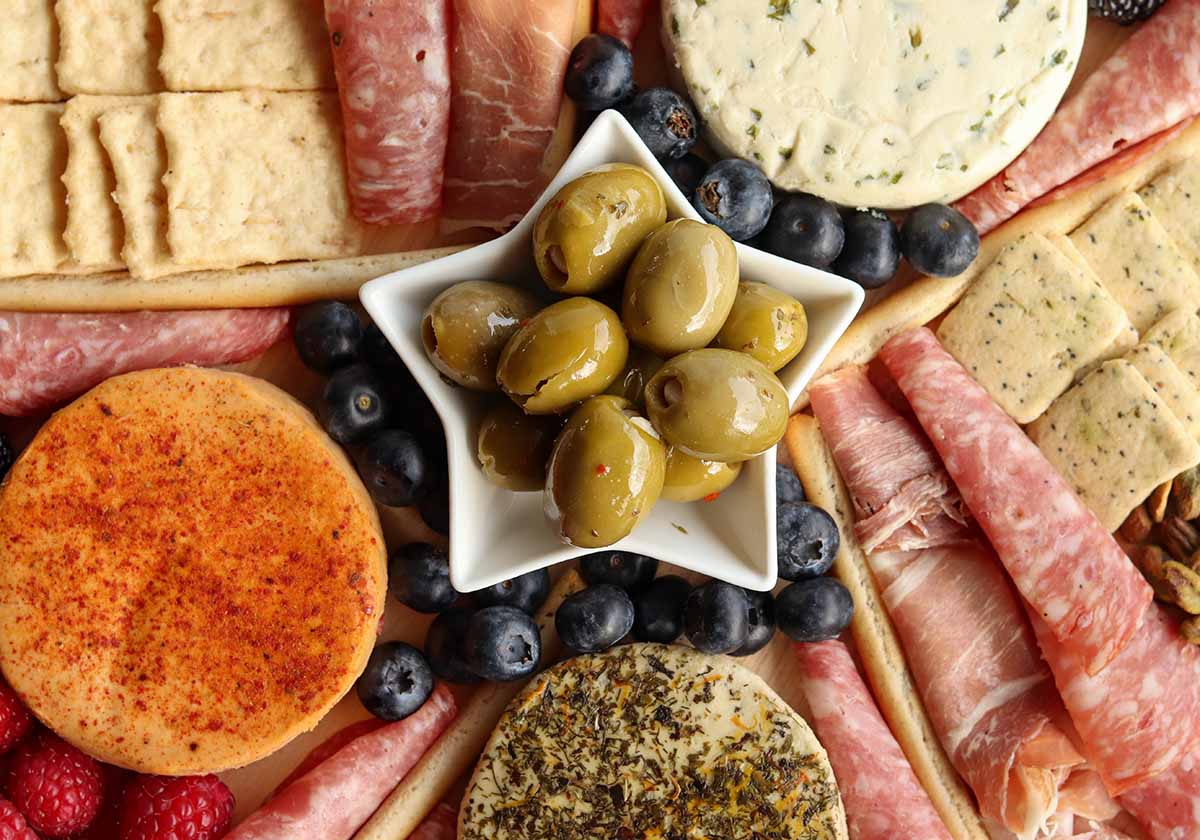 Dietary modifications
This recipe is already gluten and dairy free, but if you have other dietary restrictions, I've provided some ideas below to make it keto, paleo and vegan.
Vegan charcuterie board ideas – Follow my recipe below, but omit the meat products. Make sure that the crackers you buy are completely vegan. Add some additional ingredients such as fresh cut up vegetables, hummus, or other vegan dips. There are so many vegan cheese brands these days, so there is a lot of variety to choose from when it comes to dairy-free cheese spreads. Plant-based charcuterie boards are just as easy to make!
Paleo charcuterie board ideas – Make sure to get only cashew based cheese. There are many different types of cheeses these days with paleo friendly ingredients. There are even a couple different varieties of paleo friendly crackers that are made with cassava, coconut, tapioca, flax and other seeds. You can also get cassava based tortilla chips. Brands such as Simple Mills and Siete make amazing paleo friendly products.
Keto charcuterie board ideas – Go for crackers that are low carb and keto friendly. Keep an eye on the carb counts on the dairy free cheeses. Or, if you tolerate dairy, consider adding hard cheeses such as pepper jack, fresh mozzarella, aged cheddar or soft cheeses such as blue cheese or goat cheese. Go easy on the berries, and load up on extra sliced up vegetables, nuts, olives and an assortment of meats.
Tried my gluten and dairy free charcuterie recipe?
Please leave me a rating and review below, and post a picture of the dish to Instagram and tag me at @foodsnfeels 🙌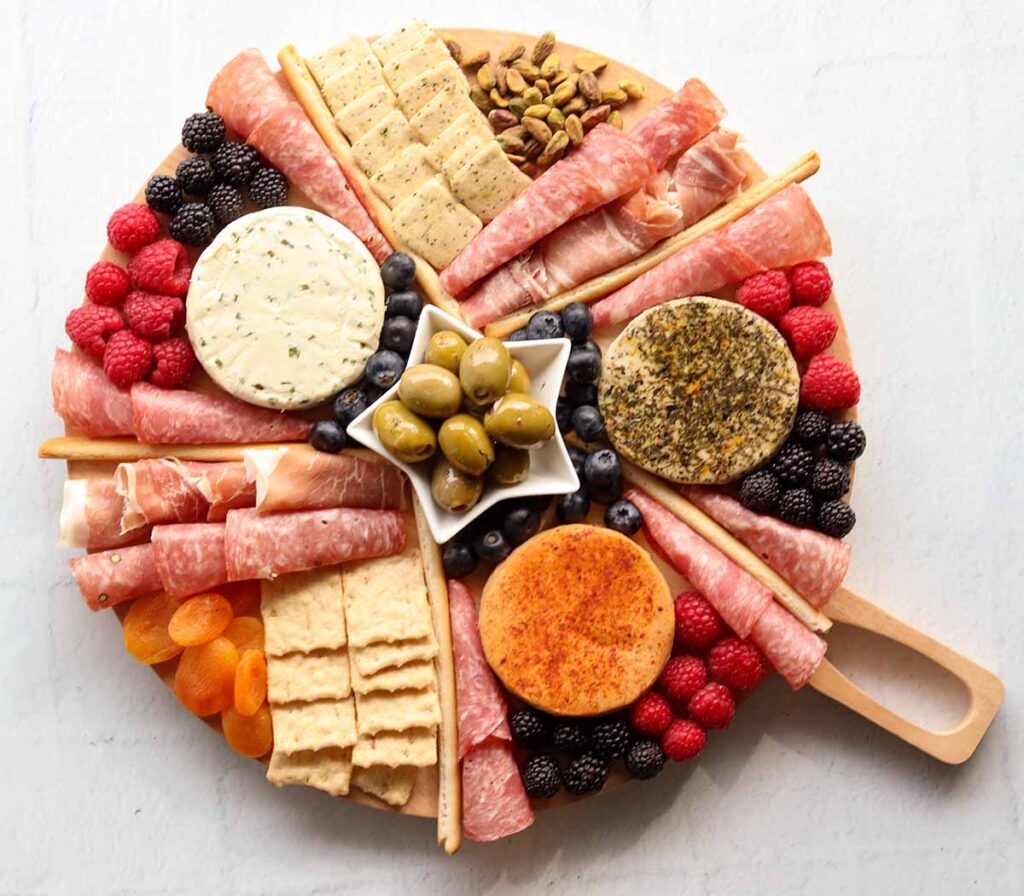 You might also like
If you liked this recipe, check out my other appetizer recipes:
If you are looking for more, download my free 7 day gluten & dairy free meal plan!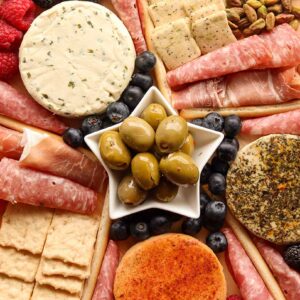 Gluten and Dairy Free Charcuterie Board
The idea of making a charcuterie board that is both gluten and dairy free may sound daunting, but thankfully it's actually quite easy and straightforward.
Equipment
Wooden cutting board

(or marble slab)

Cheese knives

Mini forks

Small spoons

Optional: parchment paper

Optional: small condiment bowls
Ingredients
3

varieties of cashew based dairy-free cheeses

3

varieties of gluten-free crackers

(make sure they do not contain milk products)

2

packs assorted deli meats

(look for the ones labelled "charcuterie")

2

varieties olives

(I used kalamata and garlic stuffed)

1

small container fresh raspberries

1

small container fresh blackberries

1

small container fresh blueberries

1

container dried apricots

1

bag shelled salted pistachios
Instructions
Once you've gathered all of your ingredients for your charcuterie, it's time to start assembling. This works best with wooden cutting boards or marble slabs, but it can also be done on a large serving plate or multiple smaller serving plates. There is nothing wrong with having multiple small charcuterie boards, especially if you are having a party where people are spread out.

Start by arranging your cheeses and meat products towards the centre of your snack board. Once you get these on, start arranging your crackers around the edges. You will still have room left over between your meat, cheese and crackers which is where you will start filling in the gaps with your berries, dried fruit, olives and nuts. If you want to design your board exactly how I did, make sure to watch my video below on how to assemble it. Keep in mind that not all of your ingredients will likely fit onto your board. For this reason I suggest setting up a second board, or using small bowls or plates so you can put out everything at once. If you don't think people will be eating through the charcuterie that fast, I suggest putting your leftover meat and cheeses in airtight containers in the fridge until your charcuterie starts clearing off and you have room for more. Having meat sitting out at room temperature for too long could be risky.

If you have leftovers, I suggest storing your meat separately in its own sealed container in the fridge (or covered in plastic wrap). Do the same with your cheeses, olives, crackers, berries and nuts. All of these things have varying degrees of moisture in them, and can make each other soft and wet. This will maintain the integrity of everything until the next time you serve it. I would suggest eating everything up within a couple days. I don't recommend freezing any of the charcuterie ingredients.
Notes
Above in the blog post I provide the exact product brands I used, ideas for additional charcuterie ingredients, and options to make your board paleo, keto or vegan.
The nutritional information is a rough estimate and will change based on the different ingredients you choose for your snack board.
Nutrition
Calories:
596
kcal
Carbohydrates:
49
g
Protein:
16
g
Fat:
39.5
g
Saturated Fat:
14
g
Monounsaturated Fat:
8
g
Trans Fat:
0
g
Cholesterol:
27
mg
Sodium:
1188
mg
Potassium:
503
mg
Fiber:
5.3
g
Sugar:
12
g
Disclaimer: This recipe post contains Amazon affiliate links. This means that if you click on a link and make a purchase, I will receive a small commission (at no extra cost to you). This helps support me so that I can continue to put out high quality, free recipes for you guys! Thank you 😁🙌