Next level flavor straight out of your own kitchen! These crispy oven baked truffle fries are easy to make and are great for a side dish or appetizer. Many grocery stores carry truffle oil, but if you can't find it, try a gourmet or high end food store. Worst comes to worst, you can always order some from the interwebs!
This recipe involves making your own homemade french fries in the oven, but I also provide variations below for using store-bought frozen fries, or your own deep fryer or air fryer.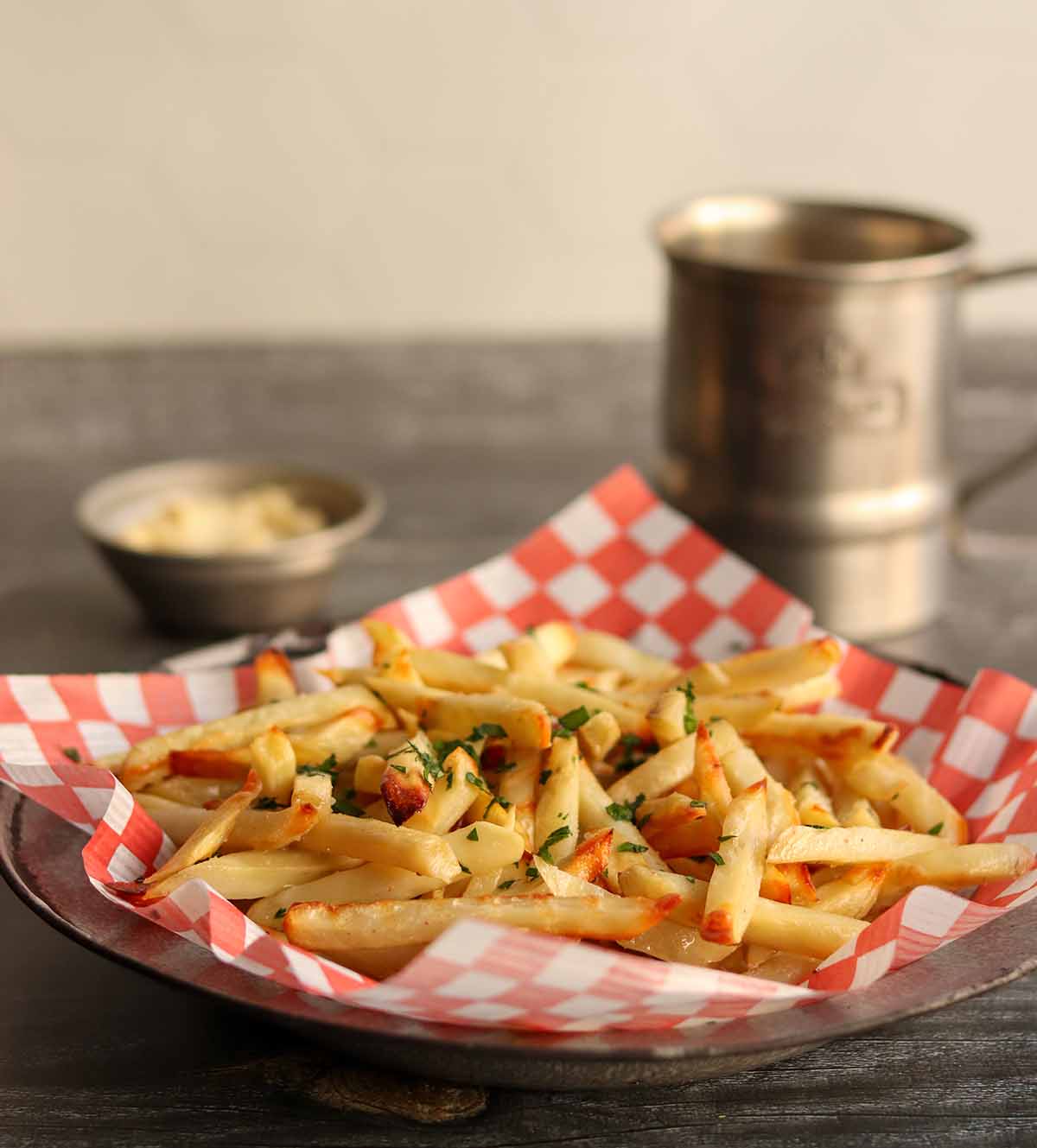 Recipe ingredient substitutions
Russet potato substitutions: I find that russet potatoes work best for making homemade truffle fries, but you can use any type of potato such as yukon gold potatoes, red potatoes or even sweet potatoes for that matter.
Truffle oil substitutions: There are a number of different kinds of truffle oil including white truffle oil and black truffle oil. Use whatever you have for this recipe. Alternatively, you can buy whole white truffles or black truffles and shave them into a neutral oil to make your own natural truffle oil.
Olive oil substitutions: Instead of using olive oil to bake your fries, swap it out for any other cooking oil of choice.
Salt substitutions: Instead of using sea salt, for some additional truffle flavor you can also use truffle salt.
Recipe variations
Make air fryer truffle fries: Using your air fryer is an easy and fast way to make your own fries. Put your cut, soaked and dried fries into your air fryer basket and air fry them for about 25 minutes. This cooking time is based on using the Instant Pot Vortex Plus Air Fryer Oven, but I imagine most air fryers are similar. Check the manual for the one that you have before you bake them.
Make deep-fried truffle fries: If you like greasier, crispier fries you can use your deep fryer. Follow the instructions in your deep fryer manual.
Use store-bought frozen fries: An easy way to speed up this recipe is by using store-bought frozen fries. Simply follow the directions on the package for baking the fries in the oven, and then at the end add a drizzle of truffle oil and sea salt and you are done!
Make garlic truffle fries: Sprinkle some garlic powder on your fries before baking them.
Recipe pairings
The best dips to serve these with are:
mayonnaise
garlic aioli
ketchup
awesome sauce! (a mixture of half ketchup and half mayonnaise)
Storage tips
These fries do not make for good leftovers in my experience, so I highly suggest eating them all up while fresh! But if you want to store your leftover fries, keep them in an airtight container in the fridge. When you are ready to eat them again, reheat them in the oven, toaster oven or air fryer to help crisp them up again.
Tried my truffle fries recipe?
Please leave me a rating and review below, and post a picture of the dish to Instagram and tag me at @foodsnfeels 🙌
You might also like:
If you liked this recipe, check out my other appetizer recipes:
If you are looking for more, download one of my free seven day meal plans!
Truffle Fries Recipe
Next level flavor straight out of your own kitchen! These crispy oven baked truffle fries are easy to make and are great as a side dish or appetizer.
Instructions
Preheat your oven to 400°F.

Wash and peel your potatoes. Or if you like the potato skins on, skip this step.

Using your fries cutter, cut your fries using the medium setting. If you prefer shoestring fries, use the smaller setting for thin strips. However, just note that the cooking times in this recipe are based on using medium cut fries. If you cut your fries really thin, reduce the cooking time by a bit. Or if you use the larger setting, your fries may need more time in the oven. If you do not have a fries cutter, use a large knife to cut your potatoes into long strips.

Transfer your sliced potatoes into a large mixing bowl with cold water. This will help remove excess starch. Leave the fries to sit for 15 – 30 minutes.

Drain your fries and put them on a large plate with paper towels to soak up the excess water.

Transfer your cut fries over into a large dry bowl and toss them with 3 tablespoons of extra-virgin olive oil and 1/2 teaspoon of salt.

Place a wire cooling rack on top of your large baking sheet and put your cut and oiled fries on the wire rack in a single layer. This helps the fries get crispy on all sides. Alternatively, you can also just place them on a parchment paper lined baking sheet without the cooling rack.

Bake your fries at 400°F for about 20 minutes. Then raise your oven temperature up to 425°F and bake for another 20 minutes (40 minutes in total). Once your fries are done cooking they should be crispy and golden brown.

Optional: place fries on a large plate with paper towels if you want to soak up excess oil.

Transfer your cooked fries into a large dry bowl. Drizzle your truffle oil over the fries and then toss them to make sure the oil is evenly distributed. Sprinkle on 1/2 teaspoon of salt and then toss them again.

Please note that there are varying levels of quality when it comes to truffle oil. If you have a really good truffle oil, you may need less than 1 tablespoon because of its robust flavor. If you are using a lower quality truffle oil, use up to 1 tablespoon or more.

Serve immediately and enjoy! Feel free to garnish with diced up fresh parsley (or other fresh herbs) and/or parmesan cheese (vegan or regular).
Notes
Above in the blog post I provide recipe ingredient substitutions, variations, and storage tips.
Nutrition
Calories:
312
kcal
Fat:
10.5
g
Saturated Fat:
1.8
g
Polyunsaturated Fat:
1.3
g
Monounsaturated Fat:
8
g
Trans Fat:
0
g
Cholesterol:
0
mg
Sodium:
581
mg
Potassium:
1085
mg
Fiber:
3.5
g
Sugar:
1.8
g
Disclaimer: This recipe post contains Amazon affiliate links. This means that if you click on a link and make a purchase, I will receive a small commission (at no extra cost to you). This helps support me so that I can continue to put out high quality, free recipes for you guys! Thank you 😁🙌