These wings are super quick and easy to make, and contain only 4 ingredients – chicken wings, Chinese five-spice powder, sesame oil and salt. They are baked at high heat which results in an amazing crispy coating!
It's really easy to find the five spice blend in your local grocery store, but you can also make it yourself from scratch with star anise, fennel seeds, black pepper or Szechuan peppercorns, cinnamon and cloves.
These wings can be enjoyed any time as a snack, appetizer, lunch, or dinner. You'll need plenty of napkins or paper towels because the easiest way to eat these is with your fingers!
This recipe is candida diet friendly, gluten-free, dairy free, paleo, keto/low carb, low FODMAP, low lectin and elimination diet friendly.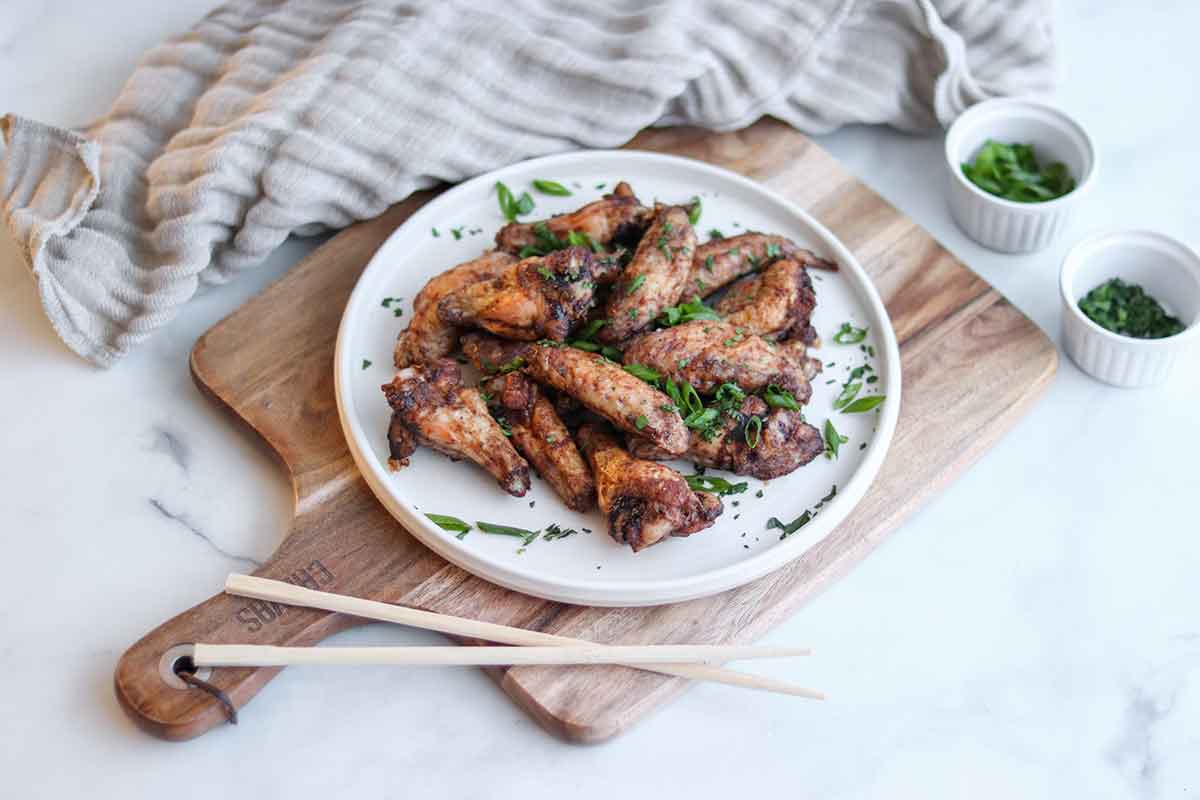 Recipe ingredient substitutions
Chicken wing substitutions: For this recipe, I use plain, raw chicken wings. You can also buy frozen wings and thaw them out before you make these. You could also make this recipe with chicken breast or chicken thighs. If you use cut up chicken pieces, I would suggest only cooking them for about 30 minutes at 350°F or until cooked through.
Chinese five spice powder substitutions: If you aren't able to find a Chinese five spice blend at your grocery store, you can make it from scratch.
Sesame oil substitutions: I use toasted sesame oil in this recipe, but you can also use regular sesame oil. Or alternatively, you can use olive oil or any other type of cooking oil or fat.
Salt substitutions: If you are trying to reduce salt intake, you can cut the salt down to 1/4 teaspoon – 1/2 teaspoon or you can omit it altogether.
Recipe flavor variations
Add extra flavors: I tried to keep this recipe super simple and it has a great flavor on its own, but there are many other ingredients that would also taste great. Consider adding soy sauce, fish sauce, oyster sauce, chili sauce, balsamic vinegar, fresh squeezed lemon or lime juice, or fresh garlic cloves.
Garnish your wings before serving: These wings look amazing garnished with diced green onions or chives, and diced fresh parsley.
Make these wings in your air fryer: These wings are also fantastic made in the air fryer! If you want to make them in yours, follow the instructions for making wings from scratch in your air fryer manual or follow this recipe.
Storage tips
Store your cooked wings in an airtight container in the fridge for 2 – 3 days. Or alternatively, you can freeze these for up to a few months. I usually make a ton of these for meal prep and freeze them in individual containers to take them out during the week.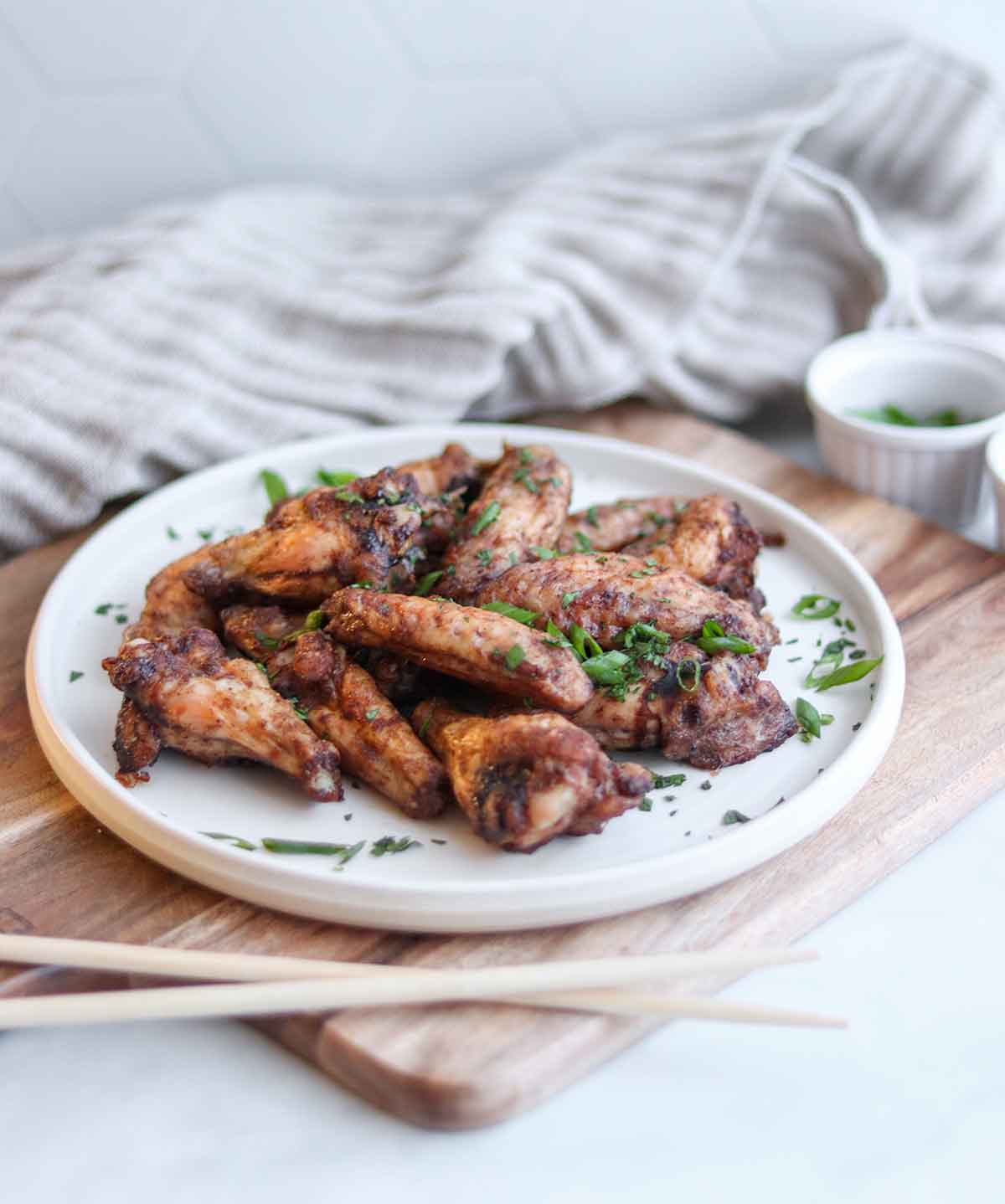 Tried my five-spice chicken wings recipe?
Please leave me a rating and review below, and post a picture of the dish to Instagram and tag me at @foodsnfeels 🙌
You might also like:
If you liked this recipe, check out my other candida diet recipes:
For even more candida diet recipes, grab my free 7 day candida meal plan!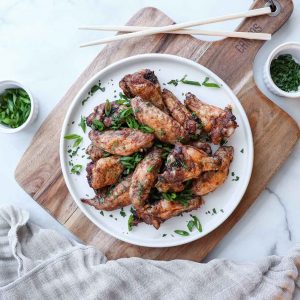 Chinese Five Spice Chicken Wings Recipe (Candida Diet)
These wings are super quick and easy to make, and contain only 4 ingredients – chicken wings, Chinese five-spice powder, sesame oil and salt.
Instructions
Preheat your oven to 425°F.

Dump your raw chicken wings into your large mixing bowl.

Add your Chinese five spice, toasted sesame oil and salt into the mixing bowl with your chicken wings and using your hands, toss everything together until your wings are evenly coated with your marinade ingredients.

Line the baking sheet with parchment paper and evenly spread your seasoned chicken wings onto the pan. If you don't have parchment paper, you can also spray your baking sheet with nonstick cooking spray before placing your wings on the pan.

Bake your wings for 45 minutes or until you've reached your desired crispiness.
Notes
Above in the blog post I provide ingredient substitutions, recipe variations, and storage tips.
Nutrition
Calories:
464
kcal
Carbohydrates:
0
g
Protein:
36
g
Fat:
35
g
Saturated Fat:
9.5
g
Polyunsaturated Fat:
1
g
Monounsaturated Fat:
1
g
Trans Fat:
0
g
Cholesterol:
150
mg
Sodium:
615
mg
Fiber:
0
g
Sugar:
0
g
Disclaimer: This recipe post contains Amazon affiliate links. This means that if you click on a link and make a purchase, I will receive a small commission (at no extra cost to you). This helps support me so that I can continue to put out high quality, free recipes for you guys! Thank you 😁🙌