This is probably the most fluffy and moist carrot cake I've had, and the cream cheese frosting just takes it to the next level!
This recipe is inspired by Chef John's Carrot Cake on Allrecipes. I basically took his recipe and swapped out everything that had gluten and dairy to make it friendlier for people with food allergies or celiac.
I also made a few tweaks here and there to make it extra delicious – namely, doubling the amount of cream cheese frosting. So if you love creamy cream cheese frosting, this recipe is for you!
Product brands I recommend for this recipe
For the most consistent results, I recommend:
Violife dairy free cream cheese
Robin Hood gluten-free flour
Earth Balance soy free vegan butter
Recipe ingredient substitutions
Gluten-free flour substitutions: If you aren't able to get Robin Hood gluten-free flour, you can swap it out for any other gluten-free baking flour blend. Try to choose a flour blend that contains xanthan gum as it helps gluten-free cake to be less crumbly. Or, you could use white rice flour, brown rice flour, or oat flour. Be careful though, different flours absorb different amounts of liquid. You may have to adjust your wet to dry ingredients ratio depending on what flour you use.
Brown sugar substitutions: Swap this out for granulated coconut palm sugar, regular granulated white sugar, or even powdered sugar. I wouldn't recommend using any liquid sweeteners (maple syrup or honey, etc.) since they will change the wet to dry ingredients balance.
Vegan butter substitutions: In the cake batter, swap the vegan butter out for melted coconut oil or any other type of vegan butter substitute. Light tasting olive oil, vegetable oil or any other neutral oil will also work. I wouldn't suggest swapping out the vegan butter in the cream cheese icing though because it will considerably change the consistency.
Egg substitutions: Swap out the regular eggs for egg alternatives such as flax, chia or gelatin.
Vegan cream cheese substitutions: Swap this out for any other brand of dairy free/vegan cream cheese. If you aren't avoiding dairy, feel free to use regular cream cheese.
Dietary modifications
Make this recipe vegan: Swap out the eggs for 4 vegan egg substitutes like flax eggs (2.5 tbsp water and 1 tbsp flax each) and there you go, vegan cake!
Make this recipe grain free: Swap out the gluten-free flour blend for cassava flour. Use this handy conversion chart. You could also use a combination of mostly almond flour and a bit of coconut flour.
Make this recipe lower sugar/carb: Swap out the brown sugar in the cake batter for a granulated sugar free alternative such as Swerve. Swerve also makes an icing sugar alternative for use in the frosting. Or if you just want it a little bit less sugar in this recipe, simply cut the amount of brown sugar in the cake batter in half.
Recipe variations
Optional add-ins: Flavors like orange zest or shredded coconut are also good in this. The cake is just a base so use what you have and avoid buying expensive ingredients at the grocery store if you've already got something that you think will taste good.
Use a different size baking pan: For this recipe, I used a 10.4 x 14.5" glass baking dish. At this size, the cake will be done after roughly 35 minutes. If you use a 11 x 15" glass baking dish, the cake will be done after roughly 30 minutes. In either case, cook until a toothpick comes out clean.
Pro tips for this recipe
Warm your vegan butter and dairy free cream cheese to room temperature before starting: Allowing them to soften up on the counter ahead of time will allow you to more easily beat them in your stand mixer when you make the frosting.
Let the cake cool completely before putting frosting on it: If you don't wait for the cake to cool completely before frosting it, your frosting will melt when you put it on the cake.
Keep your cake in the fridge until right before you cut it: To get the cleanest cut on your cake, you will want to cool it completely in the fridge before serving. If you don't, your cake pieces will likely crumble and not look super professional! This doesn't personally bother me because it tastes amazing in any possible form, but if you are serving it at a gathering you might want it to look half decent!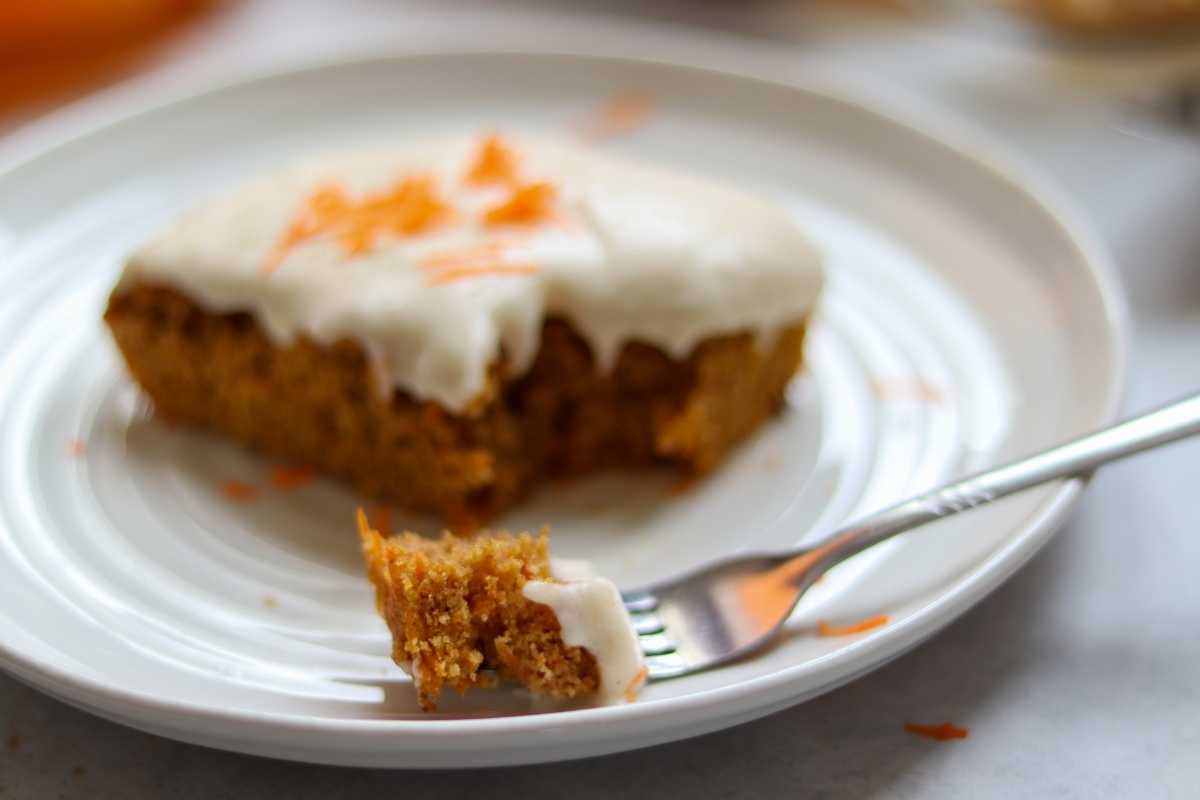 Recipe FAQs:
Do I need to have a stand mixer for this recipe?
Not at all, especially not for the cake batter (a large mixing bowl and a wooden spoon will do). You will however need some type of electric mixer to make the frosting – or a whisk and really buff arms 😉
How important is it to grease the pan before baking?
Greasing the pan is super important if you want really clean looking cake slices. If you don't grease the pan, your pieces may come out crumbly and not intact.
Storage tips
Store your left over cake in the fridge for up to 1 week, or for much longer in the freezer. In the fridge, you can simply cover the cake pan with plastic wrap, or put it in an airtight container. If you want to freeze it, portion it into individual serving sizes and freeze them in airtight containers.
Tried this dairy & gluten-free carrot cake recipe?
Please leave me a rating and review below, and post a picture of the dish to Instagram and tag me at @foodsnfeels 🙌
You might also like:
If you liked this recipe, check out my other dairy & gluten free dessert recipes:
If you are looking for more, download my free 7 day gluten free & dairy free meal plan!
Carrot Cake with Cream Cheese Frosting (Gluten & Dairy Free)
This gluten-free carrot cake recipe with dairy free cream cheese frosting is inspired by Chef John's Carrot Cake on Allrecipes. I basically took his recipe and swapped out everything that had gluten and dairy.
Ingredients
Cream Cheese Frosting
400

g

dairy free cream cheese

(two packages of Violife)

1/2

cup

vegan butter

1

tablespoon

vanilla

5

cups

icing sugar
Instructions
Preheat your oven to 350°F.

Combine all of the dry ingredients in stand mixer or large bowl.

Once all your dry ingredients are mixed thoroughly, add all of your wet ingredients (other than carrots) to the stand mixer bowl. Beat on medium speed until there are no lumps remaining and everything is mixed together.

If using fresh carrots, shred them using a cheese grater or a food processor.

Add in your shredded carrots and mix thoroughly.

Grease your glass baking dish with vegan butter or coconut oil (or use parchment paper).

Using a spatula, scrape all batter into your greased 10.4 x 14.5" baking dish.

Bake for roughly 35 minutes or until the toothpick test comes out clean.

Let your carrot cake cool completely on a wire rack.

Cream together your room temperature cream cheese, vegan butter and vanilla extract.

Slowly add icing sugar 1 cup at a time while beating.

Store your frosting in the fridge until your cake has completely cooled and is ready for frosting.

Apply your frosting to the cake and return to the fridge until ready to serve.
Nutrition
Calories:
547
kcal
Carbohydrates:
84
g
Protein:
3.3
g
Fat:
23.1
g
Saturated Fat:
9.5
g
Polyunsaturated Fat:
4
g
Monounsaturated Fat:
8
g
Cholesterol:
46.5
mg
Sodium:
526
mg
Potassium:
112.7
mg
Fiber:
2.7
g
Sugar:
64
g
Disclaimer: This recipe post contains Amazon affiliate links. This means that if you click on a link and make a purchase, I will receive a small commission (at no extra cost to you). This helps support me so that I can continue to put out high quality, free recipes for you guys! Thank you 😁🙌