These homemade donuts are my take on classic yeast donuts, but without the gluten or dairy. They can also be made vegan with the use of an egg substitute.
Although these donuts are maple glazed, below I provide direction on making them any flavor you like by taking the base recipe and making tweaks to it.
I also provide ingredient substitutions and variations!
Product brands I recommend for this recipe
For the best, most consistent results on this gluten free yeast risen donut recipe, I recommend the following brands:
Robin Hood gluten-free flour blend – I like this flour blend because it is the closest I have found to regular white flour. It also comes with xanthan gum already included so that you don't have to add it to your recipe.
Fleischmann's quick rise instant yeast – Using quick rise instant yeast will speed this recipe up and means that you will only have to rise the dough once. Further in this blog post I also provide direction on using active dry yeast if you prefer.
Earth Balance soy free vegan butter – I like using Earth Balance butter because it has the most similar flavour and consistency to regular butter. I also like that it does not contain soy like many other vegan butter alternatives do.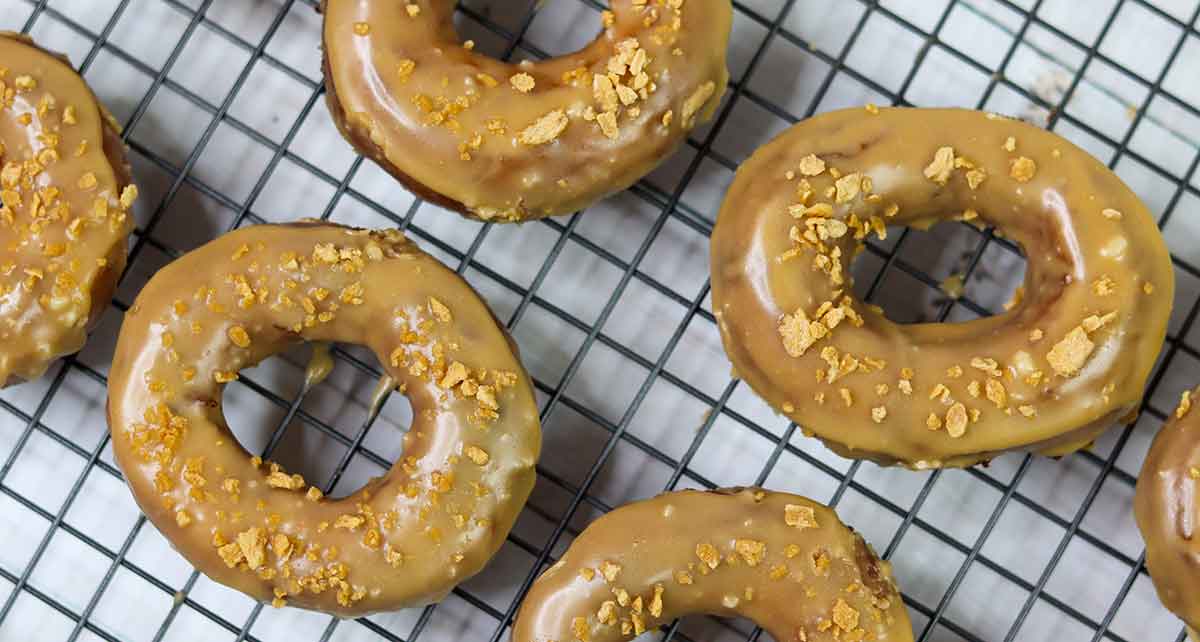 Recipe substitutions
Gluten-free flour substitutions: For this recipe, I highly recommend using Robin Hood gluten free flour if you can get it for the most consistent results. However, if you've already got another gluten-free flour blend in the cupboard, feel free to use that. Depending on what the flour blend contains, you may have to adjust the flour measurements up or down. Some gluten free flours absorb more liquid than others. Look for gluten-free flour blends that contain brown or white rice flour, potato starch, tapioca starch/tapioca flour, and xanthan gum. I have had the best results with these.
Sugar substitutions: Instead of using white granulated sugar, you could potentially swap it out for brown sugar, coconut sugar, or a low calorie/low carb granulated sugar alternative (such as Swerve). However, I have not tested this recipe out with anything other than white granulated sugar so I can't guarantee the results. I don't recommend using any other liquid sweetener (such as honey or maple syrup) as it will throw off the dry to wet ingredient ratio and may affect the outcome.
Quick rise yeast substitutions: Instead of using quick rise yeast, you can also swap it out for active dry yeast. If you do this, put 3 tablespoons of warm water into a cup and sprinkle your active dry yeast on top of the water to activate it. Leave it for five minutes. You can also sprinkle a little bit of granulated sugar on top of the yeast to help it activate. If you use active dry yeast, instead of using 1/2 cup of warm dairy free milk in the recipe, subtract 3 tablespoons of milk from it so that the total amount of liquid ingredients still equal 1/2 cup. This works out to about 1/3 of a cup of dairy free milk and 3 tablespoons of warm water total.
Dairy free milk substitutions: You can use any type of dairy free milk (almond milk, soy milk, coconut milk, etc.) in this recipe. I used oat milk. You can also use regular cow's milk or even buttermilk if you tolerate dairy. If you use buttermilk, omit the 1 teaspoon of white vinegar from this recipe.
Vegan butter substitutions: Instead of using a vegan butter alternative, you could also use regular cow's milk butter. If you are using vegan butter, I recommend oil-based butter alternatives or margarines. I don't suggest using cashew based vegan butters as I have not tested these out and cannot guarantee the outcome.
Egg substitutions: If you want to make vegan donuts, instead of using a chicken egg, you can swap it out for an egg alternative such as a chia, flax or gelatin egg. I have tested this recipe using 1 chia egg and it turned out fantastic. In fact, my taste testers liked the vegan version of these doughnuts best. To make a chia egg, combine 1 tablespoon ground or whole chia seeds with 4 tablespoons of water in a small dish. Mix them up and let them sit for at least five minutes. It will form into a thick gel. Use this instead of the one chicken egg called for in this recipe.
Vegetable oil substitutes: Instead of using vegetable oil to fry your donuts in, you can also use coconut oil – refined or not. Just keep in mind if you use extra-virgin cold pressed coconut oil, your donuts may have a coconut flavour. Using refined coconut oil will not add any flavour. Coconut oil is hard at room temperature though since it is a saturated fat, so once you have cooked your donuts, they may harden up when cooled. Heat them in the microwave for 15 seconds before eating.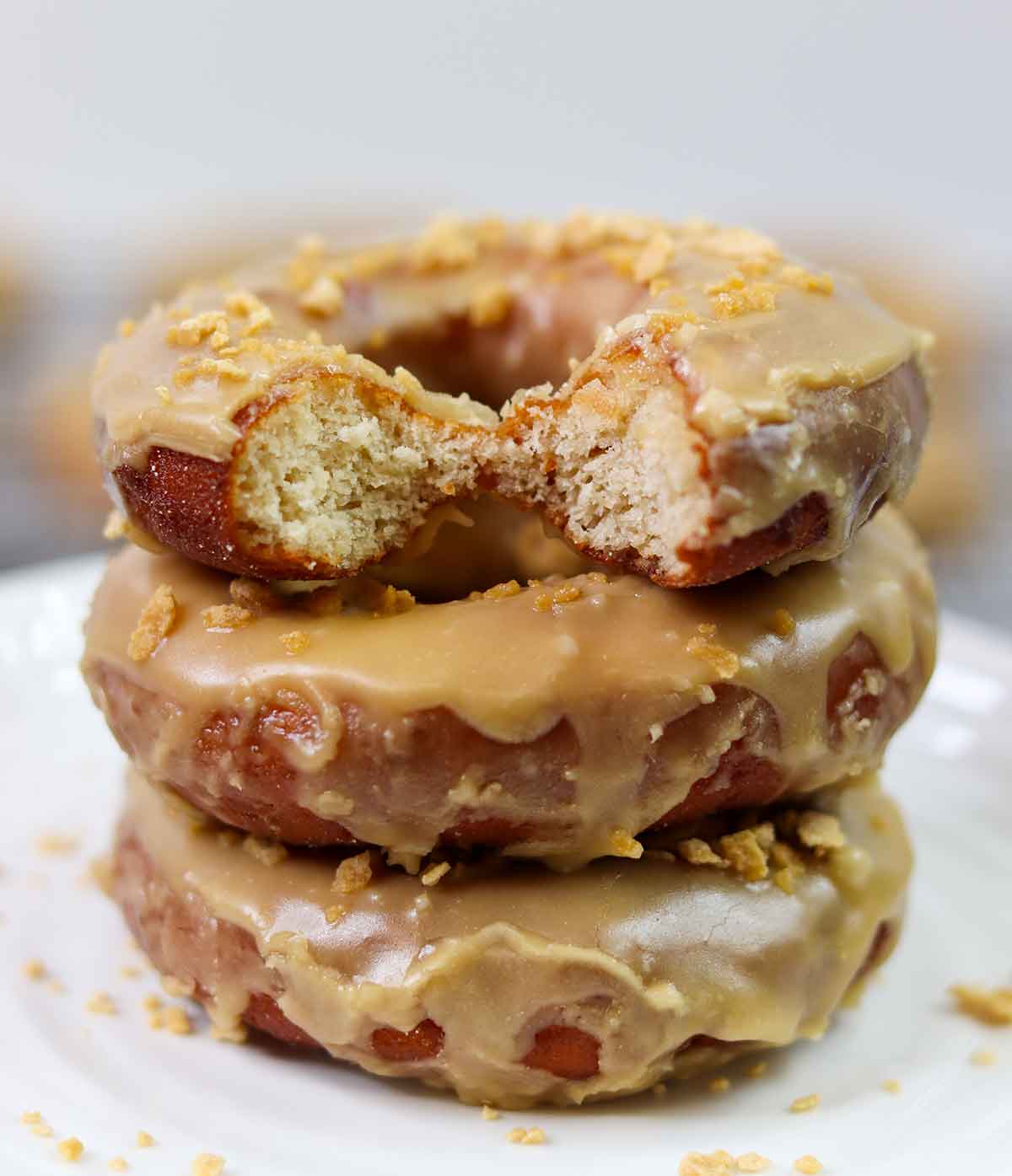 Recipe variations:
Make this recipe vegan: Omit the chicken egg and substitute for a chia, flax or gelatin egg. To make a chia egg, mix 1 tbsp ground or whole chia seeds in a small dish with 4 tbsp water and let sit for at least 5 minutes to gel. Use in place of the egg in this recipe.
Make this recipe lower oxalate: Make sure to use white rice-based flour, and avoid tapioca starch or cassava flour. Potato starch is okay. For dairy free milk, use coconut milk or regular cows milk.
Make this recipe yeast free: Swap out the yeast for 1 tsp baking powder.
Make this donut recipe in different flavours
Follow the recipe as is, but do not add the maple extract to the dough or to the glaze. Add any other flavor extract in place of it! Examples could include:
earl grey extract
coffee extract
vanilla extract
almond extract
You can find many different flavoured extracts at your local grocery store in the baking section. You can also make chocolate donuts using cocoa powder or make a chocolate glaze out of melted chocolate chips! Use whatever flavors you have on hand and save yourself the additional cost of buying expensive extracts.
The glaze in this recipe does contain maple syrup which will still give it a bit of a maple flavour, so if you don't want that you could use this "base" doughnut glaze recipe instead and tweak as needed. You could also omit the glaze altogether and instead dust them with powdered sugar or a cinnamon sugar mixture.
Use active dry yeast instead of quick rise yeast
If you are using quick rise yeast in this recipe, it gets mixed into the dry ingredients before the wet ingredients are added. However, if you want to use active dry yeast instead, you will need to activate it in warm water ahead of time and add it with the wet ingredients.
Follow the recipe as is, but change the following:
1. Swap out the 1 teaspoon quick rise yeast for 1 teaspoon of active dry yeast.
2. Sprinkle your 1 teaspoon of active dry yeast over 3 tablespoons of warm water in a cup to activate it. You can also sprinkle a tiny bit of granulated white sugar on top to help it activate.
3. Instead of using 1/2 cup of dairy free milk that the recipe calls for, only use 1/3 cup. Between the 1/3 cup of dairy free milk and the 3 tablespoons of yeasted water, your liquid ingredients equal the original amount of 1/2 cup dairy free milk called for in this recipe.
4. Add your 3 tablespoons of water with yeast at the same time as your other wet ingredients.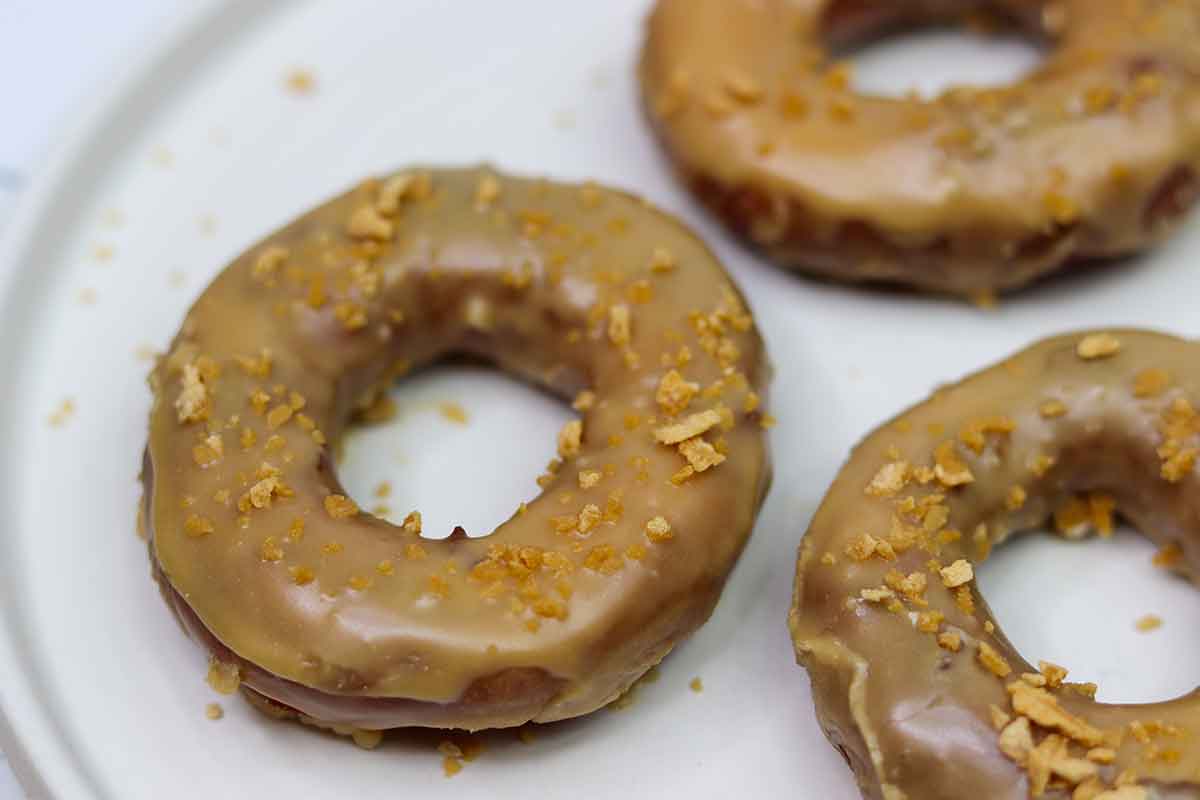 Pro tips for this recipe:
Hot oil is dangerous and it splatters when you drop donut dough into it. If you don't have a deep fryer, make sure you only fill your frying pan or pot halfway full with oil so that you don't have anything spill.
Because gluten-free baking can be more dense than regular baking, and because these doughnuts are deep-fried, they can get a little bit more firm and dry once they have cooled off. For this reason, I suggest serving them super fresh, or blasting them in the microwave for 10-15 seconds or so to soften them up again before eating.
Tried my recipe for gluten-free donuts?
Please leave me a rating and review below, and post a picture of the dish to Instagram and tag me at @foodsnfeels 🙌
You might also like:
If you liked this recipe, check out my other gluten-free dessert recipes:
If you are looking for more, download my free 7 day gluten free & dairy free meal plan!
Gluten Free Maple Glazed Donut Recipe
This maple glazed fried gluten free donut recipe is my take on a classic yeast risen donut, but without the gluten or dairy. It can also be made vegan with the use of an egg substitute.
Ingredients
Wet ingredients
½

cup

warmed dairy free milk

2

tbsp

melted vegan butter

(I recommend Earth Balance soy free)

1

room temp egg

(or 1 chia egg – 1 tbsp chia seeds mixed with 4 tbsp water)

1

tsp

white vinegar

½

tsp

maple extract
Deep frying
1

small jug

canola oil

(enough to fill the cast iron pan or pot to at least 1-2 inches deep)
Instructions
Make the donut batter
Mix all of the dry ingredients together in your stand mixer or large bowl – gluten-free flour, granulated sugar, salt and quick rise yeast.

Once your dry ingredients are mixed together, add all of your wet ingredients into the stand mixer – dairy free milk, melted butter, egg, vinegar and maple extract.

Using the mixer attachment, mix your dough thoroughly until all of the ingredients are incorporated. Continue mixing for a couple minutes to knead your dough.

Your dough should be sticky and more wet than regular bread dough usually is. If its not, add additional water or dairy free milk slowly until it is. Be careful not to go to thin though either.

Using a spatula, scrape the dough from the sides of the stand mixer or bowl down towards the middle until you have formed a ball out of all of the dough.
Rest your dough
Cover your bowl with a damp towel and let the dough rest for 10 minutes. The dough will not rise during this time.
Roll out and cut your dough
On a clean surface, sprinkle some gluten-free flour and spread it evenly around with your hand. Using the spatula, scrape your ball of dough out onto the floured surface.

Sprinkle some additional gluten-free flour on top of the dough and start to press it down with your hand until it is in a disk-like shape.

Then using your rolling pin, roll it out until it is about 1/2 to 3/4 inch thick. You can even go up to 1 inch thick if you want larger doughnuts.

Using a floured doughnut cutter, cut out the doughnut shapes carefully – the dough will be flimsy so be careful while handling it.

Cut out as many as you can from your rolled out dough. Then combine the remaining scraps and repeat the process of flouring, rolling out and cutting until you've used up all the dough. You will usually get around 8 to 10 small doughnuts – depending on the size of your doughnut cutter. You can also set the donut holes aside if you want to make some of those too!

Line a deep glass baking dish with parchment paper. Place each cut out doughnut onto the parchment paper. Allow a bit of space between each doughnut as they will rise and spread a bit.

Cover your glass dish with oiled plastic wrap. The easiest way to do this is to prepare the sheets of plastic wrap first on the counter, spray one side of them with cooking spray, and then top the glass baking dish with them – oiled side down. The plastic wrap should create a tight seal so that no air can get into the pan.
Rise your dough
In a warm spot (I put them under the oven light), let them rise for roughly one hour.

Gluten-free yeast risen dough will not rise as much as a regular dough that contains wheat/gluten flour will. They should however rise to about 150% of its original size.
Deep fry your donuts
In a large cast-iron pan or pot, pour in at least 1-2 inches of vegetable or coconut oil. Heat up to medium heat (roughly 300 to 350 Fahrenheit if you have a deep frying temperature gauge). You can also test that your oil is up to temperature by tossing in a small piece of dough scrap. If it starts bubbling away immediately, you should be good to go.

One at a time, carefully peel off the cut up doughnuts from the parchment paper and gently lower into the oil. Be very careful not to burn your self and ideally use something to help you lower it into the oil such as a metal flipper. After roughly 30 seconds to 1 minute you can flip the doughnut using a fork or flipper. Flip them once they start to get golden brown. Be careful not to overcook them. You'll know they are starting to overcook if they start getting to be more of a darker brown colour.

When each doughnut is cooked, lift them out and put them on a plate or wire rack lined with a paper towel to soak up some of the extra grease.
Make the glaze
While your doughnuts start to cool, you can make the glaze by combining all ingredients into a large bowl.

Mix the glaze with a whisk until everything is combined and there are no lumps left.
Glaze the donuts & garnish
Line up your fried doughnuts, maple glaze and your glass baking dish lined with parchment paper.

Dip one side of each cooked doughnut into the maple glaze and then place back into your glass baking dish lined with fresh parchment paper.

Once the maple glaze has hardened up (usually happens within 10 minutes or so), you can dip your doughnuts a second time. This will make sure that the glaze is on there nice and thick.

Place them back into the glass baking dish and sprinkle with maple flakes if desired. Let sit for another 10 minutes or so until the glaze has hardened.

Enjoy right away! Store in the fridge for 2 to 3 days in an airtight container. If you are serving them from the fridge, put on a plate and microwave for 10 to 15 seconds to soften them up again.
Notes
In the blog post above, I give instructions on making this recipe vegan with the use of 1 chia egg.
I also provide instructions on using active dry yeast instead of quick rise yeast.
You can also find recipe ingredient substitutions and other variations on this recipe.
Nutrition
Calories:
317
kcal
Carbohydrates:
42
g
Protein:
2.7
g
Fat:
16.2
g
Saturated Fat:
2.3
g
Polyunsaturated Fat:
4.5
g
Monounsaturated Fat:
8.8
g
Trans Fat:
0
g
Cholesterol:
19
mg
Sodium:
172
mg
Potassium:
29
mg
Fiber:
2.4
g
Sugar:
22.4
g
Disclaimer: This recipe post contains Amazon affiliate links. This means that if you click on a link and make a purchase, I will receive a small commission (at no extra cost to you). This helps support me so that I can continue to put out high quality, free recipes for you guys! Thank you 😁🙌