This gluten-free cupcakes recipe is moist and rich, with flecks of whole vanilla bean throughout the cupcake and whipped coconut cream topping.
It's dairy free, soy free, nut free and low oxalate. Below I provide instructions on making it vegan, paleo, lower carb and lower calorie.
These cupcakes are great for birthday parties, potlucks, and other special occasions. Kids love them and you can't even tell they're gluten-free!
Product brands I recommend for this recipe
Robin Hood gluten-free flour
So Delicious coconut milk
So Delicious coco whip
Nutiva butter flavored coconut oil
Bob's Red Mill baking soda
Paper Chef parchment baking cups (cupcake liners)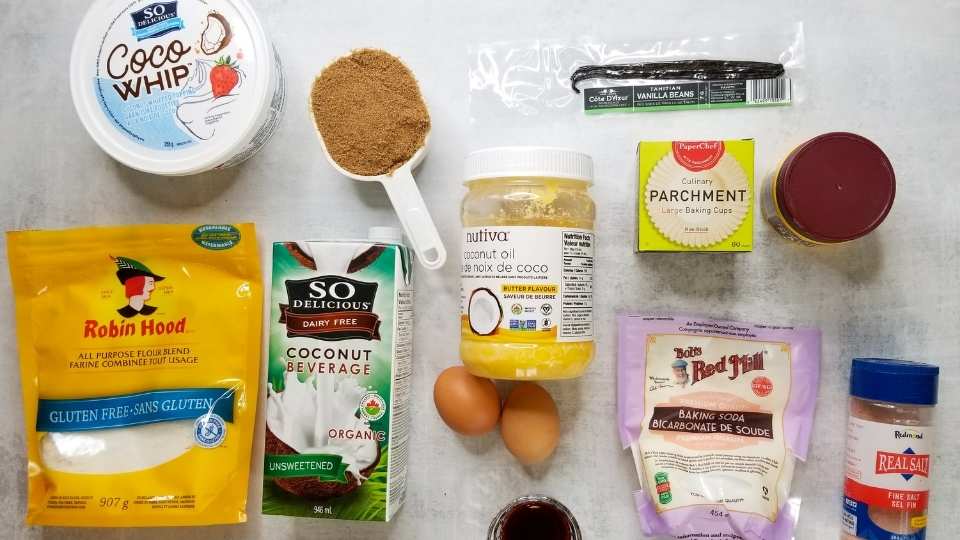 Recipe substitutions or variations
Substitutions:
Gluten-free flour substitutions: Instead of using a gluten-free baking flour blend, you can also use white rice flour, brown rice flour, oat flour or any other gluten-free flour alternative. If your flour blend does not contain xanthan gum, consider adding 1/8 teaspoon. This will help prevent it from being crumbly.
Coconut milk substitutions: Instead of using coconut milk, you can use any other type of dairy free milk like almond milk, cashew or oat. I think they even sell coconut heavy cream these days and that could be good too!
Butter flavored coconut oil substitutions: Instead of butter flavored coconut oil, you can use regular coconut oil, dairy-free butter, or any other cooking oil of your choice.
Vanilla bean substitutions: If you can't find whole vanilla beans, sometimes you can find vanilla bean paste. Or if not, you can just stick to the vanilla extract only.
Golden or brown sugar substitutions: Using golden or brown sugar for this recipe creates a super rich and moist texture and a beautiful golden color. But if you want your cupcakes to look lighter, swap out the brown sugar for white granulated sugar.
Variations:
Make this recipe lower calorie/fat: Make sure to use the unsweetened coconut milk that you get in tetra packs (not canned – these usually have more fat). Cut down the coconut oil to ⅛ of a cup and add an additional 2 tablespoons of coconut milk. By using less sugar and less fat, you're also reducing the calories.
Make this recipe lower oxalate: Make sure to swap out the gluten-free flour blend for white rice flour, or a mixture of white rice flour and potato starch.
Make this recipe vegan: Make vegan vanilla cupcakes by swapping out the eggs for 2 egg substitutes such as flax or chia.
Make this recipe paleo: Consider swapping out the gluten-free flour blend for cassava flour, as it is the most similar grain free alternative. For every 1 cup of gluten-free flour, swap it for 3/4 cup cassava flour.
Make this recipe lower carb: Swap out the gluten-free flour blend for almond flour, or a combination of mostly almond flour and a bit of coconut flour. You can also swap out the granulated sugar for a sugar-free alternative such as Swerve.
Recipe pairings
These cupcakes taste amazing with coconut whipped cream, but would also taste fantastic with:
a light dusting of powdered sugar
Recipe FAQs:
How can I make my cupcakes more moist?
There are a number of ways to make your cupcakes more moist, including making sure your batter is not too dry (it should be fairly thin). Using brown sugar instead of white sugar can add additional moisture and flavour. Using adequate oil or butter in your recipe can also help keep your cupcakes moist.
Are cupcakes better with oil or butter?
Because oil is liquid at room temperature and in the fridge, if you use vegetable oil in your cupcakes they will be a more soft and moist consistency. Whereas butter is hard at room temperature so your cupcakes may feel more firm, especially after you first take them out of the fridge. Blast them in the microwave for 30 seconds to make them moist and warm again. The goal is to get nice fluffy cupcakes, and I think oil is better for that.
Tried this gluten free vanilla cupcakes recipe?
Please leave me a rating and review below, and post a picture of the dish to Instagram and tag me at @foodsnfeels 🙌
You might also like:
If you liked this recipe, you might also like my other cupcake recipes:
If you are looking for more, download my free 7 day gluten free & dairy free meal plan!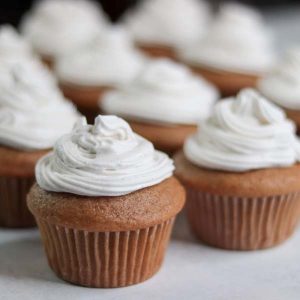 Gluten Free Vanilla Bean Cupcakes Recipe
This gluten and dairy free vanilla bean cupcake recipe is moist and rich, with flecks of whole vanilla bean throughout the cupcake and whipped coconut cream topping. It is also soy free, nut free and low oxalate.
Instructions
Preheat your oven to 325°F.

Blend all the dry ingredients together in a stand mixer or large mixing bowl.

While mixing on low, add the melted coconut oil and then once that is mostly mixed in, add the remaining wet ingredients (coconut milk, white vinegar, vanilla extract, eggs). Blend until smooth.

Cut both of your vanilla beans down the center lengthwise and using your fingers, pull back the sides of the vanilla bean and scrape all the insides out with a butter knife or small spoon (see examples of this in my cooking video). At this point you can compost the actual beans once you've got everything out of the middle.

Put half of the vanilla bean mixture into the cupcake batter and beat until well mixed in.

Line a muffin pan with 12 parchment baking cups and evenly pour the batter in.

Bake the cupcakes for roughly 25 minutes or until a toothpick comes out clean.

While your cupcakes are baking, empty out one entire package of So Delicious coconut whipped cream (thawed) into your KitchenAid stand mixer and add the remainder of the vanilla bean mixture. Beat these together until the vanilla beans are mixed in evenly.

Empty your vanilla bean whipped coconut cream into your piping set or plastic sandwich/freezer bag (with a very small hole cut in one of the corners to dispense the icing).

Place the piping set or plastic bag into the fridge until later.

Once your cupcakes are cooked and have sat on a cooling rack until they reach room temperature, you can top them with the coconut whipped cream topping.

Keep your frosted cupcakes in the refrigerator until ready to serve.

Store leftovers in an airtight container in the fridge for up to 1 week. Or freeze them for much longer.
Nutrition
Serving:
1
cupcake
Calories:
262
kcal
Carbohydrates:
43.9
g
Protein:
2.8
g
Fat:
9.7
g
Saturated Fat:
8.2
g
Polyunsaturated Fat:
0.2
g
Monounsaturated Fat:
0.3
g
Cholesterol:
31
mg
Sodium:
181.5
mg
Potassium:
19.9
mg
Fiber:
2.4
g
Sugar:
22
g
Disclaimer: This recipe post contains Amazon affiliate links. This means that if you click on a link and make a purchase, I will receive a small commission (at no extra cost to you). This helps support me so that I can continue to put out high quality, free recipes for you guys! Thank you 😁🙌