This gluten free dairy free pizza recipe is also yeast free, and can be made vegan and paleo.
If you felt like you had to give up pizza because of food allergies or intolerances, think again! You can still make pizza without gluten or dairy, and it still tastes delicious.
Once you start nestling into this new healthy eating thing, you'll realize you don't actually have to give up as many things as you thought. You just have to learn a new way of making them differently. And there are many ways to do this, I promise you. 😊
Healthy alternatives to white flour
There are a lot of foods that can be swapped out for other more healthy alternatives.
With this gluten-free dairy free pizza recipe for example, instead of white flour you will use a gluten free alternative, and there are many of those available in your average grocery store these days. These gluten-free flours usually contain ingredients such as rice, corn, potato starch, tapioca starch, buckwheat, chickpea or others. White flour and gluten-free flour can generally be swapped in a 1:1 ratio as well.
You can also use cassava flour which is made from a starchy tuber – aka a vegetable! which is lower in carbohydrates and other anti-nutrients than it's wheat filled counterpart. Cassava flour is probably one of the closest things to wheat flour that I have found that does not contain grains. I provide substitutions below to make this recipe with cassava flour.
Product brands I recommend for this recipe
Earth Island mozzarella shreds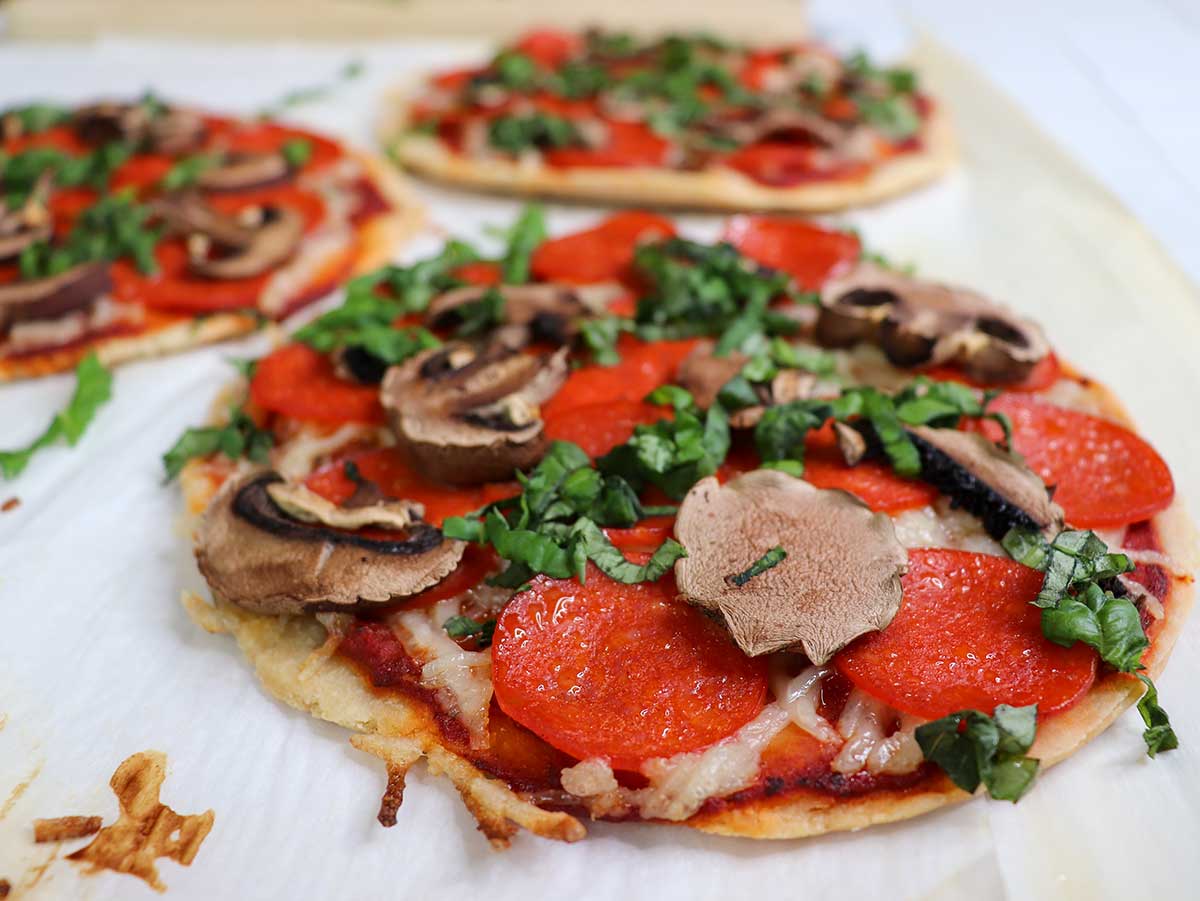 Recipe substitutions or variations
Substitutions
Gluten free flour substitutions: Instead of using Bob's Red Mill 1-1 gluten free baking flour, you can also use any other type of gluten free flour blend. You could also use white or brown rice flour, or any other gluten-free flour such as millet, buckwheat, etc. If you want to make this pizza crust grain free/paleo, swap out the gluten-free flour for cassava flour using this handy cassava conversion chart.
Olive oil substitutions: Instead of using olive oil, you could also use avocado oil or an oil blend such as Chosen Foods blend which contains safflower, avocado and coconut oil.
Vegan cheese substitutions: If you aren't able to access Earth Island mozzarella shreds, you can use any other type of vegan cheese such as Daiya or miyoko's mozz cheese.
Pizza sauce substitutions: If you aren't able to find a clean ingredient pizza sauce, you can also just use canned tomato sauce. For more flavour you can optionally add your own seasonings such as garlic powder, salt, oregano and basil.
Variations
Make this recipe grain free/paleo: Swap the gluten-free flour blend for cassava flour using this handy cassava conversion chart.
Make this recipe vegan: This recipe can be made vegan if you omit the pepperoni.
Watch the cooking video for this recipe
Want more gluten free and dairy free recipes?
All the recipes on my blog are both gluten & dairy free, ALWAYS. If you are looking for more, you can also check out my 1 month gluten & dairy free meal plan or recipe book (which comes with 140 additional recipes for breakfasts, lunches, dinners, snacks & desserts).
Pin this recipe for later
If you can't make my gluten free dairy free pizza recipe now, make sure to pin the recipe for later so you have it handy!
Pepperoni Mushroom Pizza (Gluten Free & Dairy Free)
This recipe is gluten free, dairy free, soy free.
Ingredients
Toppings
1/2

cup

organic pizza sauce

150

grams

pepperoni

100

grams

diced white mushrooms

227

grams

dairy free cheese

fresh basil
Instructions
Add oil and 1 cup water to dry ingredients and mix. Add additional 1/8 cup water as needed if the mixture is too dry and crumbly.

Separate the dough into four portions and roll into four balls.

Put each ball between two layers of parchment paper and use a tortilla press. (or roll out using a rolling pin).

Place all 4 pizza crusts on baking sheet and brush with 2 tbsp oil. Bake for 10-15 minutes.

Remove from oven and top each pizza crust with quarter of the pizza sauce.

Top each pizza with all pepperoni, diced mushrooms and dairy free cheese.

Bake at 400°F for roughly 15 minutes or until done to your liking.

Top with fresh basil and serve.
Notes
This recipe makes 4 individual pizzas.
Nutrition
Calories:
801
kcal
Carbohydrates:
95
g
Protein:
14.6
g
Fat:
40.3
g
Saturated Fat:
9.3
g
Polyunsaturated Fat:
2.2
g
Monounsaturated Fat:
14.8
g
Trans Fat:
0
g
Cholesterol:
0
mg
Sodium:
2008
mg
Potassium:
214.7
mg
Fiber:
3.3
g
Sugar:
1
g
Disclaimer: This recipe post contains Amazon affiliate links. This means that if you click on a link and make a purchase, I will receive a small commission (at no extra cost to you). This helps support me so that I can continue to put out high quality, free recipes for you guys! Thank you 😁🙌