This is a guest post contributed by Natureul.
Tiger nut butter is smooth, creamy, and thanks to this simple two-step recipe, incredibly easy to make at home!
In about ten minutes you can make a full jar of spreadable, craveable tiger nut spread for breakfast, snacks, and baking. And best of all, this recipe uses only real, simple ingredients.
This stuff is great for anyone who has a nut allergy, because tiger nuts are actually a small root vegetable/tuber. However, they do have a fantastic nutty flavor. They are also compliant with the autoimmune protocol diet and paleo diet.
Not only are they a good source of fiber, it also shows promise for digestive health. Read more about the health benefits of tiger nuts.
Keep reading for the full recipe, tips for the best results, and a time-saving hack at the end!
Ingredient substitutions
Oil substitutions
Instead of using healthy fats like coconut oil or avocado oil, you can also use light tasting olive oil, palm shortening or sunflower oil.
Tiger nut substitutions
There are many forms that you can buy tiger nuts in – whole tiger nuts, sliced tiger nuts, tiger nut pieces, ground tiger nuts and tiger nut flour. For this recipe you can start with any of these!
This recipe can also be used to make traditional nut butters such as almond butter, cashew butter, peanut butter, and seed butters. Simply swap out the tiger nuts for real nuts. The end result will be very similar!
Tips for Making Tiger Nut Butter
Use a high-speed blender.
It would be nearly impossible to make this tiger nut butter creamy and spreadable by hand–it has to be done in a powerful high-speed blender or food processor to crush the nuts and grind them into a spread. If your blender isn't quite up to snuff, opt for tiger nut flour instead of whole tiger nuts to give it a bit of a head start.
Customize the flavor!
The best part of this recipe is that you can customize the flavor of the tiger nut butter as much or as little as you want. Cocoa powder, honey, maple syrup, agave nectar, cinnamon, nutmeg, vanilla paste, or coconut butter for extra creaminess–the list of potential flavor boosters is endless and limited only by your imagination! Experiment with different combinations to discover your favorite flavor of homemade tiger nut butter.
Be patient.
You may have to frequently stop the blender or food processor to move the ingredients around for optimal blending. Make sure you always use a long utensil (like a wooden spoon or, more ideally, a silicone or rubber spatula) and keep your hands out of the blender while the appliance is plugged in. The extra few minutes you'll spend stopping-and-going is worth it and you'll be rewarded with a smooth, spreadable tiger nut butter!
Recipe pairings
There are a million different ways to eat this stuff! For a healthy snack, pair your tiger nut butter with:
Toast, bagel or bun
Crackers
Pancakes or waffles
Use it in your muffin and cookie recipes
Swap peanut butter for this tiger nut butter in homemade peanut butter cups. It is a great peanut butter alternative!
Anything that you would normally eat nut butter with!
FAQs
Where can you buy tiger nut products?
Whole and ground tiger nuts are generally easy to find at health food stores, but they haven't quite made their way into regular grocery stores. If you can't find it at your local health food store, you can also purchase them online very easily.
Tried this tigernut butter recipe?
Please leave a rating and review below 🙌
You might also like
If you liked this recipe, check out these other tiger nut recipes:

If this still seems like a lot of work, there's a faster, easier way to get a creamy tiger nut spread: shop Natureul! Our selection of incredibly creamy, ready-to-eat tigernut spreads are made with all-natural ingredients and are naturally gluten-free, so you can get homemade quality without the mess of making it yourself! Natureul Tigernut Spread comes in two flavors, Classic and Aromatic Carob, for every snacking occasion.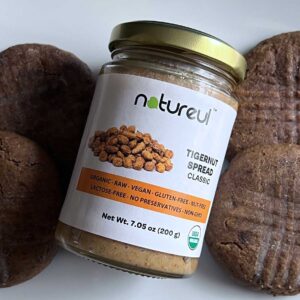 Homemade Tiger Nut Butter Recipe
Tiger nut butter is smooth, creamy, and thanks to this simple two-step recipe, incredibly easy to make at home!
Ingredients
1

cup

raw organic tiger nuts

(or 1 cup tigernut flour)

⅓ to ½

cup

coconut oil or avocado oil

(to adjust the consistency)

½

tsp

salt

1-2

tbsp

sweetener of choice

(optional)

flavor mix-ins

(optional – see blog post above)
Instructions
Add all of the ingredients to a blender or food processor and pulse to break down the tiger nuts. Once the tiger nuts begin breaking down, blend on high until you achieve the desired consistency. You may need to pause the process a few times to scrape little pieces of tiger nut from the sides of the blender down with a rubber spatula.

Transfer the tiger nut butter to an airtight container (like a small jar or food storage tin) and refrigerate for up to 10 days. Use it just like you would any other nut butter: spread on toast, drizzle over fruit or granola, or use it in baking recipes.
Nutrition
Calories:
110
kcal
Carbohydrates:
9
g
Protein:
0.7
g
Fat:
8.7
g
Saturated Fat:
5.5
g
Polyunsaturated Fat:
0.1
g
Monounsaturated Fat:
0.4
g
Trans Fat:
0
g
Cholesterol:
0
mg
Sodium:
102
mg
Potassium:
57
mg
Fiber:
3.3
g
Sugar:
2
g
Disclaimer: This recipe post contains Amazon affiliate links. This means that if you click on a link and make a purchase, I will receive a small commission (at no extra cost to you). This helps support me so that I can continue to put out high quality, free recipes for you guys! Thank you 😁🙌