This hearty tiger nut flour cake is nutrient dense, high in fibre and makes a great breakfast or dessert.
If you are curious, tiger nuts are not actually nuts! They are small root vegetables. They have a nutty flavour though and work great as a grain free flour for baking into cakes, muffins and cookies. You can generally get tiger nut flour at your local health food store or online.
This recipe is gluten-free, dairy free, paleo, vegan, low lectin, low histamine, and elimination diet friendly. It can also be made lower sugar/carb and AIP with the dietary modifications listed below.
Recipe ingredient substitutions
Brown sugar substitutions: Instead of brown sugar, you could also use granulated coconut sugar, white sugar, or a granulated sugar alternative such as Swerve. I would not suggest using liquid sweeteners such as maple syrup because it will throw off the wet to dry ingredients ratio and may affect the end result of this cake.
Flax egg substitutions: Instead of flax eggs, you can also use 4 large regular eggs if you tolerate them. Or alternatively, you can use any other egg substitute such as chia eggs or gelatin eggs.
Coconut oil substitutions: Instead of coconut oil, you can also swap it out for coconut cream or coconut butter which are similarly high in fat. Or you can use any other cooking oil or fat of your choice such as light tasting olive oil or vegan butter.
Vanilla extract substitutions: Instead of vanilla extract, you can use a vanilla bean paste or a vanilla bean powder.
Tiger nut flour substitutions: Tiger nut flour is very similar in texture and consistency to almond flour so if you prefer that you can swap it out 1 to 1.
Cassava flour substitutions: Instead of cassava flour, you can use any other type of starch such as tapioca flour, arrowroot starch / arrowroot flour, or potato starch. I wouldn't suggest using coconut flour as it absorbs a lot more liquids, however if you want to use it, cut the amount of flour in half. So instead of 1 cup of cassava flour, use 1/4 – 1/2 cup of coconut flour.
Pecan substitutions: Instead of pecan pieces, you can also use walnuts or any other nut of choice.
Grated ginger substitutions: Instead of grated ginger, feel free to use powdered dried ginger. You won't need as much though, so instead of 1/4 cup of fresh grated ginger, use 2 teaspoons of ground ginger.
Baking soda substitutions: If you don't have baking soda, you can also use baking powder. Instead of 1 1/2 teaspoons baking soda, use 1 tablespoon of baking powder.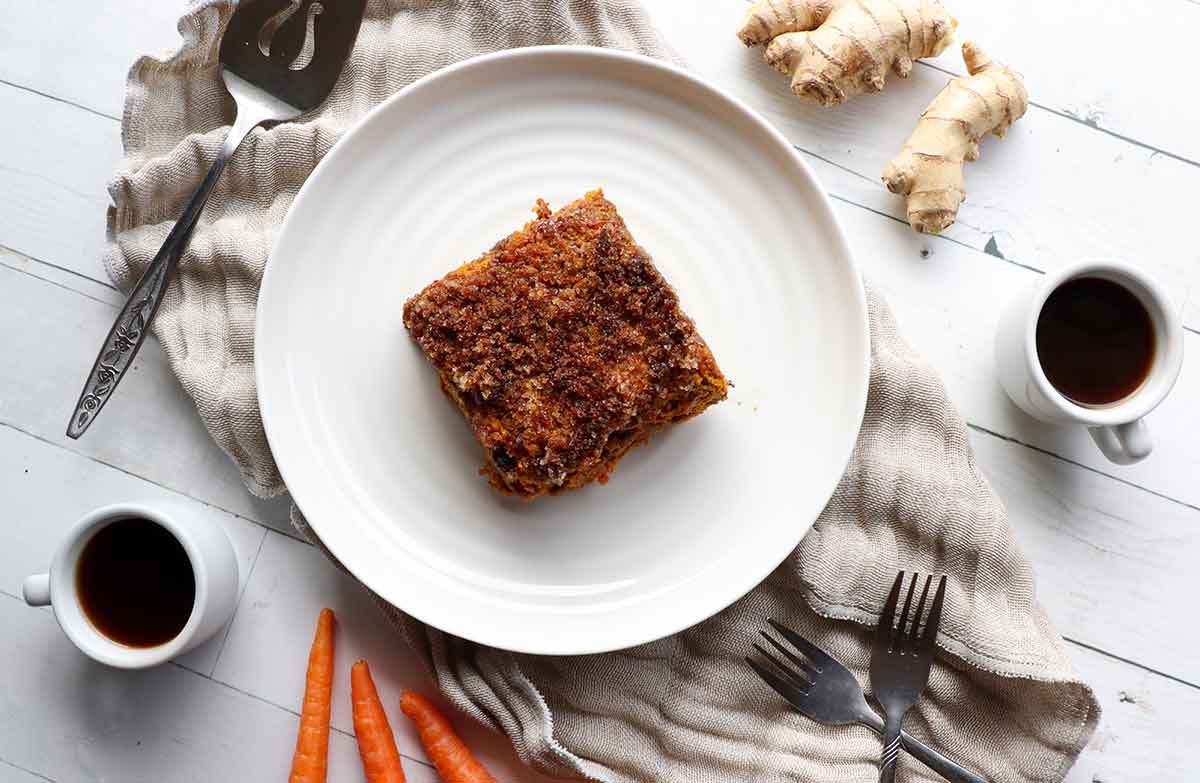 Dietary modifications
Make this recipe lower calorie: Instead of using 1 cup coconut oil, you can swap it out entirely for 3/4 to 1 cup of non-dairy milk. Or you can use 1/2 cup melted coconut oil and the other 1/2 cup dairy free milk. Use a lower calorie milk such as unsweetened almond milk, coconut milk or cashew milk.
Make this recipe lower sugar/carb: Instead of using brown sugar, you can swap it out for a granulated sugar-free alternative such as Swerve which is generally made from erythritol. Alternatively you can simply leave out the sugar altogether and either add a small amount of liquid or powdered stevia, or even not replace it with anything.
Make this recipe AIP friendly: Instead of using flax eggs, swap them out for gelatin eggs. Instead of brown sugar, swap it out for coconut palm sugar. Omit the pecans.
Make this recipe low FODMAP: Omit the apples. Otherwise, all other ingredients are low FODMAP.
Make this recipe lower histamine: Make sure to use a vanilla extract that is alcohol free. Alternatively, use a vanilla bean powder.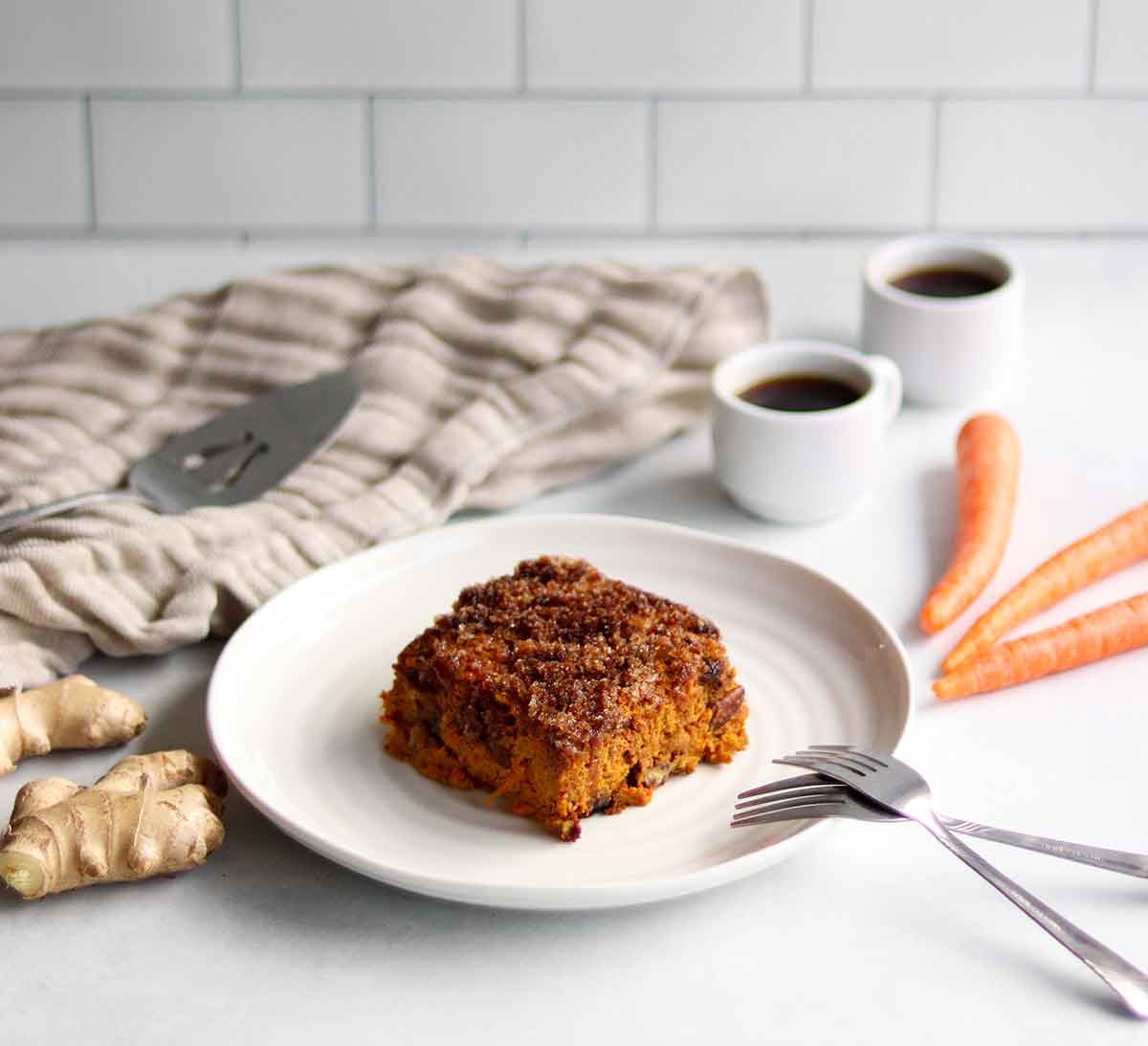 Storage tips
Store these muffins in the fridge in an airtight container for up to 1 week. Or if you want them to last longer, store them in an airtight container in the freezer for up to a few months. To reheat them, pull them out of the freezer to thaw for a few hours on the counter. Or you can put them on a plate in the microwave and defrost them for 2 to 3 minutes.
Tried my delicious cake?
Please leave me a rating and review below, and post a picture of the dish to Instagram and tag me at @foodsnfeels 🙌
You might also like:
Check out my favorite tigernut flour recipes:
If you are looking for more, download one of my free seven day meal plans!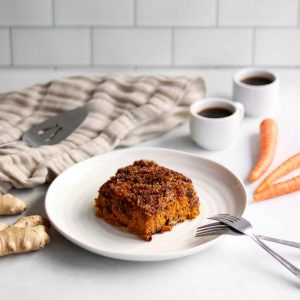 Carrot, Apple & Ginger Tiger Nut Flour Cake
This hearty tiger nut flour cake is nutrient dense, high in fibre and makes a great breakfast or dessert.
Instructions
Preheat your oven to 350°F.

Start by making your flax eggs. In a small or medium bowl, mix together 1/4 cup ground flax and 10 tablespoons of water (which is 1/2 cup of water +2 tablespoons). Mix thoroughly and set aside to thicken.

Next start grating your carrots until you've got 6 packed cups of it. Put these into your stand mixer or a large bowl.

Cut all 4 sides off each of the apples and remove the stem and core/seeds. Carefully grate both apples and add them to your large mixing bowl.

Grate your fresh ginger until you've got 1/4 cup or so of it. Also add this to your mixing bowl.

Add the rest of the wet ingredients including your flax eggs, melted coconut oil and vanilla extract.

Stir up all of your wet ingredients until they are thoroughly mixed together.

Next, add all of your dry ingredients to your wet ingredients, including the tiger nut flour, cassava flour, brown sugar or stevia, pecan pieces, salt and baking soda. Mix your wet and dry ingredients together thoroughly.

Line your 9 x 13" baking dish with parchment paper and transfer your cake dough over into it. Using a wooden spoon or spatula, flatten out the cake dough until it is evenly distributed in the pan. Smooth out the top with a spatula.

For additional flavour, sprinkle more brown sugar onto the top of the cake. This is optional!

Bake the cake for 50 to 60 minutes or until a toothpick comes out clean. Baking time may vary between ovens.
Notes
Above in the blog post I provide recipe ingredient substitutions, dietary modifications, and storage tips.
The nutritional information above is based on using brown sugar, not stevia. If you use stevia instead of brown sugar, each serving will have 420 calories, 32 g of carbohydrates, and 10.5 g of sugar.
Nutrition
Calories:
466
kcal
Carbohydrates:
44
g
Protein:
3.2
g
Fat:
32
g
Saturated Fat:
16
g
Polyunsaturated Fat:
1
g
Monounsaturated Fat:
1.3
g
Trans Fat:
0
g
Cholesterol:
0
mg
Sodium:
397
mg
Potassium:
478
mg
Fiber:
9.5
g
Sugar:
22
g
Disclaimer: This recipe post contains Amazon affiliate links. This means that if you click on a link and make a purchase, I will receive a small commission (at no extra cost to you). This helps support me so that I can continue to put out high quality, free recipes for you guys! Thank you 😁🙌