What better way to slide into Christmas than with these super healthy nutrient packed AIP ginger molasses cookie dough bites. Although admittedly, I eat these all year round. Haha!
First off, they are super easy to make and as an added bonus, you don't have to cook them.
They are gluten and grain free, paleo, dairy free, soy free, autoimmune protocol (AIP) friendly, and vegan.
Almost every ingredient is packed with health benefits too.
What makes this recipe a healthier choice?
Coconut oil contains medium chain triglycerides (MCTs) which your body can use for a quick source of lasting energy. It is rich in lauric acid which has known antimicrobial and antifungal properties – which makes it good for treating candida overgrowth. It may improve brain function, and can also be used topically on your skin and hair.
Tigernut flour is high in dietary fiber as well as iron, vitamin E, magnesium, zinc, potassium and calcium. Tiger nuts are also rich in antioxidants.
Molasses is rich in both iron and other minerals and nutrients such as calcium, potassium, magnesium, copper, selenium and vitamin B6.
Ginger also has antimicrobial properties and is known to help with nausea, indigestion, and lowering inflammation.
Cinnamon also has antifungal properties, and is used widely for lowering blood sugar levels in people with insulin resistance and/or type II diabetes.
Himalayan sea salt is a natural, unprocessed form of salt. For this reason it is still high in trace minerals, just the way your body wants it.
How to make this recipe
You can find full instructions for this recipe below in the recipe card, but if you prefer to watch this recipe being made step-by-step, check out the cooking video below.
Recipe substitutions or variations
Don't have tigernut flour? Feel free to swap it out for almond flour, as these two flours have a very similar consistency. Just note that if you use almond flour, this recipe will no longer be AIP compliant.
Don't have tapioca starch? Feel free to swap it out for other AIP flours such as arrowroot starch and cassava flour. Or if you are not AIP, you can use rice flour, gluten-free flour blend, or potato starch.
Don't have raw honey? You can swap it out for any other form of honey, or if you don't have honey you can use maple syrup, agave syrup, or coconut nectar.
Don't have coconut oil? Feel free to use other AIP fats such as lard or avocado oil. Or if you are not AIP, you can use any other vegetable oils like canola, safflower, sunflower etc (although I don't recommend it because vegetable and seed oils are very inflammatory!).
Recipe serving ideas
Serve them for an after dinner dessert with your family or friends
Bring them to a potluck – but try and keep them in a cool area where they won't get too soft.
Give them away as gifts, for Christmas or otherwise
Keep them in the fridge and eat them for an energy boosting snack during the day
Make them for your own dessert and eat them all in one sitting. 😬 whhhaaaaat, I've never done this! 😉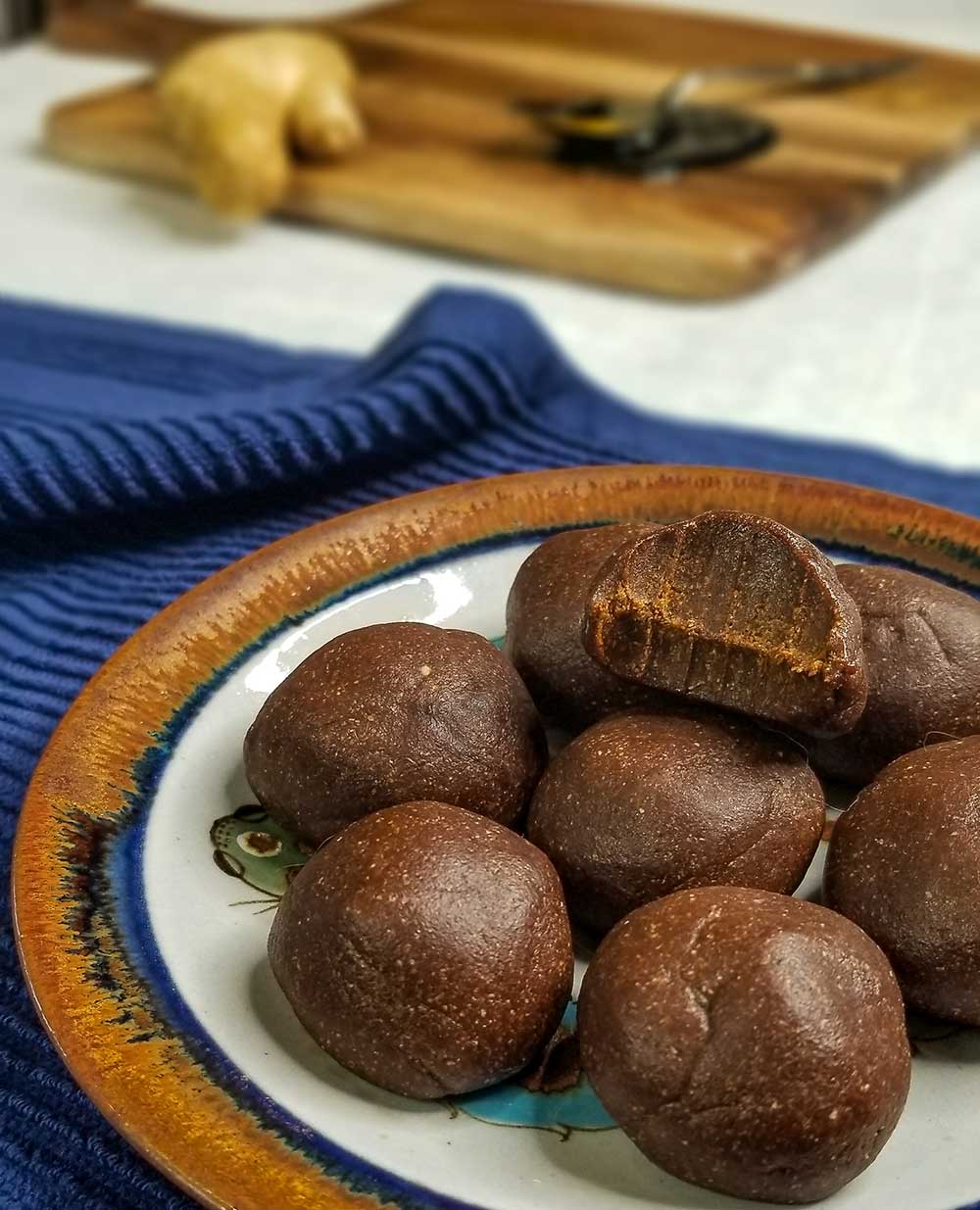 Recipe FAQs
Are molasses and honey allowed on the AIP diet?
Yes, on the AIP diet you can have naturally occurring and minimally processed sugars such as maple syrup, honey, coconut palm sugar, molasses, etc. You will want to avoid sugars that are highly processed such as table sugar and corn syrup. Of course too much of any kind of sugar, natural or not, can affect your health negatively so in moderation is best!
Are these cookie dough bites okay to eat raw?
Yes, these cookie dough bites are intended to be raw, and there is nothing to worry about because they do not contain eggs or any other ingredient that needs to be cooked to ensure safety.
Do these cookie dough bites freeze well?
Yes, these bites freeze extremely well, and still taste amazing once they have thawed. In fact, the best place for them is the freezer, especially if you aren't going to eat them all right away.
How long do they last in the fridge?
These cookie dough bites last up to 1 week in the fridge.
Can this recipe be doubled or tripled? It only makes 8 servings.
Absolutely, this recipe can be easily doubled or tripled or even quadrupled! When I first came up with this recipe, I was making it just for myself so 8 servings was plenty for me for 1 batch. But if you want to share it with others or bring it to a party, I would definitely encourage you to make more than just 1 batch of this recipe.
Pin this recipe for later
If you can't make my AIP cookie dough bites now, make sure to pin the recipe for later so you have it handy!
Tried the recipe?
Please leave me a rating and review below, and post a picture of the dish to Instagram and tag me at @foodsnfeels 🙌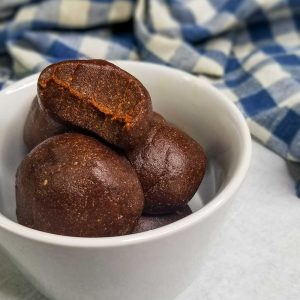 Ginger Molasses Cookie Dough Bites (AIP)
This recipe is gluten free, dairy free, AIP, paleo and soy free.
Instructions
Get out all your ingredients that you'll need for this recipe

Add tigernut flour into a large mixing bowl

Add tapioca starch into mixing bowl

Add dried ginger to mixing bowl

Add cinnamon to mixing bowl

Add molasses into mixing bowl

Add vanilla extract to mixing bowl

Melt coconut oil and pour into mixing bowl

Stir all dry and wet ingredients together thoroughly until mixed

Roll into 8 balls and place on pan topped with parchment paper. Then put them in the freezer for 15 minutes or the fridge for an hour or more before serving. Store in the fridge for up to 1 week or the freezer for longer.

Enjoy them cold as will get soft if they are left out of the fridge or freezer.
Nutrition
Calories:
133
kcal
Carbohydrates:
19.3
g
Protein:
0.8
g
Fat:
6.1
g
Saturated Fat:
3.8
g
Polyunsaturated Fat:
0.3
g
Monounsaturated Fat:
0.3
g
Trans Fat:
0
g
Sodium:
5.9
mg
Potassium:
365
mg
Fiber:
4.1
g
Sugar:
5.1
g
Disclaimer: This recipe post contains Amazon affiliate links. This means that if you click on a link and make a purchase, I will receive a small commission (at no extra cost to you). This helps support me so that I can continue to put out high quality, free recipes for you guys! Thank you 😁🙌
About the author Tara Klippert
Tara Klippert is a Registered Health and Nutrition Counselor and holds a diploma in Holistic Nutrition and Health Coaching. She shares her gluten free, dairy free & allergy friendly recipes.