What better way to slide into Christmas than with these super healthy nutrient packed paleo ginger cookies. This is one of my favorite holiday cookie recipes although admittedly, I eat these all year round.
First off, they are super easy to make and as an added bonus, you don't have to cook them.
They are also gluten and grain free, paleo, dairy free, soy free, autoimmune protocol (AIP) friendly, and vegan.
Recipe substitutions
Keep in mind that if you swap out any of the ingredients, or you add to it, it may no longer be AIP compliant.
Don't have tigernut flour? Swap it out for almond flour or coconut flour.
Don't have tapioca starch? Feel free to swap it out for other AIP flours such as arrowroot powder / starch and cassava flour. Or if you are not AIP, you can use rice flour, a gluten-free flour blend, or potato starch.
Don't have raw honey? You can swap it out for any other form of honey, or if you don't have honey you can use maple syrup, agave syrup, coconut nectar, date syrup, or maple sugar. Brown sugar is also good but not AIP because it's refined sugar.
Don't have coconut oil? Feel free to use other AIP fats such as lard or avocado oil. Or if you want a different flavor, try adding nut butters like almond butter, cashew butter or peanut butter (also not AIP).
Recipe variations
Can I bake these as real paleo ginger molasses cookies? Yep, just add an egg to the mix, 1/4 tsp of baking soda and a bit more flour to keep things from getting too runny. Then bake on a cookie sheet at 350F for 8-12 minutes (bake times may vary depending on how well done you like em). And voila, chewy ginger cookies that are good any time of year as a delicious treat! I've never done this but you could use a rolling pin to roll them out and use cookie cutters to make shapes. I guess they're basically soft gingerbread cookies at that point. That's ok though, gingerbread cookies are the best part of Christmas!
I don't eat eggs, can I make the cookie version without them? Yep, just make a flax egg. Mix 1 tbsp ground flax and 2.5 tbsp water in a bowl and let sit for 5 minutes.
Can I make this recipe low carb? The short answer is maybe. You're going to have to change most of the ingredients. You can swap the flour out for almond, and the starch out for some sort of bean powder binder, and the the sugar out for erythritol but if I'm being completely honest, I have no idea what these would taste like. If you do this send me an email and let me know how they turned out haha. It's basically your recipe though at that point. I hope you enjoy your creation, you beautiful low carb adventurer!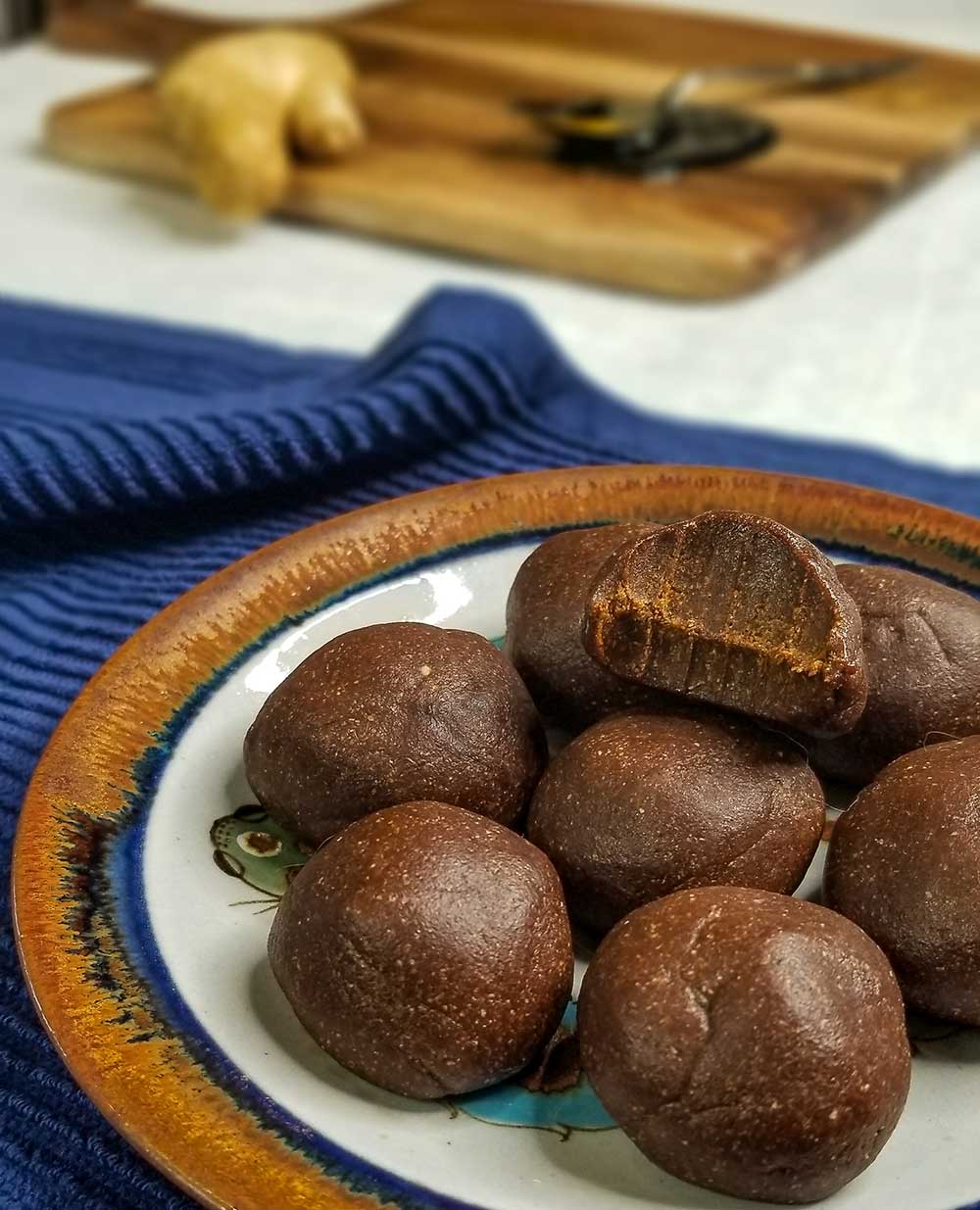 Recipe serving ideas
Serve them for an after dinner dessert with your family or friends.
Bring them to a potluck – but try and keep them in a cool area where they won't get too soft.
Give them away as gifts, for Christmas or otherwise.
Keep them in the fridge and eat them for an energy boosting snack during the day.
Make them for your own dessert and eat them all in one sitting. 😬 whhhaaaaat, I've never done this! 😉
Recipe FAQs
Are molasses and honey allowed on the AIP diet?
Yes, on the AIP diet you can have naturally occurring and minimally processed sugars such as maple syrup, honey, coconut palm sugar, molasses, etc. You will want to avoid sugars that are highly processed such as table sugar and corn syrup. Of course too much of any kind of sugar, natural or not, can affect your health negatively so in moderation is best!
Are these cookie dough bites okay to eat raw?
Yes, these cookie dough bites are intended to be raw, and there is nothing to worry about because they do not contain eggs or any other ingredient that needs to be cooked to ensure safety.
Do these cookie dough bites freeze well?
Yes, these bites freeze extremely well, and still taste amazing once they have thawed. In fact, the best place for them is the freezer, especially if you aren't going to eat them all right away.
How long do they last in the fridge?
These cookie dough bites last up to 1 week in the fridge.
Can this recipe be doubled or tripled? It only makes 8 servings.
Absolutely, this recipe can be easily doubled or tripled or even quadrupled! When I first came up with this recipe, I was making it just for myself so 8 servings was plenty for me for 1 batch. But if you want to share it with others or bring it to a party, I would definitely encourage you to make more than just 1 batch of this recipe.
Can I make these in a food processor, blender, or with a hand mixer?
Yes, if you don't want to mix them by hand, feel free to use anything that mixes.
Are these vegan?
Yes! There's not an animal product anywhere near this recipe.
Tried my recipe?
Please leave me a rating and review below, and post a picture of the dish to Instagram and tag me at @foodsnfeels 🙌
You might also like:
If you like this recipe, you might also like my other Christmas recipes: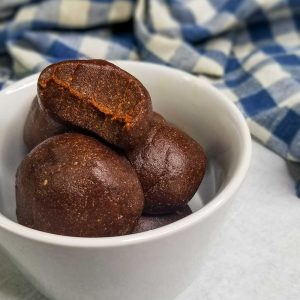 Ginger Molasses Cookie Dough Bites (AIP & Paleo)
This recipe is gluten free, dairy free, AIP, paleo and soy free.
Instructions
Add all of the dry ingredients into a large mixing bowl including tiger nut flour, tapioca starch, dried ginger, cinnamon and salt.

Stir up the dry ingredients!

Add the wet ingredients to the dry ingredients including blackstrap molasses, vanilla extract, and melted coconut oil.

Stir all ingredients together thoroughly until mixed.

Roll into 8 balls (or use a cookie scoop if you have it) and place them on large baking sheet or plate topped with parchment paper. Then put them in the freezer for 15 minutes or the fridge for an hour or more before serving. Store them in the fridge for up to 1 week or the freezer for longer.

Enjoy them cold as the chilled dough will get soft if they are left out of the fridge or freezer and they come up to room temperature.

Store leftovers in an airtight container.
Nutrition
Calories:
133
kcal
Carbohydrates:
19.3
g
Protein:
0.8
g
Fat:
6.1
g
Saturated Fat:
3.8
g
Polyunsaturated Fat:
0.3
g
Monounsaturated Fat:
0.3
g
Trans Fat:
0
g
Sodium:
5.9
mg
Potassium:
365
mg
Fiber:
4.1
g
Sugar:
5.1
g
Disclaimer: This recipe post contains Amazon affiliate links. This means that if you click on a link and make a purchase, I will receive a small commission (at no extra cost to you). This helps support me so that I can continue to put out high quality, free recipes for you guys! Thank you 😁🙌