This low carb chicken alfredo recipe is paleo, gluten-free, grain free, dairy free and low-carb.
I initially came up with this recipe probably 10 years ago after first getting into paleo when I was really struggling to come up with recipe ideas that still excited me just as much as the food I used to eat.
So as you can imagine, once I started down the path of cleaning up my diet, my highest priority was basically replicating all the same rich food that I was eating and "healthifying" it.
Cashews are a fantastic alternative to dairy based cream sauces. I also use canned coconut cream instead of milk to help make this paleo alfredo sauce super creamy.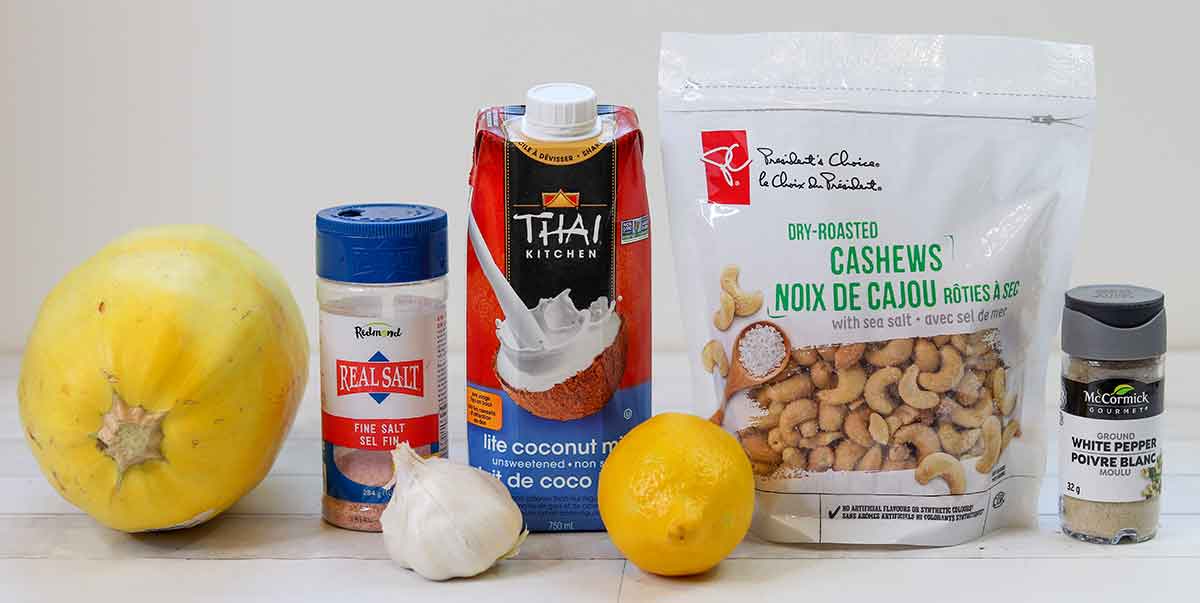 Recipes substitutions and variations
Substitutions:
Chicken breast substitutions: Instead of using chicken breast, you could use any other type of meat in your alfredo such as shrimp or bacon. Alternatively, if you want to ditch the meat you could use mushrooms.
Roasted salted cashew substitutions: Instead of using roasted salted cashews, you could also use raw unsalted cashews. I've never tried this low carb alfredo sauce recipe with any other type of nut so I can't speak to what it would be like. If you try it though let me know!
Canned coconut milk substitutions: Instead of canned coconut milk, you could also use coconut milk from a tetrapak. Alternatively, you could also swap it out for any other type of dairy free milk, or cow's milk or cream.
Fresh garlic clove substitutions: Instead of using fresh garlic cloves, you could swap it out for 1 teaspoon of garlic powder.
Fresh squeezed lemon juice substitutions: Instead of freshly squeezed lemon juice, you could also use freshly squeezed lime juice. Or you can use store-bought lemon or lime juice.
Spaghetti squash substitutions: For the base of your paleo alfredo sauce, spaghetti squash is fantastic but if you want to use another "pasta" alternative, there are tons out there. You could use spiralized zucchini, sweet potato or butternut squash. You could also use konjac or shirataki noodles. Or if you are not doing low carb, you could also use gluten-free fettuccine or even regular whole-wheat fettuccine.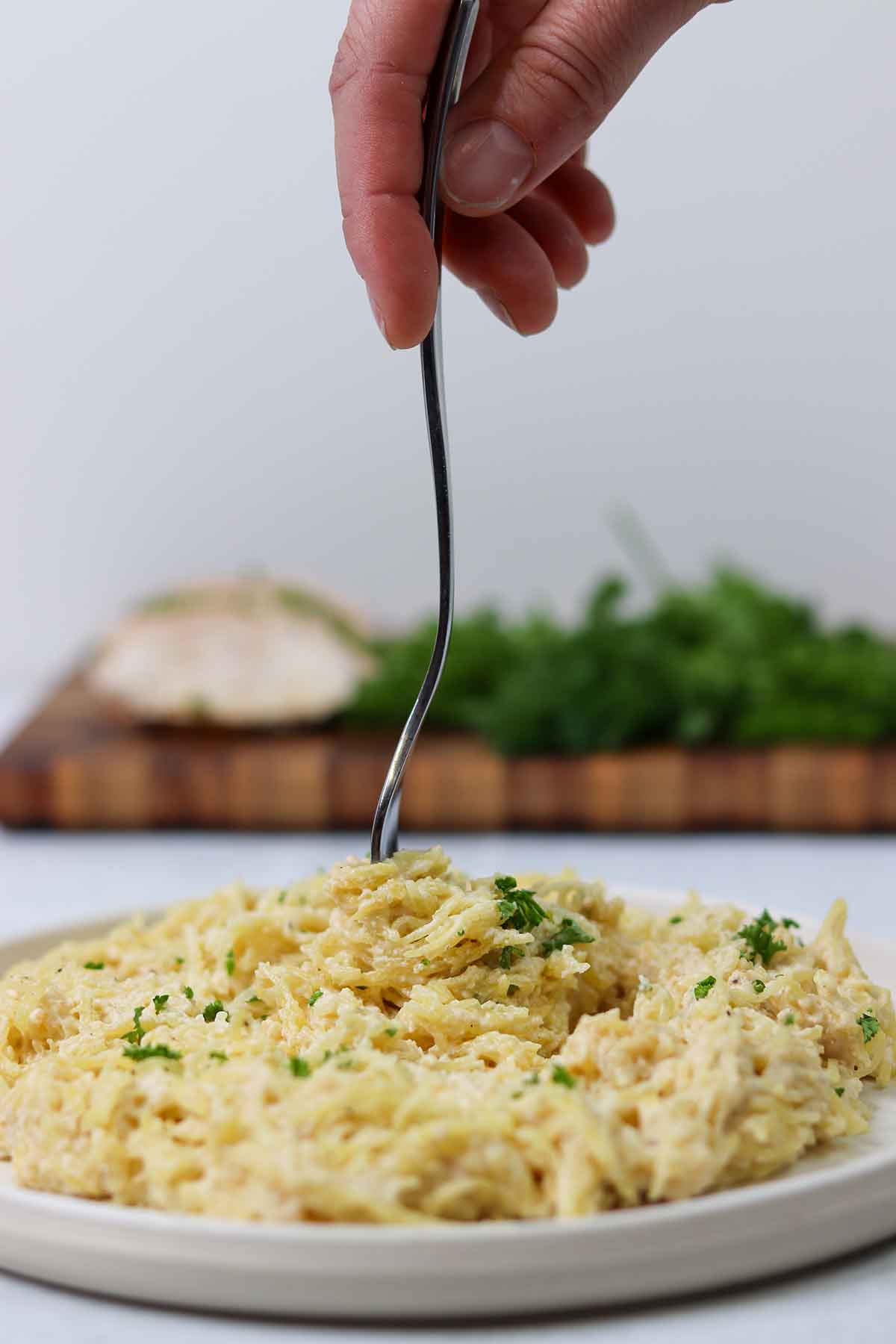 Variations:
Make this recipe lower calorie/fat: instead of using full fat canned coconut milk, swap it out for a lighter dairy free milk – generally found in tetra packs. You can also reduce the amount of sauce that you use in each serving of this dish.
Make this recipe vegan: Omit the chicken and substitute it for tofu or mushrooms.
Make this recipe lower FODMAP: Omit the garlic entirely. Cashews are generally not considered low FODMAP, but some people tolerate them okay in small amounts. You could also try using a smaller amount of sauce with each serving of this dish if you find it causes you gas or bloating.
Make this recipe low acid/gastritis diet friendly: Omit the lemon juice, pepper and garlic cloves.
Make this recipe low histamine: Omit the lemon juice and make sure to use fresh chicken.
Make this recipe low oxalate: Swap out the roasted salted cashews for roasted salted sunflower seeds or pumpkin seeds.
Pro tips for this recipe:
Make sure to use a high-powered blender or food processor for this low carb alfredo sauce: It can be hard to completely break down the cashews into a smooth sauce if you are using a lower quality, lower power unit. Also make sure to blend it on the highest setting for at least 2 to 3 minutes to get it as smooth as possible.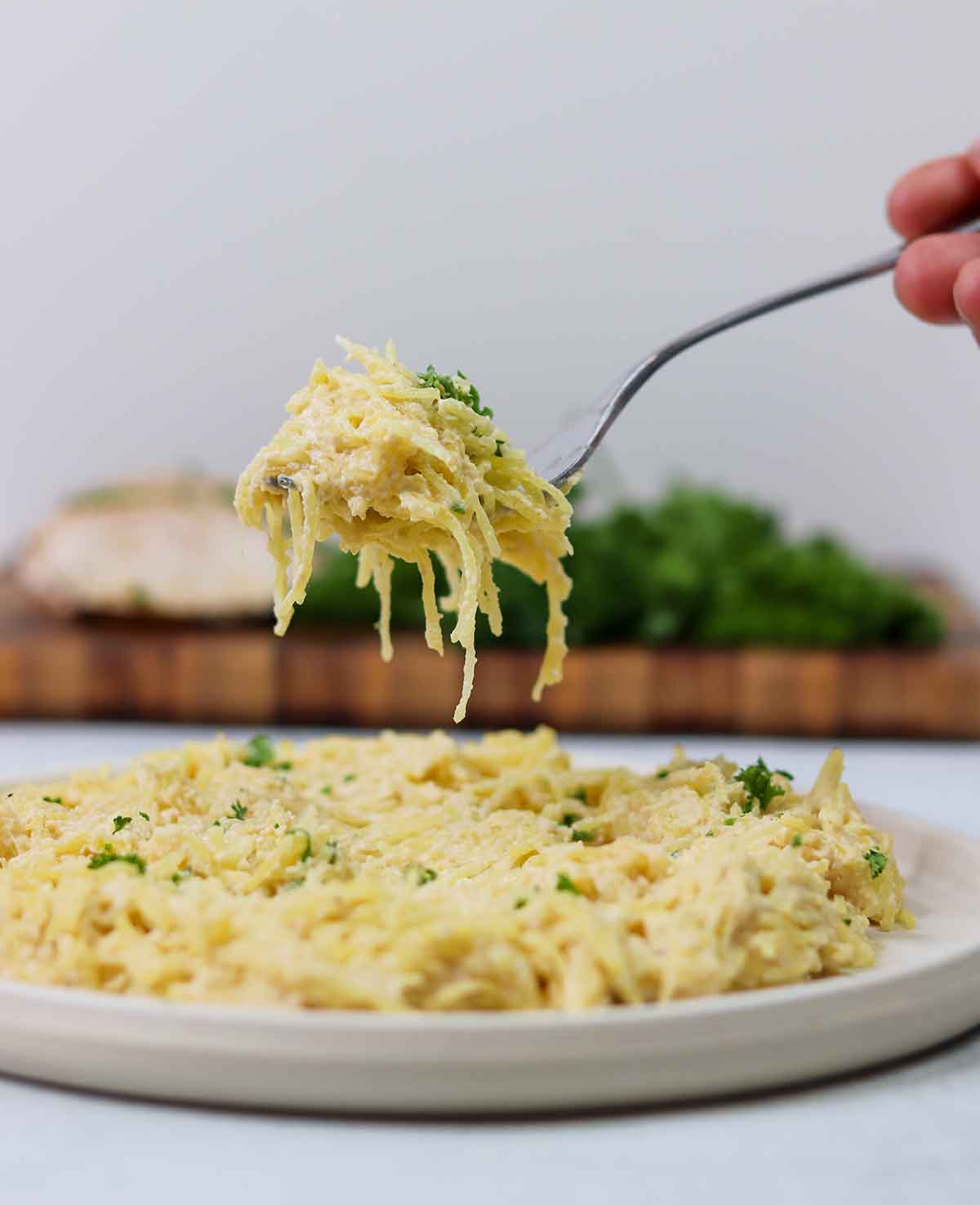 Frequently asked questions:
Is store bought alfredo sauce keto friendly?
Even though most store bought alfredo sauces are cream, butter and/or cheese based, watch out for added thickeners such as white flour or cornstarch. Generally though, you will likely be able to fit store-bought alfredo sauce into your keto diet. Just make sure to check the label to see how many carbohydrates there are per serving, and what the serving size is.
Which pasta is keto-friendly?
There are many keto-friendly pastas including spiralized vegetables such as zucchini, butternut squash, and kohlrabi. Spaghetti squash is also great, and as a bonus it comes out already shaped like pasta. There are also a number of different konjac or shirataki based pastas you can buy that are very low in carbohydrates as well as calories. Check the produce section and the natural foods aisle of your grocery store.
Is there a no carb pasta?
The closest you will probably get to a no carb pasta is either konjac or shirataki based pasta. Generally 1 serving will only amount to 1 net carb.
Pin this recipe for later
If you can't make my low carb chicken alfredo now, make sure to pin the recipe for later so you have it handy!
Tried this recipe?
Please leave me a rating and review below, and post a picture of the dish to Instagram and tag me at @foodsnfeels 🙌
You might also like:
If you like this low carb chicken alfredo, you might also like my other low carb recipes: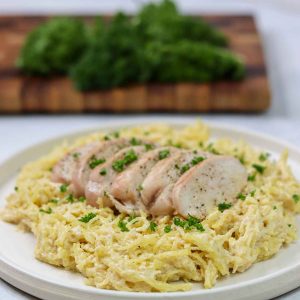 Low Carb Chicken Alfredo
This recipe is paleo, gluten-free, grain free, dairy free and low-carb.
Ingredients
8

chicken breasts

2

 large spaghetti squash
Sauce
3

cups

roasted salted cashews

1.5

cups

coconut milk

4

fresh garlic cloves

2

tbsp

lemon juice

1.5

tsp

salt

1/4

tsp

pepper
Instructions
Cut spaghetti squashes in half and place them face down on a baking sheet lined with parchment paper.

Put whole chicken breasts on a baking sheet lined with parchment paper.

Roast both spaghetti squashes and chicken in the oven for 30 minutes.

Meanwhile, blend all remaining sauce ingredients in your blender or food processor until smooth – roughly 2 to 3 minutes

Because the sauce isn't heated, you can throw the sauce into a pot to warm it up slightly if you want to. Alternatively, when you mix it into the hot spaghetti squash and chicken, it will warm it up.

Scrape out the cooked spaghetti squash into a large bowl and pour the sauce on top and mix thoroughly.

Serve with sliced up roasted chicken breast and chives for garnish if desired.
Nutrition
Calories:
561
kcal
Carbohydrates:
29
g
Protein:
36
g
Fat:
34.4
g
Saturated Fat:
11.8
g
Polyunsaturated Fat:
0.3
g
Monounsaturated Fat:
0.1
g
Trans Fat:
0
g
Cholesterol:
65
mg
Sodium:
652
mg
Potassium:
375
mg
Fiber:
6.5
g
Sugar:
10
g
About the author Tara Klippert
Tara Klippert is a Registered Health and Nutrition Counselor and holds a diploma in Holistic Nutrition and Health Coaching. She shares her gluten free, dairy free & allergy friendly recipes.