This crispy chicken recipe is super easy to prepare and cook, and only requires 2 simple ingredients – bone in chicken thighs and salt! If you are looking for an easy dinner that the whole family will like, look no further.
Below I offer recipe variations to add additional seasonings, and to make them even more crispy.
Recipe ingredient substitutions
Bone-in skin-on chicken thigh substitutions: You can also use boneless skinless chicken thighs or skinless chicken breasts but because they don't have the skin on, they won't crisp up in the same way and are more likely to dry out or burn (unless you coat them with baking powder – see recipe variations section below).
For maximum crispiness and best results, stick with dark meat chicken that has the skin on like chicken wings or a whole chicken. If you use anything other than bone in skin on chicken thighs, you will have to adjust cooking time. Either way, just make sure you end up with an internal temperature of 180°F.
Recipe variations
Add additional seasonings: These crispy chicken thighs are absolutely amazing on their own. The taste of salted crispy chicken skin is next level! But if you want to add some additional flavor, consider adding garlic powder (or garlic salt), onion powder, black pepper, or seasoning mixes like Italian seasoning, greek seasoning, curry powder, taco seasoning etc. Please note though, because of the high temperature these are cooked at, there is a risk of the seasonings burning. You may have to reduce the oven temperature down to 400 – 425 degrees F and you will have to cook them for longer. Or alternatively, brush your seasoned chicken with olive oil to help reduce the chance of your seasonings burning.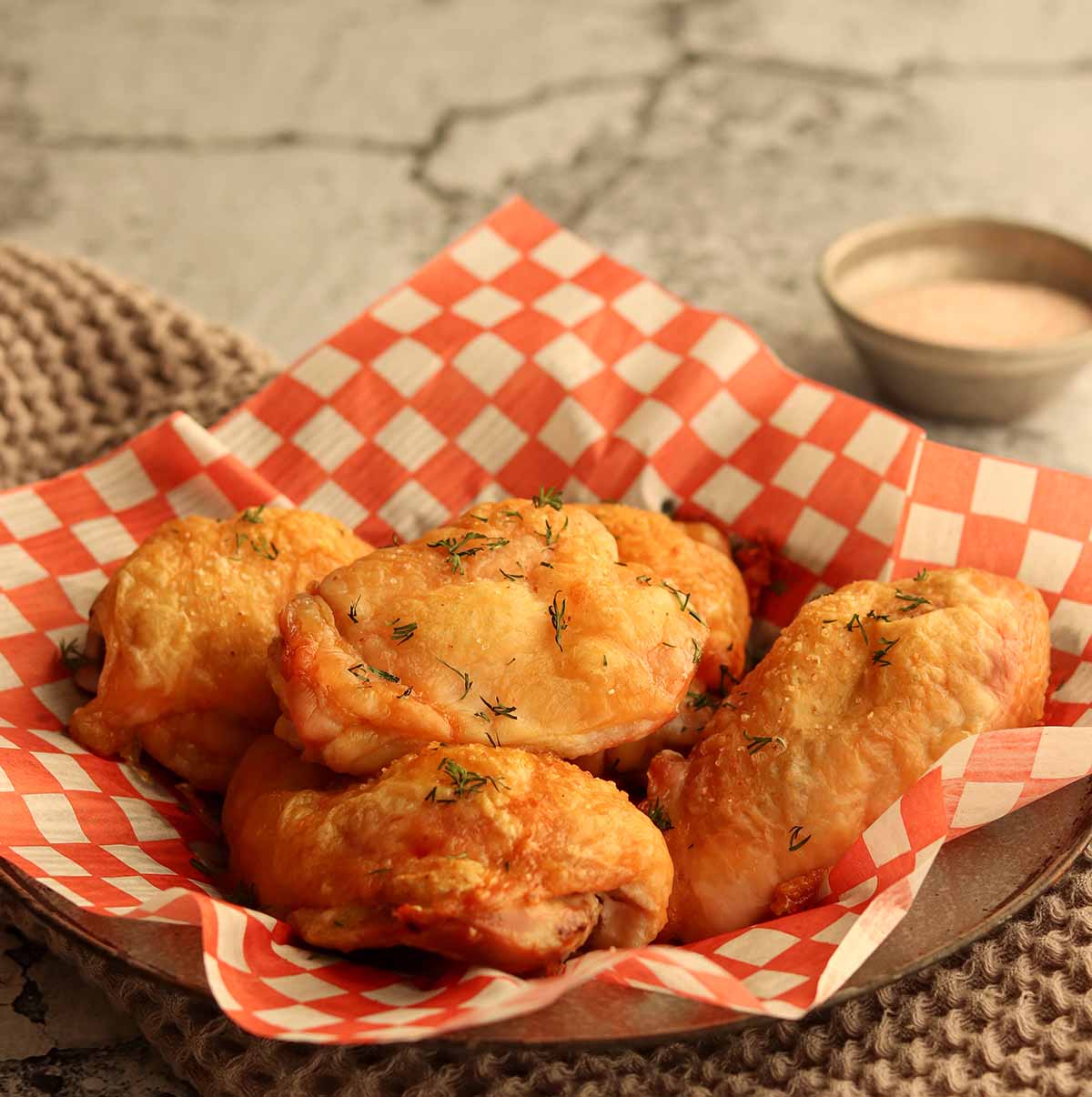 Make them extra crispy: Before baking your chicken thighs, dust them with a bit of baking powder. This adds a little bit of starch that will make the skin crisp up even more and taste more like fried chicken! Another way to make these extra crispy is to top your baking sheet with a wire rack and place your chicken thighs on top of the rack while cooking. This will allow the bottom of the chicken to crisp up just as much as the top.
Bake them in your air fryer instead of the oven: Follow this air fryer chicken thighs recipe.
Recipe pairings
Sauces: Eat your cooked chicken thighs with barbecue sauce, hot sauce, honey mustard sauce, honey garlic sauce, basil walnut pesto or homemade worcestershire sauce.
Side dishes: These chicken thighs taste great with a side of sweet potatoes, green beans, broccoli, white or brown rice, and truffle fries.
Storage and reheating tips
Store your leftover chicken thigh meat in an airtight container in the fridge for up to 3 – 4 days. It freezes really well and will last in the freezer for 3 – 6 months.
To reheat these chicken thighs, take them out of the freezer the night before, if frozen. To crisp them up really nicely again, heat them up for a couple of minutes in your toaster oven or air fryer. Or if you are not worried about them getting all crispy again, reheating them in the microwave works just as well!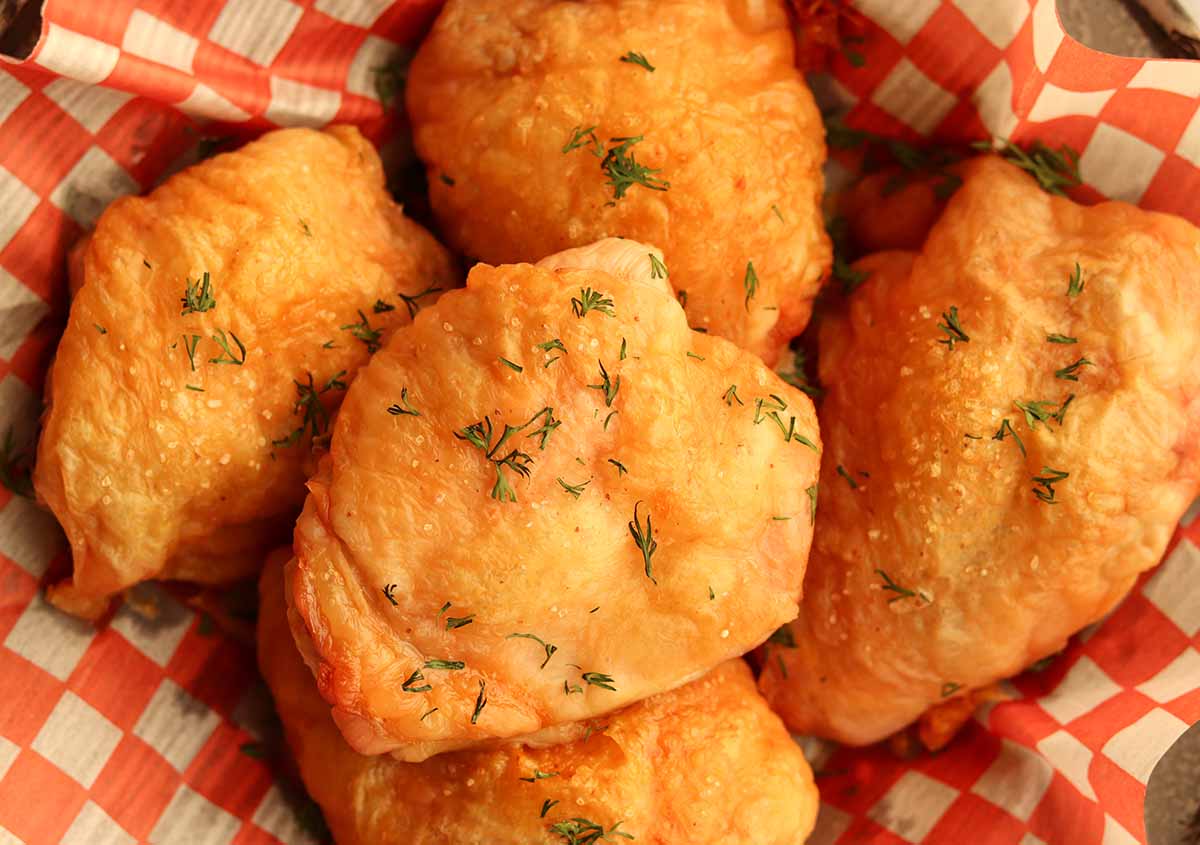 Tried my oven-fried chicken thighs recipe?
Please leave me a rating and review below, and post a picture of the dish to Instagram and tag me at @foodsnfeels 🙌
You might also like:
If you liked this recipe, check out my other chicken recipes:
If you are looking for more healthy recipes, download one of my free seven day meal plans!
Crispy Oven Baked Chicken Thighs
This crispy chicken recipe is super easy to prepare and cook, and only requires 2 simple ingredients – bone in chicken thighs and salt!
Ingredients
6

skin-on bone-in chicken thighs

1/8

tsp

salt
Instructions
Preheat your oven to 450°F.

Line your baking sheet with parchment paper or aluminum foil and place your chicken thighs in a single layer on the prepared baking sheet skin side up.

Sprinkle the top of each chicken thigh with salt.

Bake chicken thighs in your preheated oven for 40 – 45 minutes or until they have crispy skin and are golden brown.

Using a meat thermometer, make sure they are at an internal temperature of 180°F.

Optional: put your baked chicken thighs on a large plate with a paper towel if you want to soak up excess fat.
Notes
Above in the blog post I provide ingredient substitutions, recipe variations, pairings, and storage tips.
Nutrition
Calories:
248
kcal
Carbohydrates:
0
g
Protein:
19
g
Fat:
19
g
Saturated Fat:
6
g
Polyunsaturated Fat:
3
g
Monounsaturated Fat:
9
g
Trans Fat:
0
g
Cholesterol:
0
mg
Sodium:
125
mg
Potassium:
260
mg
Fiber:
0
g
Sugar:
0
g
Disclaimer: This recipe post contains Amazon affiliate links. This means that if you click on a link and make a purchase, I will receive a small commission (at no extra cost to you). This helps support me so that I can continue to put out high quality, free recipes for you guys! Thank you 😁🙌