This vegan pesto recipe is fresh, flavorful and rich in healthy monounsaturated fats. Homemade pesto is incredibly easy and fast to make, and can be used to flavor any dish where the recipe calls for traditional pesto.
If I'm being honest, store-bought pesto never tastes right to me. So making a cleaned up version of a classic pesto recipe that meets my diet was a no brainer.
This recipe is gluten free, dairy free, and is compliant with the elimination diet, low acid diet, low carb/keto, low FODMAP, and paleo diets.
Recipe Substitutions:
Fresh basil substitutions: Instead of using fresh basil, you could also swap it out for any other fresh herb or mixture of herbs. Here is a handy guide for making pesto without basil.
Garlic infused olive oil substitutions: Feel free to use regular olive oil in this recipe. If you still want the garlic flavor though, you can add one or two fresh garlic cloves or ½ teaspoon of garlic powder. You can also use avocado oil, nut oil (walnut oil) or any other neutral oil of choice that's liquid at room temp.
Walnut substitutions: Instead of using raw walnuts, you can make toasted walnuts to bring out more of their flavor (bake at 350 for 10 minutes until you can smell them). This recipe is also excellent with pecans. Or to make a more classic pesto, you can use pine nuts. This recipe would go well with any other type of nut. The world is your oyster! The nutty flavor can be anything you already have. No need for an additional trip to the grocery store if you can avoid it.
Nutritional yeast substitutes: Instead of nutritional yeast, you can swap it out for vegan parmesan or any other dairy-free cheese. Or if you tolerate full dairy cheese, feel free to use regular cow's milk parmesan or pecorino cheese.
Other flavors: You can also add fresh lemon juice, lime juice, black pepper, fresh arugula, sun-dried tomatoes, parsley, or red pepper flakes to give this recipe a kick. This is good if you're using this pesto as a salad dressing on leafy greens or zucchini noodles.
Recipe Variations:
Make this recipe lower calorie/fat: Reduce the amount of olive oil from 3/4 cup down to ¼ to ½ cup. If you lower the amount of olive oil though, you will likely need to use a food processor as a blender often needs more liquid to break everything down. You can use a spatula to scrape everything from the sides down (NOT while blending) and continue to go between pulsing and scraping until everything has broken down to the consistency you want.
Make this recipe lower oxalate: Instead of using walnuts, use either pumpkin seeds or sunflower seeds.
Recipe pairing ideas
There are a million ways to eat this pesto sauce, but here are some of my favorites:
Use your pesto as a pasta sauce. A true classic!
Drizzle it on baked or grilled meats or seafood. I've tried it on chicken, cod, shrimp, and even steak.
Use it on scrambled eggs, sunny side up or even on top of an eggs benedict.
Add some flavor to your roasted vegetables after you take them out of the oven.
Drizzle it on your pizza. It goes great with a margarita pizza or classic cheese pizza.
Use it as a salad dressing. Sounds strange but trust me!
Use it as a dipping sauce for veggies. Red peppers dipped in delicious pesto is a great combo!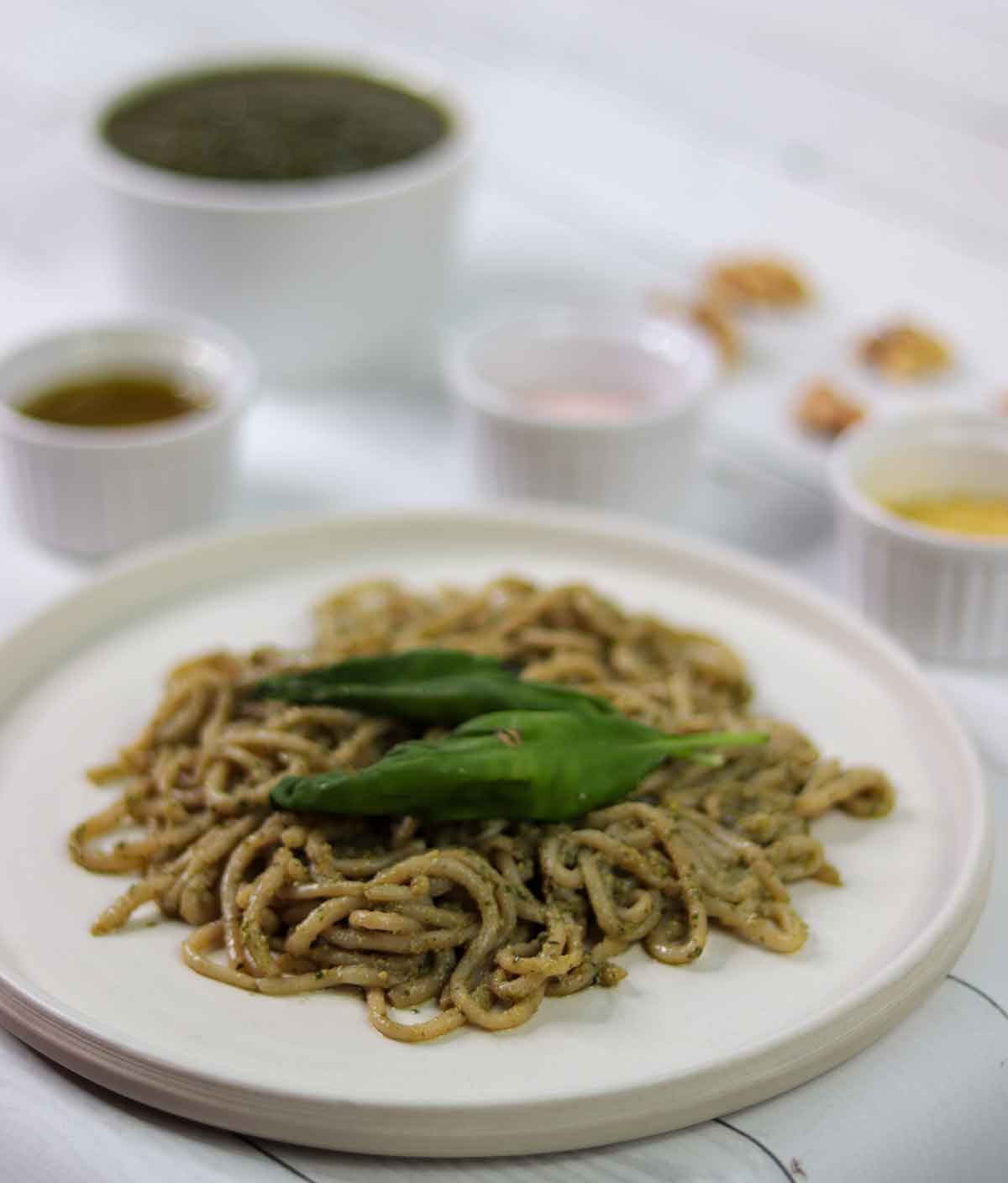 Recipe FAQs
What other nut can you use in pesto?
The classic nut to use in pesto recipes is the pine nut, but you can also use pecans, walnuts, and even almonds, cashews, pistachios, sunflower, pumpkin or hemp seeds. Pretty much all nuts mix well with good quality olive oil and fresh basil or other herbs. You can't go wrong!
What other herbs can you use in pesto?
Pesto can be made with many different types of herbs. I've personally made it with basil, cilantro and even dill. Depending on what type of dish you are making, and what herbs go well with that dish, you can very easily come up with your own style of pesto that will work with it. You can also use parsley, mint, sage, and even most greens such as arugula, spinach or micro greens.
Why is my pesto separating?
It is natural for your olive oil to start separating from the herbs, cheese and nuts after it sits for a while. You may notice a thin layer of olive oil on the surface of the pesto. This does not mean you have done anything wrong. Simply use a spoon to evenly mix it before serving.
Will pesto freeze well?
Pesto freezes quite well. So if you make a large batch and you can't use it up, you can store it in a small glass container or even multiple small containers or ice cube trays. That way you can take out one or more servings at a time to use with your meals.
Do I need to blanch basil for pesto?
Many recipes call for blanching basil. This is generally for color and textural purposes. However, you do not need to blanch basil. In fact, I find using fresh un-blanched basil makes the freshest, most tasty pesto. It's also easier and faster.
What is the best cheese for pesto?
The majority of pesto recipes call for parmesan cheese, but you can also use romano for a stronger flavor. To keep it vegan, use nutritional yeast, vegan parmesan cheese, or other dairy free cheese alternatives.
Tried this recipe?
Please leave me a rating and review below, and post a picture of the dish to Instagram and tag me at @foodsnfeels 🙌
You might also like
If you liked this recipe, check out my other vegan recipes:
If you are looking for more, download one of my free seven day meal plans!
Basil Walnut Pesto Recipe (Vegan)
This vegan basil walnut pesto recipe is fresh, flavorful and rich in healthy monounsaturated fats. It is incredibly easy and fast to make, and can be used to flavour a variety of dishes.
Instructions
Remove the stems from your fresh basil and once you've got roughly 2 cups worth, put it into your food processor or blender.

Pour in ¾ cup of olive oil. Add your walnuts, nutritional yeast and salt on top. Using a spatula, push everything down as far as you can into the bottom of your blender or food processor.

Plug your blender or food processor in and blend until everything breaks down into a pesto sauce consistency.

Serve immediately! Store your leftover pesto in an airtight container in the fridge for up to 1 week.
Notes
If you are using a blender, sometimes your pesto won't break down as well as with a food processor. If this is the case, you can either add an additional ¼ cup of olive oil (1 cup in total) and keep blending OR turn off your blender and use your spatula to scrape everything back down to the bottom of the blender. Then go between pulsing and scraping until you've sufficiently broken down the pesto into your desired consistency. Make sure that you don't ever put your spatula into the blender while it is blending, and ideally unplug it from the wall when you do for maximum safety.
Nutrition
Calories:
181
kcal
Carbohydrates:
1.3
g
Protein:
1.7
g
Fat:
19.3
g
Saturated Fat:
2.2
g
Polyunsaturated Fat:
1.7
g
Monounsaturated Fat:
11.8
g
Trans Fat:
0
g
Cholesterol:
0
mg
Sodium:
109
mg
Potassium:
51.6
mg
Fiber:
0.7
g
Sugar:
0
g
Disclaimer: This recipe post contains Amazon affiliate links. This means that if you click on a link and make a purchase, I will receive a small commission (at no extra cost to you). This helps support me so that I can continue to put out high quality, free recipes for you guys! Thank you 😁🙌