This recipe is quick, easy to follow and produces a sweet and nutritious dairy free milk alternative.
Because tiger nuts are not actually nuts (they are actually a starchy tuber!), the milk they produce is totally autoimmune paleo (AIP) friendly. As a dairy free alternative, they're also a great option for people with a lactose intolerance or allergy to regular dairy milk.
On top of that, tiger nuts are quite nutritious – They are high in vitamin C, vitamin E, and the minerals calcium, iron, magnesium, zinc and potassium. They also have a high fiber content. The next superfood for sure!
In Spain, tiger nut milk is often referred to as Horchata de chufa – directions on making this below.
Tiger nuts (sometimes known as chufa nuts) are an ingredient that few people have heard of in North America. They're not even a nut at all! They're actually little tubers like sweet potatoes or cassava (root vegetables), but with significant differences as they come packaged in a dried form and look like hard shriveled grapes.
They're one of the best nut milks in my opinion because they have a deep earthy flavor and natural sweetness. Perfect for desserts, baking, or coffee creamer!
Recipe substitutions or variations
Substitutions:
Tiger nut substitutions: This tiger nut milk recipe (chufa milk) is universal and can be used to make any other type of dairy free milk or nut milk. Feel free to swap out the tiger nuts for almonds, cashews, macadamias, coconut or oats. Use the same amount of ingredients regardless of what you use as your base.
Vanilla extract substitutions: Instead of using vanilla extract, you could also use almond extract or any other type of extract you think would taste good! If you are using vanilla extract, you can swap out alcohol-based extract for nonalcoholic vanilla extract. This milk has a fantastic flavor on its own, so you could also leave out the vanilla extract entirely.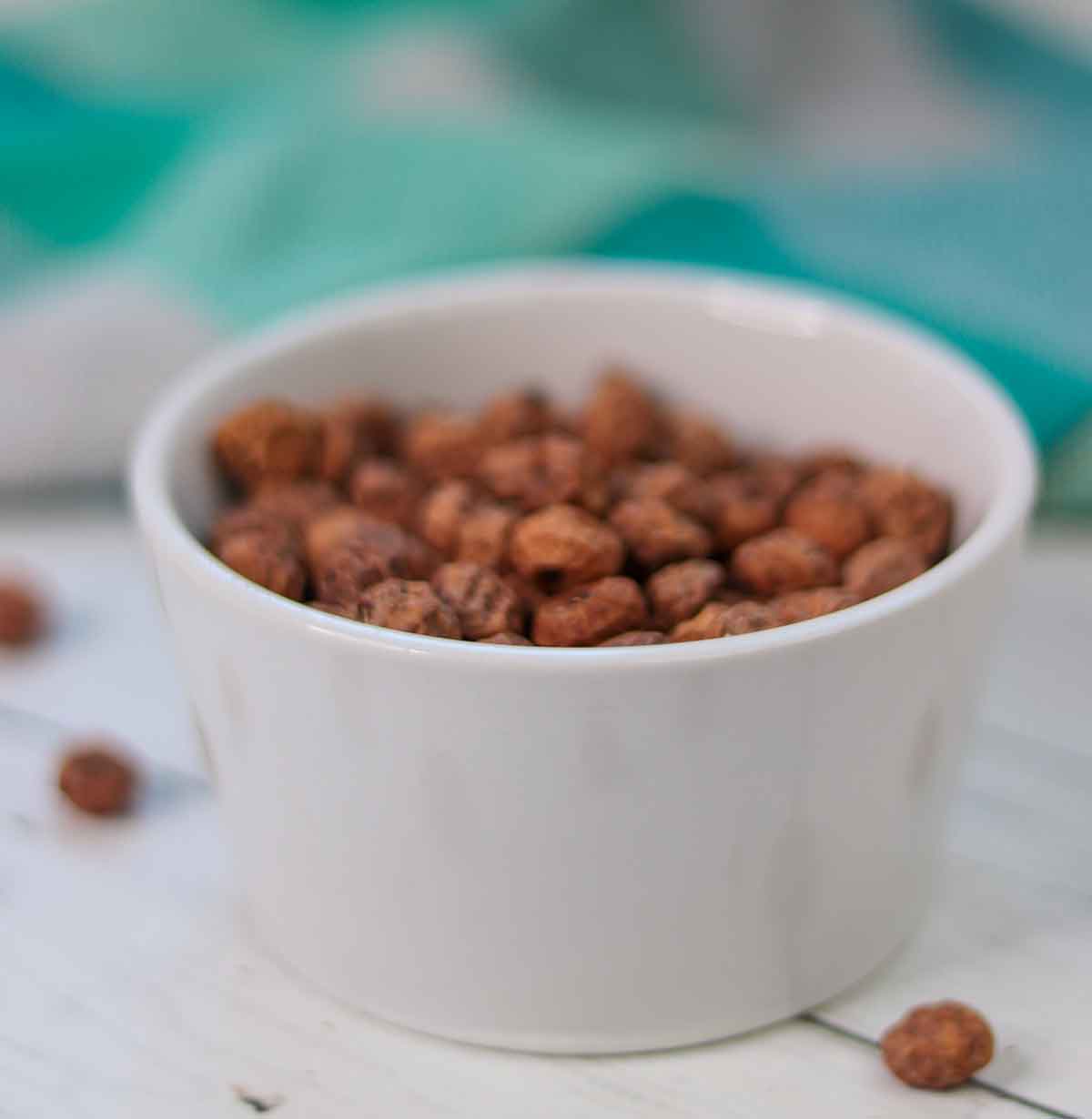 Variations:
Make this tiger nut milk creamier: If you want your milk to be even creamier and thicker, you can increase the amount of tiger nuts from 2 cups to 3 cups. Alternatively, if you don't want it as creamy, you can reduce the amount of tiger nuts from 2 cups down to 1 cup.
Make this recipe lower sodium: Omit the salt.
Make other types of plant milk: Swap out the tiger nuts for any nut, or alternatively use oats or coconut flesh.
Recipe pairing ideas
Drink it straight! This stuff tastes amazing on its own. Plus by making your own, you get the sweet taste of your own success by doing it yourself!
Use it in your hot or cold cereal: Mix it with your oatmeal, granola, muesli, or any other cereal instead of coconut milk, almond milk, oat milk, or other dairy-free milk.
Use it as a creamer for your coffee or tea: This non-dairy milk makes a fantastic substitution for regular milk or coffee creamer.
Use it in baking: This is my personal favorite! Use it in all your favorite muffin recipes, bread recipes, and more. Except maybe if your recipe is savory rather than sweet, as tiger nut milk has a sweet flavor.
Save the tiger nut flour: Speaking of baking, after straining the milk using a cheese cloth or a nut milk bag, don't discard the leftover tiger nut pulp! If you live someplace far away from where they're grown, like I do, organic tiger nuts are expensive. I use the solids in muffins and other baked goods. Extra fiber!
Make horchata de chufa: Instead of vanilla, use cinnamon sticks and lemon zest to make this traditional tiger nut drink. Even though tiger nuts are naturally sweet, some recipes call for extra sugar. Feel free to add a bit to sweeten to taste. Alternatively you can use sweeteners like honey or maple syrup although they may take away from the natural nutty flavor of the tiger nuts. In Nigeria and Mali, this tiger nut horchata is known as Kunnu aya.
Make horchata de arroz: The Mexican or Guatemalan version is made using rice milk instead of tiger nuts and flavored with vanilla and cinnamon. I'm sure it would work well and taste great using tiger nuts as well.
Make ice cream: Making ice cream is a whole recipe in itself. if you want to give it a try, I suggest following the instructions found here except use tiger nut milk instead.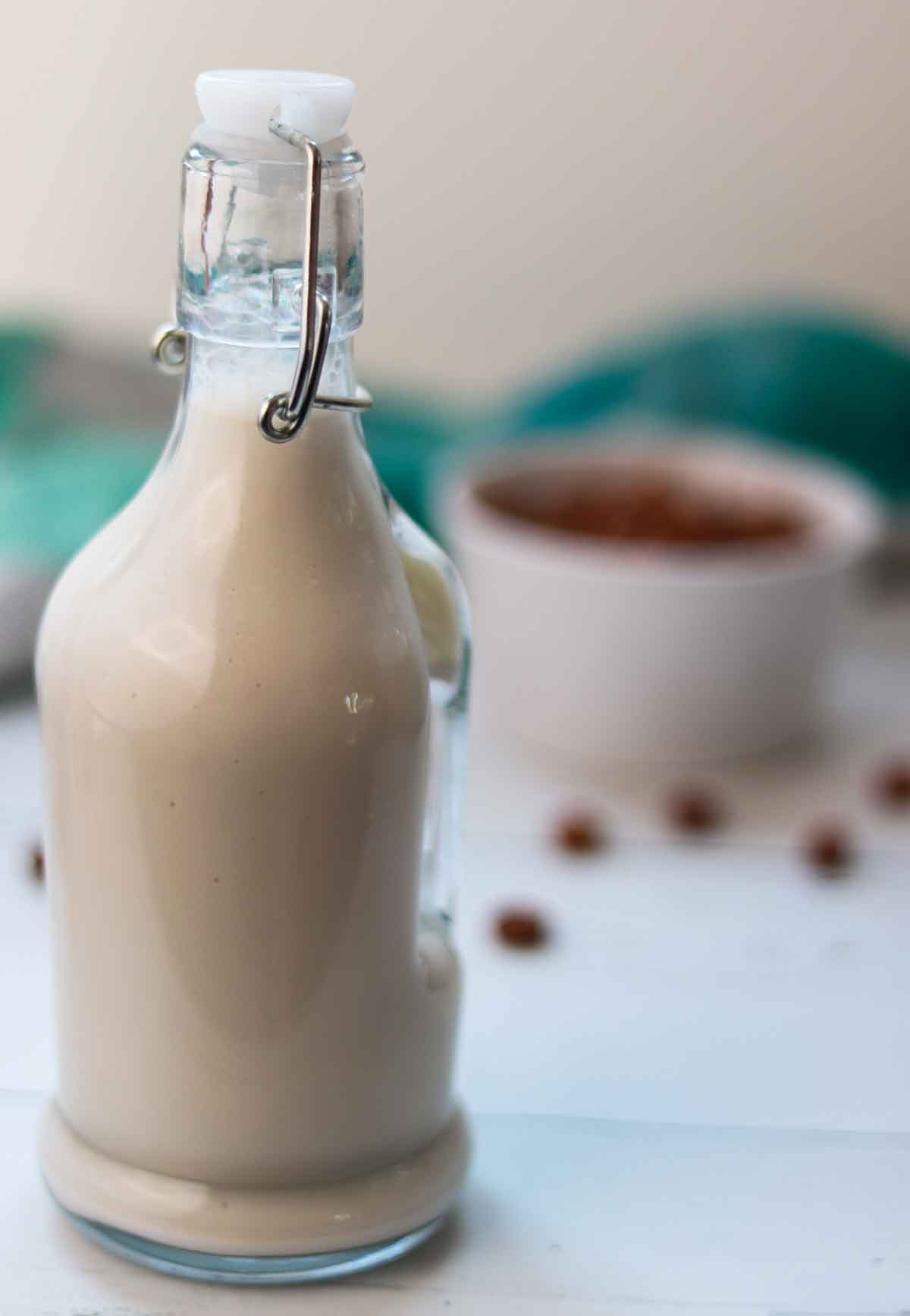 Recipe FAQs
What does tiger nut milk taste like?
Tiger nut milk has a sweet and nutty flavor, even though they are not actually nuts. 
How do you make tiger nut milk?
First soak your tiger nuts in water for roughly 12 hours (or overnight). Then drain and rinse them in a strainer and add them to your blender or food processor with ample amounts of water. Add additional flavoring such as vanilla extract or a dash of salt. Blend on high until the tiger nuts have mostly broken down and the water has turned into a creamy white consistency. Line a strainer with cheesecloth and pour the liquid through into a large bowl, making sure none of the tiger nut pulp makes it through. Fold up the edges of your cheesecloth and squeeze the tiger nut pulp to get the remainder of the liquid out. Pour the milk into glass containers and store in the fridge for up to one week.
How do you thicken tiger nut milk?
The best way to thicken tiger nut milk is to increase the tiger nut to water ratio. Use more tiger nuts and less water to achieve a thicker, more creamy consistency. Use less tiger nuts and more water for a thinner, less creamy consistency.
How long can tiger nut milk last?
Fresh tiger nut milk will last for up to one week in the fridge. However, it will last a lot longer in a glass jar in the freezer.
Can you freeze tiger nut milk?
Tiger nut milk can easily be frozen in Mason jars. When you first put them in the freezer though, make sure the Mason jar lid is not secured tightly. This will allow airflow to ensure that your Mason jar will not crack once it freezes and expands. Once it has fully frozen, you can secure the lid more tightly.
I don't have a nut milk bag or cheesecloth, how can I strain the liquid out?
If you don't have either of these, a fine mesh sieve will also work. You may end up with a few extra particles in the end product but that's ok. You've got to roll with what you've got!
You might also like:
If you liked this recipe, check out my other tiger nut flour recipes.
If you are looking for more, download my free 7 day paleo meal plan!
Recipe for Tiger Nut Milk
This recipe for tiger nut milk is quick, easy to follow and produces a sweet and nutritious dairy free milk alternative.
Instructions
Soak your tiger nuts in a glass bowl or dish covered with cold water for up to 12 hours (or overnight). Make sure your tiger nuts are fully submerged.

Drain and rinse the soaked tiger nuts in a strainer and transfer them into your blender or food processor.

Add 5 cups of water, as well as a pinch of sea salt and vanilla if desired.

Blend in a high-speed blender for 1 to 2 minutes, or until the water has turned into a creamy white consistency.

Top a large glass bowl or measuring dish with a large strainer.

Line the strainer with roughly 4 layers of cheesecloth.

Pour out everything from your blender or food processor, making sure that none of the tiger nut pulp gets through. Using your hand, push down on the tiger nut pulp to get as much of the liquid out as possible.

Then fold up the sides of your cheesecloth so it forms a small sack, and holding your hand on the top, squeeze the pulp with your other hand (overtop of the strainer) to get the remaining liquid out.

Your milk is done! Pour your milk into glass mason jars and store in the fridge for up to one week.
Notes
In the blog post above, I provide recipe substitutions and variations as well as recipe pairing ideas and frequently asked questions.
Nutrition
Serving:
1
cup
Calories:
74
kcal
Carbohydrates:
10.9
g
Protein:
0.8
g
Fat:
3.6
g
Trans Fat:
0
g
Cholesterol:
0
mg
Sodium:
57.1
mg
Potassium:
161.3
mg
Fiber:
2.8
g
Sugar:
2.9
g
Disclaimer: This recipe post contains Amazon affiliate links. This means that if you click on a link and make a purchase, I will receive a small commission (at no extra cost to you). This helps support me so that I can continue to put out high quality, free recipes for you guys! Thank you 😁🙌