This recipe is inspired by pork chops and mushroom soup (which I used to eat all the time as a kid!) but without the dairy and with much fresher ingredients. Its perfect for a weeknight dinner because it's easy to make and will please the whole family!
It's also a great way to meal prep for the week ahead. You can easily cook multiple batches at once and then portion them out into individual servings. These delicious pork chops freeze well and can be reheated as needed.
This recipe is low acid, gluten and dairy free, and can be made compliant with the autoimmune protocol (AIP), elimination diet, and low oxalate diet.
Product brands I recommend for this recipe
Barista oat milk by Earth's Own – This stuff makes for a super creamy sauce, and can be made with either savory or sweet recipes.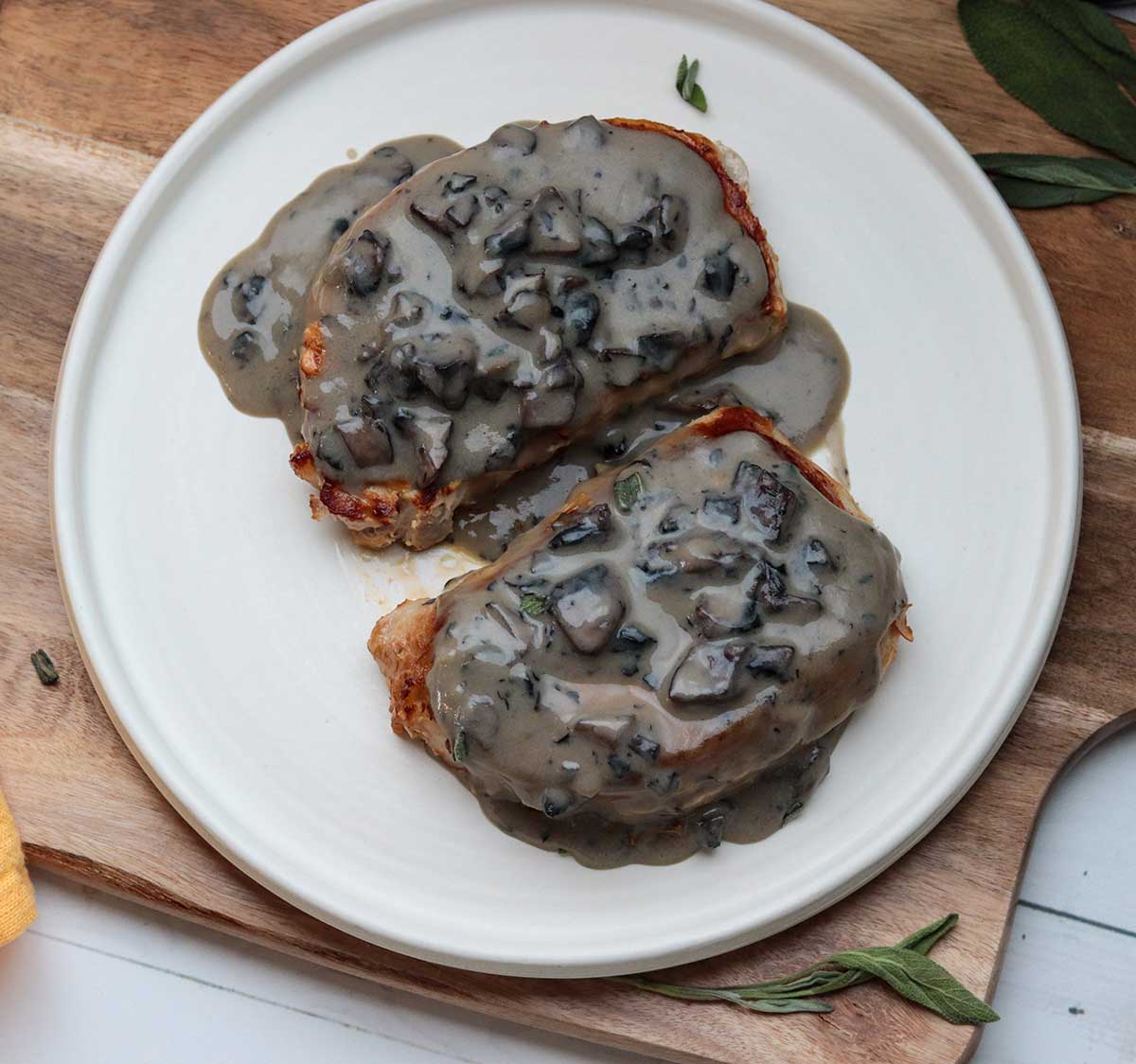 Recipe ingredient substitutions
Oat milk substitutions: Instead of using oat milk, you can swap it out for other dairy free milk alternatives such as full-fat coconut milk or coconut cream, almond milk, cashew cream or milk, macadamia milk, unflavored soy milk etc. For extra flavor you can also add a splash of chicken stock, beef broth, mushroom broth, miso paste or even a little bit of white wine.
Garlic infused olive oil substitutions: Feel free to use regular olive oil in this recipe. If you still want the garlic flavor though, you can add one or two diced fresh garlic cloves or half a teaspoon of garlic powder. You can also use any other cooking fat or oil of choice such as vegan butter, avocado oil, canola oil, vegetable oil etc.
Cremini mushroom substitutions: Feel free to use any type of mushroom you like such as white button mushrooms, portobello mushrooms, baby bellas etc. You could even use a combination of multiple types of mushrooms.
Potato starch substitutions: Instead of using potato starch, you can also use tapioca starch, corn starch, or arrowroot flour (starch) or any gluten free flour. If you aren't avoiding wheat/gluten, you can also use all purpose flour.
Spices and herbs substitutions: Feel free to add what you like. Black pepper, fresh thyme, onion powder, coconut aminos (or gluten free soy sauce), or even red pepper flakes. Any dried or fresh herbs will work as well to make a flavorful sauce.
Pork chop substitutions: I use boneless chops for this recipe but you can use bone-in or pork cutlets. If you want them to be thinner you can use a meat mallet to hammer them into thin pork strips. That way when they get golden brown, they'll also get super nice and crispy. If you don't like pork, you could also use chicken breasts.
Make this recipe low carb: You may have to find ingredients that are not found at your local grocery store. Instead of using starch for thickener, you can use a carb friendly thickener such as Thick-it up. Xanthan gum or gelatin will work too but be careful about consistency.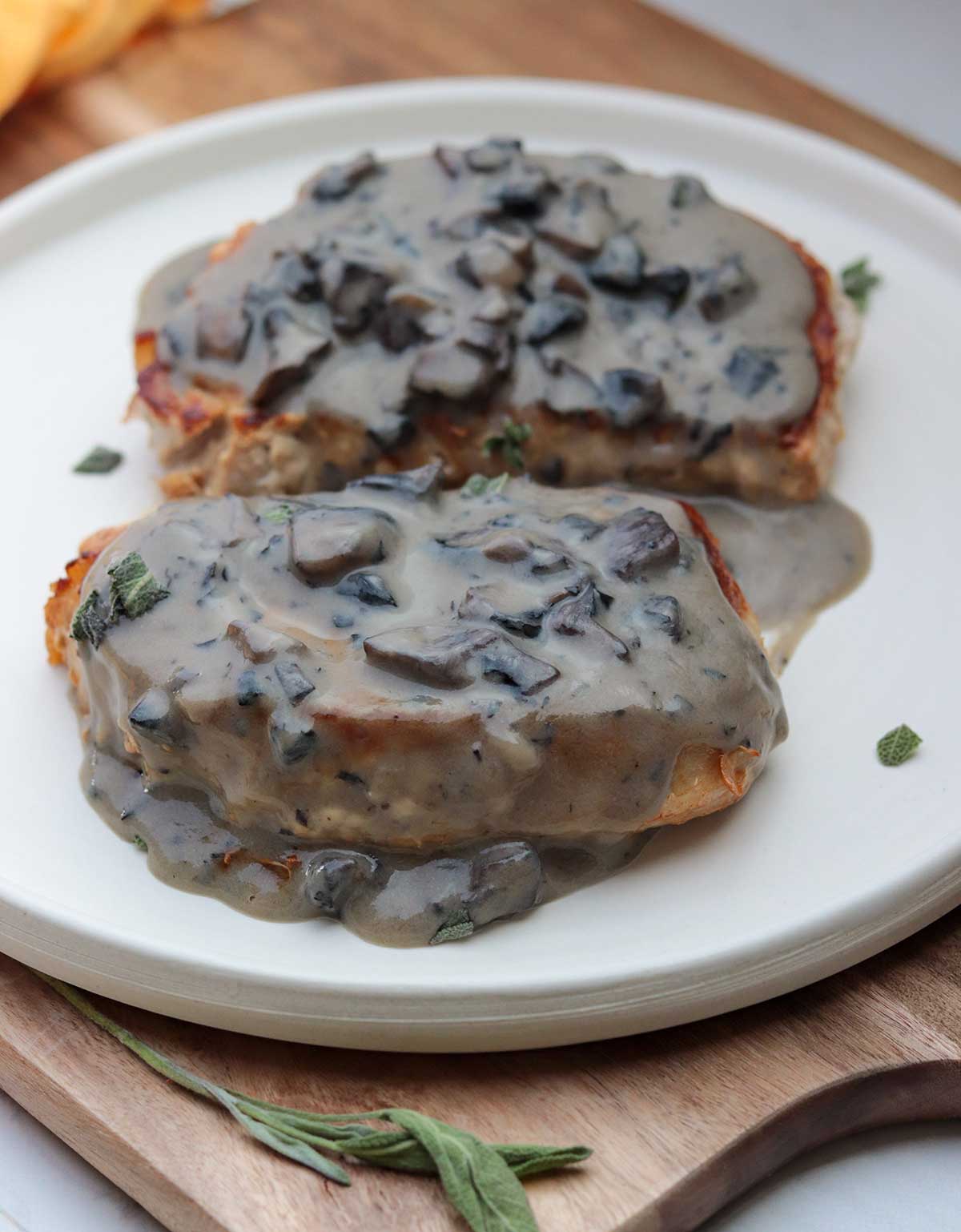 Dietary modifications
Make this recipe lower calorie/fat: Trim the excess fat off your pork chops or reduce the amount of olive oil from 2 tablespoons down to 1 or less (for the mushroom sauce) and from 1 tablespoon down to 1/2 tablespoon or none (for frying your pork chops).
Make this recipe paleo & AIP friendly: Swap out the oat milk for coconut milk, and swap the potato starch out for tapioca or arrowroot starch.
Make this recipe lower oxalate: Rather than using oat milk, swap it out for coconut milk. Make sure to use potato starch as it is the lowest oxalate of the starches.
Make this recipe vegan: Swap out the pork for your vegan meat alternative of choice and in addition to the non-dairy milk options above you could also use vegetable broth.
Vegan recipe variations
Make creamy vegan mushroom pasta: The earthy flavor of this mushroom sauce is also great for pasta. If you skip the meat all together and use it in this way, you can add things like nutritional yeast, lemon juice, or vegan parmesan cheese to take it in a whole new direction.
Use the creamy mushroom sauce in other vegan dishes: It will add a depth of flavor in dishes like vegan mushroom stroganoff or vegan mushroom alfredo. There are so many savory dishes that can use this sauce.
Make vegan biscuits and gravy: You can also make vegan biscuits and use this delicious creamy mushroom gravy for "biscuits and gravy"! I haven't actually done this, but I bet it would taste amazing for vegan comfort food. I should go try it… Whole foods FTW!
Recipe pairings
This recipe tastes great with:
side vegetables such as green beans, broccoli, or cauliflower rice
al dente cooked pasta
cooked brown or white rice
a nice wine
Tried the recipe?
Please leave me a rating and review below, and post a picture of the dish to Instagram and tag me at @foodsnfeels 🙌
You might also like:
If you liked this recipe, check out my other dairy free mushroom recipes:
Pork Chops and Dairy Free Mushroom Sauce
This pork chops and dairy free mushroom sauce recipe is inspired by pork chops and mushroom soup, but without the dairy and with much fresher ingredients.
Instructions
Dice up your mushrooms into small pieces.

Heat a large skillet on the stove at medium-high heat and add 2 tablespoons of garlic infused olive oil.

Add your diced mushrooms and fry, stirring regularly.

While your mushrooms are cooking, heat another pan to medium heat and add 1 tablespoon of garlic infused olive oil.

Add your pork chops and fry, flipping halfway through. Make sure there are lots of brown bits on the bottom of the pan (for flavor!) but don't over cook them. You want tender pork chops after all. However, make sure they are cooked through to 145°F. Once cooked, remove them from the pan.

While your mushrooms and chops are still cooking, mix together ½ cup of oat milk with 1 tablespoon of potato starch in a cup or small bowl and whisk together until there are no remaining clumps.

Once your mushrooms are cooked through, add your additional 1 ½ cups of oat milk to the pan. Bring it back to a simmer.

Lower the heat to low and pour in your oat milk and potato starch mixture while whisking. Your sauce should start to thicken quite quickly.

Once it is thick, remove the pan from heat and serve immediately on top of your cooked pork chops.

Enjoy this comfort food immediately.

Store any leftovers in an airtight container in the fridge for 2 – 3 days, or much longer in the freezer.
Notes
In the blog post above, I provide direction on making this recipe lower calorie/lower fat, as well as making it paleo and autoimmune paleo friendly (AIP), and lower oxalate.
Nutrition
Calories:
498
kcal
Carbohydrates:
20.7
g
Protein:
34.5
g
Fat:
29
g
Saturated Fat:
6.4
g
Polyunsaturated Fat:
2.4
g
Monounsaturated Fat:
12.2
g
Trans Fat:
0
g
Cholesterol:
88.3
mg
Sodium:
558
mg
Potassium:
729
mg
Fiber:
1.3
g
Sugar:
4
g
Disclaimer: This recipe post contains Amazon affiliate links. This means that if you click on a link and make a purchase, I will receive a small commission (at no extra cost to you). This helps support me so that I can continue to put out high quality, free recipes for you guys! Thank you 😁🙌