This dairy free cream of mushroom soup recipe is also paleo, gluten free, vegan and low oxalate. It can also be made AIP and keto with the following variations:
Make this recipe AIP: use arrowroot or tapioca starch instead of potato starch. You could also substitute mushroom broth for any type of homemade bone broth, unless you can find AIP compliant mushroom broth.
Make this recipe keto: instead of using 3 tablespoons of potato starch to thicken up the soup, use a lower carb thickener such as Thick It Up.
Product brands I recommend for this recipe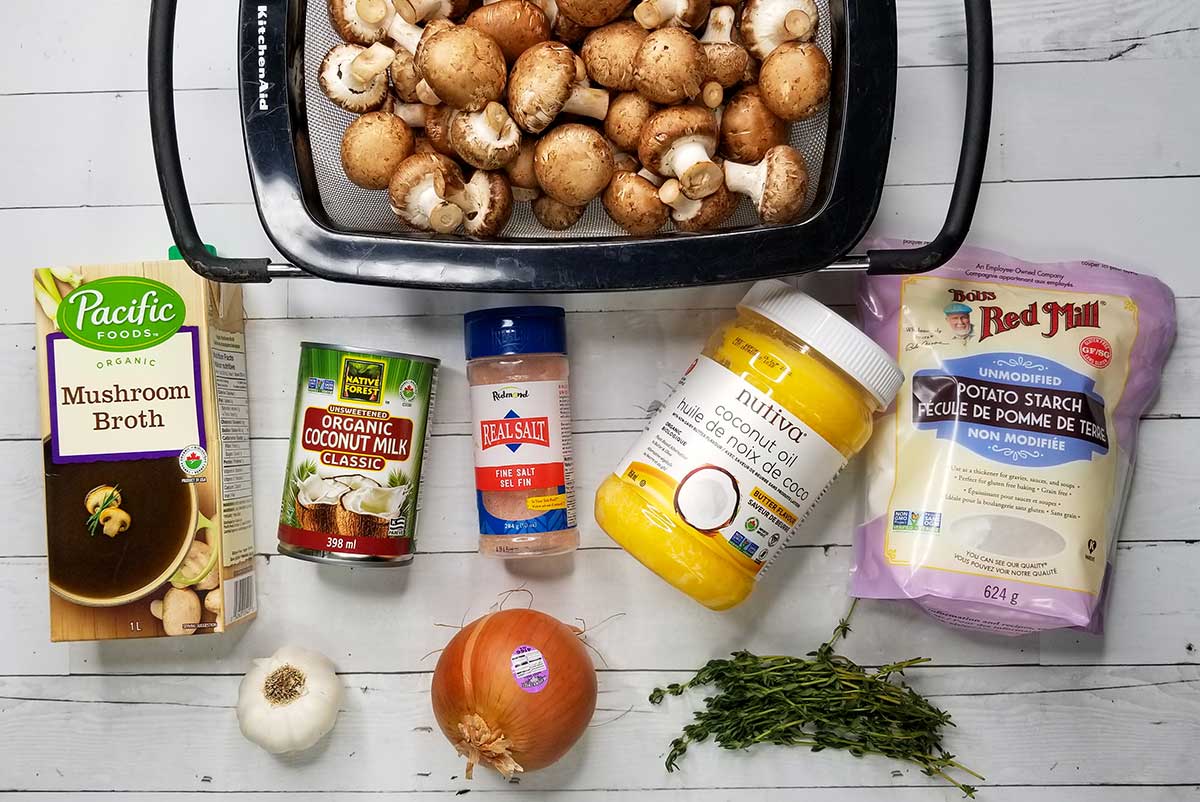 Nutiva butter flavoured coconut oil
Watch the cooking video for this recipe
Recipe substitutions or variations
Substitutions
Coconut oil substitutions: instead of using butter flavoured coconut oil, you can use regular coconut oil or flavourless coconut oil (if you don't want too much coconut flavour in your soup).You can also substitute coconut oil for vegan butter. Or you could use regular cow's milk butter if you tolerate dairy.
Mushroom substitutions: In this recipe I call for cremini mushrooms because of how flavorful they are, but you could also use white mushrooms, or any other variation(s) that your heart desires! This recipe calls for 2 pounds of mushrooms, which makes this soup ultra "mushroomy". If you want your soup to be less "mushroomy", use 1.5 lbs mushrooms instead of 2.
Fresh thyme substitutions: if you can't get your hands on any fresh thyme, you can also use ½ – 1 tsp of dried thyme.
Broth substitutions: if you can't get mushroom broth, you can also substitute it for any other type of broth such as bone broth, chicken broth, vegetable broth etc.
Starch substitutions: I used potato starch in this recipe because it is low oxalate, but you could also use any other type of starch such as arrowroot or tapioca starch. You could potentially use cornstarch as well, however I would use less of it if you do.
Canned coconut milk substitutions: You can use any dairy free milk or cream instead of full fat coconut milk, however I have found canned coconut milk to be the thickest and creamiest dairy free milk.
Additions
Add pepper to this recipe: this recipe does not call for pepper (mostly because I am not eating much of it myself right now) however it would likely taste delicious. So if you are all about the pepper, add away!
Add white wine: I have seen a lot of other cream of mushroom soup recipes that call for white wine. I did not add it to mine, but if you'd like to, swap out a small portion of the total amount of broth this recipe calls for. For example, if you add ½ cup of white wine, then you would require 3 ½ cups of mushroom broth.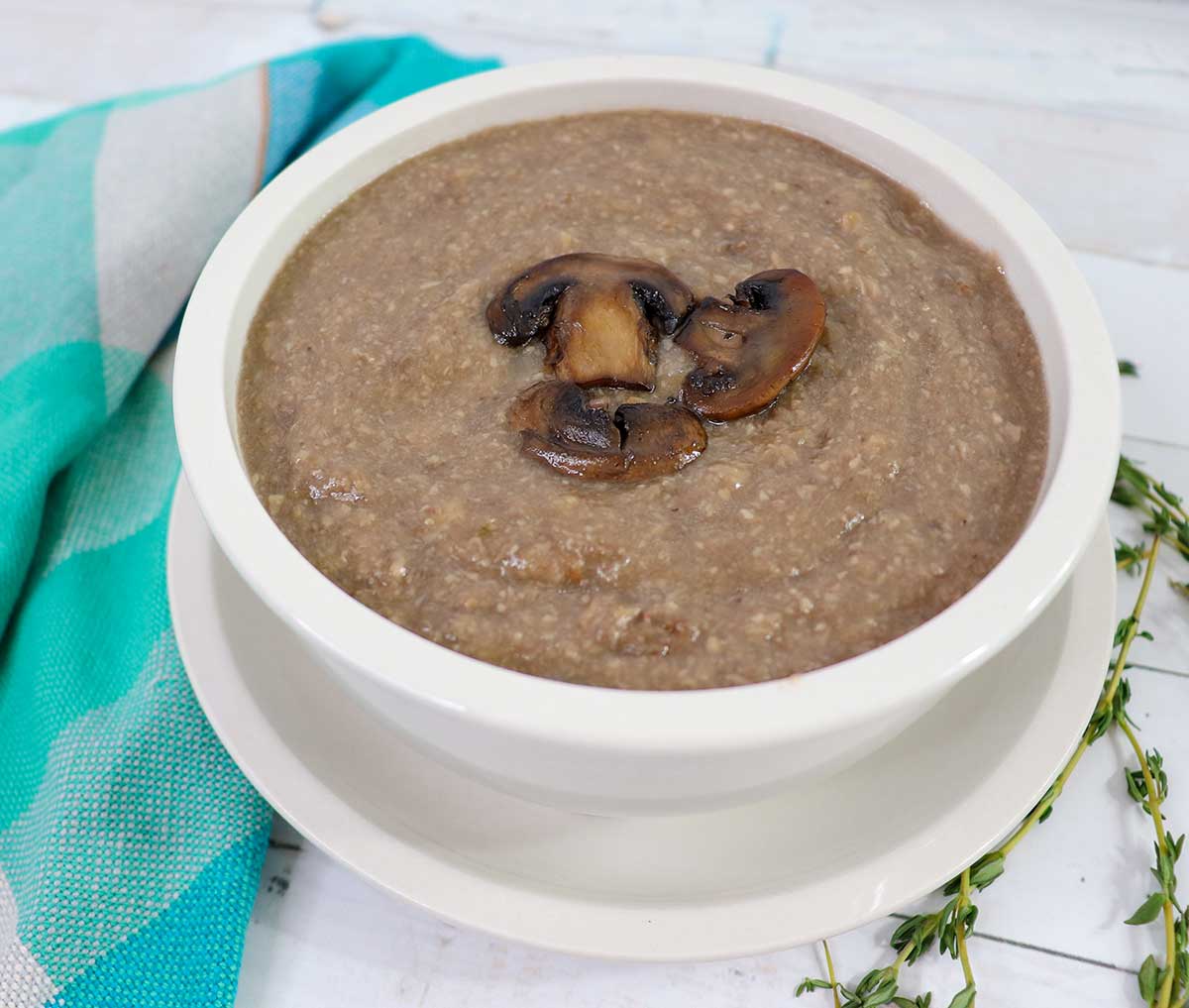 Recipe FAQs
Can I wait until I'm finished cooking the soup to blend it?
You can absolutely wait until the soup is completely finished cooking to blend it. We chose to blend it before we started adding cream and thickening agents, but you could just as easily complete the recipe and then once the soup has cooled down, you can blend it at the end. If you prefer a chunky cream of mushroom soup though, feel free to avoid blending it at all, or just blend it a little bit.
How can I make this soup even creamier?
Feel free to add additional full fat coconut milk to make this mushroom soup creamier, however the more coconut milk you add, the more you will start to taste coconut in the soup. So if you want to avoid the coconut flavour, stick to the 1 cup that the recipe calls for.
Like this recipe?
If you liked this dairy free cream of mushroom soup recipe, you would probably like my other recipes. If you want to get notified of new recipes, get your email on my list for weekly notifications.
Want a meal plan with this type of food? Grab my 1 month gluten free and dairy free meal plan.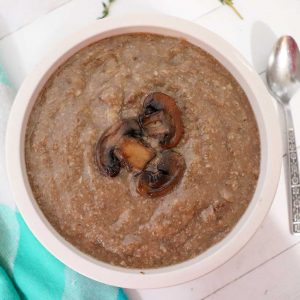 Cream of Mushroom Soup Recipe (Paleo, Gluten & Dairy Free)
This recipe is paleo, gluten & dairy free, vegan, and low oxalate. It can also be made AIP and keto with substitutions.
Instructions
Using a strainer, rinse dirt off mushrooms.

On a large cutting board, dice up mushrooms, white onion and garlic cloves and set aside in bowls.

In a large pot on medium-low heat, add ¼ cup butter flavoured coconut oil.

Once the onions start to brown/caramelize, add your chopped garlic and mushrooms

Cook mushrooms, onion and garlic until fully cooked and mushrooms are starting to brown (this will give the soup a nice flavour!)

Add 3 cups of mushroom broth, leaving 1 cup aside to mix with starch later.

Add 3 sprigs of fresh thyme. Feel free to just pull off the leaves and put those in.

Bring back to a boil and simmer until the fresh thyme starts falling off the stems.

Turn off the heat, remove the thyme stems.

Using an immersion blender, break down the mushrooms until you have a creamy soup. Alternatively, if you like the mushrooms whole, you can avoid blending them at all, or only blend them up a bit to create a chunkier soup. This really comes down to preference!

Tip: let your soup cool down a bit before using your immersion blender to avoid potentially spraying yourself with hot soup! Or, alternatively you could wait until the very end of the recipe to blend your soup – after you have added the coconut milk and the remainder of the broth mixed with starch.

After blending, put your pot back on the stove at medium heat and bring it back to a simmer.

Add your full fat coconut milk and stir until fully blended in.

Mix 3 tablespoons of potato starch (or arrowroot/tapioca starch) in your last 1 cup of broth with a fork until there are no lumps left. Pour mixture into your soup and stir thoroughly until fully mixed in.

At this point your soup should start to thicken even more. It's done and ready to enjoy!

Serve with fresh thyme and fried mushrooms for garnish.
Nutrition
Calories:
399
kcal
Carbohydrates:
26.2
g
Protein:
3.4
g
Fat:
31.5
g
Saturated Fat:
28.8
g
Polyunsaturated Fat:
0.5
g
Monounsaturated Fat:
1
g
Trans Fat:
0
g
Cholesterol:
0
mg
Sodium:
1067
mg
Potassium:
605
mg
Fiber:
1.8
g
Sugar:
4.5
g
Disclaimer: This recipe post contains Amazon affiliate links. This means that if you click on a link and make a purchase, I will receive a small commission (at no extra cost to you). This helps support me so that I can continue to put out high quality, free recipes for you guys! Thank you 😁🙌