This healthy oat flour pancake recipe uses simple ingredients that you can get at any grocery store. The pancakes have a super fluffy texture, and do not have any added sugar or sweeteners.
These are a great option for those slow Sunday mornings. And even the most experienced pancake lover will enjoy these just as much as a traditional pancake recipe!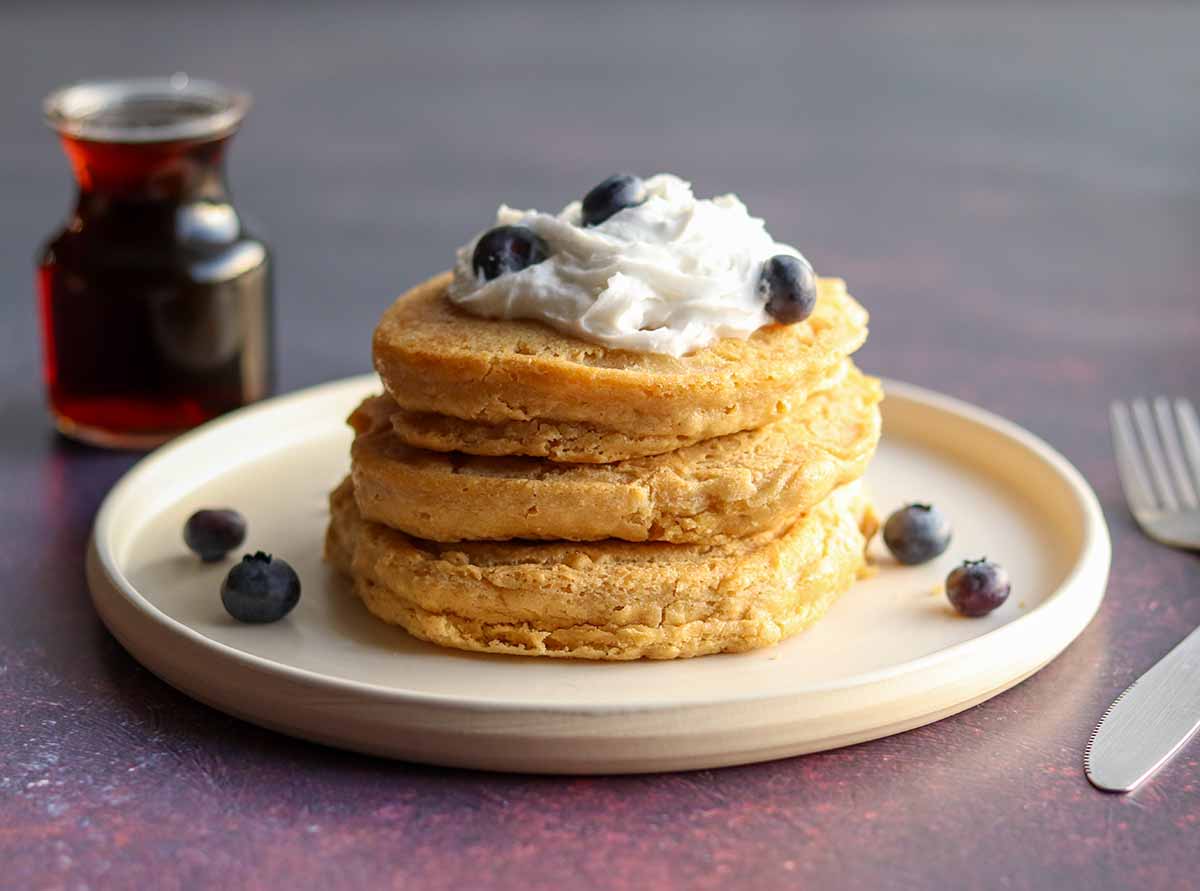 Recipe ingredient substitutions
Oat flour substitutions
If you aren't able to find store-bought oat flour, you can easily make your own oat flour! Add rolled, instant or quick oats into your food processor or high-speed blender and blend on high until you get a fine, flour-like consistency.
Instead of using just oat flour, you can use a mixture of half oat flour and half rolled oats to make oatmeal pancakes.
Potato starch substitutions
Instead of potato starch, swap it out for other starches such as corn starch, arrowroot starch, or tapioca starch. You can also use white rice flour or cassava flour.
Baking powder substitutions
Instead of 2 teaspoons of baking powder, you can swap it out for 1 teaspoon of baking soda.
Dairy free milk substitutions
You can use any type of plant-based milk for this recipe. I generally use unsweetened coconut milk, but almond milk, oat milk, or cashew milk will work. If you tolerate dairy, you can also use regular milk.
Coconut oil substitutions
Instead of melted coconut oil, you can use vegan butter or regular butter if you tolerate dairy.
Vanilla extract substitutions
Instead of liquid vanilla extract, you can swap it out for vanilla bean powder or vanilla bean paste.
Egg substitutions
Instead of regular eggs, swap it out for any egg substitute such as flax egg, chia egg or gelatin egg.
Recipe variations
Add additional flavours
If you are not into plain jane pancakes, feel free to add chocolate chips or fresh blueberries into your pancake batter before frying. Below I also provide suggestions on what to eat with and on your pancakes!
Make heart-shaped pancakes
If you noticed my heart-shaped pancake and want to make your own, here is the trick. Once you have heated and oiled your large cast-iron skillet, place a greased heart shaped cookie-cutter or pancake mold down onto the pan. Gently pour or scoop your pancake batter into the middle of the cookie-cutter. Once your pancake has cooked for a couple minutes, it should be firm enough that you can remove the cookie-cutter. Greasing your cookie-cutter in advance helps it not stick to the pancake. Then you can flip your pancake as usual and it will still keep its shape. Note: do not use plastic cookie cutters for this. They must be made of stainless steel so that they don't melt in the pan.
Dietary modifications
Make this recipe vegan
To make vegan oat flour pancakes, simply swap out the eggs for an egg substitute such as flax or chia. All other ingredients in this recipe are vegan!
Make this recipe candida diet friendly
Omit the 2 tablespoons of starch and add 2 additional tablespoons of oat flour. Use a vanilla extract that does not contain alcohol, or use vanilla bean powder. Make sure to use unsweetened coconut milk or almond milk. Swap out the 2 teaspoons baking powder for 1 teaspoon baking soda.
Make this recipe elimination diet friendly
Swap out the regular eggs for 2 egg substitutes made with either flax, chia or gelatin. Use a baking powder made with potato starch instead of cornstarch, or swap out the baking powder for 1 teaspoon baking soda. Avoid using soy milk and regular dairy milk.
Recipe pairings
These fluffy pancakes taste delicious with:
coconut whipping cream
fresh blueberries or other fresh fruit
a drizzle of maple syrup or honey
melted butter
lemon juice and granulated sugar
peanut butter or other nut butters
or any of your other favorite toppings!
Storage and reheating tips
Store your homemade pancakes in an airtight container in the fridge for 1 – 2 days. Alternatively, these freeze really well, so you can keep them stored in the freezer for 3 – 6 months.
When you are ready to reheat your pancakes, heat them back up in the microwave or a toaster oven.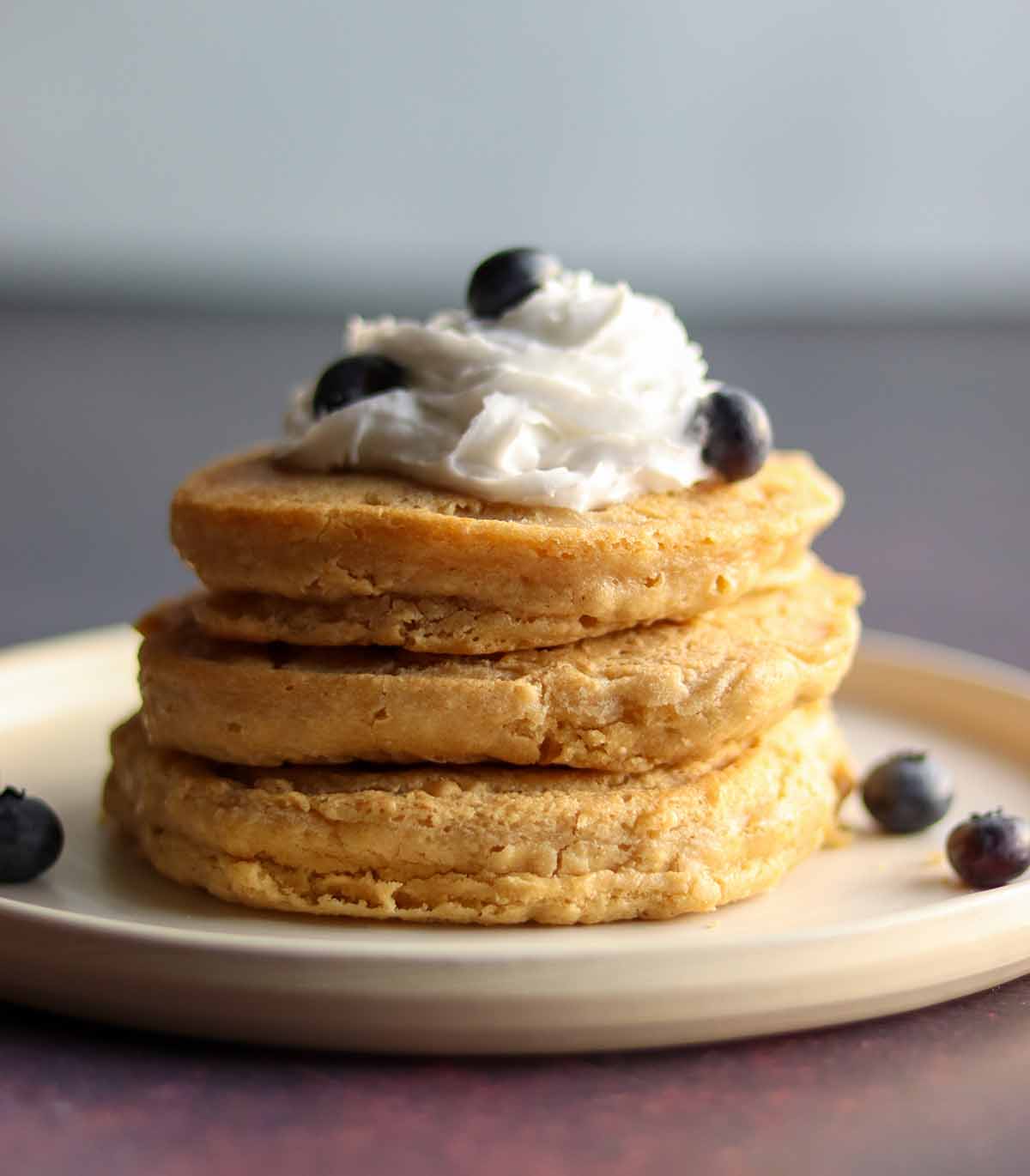 Tried my easy oat flour pancakes recipe?
Please leave me a rating and review below, and post a picture of the dish to Instagram and tag me at @foodsnfeels 🙌
You might also like
If you liked this recipe, check out my other oat flour recipes:
If you are looking for more, download one of my free seven day meal plans!
Fluffy Oat Flour Pancakes Recipe
This healthy oat flour pancake recipe uses simple ingredients that you can get at any grocery store. The pancakes have a super fluffy texture, and do not have any added sugar or sweeteners.
Instructions
In your stand mixer, food processor or large mixing bowl, mix together all of your dry ingredients.

Once your dry ingredients are mixed together, add all of your wet ingredients and mix everything together until there are no remaining lumps in the batter.

Heat your large skillet on the stove at low – medium heat and add around 1 tablespoon of coconut oil to the pan. Spread it around so that the entire pan is covered.

Using a measuring cup, scoop roughly 1/3 cup of the batter into the pan. Using your measuring cup or the back of a spoon, smooth out the batter so that it forms a thin, round shape.

See the instructions above in the blog post if you want to make your pancakes heart-shaped!

Fry until you start to see small bubbles appear on top of the pancake, roughly 2-3 minutes. Gently flip your pancakes over and fry for an additional 1-2 minutes or so, or until cooked through and golden brown.

Continue to repeat this process until you have used up all of the remaining batter. Add an additional 1 tablespoon coconut oil to the pan after each batch of pancakes.
Notes
The nutritional information for this recipe also includes the additional 2 tablespoons of coconut oil for frying your pancakes in.
Above in the blog post I provide recipe ingredient substitutions and variations, dietary modifications, storage and reheating tips.
Nutrition
Calories:
327
kcal
Carbohydrates:
30
g
Protein:
10
g
Fat:
19.3
g
Saturated Fat:
13
g
Polyunsaturated Fat:
0.7
g
Monounsaturated Fat:
1.8
g
Trans Fat:
0
g
Cholesterol:
93
mg
Sodium:
432
mg
Potassium:
95
mg
Fiber:
4.2
g
Sugar:
0.3
g
Disclaimer: This recipe post contains Amazon affiliate links. This means that if you click on a link and make a purchase, I will receive a small commission (at no extra cost to you). This helps support me so that I can continue to put out high quality, free recipes for you guys! Thank you 😁🙌