Even though these are technically Christmas cookies, they really can be enjoyed all year round!
When I was younger, my family would bake gingerbread men to hang on our Christmas tree. After the cookies had cooled, we would punch a small hole in the top and loop a string through. Then we would hang them all on the tree, and slowly eat them over the following days.
This cookie recipe is also great for making gingerbread houses too as the baked cookies have that classic ginger snaps consistency. We didn't use icing on the cookies in my house growing up so if you want to paint windows and doors on your house (or faces on your men) you'll have to use your own favorite royal icing recipe.
Unlike traditional holiday cookies, these are made with cassava flour instead of white flour which makes them grain free and paleo with a couple small modifications I've mentioned below. They are also dairy free and can be made vegan with an egg substitute.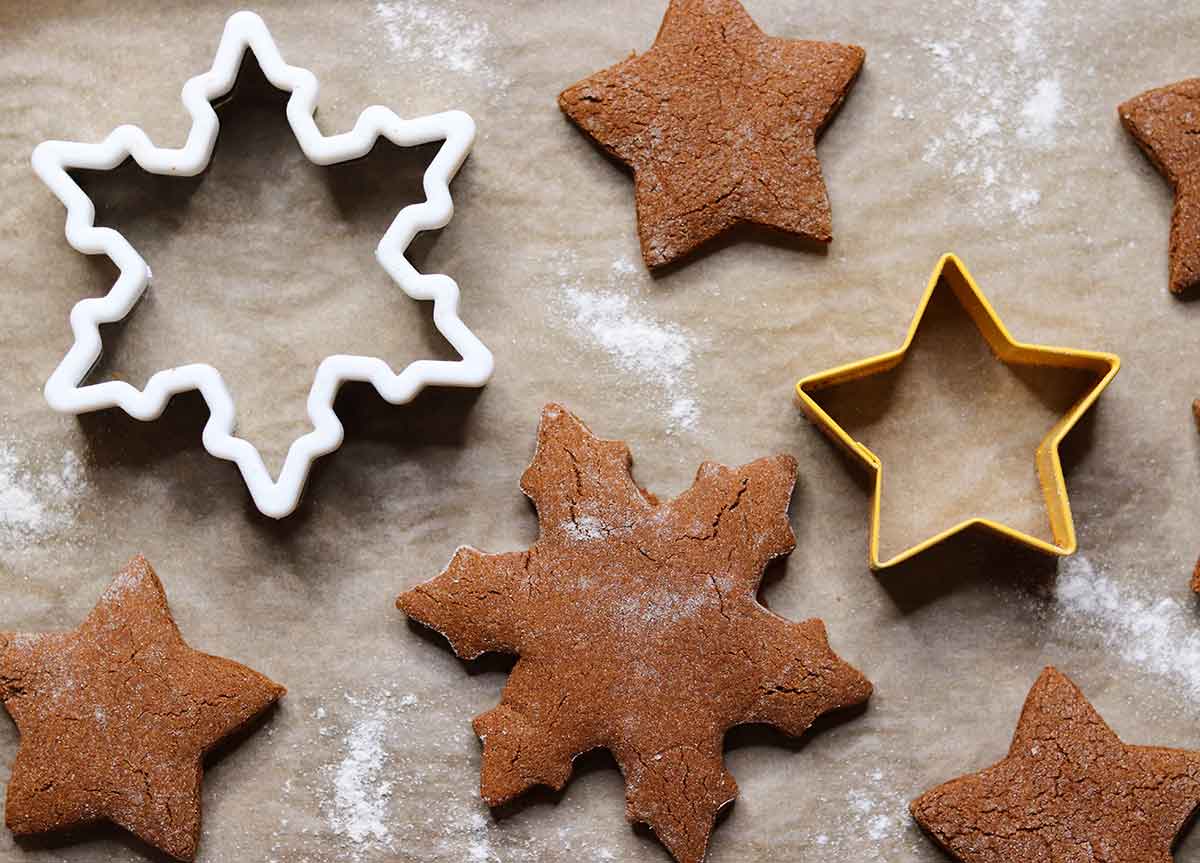 Recipes substitutions and variations
Cassava flour substitutions: If you can't find cassava, feel free to use tapioca flour (tapioca starch), potato starch, or arrowroot starch.
Granulated sugar substitutions: Instead of using granulated organic cane sugar, you can also use brown sugar, coconut sugar, or maple sugar. Avoid using liquid sugars such as maple syrup or honey as it will throw off the dry to wet ingredient ratio and you may not get consistent results.
Butter substitutions: Instead of vegan butter, you can also use regular cow's milk butter if you tolerate dairy. Otherwise, use any brand of oil-based vegan butter, preferably soy free. I like earth balance soy free buttery spread.
Egg substitutions: Instead of using regular eggs, feel free to use an egg substitute such as chia, flax or gelatin eggs. If you use an egg substitute, you may need to bake the biscuits a bit longer than this recipe calls for.
Baking soda substitutions: If you don't have baking soda, feel free to use baking powder. Use 1 teaspoon instead of the ½ teaspoon the recipe calls for.
Spice substitutions: Instead of adding the individual spices (cinnamon and ginger) you can also use a premade gingerbread spice mix, or add other strong flavors like cloves.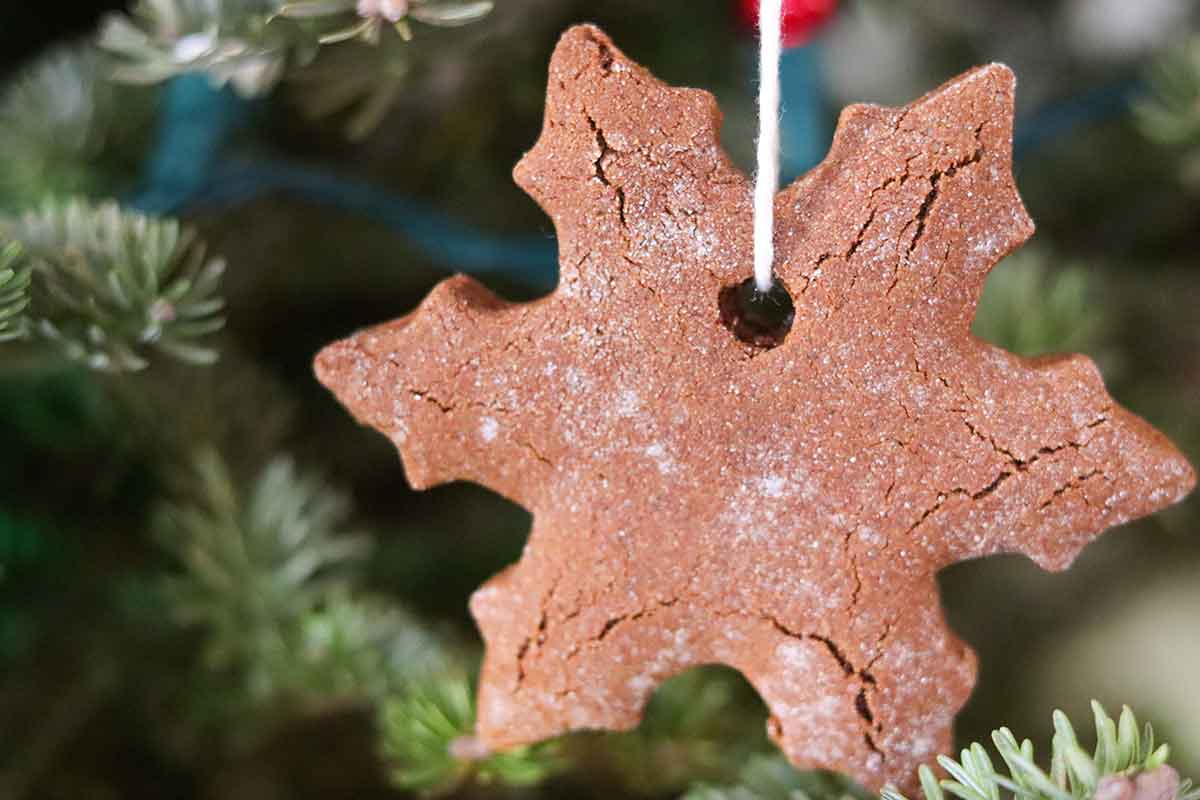 Dietary modifications for this recipe
Make this recipe vegan: Omit the egg and replace it with an egg substitute such as chia, flax or gelatin eggs. The best part about vegan ginger cookies is that you can eat the gingerbread dough raw!
Make this recipe paleo/grain free: Use coconut palm sugar instead of granulated organic cane sugar. Use coconut oil instead of vegan butter.
Make this recipe AIP: Omit the egg and replace it with a gelatin egg. Use coconut oil instead of vegan butter.
Make this recipe keto: Swap the sugar out for erythritol or stevia, just make sure you read the instructions as it's not a 1:1 swap depending on the sweetener. Also change out the cassava for almond flour or almond meal.
Pro tips for this recipe:
Make sure you melt the butter or coconut oil
For this recipe, it is super important that you melt the butter before adding it to your mixer. Otherwise, it can be hard to break down/mix in and it will change the consistency of the dough and make it more dry and crumbly.
Make sure to roll your cookie dough out on parchment paper
I highly recommend rolling your dough out on lightly floured parchment paper. Because this dough is more wet and sticky than other gingerbread cookie recipes, rolling them out on parchment paper makes them really easy to gently peel off before transferring to your baking sheet. I have rolled these out on the counter before and had issues with the dough sticking to the counter.
Recipe FAQs
How long do these cookies last in the fridge?
I recommend eating these up within 1 week if you are storing them in the fridge. If you need them to keep longer, freeze them in a sealed container or bag for up to three months.
Can I freeze these cookies?
These cookies freeze really well. Store them in a sealed container or bag for up to three months.
Tried my recipe for paleo gingerbread cookies?
Please leave me a rating and review below, and post a picture of the dish to Instagram and tag me at @foodsnfeels 🙌
You might also like:
If you like this recipe, you might also like my other cassava flour recipes:
Cassava Flour Gingerbread Cookies (Paleo & Gluten Free)
These cassava flour gingerbread cookies can be enjoyed all year round, but they are also fantastic to bake over the holidays, and even to decorate your tree with!
Instructions
Mix all of your dry ingredients together in your stand mixer or a large bowl.

Add your melted butter, egg, molasses, and vanilla extract to your dry ingredients and mix together thoroughly. The dough will be quite wet and sticky. Using a spatula, scrape the dough down into a ball. Cover your mixing bowl and put your dough in the fridge for at least 15 minutes. This will make it easier to work with.

On a clean surface, place a large piece of parchment paper down and thoroughly dust it with cassava flour.

Scrape your ball of chilled dough out onto the dusted parchment paper and sprinkle with more cassava flour on top. Using your roller, roll out the dough until it is about half an inch thick. Dust with more cassava flour as needed.

Dust your cookie cutters and start cutting out cookies one at a time. Place your cut out cookies on a parchment lined baking pan. Once you've gotten through the first set of dough, mash it all back together, roll it into a ball, dust it, and roll it out a second time.

Continue this process until you have used up all the dough.

Bake the cookies for roughly 11 minutes until they're golden brown.

Let cool completely on a cooling rack and enjoy!
Notes
Above in the blog post I provide recipe ingredient substitutions as well as dietary modifications.
Nutrition
Calories:
105
kcal
Carbohydrates:
17
g
Protein:
1
g
Fat:
4
g
Saturated Fat:
1
g
Polyunsaturated Fat:
1
g
Monounsaturated Fat:
1.5
g
Trans Fat:
0
g
Cholesterol:
11
mg
Sodium:
107
mg
Potassium:
158
mg
Fiber:
0.5
g
Sugar:
9
g
Disclaimer: This recipe post contains Amazon affiliate links. This means that if you click on a link and make a purchase, I will receive a small commission (at no extra cost to you). This helps support me so that I can continue to put out high quality, free recipes for you guys! Thank you 😁🙌