Classic comfort food with a healthy twist! This is a great paleo friendly meatloaf recipe to cook for the whole family, or to meal prep for easy lunch and dinner meals during the week.
This recipe is paleo, gluten-free, dairy free and below I provide dietary modifications to make it lower carb, lower oxalate, lower FODMAP, AIP, candida diet and elimination diet friendly with some small tweaks.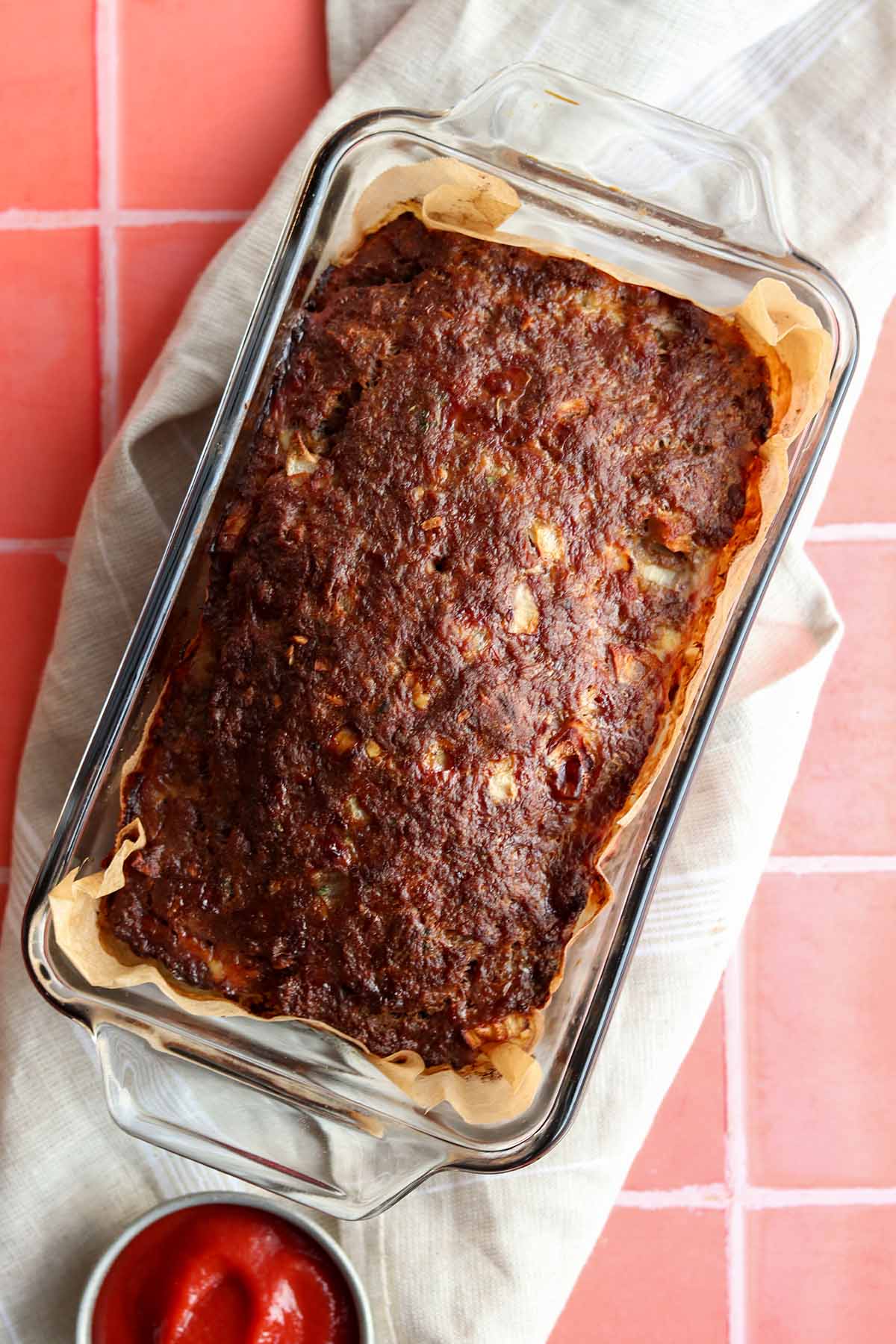 Product brands and ingredients I recommend for this recipe: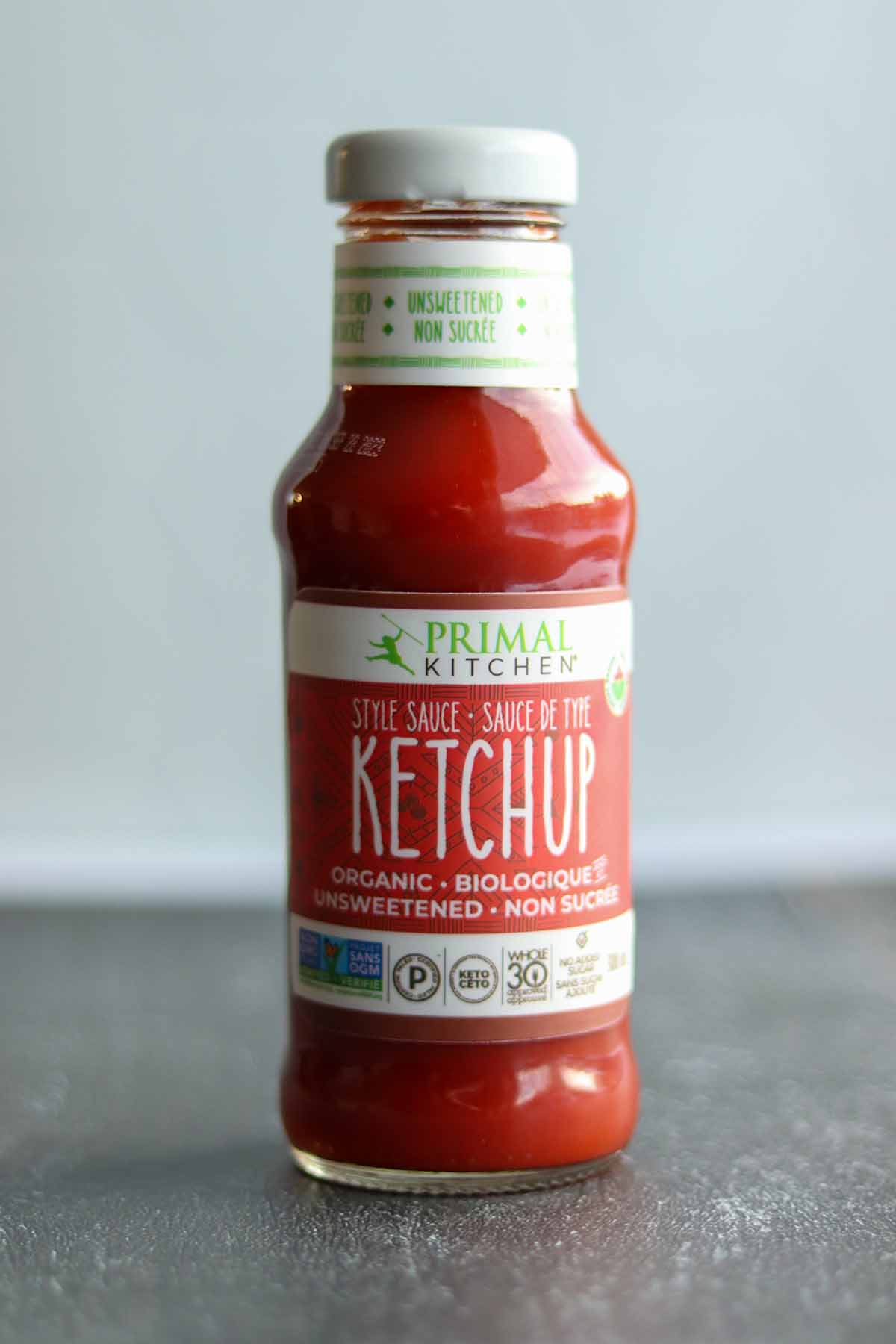 Recipe ingredient substitutions
Ground beef substitutions: Instead of using ground grass-fed beef, you can also use regular ground beef. If you want to switch up the type of meat you could use ground turkey, ground pork or ground chicken. Or use a combination of ground pork and ground beef.
Cassava flour substitutions: Instead of cassava flour, you can swap it out for almond flour or a mixture of part almond flour and part coconut flour. You can also swap it out for gluten-free bread crumbs.
White onion substitutions: Instead of fresh white onion, you can swap it out for 1 – 2 teaspoons of onion powder. Or you could use fresh red onion, shallots, green onions or chives.
Garlic cloves substitutions: Instead of fresh garlic cloves, you can swap it out for 1 teaspoon of garlic powder.
Egg substitutions: Instead of regular eggs, you could simply omit them or you could swap them out for egg substitutes such as flax, chia or gelatin eggs.
Primal Kitchen ketchup substitutions: If you aren't able to find this brand of compliant ketchup, you can also use tomato paste, tomato sauce, or your own homemade ketchup.
Homemade worcestershire sauce substitutions: If you don't have the ingredients or time to make your own homemade worcestershire sauce, your next best bet would be to get The Wizard's® Organic Gluten Free Vegan Worcestershire. Or you can use a little bit of coconut aminos and/or tamarind paste instead.
Dried parsley substitutions: Instead of dried parsley, swap it out for fresh diced up parsley. You can add at least 2 to 3 times as much if you are using fresh.
Black pepper substitutions: Instead of black pepper, you can use white pepper or if you want to spice things up you could use paprika or cayenne powder.
Recipe variations
Add extra veggies: Load this meatloaf recipe up with more vegetables by adding diced up bell pepper (red or green), or grated carrots.
Top it with bacon: Before cooking your meatloaf, drape slices of bacon over the top of it. They will crisp up and add additional flavour and crunch.
Add a tomato glaze: Simply add some additional ketchup on top of your meatloaf before baking.
Make meatloaf muffins: Instead of baking your meatloaf in a bread loaf pan, bake it as muffins in a muffin tin. You won't have to bake them anywhere near as long if you follow this method.
Dietary modifications
Make this recipe candida diet friendly: Swap out the cassava flour for almond flour. Swap out the ketchup for tomato paste. Omit the worcestershire sauce and replace it with a little bit of coconut aminos.
Make this recipe AIP friendly: Omit the ketchup, use gelatin eggs instead of regular eggs, and make sure to use my homemade worcestershire sauce which is AIP compliant.
Make this recipe low FODMAP: Omit the onion and garlic cloves. Depending on the ingredients in the paleo ketchup and worcestershire sauce, you may also have to omit these or make your own with low FODMAP ingredients.
Make this recipe lower oxalate: Instead of cassava flour, swap it out for white rice flour. Omit or reduce the ketchup.
Make this recipe elimination diet friendly: Omit the eggs and replace them with egg substitutes such as flax, gelatin or chia eggs. Omit the ketchup and use my worcestershire sauce which is elimination diet friendly.
Make this recipe low carb: To make this a low carb meatloaf, swap out the cassava flour for almond flour.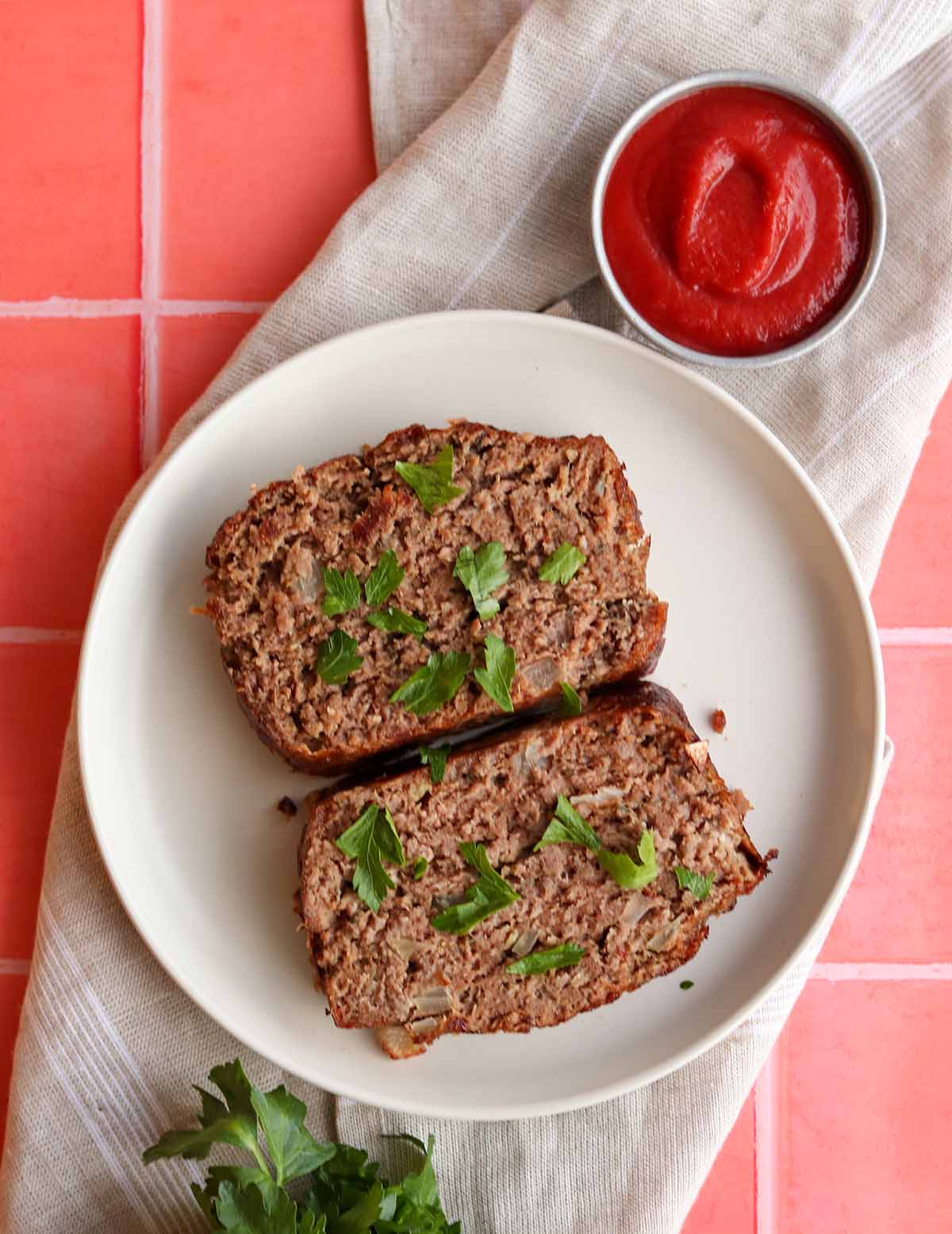 Storage tips
Slice your meatloaf and store it in airtight containers in the fridge for 2 – 3 days, or for up to 3 – 6 months in the freezer.
Tried my easy comforting paleo meatloaf recipe?
Please leave me a rating and review below, and post a picture of the dish to Instagram and tag me at @foodsnfeels 🙌
You might also like:
If you liked this recipe, check out my other paleo beef recipes:
If you are looking for more, download my free 7 day paleo meal plan.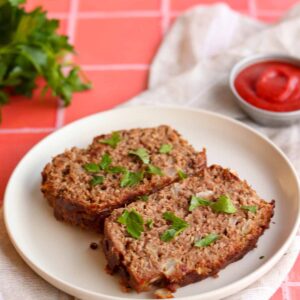 Paleo Meatloaf Recipe
A great paleo friendly meatloaf recipe to cook for the whole family, or to meal prep for easy lunch and dinner meals during the week.
Instructions
Preheat your oven to 350°F.

Chop up your fresh onion and garlic and set aside in a small bowl.

In a large mixing bowl, mix together your ground meat plus all of the other ingredients including your chopped up onion and garlic.

Using your hands for a food processor, mix everything together until all of the ingredients are distributed evenly amongst the meat mixture.

Transfer your meatloaf mixture over into a parchment lined baking dish. You can also do this without parchment paper by greasing your bread pan instead.

Using your hands or the back of a spoon, smooth out the top of your meatloaf and make sure everything is distributed evenly in the pan.

Cook your meatloaf at 350°F for 1 hour and 30 minutes. Your meatloaf should reach an internal temperature of 170°F and the top of the meatloaf should be golden brown. Check this using a meat thermometer.

Once your meatloaf is done cooking, let your meatloaf rest on a wire cooling rack.

Transfer your meatloaf over to a cutting board and slice it up and serve. Pro tip: when your meatloaf is hot it can be more crumbly. If you want really clean slices, cool it in the fridge and then slice it up.
Notes
Above in the blog post I provide recipe ingredient substitutions and variations, dietary modifications, and storage tips
Nutrition
Calories:
295
kcal
Carbohydrates:
13.4
g
Protein:
34.6
g
Fat:
11
g
Saturated Fat:
4.7
g
Polyunsaturated Fat:
1
g
Monounsaturated Fat:
4.3
g
Trans Fat:
0.5
g
Cholesterol:
136
mg
Sodium:
524
mg
Potassium:
148
mg
Fiber:
0.7
g
Sugar:
2.7
g
Disclaimer: This recipe post contains Amazon affiliate links. This means that if you click on a link and make a purchase, I will receive a small commission (at no extra cost to you). This helps support me so that I can continue to put out high quality, free recipes for you guys! Thank you 😁🙌
About the author Tara Klippert
Tara Klippert is a Registered Health and Nutrition Counselor and holds a diploma in Holistic Nutrition and Health Coaching. She shares her gluten free, dairy free & allergy friendly recipes.