This keto pho soup recipe is fast and easy to make because it uses store-bought pho broth and pre-spiralized kohlrabi noodles. Below I also provide options for making your own broth, as well as other low carb noodle alternatives.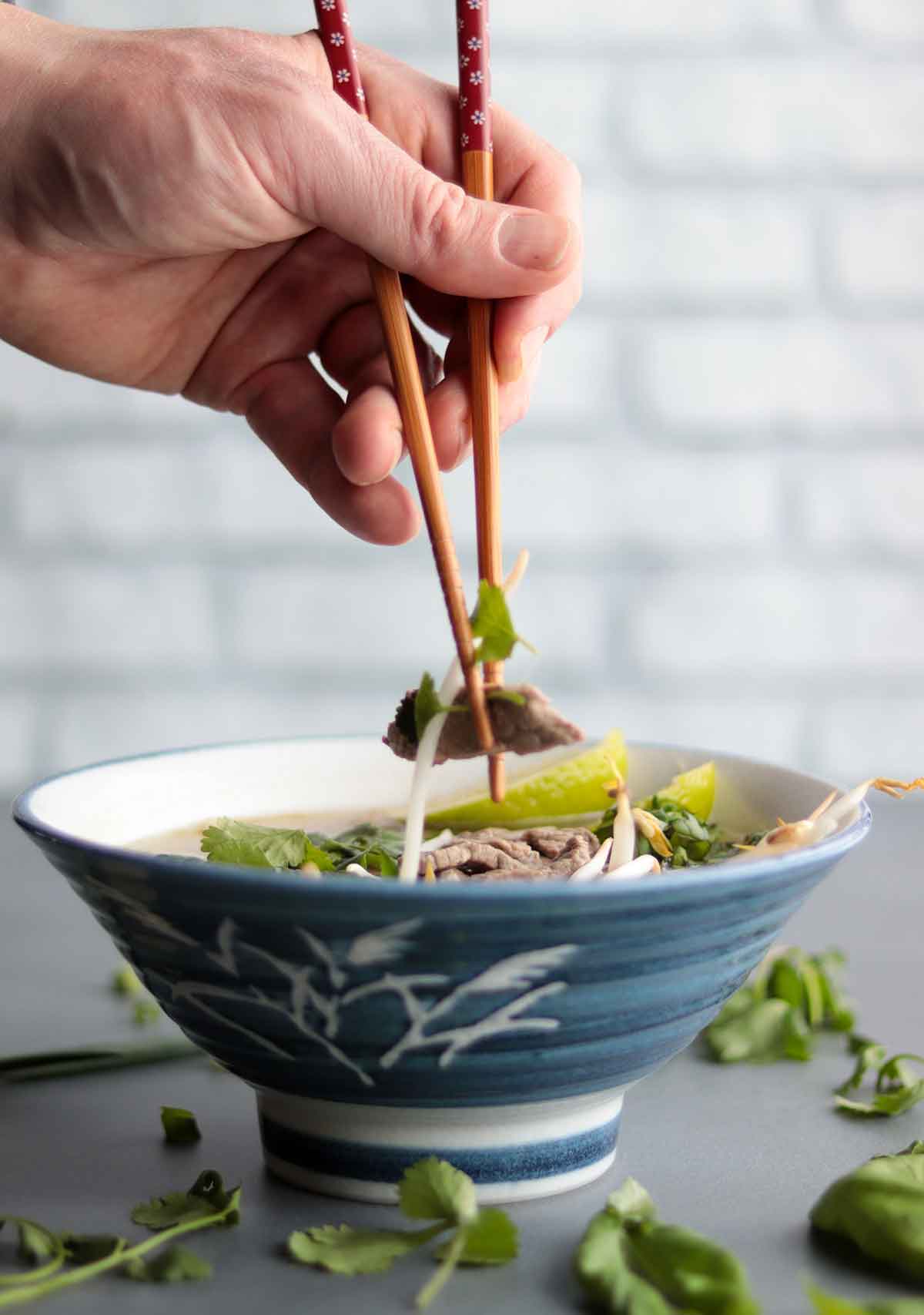 Recipes substitutions and variations
Store-bought pho broth substitutions: To make this recipe super quick and easy, I made use of premade pho broth from the store. However, if you want to keep the ingredients super clean you can also use your own homemade bone broth and then add pho seasonings to it. This could include star anise, cloves, cinnamon, cardamom, and coriander. You can also add lime, onion, ginger, salt and fish sauce.
Beef rouladen substitutions: Traditional pho recipes are generally made with thinly sliced beef. To make things easier, I bought pre sliced beef rouladen. This is essentially long, thin strips of beef that are super easy to slice up into smaller pieces. You can also use any other cut of beef and slice it up as thinly as possible using a meat slicer or sharp knife. I have also made this soup with thinly sliced "hot pot" pork shoulder or chicken and it's also fantastic. I found these in the frozen meat section of the grocery store.
Kohlrabi noodle substitutions: For this recipe, I highly recommend using Mann's Kohlrabi "Linguine" which I get at my local Save-On-Foods. If you aren't able to access this, you can also spiralize your own kohlrabi noodles with a vegetable spiralizer. Or you can find other spiralized vegetables to use instead as your noodle base such as sweet potatoes, zucchini, or butternut squash. Or if you are not concerned about making this lower in carbohydrates, you can of course use regular rice noodles.
Shallot substitutions: Instead of using shallots, you can also swap it out for regular white onion. Or even dehydrated onion flakes.
Fresh herb substitutions: Instead of using fresh basil and cilantro, you can swap it out for dried basil and cilantro. If you do this though, add them to your pot at the same time you add your noodles, instead of at the end. This will help infuse the broth with the herbs flavour. Just keep in mind you will not get the fresh, intense flavour of the fresh herbs if you do this. The fresh herbs also provide a really beautiful presentation to your dish.
Green onion substitutions: Instead of green onions, you can also swap it out for fresh chives. If you aren't able to get fresh, you can use dehydrated chives. If you do this, add your chives at the same time you add your noodles. This will allow the dehydrated chives to rehydrate and infuse their flavour into the broth.
Lime substitutions: The lime is used for garnish and flavour at the end. If you don't have fresh lime, you can also use store-bought lime juice.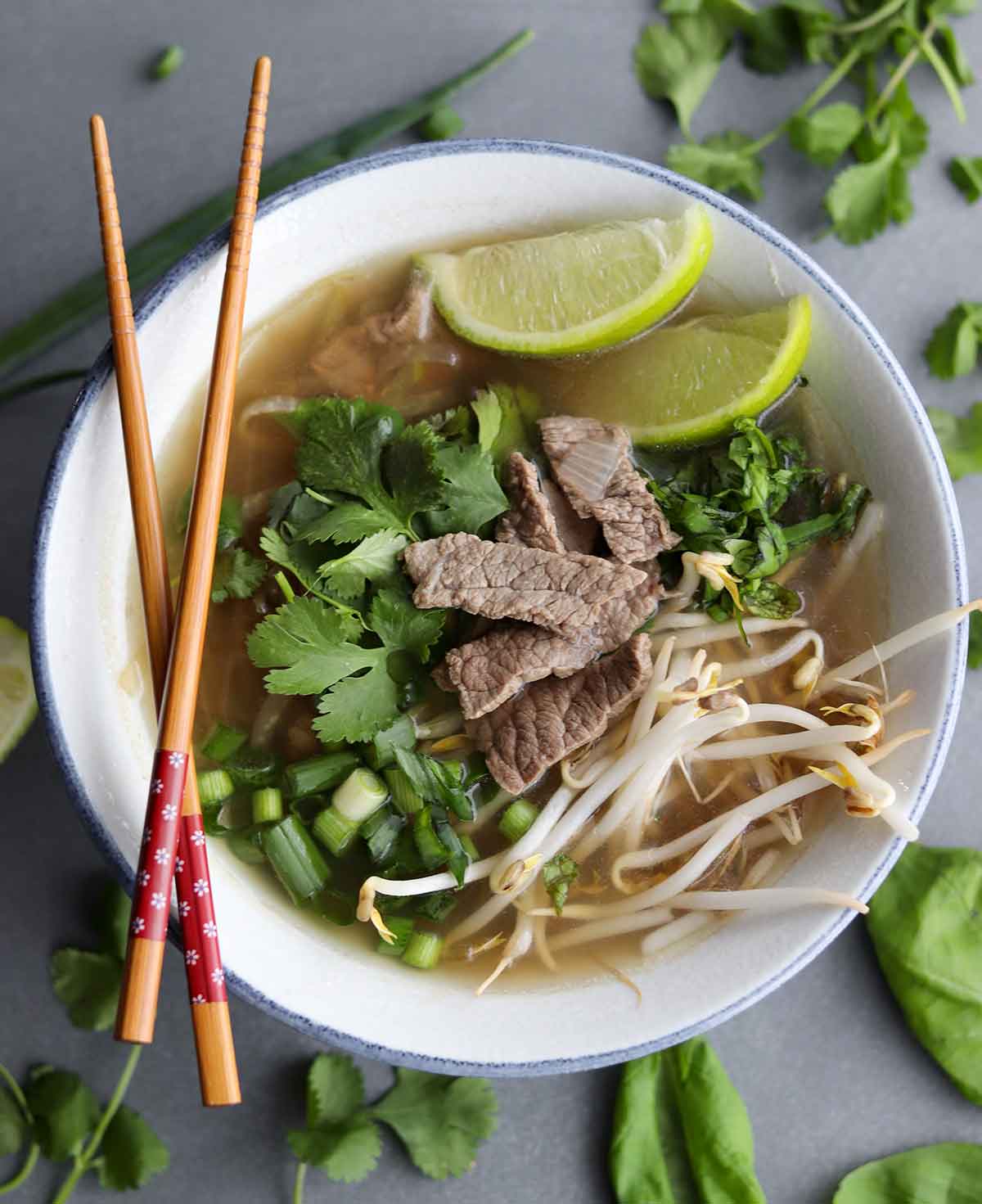 Dietary modifications for this recipe
Make this recipe low FODMAP: Omit the shallot and make sure your broth does not contain garlic or onion, or any other high FODMAP vegetable.
Make this recipe AIP: Avoid store-bought broth. Use your own bone broth and then add in AIP friendly ingredients such as ginger, fish sauce, garlic, onion, and cinnamon.
Make this recipe candida diet friendly: Avoid broth that contains sugar or yeast. Or alternatively, make your own broth using bone broth and add seasonings such as star anise, cloves, cinnamon, cardamom, coriander, lime, ginger and salt.
Make this recipe even lower carb: Store-bought pho broth isn't super high in carbohydrates, although the stuff I used does add about 5 g of carbohydrates per serving of this soup. To make this recipe even lower in carbs, use your own homemade pho broth.
Pro tips for this recipe:
Add your fresh herbs, bean sprouts and green onions at the end
Adding your herbs and garnishes at the end will make for a beautiful presentation and gives the soup a fresher, crunchier texture.
Don't cook the meat for too long
In this recipe, I call for adding the meat at the very end. Because the meat is so thinly sliced, you don't want to overcook it and have it be chewy and not as tender. The meat cooks really fast so it only needs a few minutes to cook through.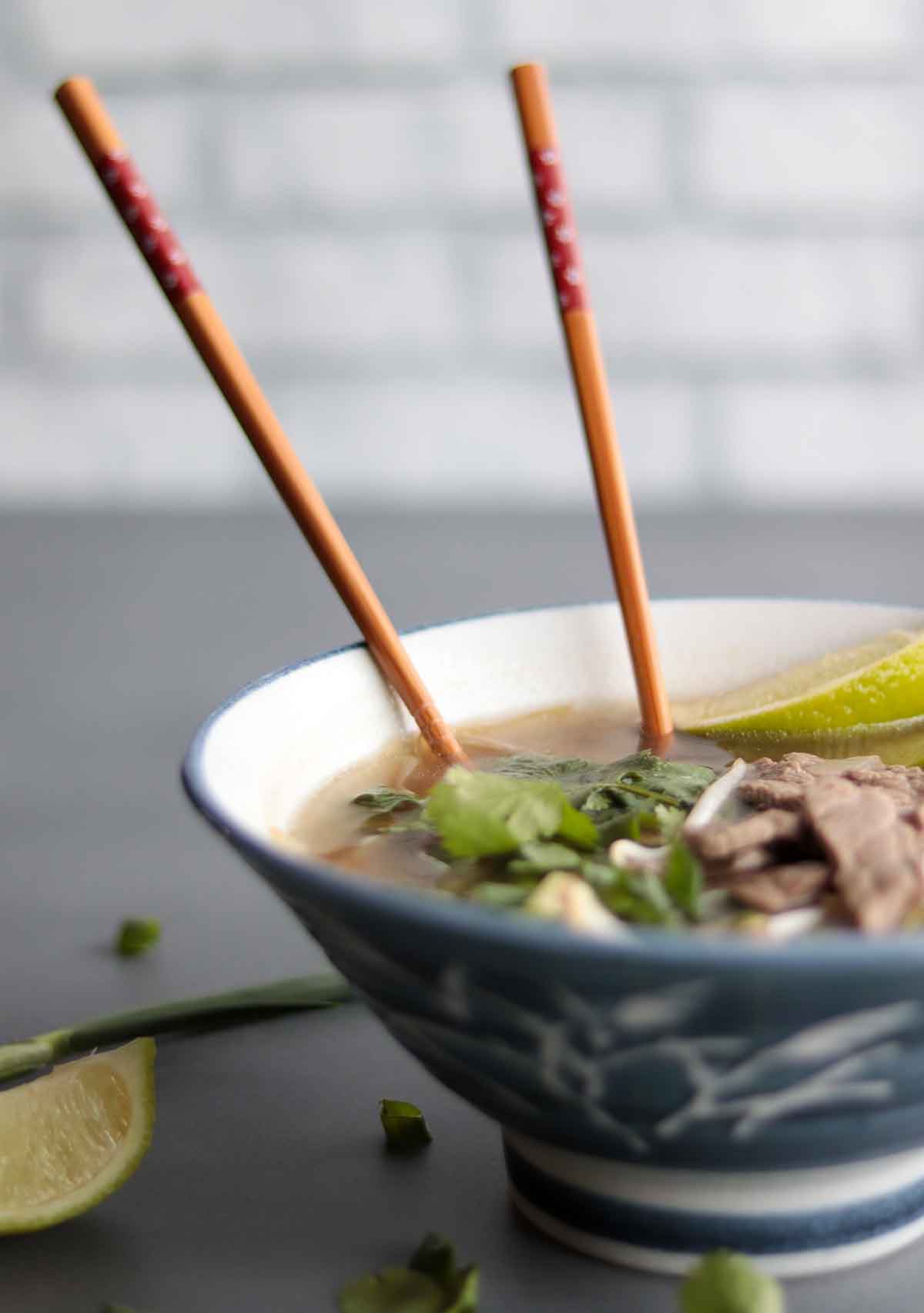 Frequently asked questions:
How long does this soup last in the fridge?
This soup will last in the fridge for up to 1 week but I recommend eating it up within a few days for ultimate freshness. This soup freezes very well, so if you aren't able to finish it up, portion it out and freeze it in glass containers.
Does this low carb pho freeze well?
This soup freezes incredibly well, even with the fresh herbs and garnishes on top. I make this soup for weekly meal prep and portion it out and freeze it. Then I take it out the night before I plan to eat it for lunch.
Pin this recipe for later
If you can't make my homemade pho soup now, make sure to pin the recipe for later so you have it handy!
Tried my easy homemade pho?
Please leave me a rating and review below, and post a picture of the dish to Instagram and tag me at @foodsnfeels 🙌
You might also like:
If you liked my healthy pho recipe, check out my other soup recipes: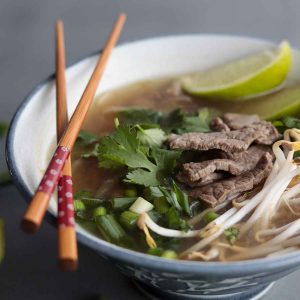 Keto Pho Soup Recipe (Easy & Fast)
This keto pho soup recipe is fast and easy to make because it uses store-bought pho broth and pre-spiralized kohlrabi noodles.
Ingredients
1 ½

pound

beef rouladen

(or other thinly sliced beef, pork or chicken)

1 (284 g or 10 ounces)

bag

kohlrabi noodles

(I recommend Mann's "kohlrabi linguini")

2

cartons

store-bought pho broth

(roughly 1900 mL)

1

bunch

fresh basil

1

bunch

fresh cilantro

1

bunch

green onions

1

lime

1

bag

bean sprouts

(roughly 227 g)
Instructions
Pour both cartons of store-bought pho broth into a large pot on the stove and bring to a boil.

Meanwhile, cut up your fresh cilantro, basil, shallot and green onions and transfer them over to small bowls. Slice up your beef as thinly as you can.

Once your broth has come to a boil, add your kohlrabi noodles and sliced up shallot. Continue simmering on medium heat until the kohlrabi and onion is soft.

Then add your thinly sliced beef to the pot and continue simmering for a few minutes until the meat is cooked through. This will not take long. Try not to overcook it.

Scoop your soup out into serving bowls.

Add your fresh herbs, green onions, bean sprouts and lime wedges to your soup bowls and serve immediately.
Notes
Above in the blog post I provide recipe ingredient substitutions as well as dietary modifications.
Nutrition
Calories:
257
kcal
Carbohydrates:
28
g
Protein:
8.5
g
Fat:
9
g
Sodium:
900
mg
Potassium:
340
mg
Fiber:
3.5
g
Sugar:
8
g
Disclaimer: This recipe post contains Amazon affiliate links. This means that if you click on a link and make a purchase, I will receive a small commission (at no extra cost to you). This helps support me so that I can continue to put out high quality, free recipes for you guys! Thank you 😁🙌
About the author Tara Klippert
Tara Klippert is a Registered Health and Nutrition Counselor and holds a diploma in Holistic Nutrition and Health Coaching. She shares her gluten free, dairy free & allergy friendly recipes.