A great recipe if you want a hearty bowl of chili that is 100% compliant with the paleo diet. It is low carb, and loaded up with extra veggies to ensure that it's still just as satisfying without the beans.
Recipe ingredient substitutions
Lean ground beef substitutions
Instead of using lean ground beef, you could also use regular ground beef or extra lean ground beef.
Or if you want to switch up the meat altogether, you also use ground turkey, ground chicken, or ground pork.
Olive oil substitutions
Instead of olive oil, you can use coconut oil, avocado oil, pork lard, beef lard, or butter if you tolerate dairy. If you happen to use regular ground beef it has a lot more fat in it so you can probably omit the additional fat for cooking your beef, garlic and onions in.
Green bell pepper substitutions
There are many different varieties of bell peppers that you can use instead of green bell pepper including red bell pepper or yellow bell pepper. If you want to make it more spicy, consider adding a jalapeno pepper or chili pepper.
White onion substitutions
Instead of white onion, you can use yellow onion, red onion, shallot or even green onion or chives. I find freshly diced green onion and chives make a great garnish for the top of your chili at the end before serving. If you don't have fresh onion, you can also use 1 – 2 teaspoons of onion powder.
Fresh garlic clove substitutions
Instead of fresh garlic, swap it out for 1/2 – 1 teaspoon of garlic powder.
Tomato sauce substitutions
Instead of a 398 mL can of tomato sauce, you can swap it out for a 156 mL small can of tomato paste since it is much thicker and more condensed.
Canned diced tomato substitutions
Instead of canned diced tomatoes, you can also use canned crushed tomatoes or fire-roasted tomatoes.
Alternatively, you can buy fresh tomatoes and dice them up yourself. If you do this, you will probably need about 4 – 6 fresh tomatoes.
Recipe variations
Switch up the vegetables
Because this is a beanless chili, loading up on added veggies is a great way to make it super hearty and satisfying! Add any of your favorite vegetables including sweet potatoes, cauliflower rice, roasted butternut squash, celery stalks, broccoli, green beans or kale.
Make it spicier
If you like your chili extra spicy, consider adding some cayenne pepper, green chiles, jalapeno pepper, chili pepper, chipotle powder or extra black pepper.
Cook it in your crock pot / slow cooker
Dice up your vegetables, garlic and onions. Add these and all of your other ingredients into your slow cooker and stir it up until everything is thoroughly mixed together. Slow cook on high for 4 hours or on low for 8 hours.
Cook it in your pressure cooker / instant pot
Follow the recipe below exactly the same, but instead of heating your large pot on the stove, turn your pressure cooker onto sauté mode. Sauté your ground beef, onions and garlic in olive oil until they start to brown. Then add all of the remaining ingredients, stir well and cook your chili on high pressure for around 10 minutes. Make sure to follow your instant pot instructions manual to make sure you are using it safely.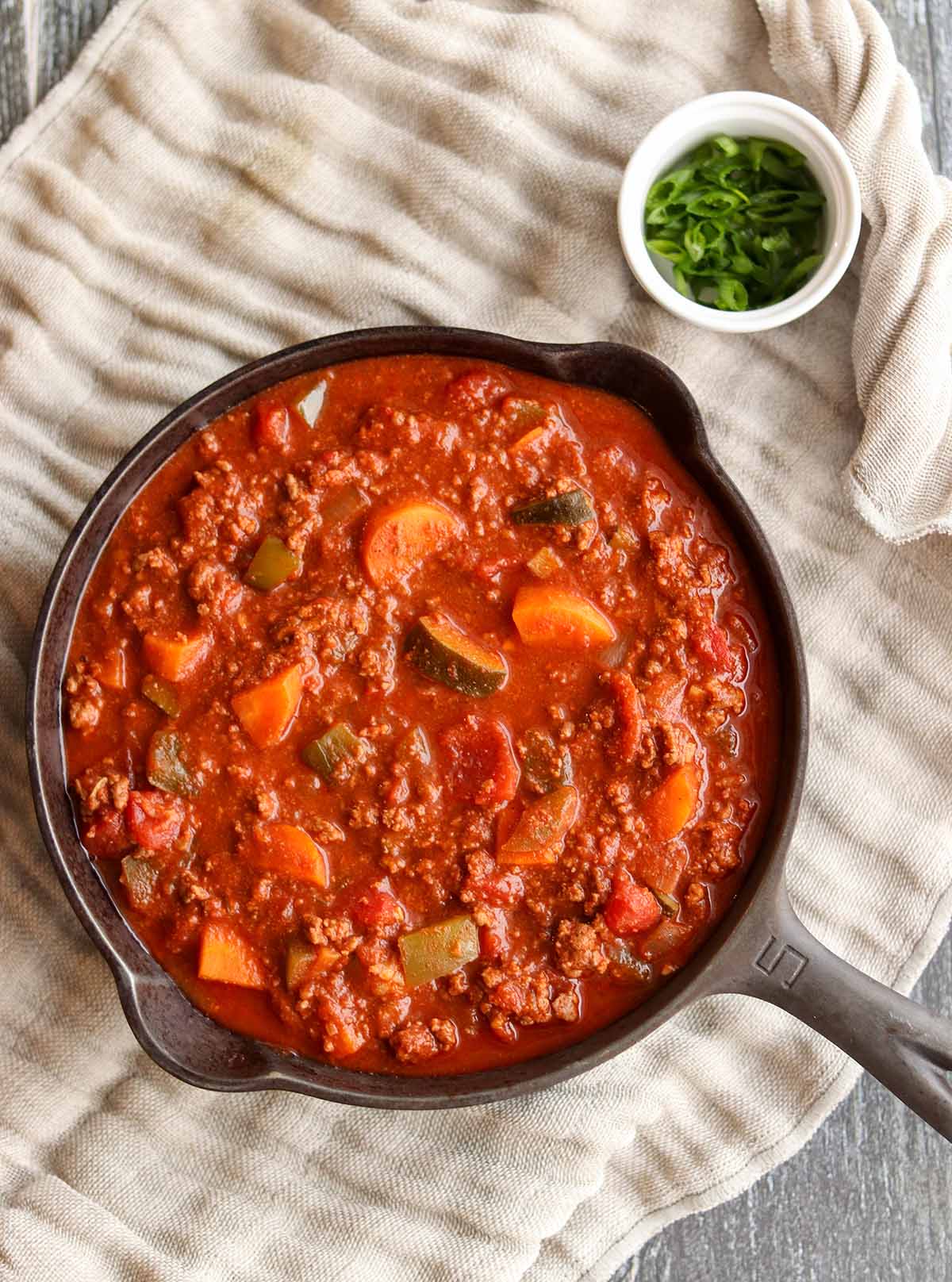 Dietary modifications
Make this recipe candida diet friendly
Omit or reduce the amount of carrots.
Make this recipe low FODMAP
Omit the garlic and onion.
Storage and reheating tips
Store your leftover chili in an airtight container in the fridge for 2 – 3 days. It also freezes well and will keep in the freezer in a sealed container for 3 – 6 months.
When you are ready to reheat it, microwave it for 3 – 4 minutes. Or you can put it into a pot and heat it up on the stove until it just comes to a boil.
If you are planning to reheat it from frozen, take it out of the freezer the night before and put it in the fridge. If it's still a bit frozen the next day, use your defrost setting on your microwave to thaw it the rest of the way.
Tried my delicious paleo chili recipe?
Please leave me a rating and review below, and post a picture of the dish to Instagram and tag me at @foodsnfeels 🙌
You might also like:
If you liked this recipe, check out my other paleo beef recipes:
If you are looking for more paleo recipes, download my free 7 day paleo meal plan!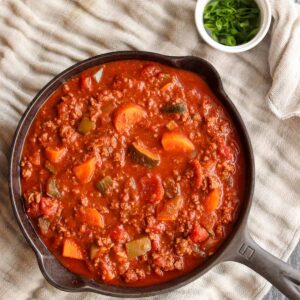 Easy Paleo Chili Recipe
A great recipe if you want a hearty bowl of chili that is 100% compliant with the paleo diet. It is low carb, and loaded up with extra veggies to ensure that it's still just as satisfying without the beans.
Ingredients
2

pounds

grass-fed ground beef

2

tbsp

olive oil

1

white onion

3

garlic cloves

1

green bell pepper

2

carrots

1

zucchini

1

small can tomato sauce

(398 mL)

1

large can of diced tomatoes

(796 mL)

3

tbsp

chili powder

1

tbsp

ground cumin

1

tsp

salt

1/2

tsp

black pepper
Instructions
Start by dicing up your onions and garlic and transfer them to a small bowl.

Then slice up the rest of your vegetables.

Heat a large pot on the stove at medium high heat, and then add your olive oil, ground beef, and chopped onions and garlic. Sauté while stirring until everything is starting to brown.

Then add all of your remaining cut up vegetables, canned tomatoes and tomato sauce, and seasonings. Give everything a good stir.

Reduce the burner to low heat and simmer your chili for about 30 – 45 minutes or until your vegetables are soft to your liking.

Serve with diced green onion and fresh cilantro. You could even throw in some sour cream or a sprinkle of cheese (dairy free or regular).
Notes
Above in the blog post I provide recipe ingredient substitutions and variations, dietary modifications, storage and reheating tips.
Nutrition
Calories:
350
kcal
Carbohydrates:
20
g
Protein:
35
g
Fat:
15
g
Saturated Fat:
5
g
Polyunsaturated Fat:
1.5
g
Monounsaturated Fat:
7
g
Trans Fat:
0
g
Cholesterol:
75
mg
Sodium:
646
mg
Potassium:
581
mg
Fiber:
7
g
Sugar:
9.5
g
Disclaimer: This recipe post contains Amazon affiliate links. This means that if you click on a link and make a purchase, I will receive a small commission (at no extra cost to you). This helps support me so that I can continue to put out high quality, free recipes for you guys! Thank you 😁🙌