This paleo spaghetti recipe is fully compliant with the autoimmune paleo protocol (AIP) and is also Low FODMAP for people with sensitive digestion or IBS. This recipe uses spaghetti squash as the "pasta" base and an aip spaghetti sauce on top, with a pinch of fresh basil for garnish and extra flavour. The spaghetti sauce is made from canned pumpkin instead of tomatoes, which may sound strange at first but you'll be surprised to see that pumpkin has a very similar profile to tomatoes, with a similar texture and level of acidity.
This recipe is great if you want to balance your hormones, stabilize your blood sugar, ease IBS symptoms, or lower inflammation in your body.
What you'll need for this recipe
The equipment you will need for this recipe is:
cutting board
2 baking sheets
parchment paper
large sharp kitchen knife
oven
large pot
squash scraper tool (Optional: for scraping out seeds from the spaghetti squash. You can also use a spoon.)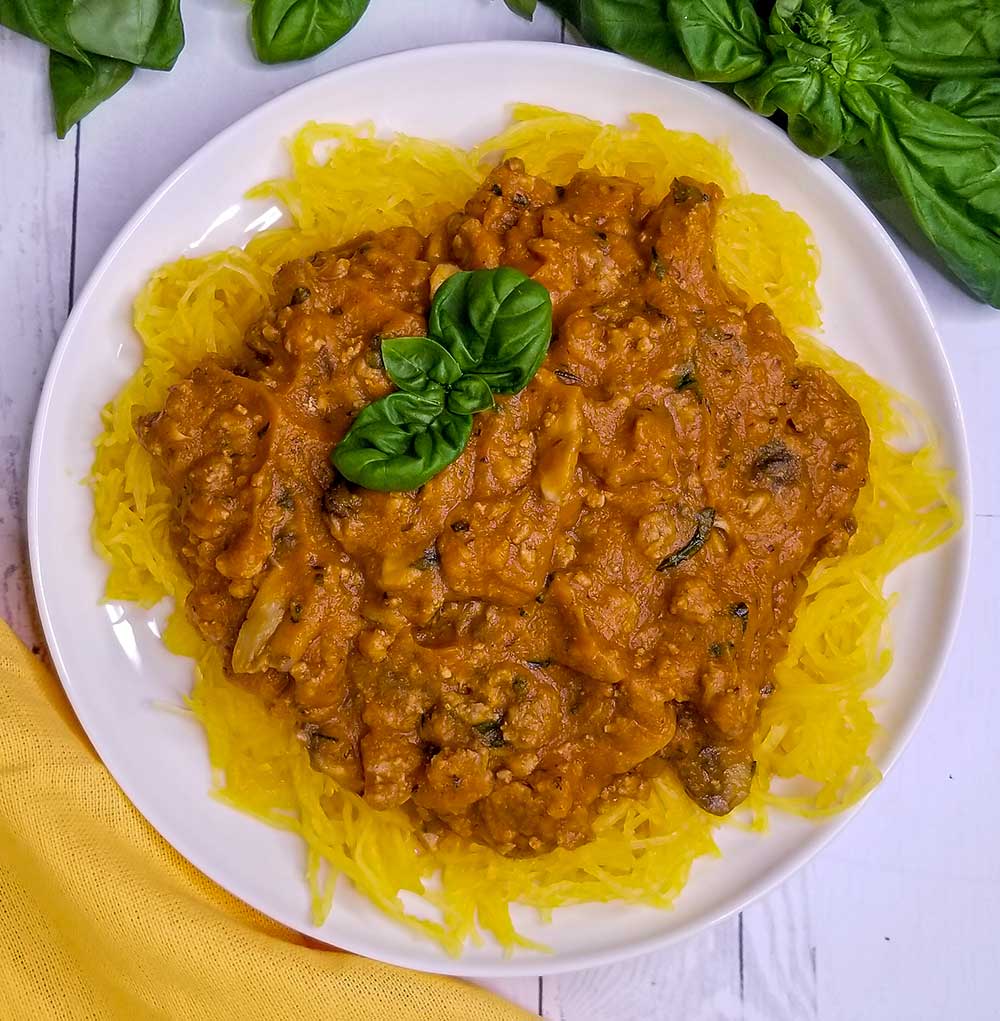 How to make this paleo spaghetti recipe
The full instructions for this recipe can be found below in the recipe card, but you can also watch it being made step-by-step by checking out the video below.
Recipe substitutions or variations
Pasta base: If you aren't a fan of spaghetti squash or don't have access to any, you can also use the following pastas and pasta substitutes as the base:
zucchini noodles
butternut squash noodles
sweet potato noodles
shirataki noodles
gluten-free spaghetti noodles
Spaghetti sauce: This AIP spaghetti sauce is made with canned pumpkin, but can also be made with regular tomato sauce/canned tomato if you are not intolerant to tomatoes. Or you can also do half pumpkin and half tomato – I've tried this and it also tastes great!
Add onion and garlic: because this recipe is also low FODMAP, I have not included onion or garlic in the sauce recipe. If you tolerate onions and garlic, feel free to add them to the recipe. Start with one medium onion and 2 to 3 garlic cloves if you are doing fresh, and half a tablespoon of each onion powder or/and garlic powder if you are doing dried.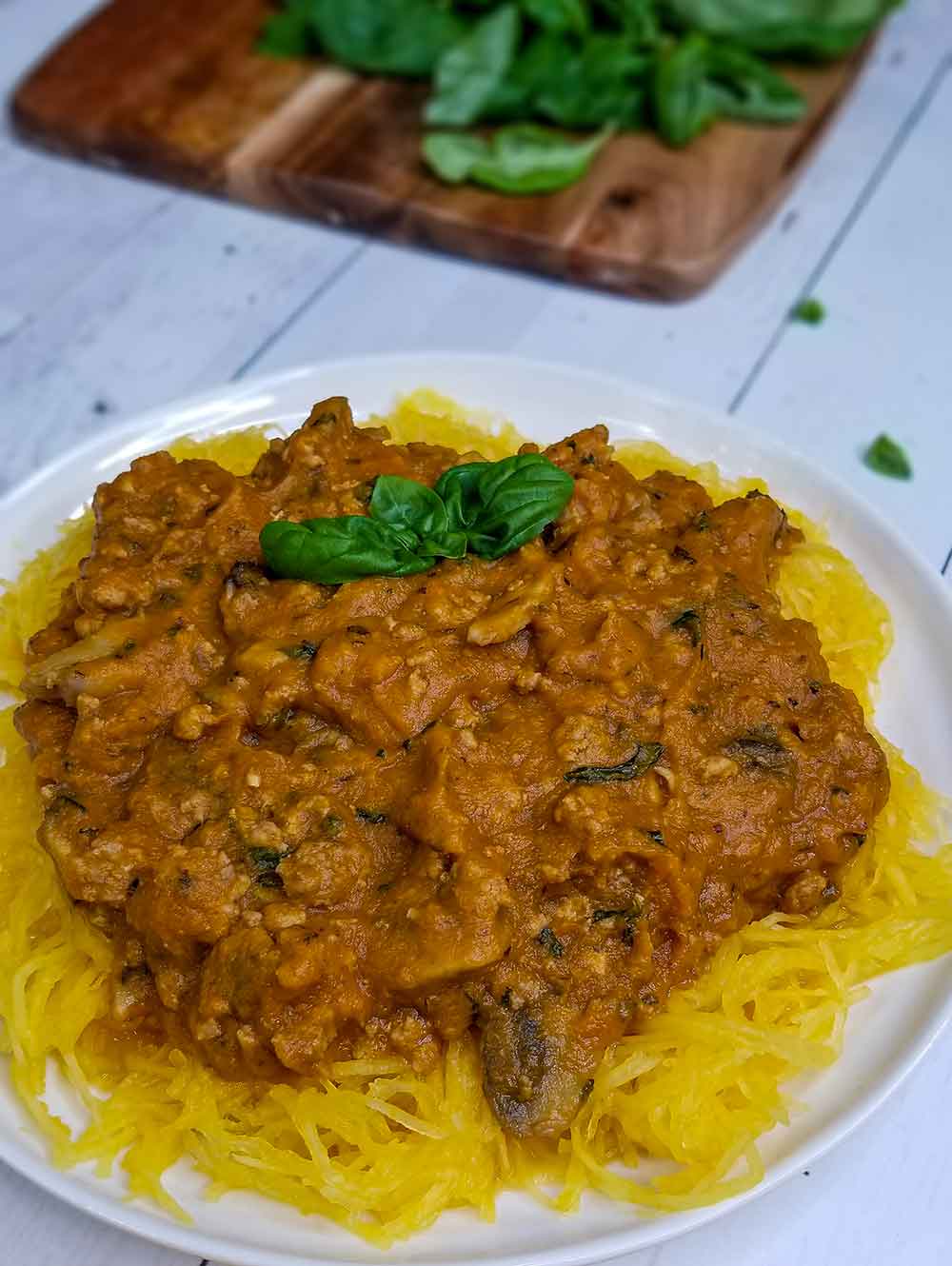 Recipe pairing ideas
This paleo spaghetti recipe can be served with AIP biscuits as a side (check out this great recipe by Eat Beautiful)!
Or these AIP breadsticks recipe by Primal Palate!
Recipe frequently asked questions
Does paleo spaghetti freeze well?
Yes! I often make this recipe when I am doing weekly meal prep, and then I divy everything out into six servings in glass containers and freeze until I'm ready to eat it.
Can I use this recipe for meal prep?
Yes, this recipe is actually perfect for meal prep because you get at least six servings in every batch of this paleo spaghetti recipe. And it freezes well.
Can I use this recipe for just the AIP spaghetti sauce?
Yes, if you just want the sauce recipe, simply leave out spaghetti squashes and the instructions that relate to baking those. The sauce is quick and easy to make on its own, and you can prepare it with any of the pasta substitutions I mentioned above in this post. Or hell, just eat it straight! I'm sure it would be good like that too… 😆
Paleo Spaghetti Recipe (AIP & Low FODMAP)
This paleo spaghetti recipe is also AIP, Low FODMAP, gluten free, dairy free and sugar free.
Instructions
Preheat your oven to 350 F

Cut your spaghetti squashes in half lengthwise

Using a spoon or squash scraper, scoop out all the seeds

Line 2 baking sheets with parchment paper and pour about 1/2 – 1 cup water into each pan

Place all 6 spaghetti squash halves facing down on the baking sheet, making sure to get some water underneath each

Bake spaghetti squash in the oven for 30-45 minutes, checking after 30 to see if its reached the desired consistency you want

While the spaghetti squash is baking, dice up your mushrooms and set aside

Dice up your fresh basil and set aside

On low to medium heat, brown your ground beef

Add the sliced mushrooms and continue cooking and stirring until it looks cooked through

Add all dry seasonings & fresh basil and mix everything together. Leave out a small amount of fresh basil for garnish at the end.

Add canned pumpkin and bone broth and mix well

Turn burner down to low and simmer for at least 15 minutes (or longer if you like!) until the flavours have mingled and the sauce has cooked down a bit

After taking your spaghetti squash out of the oven and letting it cool, scrape out each squash into a large bowl, or into 6 smaller containers if you are doing meal prep

Top spaghetti squash with sauce and serve
Nutrition
Calories:
432
kcal
Carbohydrates:
40.8
g
Protein:
38.7
g
Fat:
15.6
g
Saturated Fat:
6.8
g
Polyunsaturated Fat:
0.6
g
Monounsaturated Fat:
0.2
g
Cholesterol:
93.3
mg
Sodium:
1329
mg
Potassium:
1174.4
mg
Fiber:
12.5
g
Sugar:
15.6
g
Pin this recipe for later
Looking for more AIP or low FODMAP recipes?
Check out my one-month meal plans and recipe books for each.
Disclaimer: This recipe post contains Amazon affiliate links. This means that if you click on a link and make a purchase, I will receive a small commission (at no extra cost to you). This helps support me so that I can continue to put out high quality, free recipes for you guys! Thank you 😁🙌
About the author Tara Klippert
Tara Klippert is a Registered Health and Nutrition Counselor and holds a diploma in Holistic Nutrition and Health Coaching. She shares her gluten free, dairy free & allergy friendly recipes.