This ham bone split pea soup recipe is so nourishing and satisfying. I credit that the pig was from a local organic farm close to where I live here in the Yukon.
I purchase a full pig each year from the Aurora Mountain Farm. I like knowing that I am eating local, supporting a local business and encouraging organic farming. I like that I know what the animals are eating and how they are being treated and raised. I know that they are appreciated for the sustenance that they eventually bring us.
After the pig goes to a local butcher, I have bacon and ham made – there are a couple of butcher shops in town that will make them without nitrates or sugar, if you ask.
After roasting the ham and enjoying it as a separate meal, I take the ham bone and little bits of leftover meat and make 12–24 hour bone broth in the slow cooker. This is an amazing way to pull out the gelatin and amino acids from the bones into the bone broth to make it super satisfying and rich.
Then to make this ham bone split pea soup recipe, I use both the bone broth from the ham bone as well as the leftover meat to make this delicious and creamy soup.
I also make sure to keep the organs and fat trimmings from the whole pig each year so that I can make homemade pork lard, which is absolutely fantastic for high-temperature cooking and deep frying. I haven't gotten super adventurous with the organ meats yet, but I hope to get there in time.
It really feels good to know that you are respecting, using and being nourished by the whole animal as opposed to only eating the muscle meat and nothing else.
Read more about the benefits of nose to tail eating!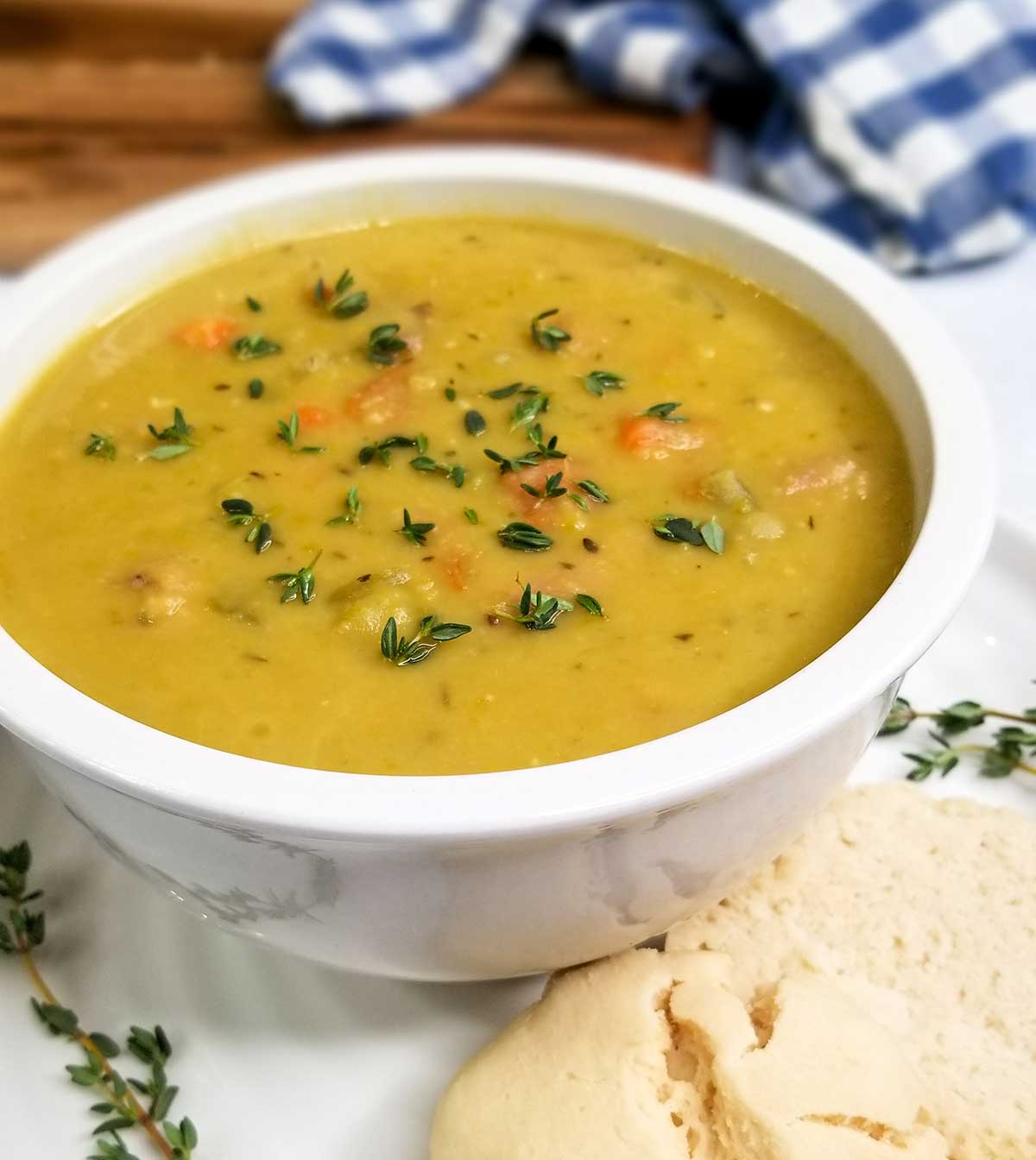 What makes this ham bone split pea soup a healthy choice?
It is gluten-free, dairy free, soy free and could be made vegan without the ham/bone broth. Bonus: it's super easy to make. It does take a bit longer to cook though, especially if you want the peas to get nice and soft.
If you can, I would recommend doing this one on a slow and low simmer for a few hours for maximum awesomeness!
Recipe substitutions or variations
Use pre-cooked ham: if you don't want to bother with cooking the ham or making the bone broth, you can also just buy precooked boneless ham and use that. This will significantly reduce the amount of time it takes to make this recipe.
Swap out the bone broth: if you don't want to spend the time making 24 hour bone broth, you can swap it out for any other type of broth, homemade or store-bought.
Make this recipe vegan: swap out the bone broth for vegetable broth, and leave the meat out.
Recipe pairing ideas
This ham pea soup recipe is absolutely fantastic with biscuits on the side and to dip in it.
By the way, those biscuits you see on the side in my photos? Those are totes gluten and dairy free and the recipe is by Mama Knows Gluten-free. I have made them a number of times and they are on point.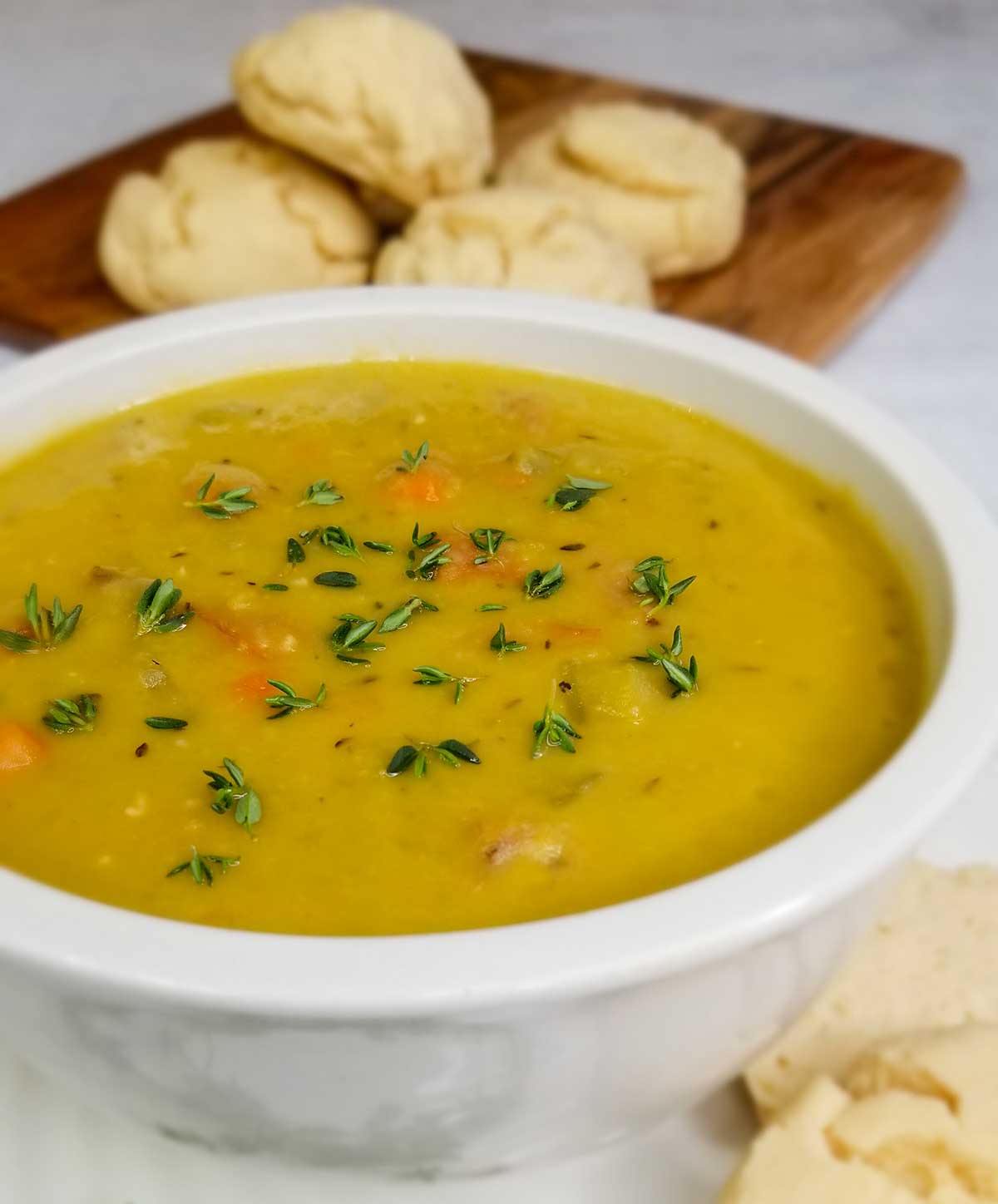 Recipe FAQs
How do I make my ham and pea soup thicker?
The trick to making ham pea soup thicker is to make sure you don't use too much liquid in relation to the other ingredients. You'll also want to make sure that you cook the soup for a longer length of time to ensure that the split peas fully break down and become super soft. This will thicken up the broth so that it doesn't end up too liquidy.
What can I substitute for ham in split pea soup?
If you can't access ham, or want to avoid the nitrates, salt or sugar, you could also use pork shoulder roast or any other type of pork meat. If you decide to swap out the ham for regular pork, you may want to add some salt to the recipe for extra flavour since you won't be getting the salt from the ham and ham bone broth.
How do you make split pea and ham soup from scratch?
Below in the recipe card I go into more detail on how to make split pea and ham soup from scratch, but essentially it starts with baking your ham (or having leftover ham). Then once you've cut all the ham off the bone, you make broth with the ham bone. Then you boil your vegetables and seasonings in the ham broth until everything starts getting soft and then add your chopped up cooked ham meat and simmer until everything is soft and the flavours have all blended together.
Do split peas need to be soaked before cooking?
Split peas do not need to be soaked before cooking, however soaking them can provide additional benefits such as reducing the bloating and gas that some people experience from eating legumes and beans. It can also help the split peas cook faster.
How do you make split pea soup less gassy?
If you are worried about getting gassy, soak your split peas ahead of time for roughly 8 to 12 hours. This can help break down certain sugars in beans and peas that lead to gas. Check out this article by Taste of Home to learn more and to get the full instructions.
What can you serve with split pea soup?
My favourite thing to serve with split pea soup is biscuits. Use your favourite biscuit recipe, or if you want to make them gluten and dairy free, my favourite biscuit recipe is by Mama Knows Gluten-free.
Do you have to use ham bone broth for this recipe?
You do not need to use ham bone broth for this recipe and can use any other type of broth that you wish. However, I find that using ham bone broth makes the soup rich and nourishing and gives it the best flavour. There are also many wonderful benefits to consuming bone broth.
Pin this recipe for later
If you can't make my ham bone split pea soup now, make sure to pin the recipe for later so you have it handy!
Looking for more gluten and dairy free recipes?
Check out my free seven day meal plans. If you are looking for more, I also offer a one month gluten and dairy free meal plan as well as an accompanying recipe book (which comes with 140 recipes – 35 for breakfast, 35 for lunch, 35 for dinner, and 35 for snacks/desserts).
Ham Bone Split Pea Soup Recipe
This recipe is gluten free, dairy free, and soy free.
Equipment
Large pot

Slow cooker

Stove

Measuring cups & measuring spoons

Strainer
Ingredients
1

lb

cooked bone-in ham, chopped

1

ham bone

2

L

ham bone broth

(or broth of choice)

1

lb

split peas

3

celery stalks

3

carrots

4

bay leaves

1.5

tsp

thyme

1/2

tbsp

garlic powder
Instructions
Bake your bone-in ham according to the instructions on the packaging, or from the guide at recipetips.com. For the best results, enjoy your ham the first day you cook it and get your ham bone broth started (instructions below) so that the following day you can make this recipe with your rich and nourishing bone broth.

Save at least 1 pound of cooked meat to make your soup with. Cut up the leftovers into small cubes and put in the fridge to store until the following day.

Put your ham bone in a crock pot filled with water. Make sure the ham bone is covered but don't fill it up too full – leave about an inch on top so that when it comes to a soft boil, it wont start bubbling over. This is especially important if you are going to be slow cooking it overnight.

Once your bone broth is complete, unplug your slow cooker and let cool for around 30 minutes.

Top a large mixing bowl with a large strainer and carefully pour through the broth and bones.

Once the broth fully drains through, you can get rid of your bones (unless you want to boil them again for a second batch of bone broth!).

If you are not ready to make your soup, strain your bone broth into mason jars and store in the fridge.

Once you are ready to make your soup, add 2 liters of bone broth into a large pot on the stove. If you don't have the full 2 liters of broth, top it up with extra water (this all depends on the size of your crockpot and how much broth it yields!).

Chop up your carrots and celery into small cubes.

Add green split peas, carrots, celery, bay leaves, thyme and garlic powder into the broth and bring to a boil. Once boiling, reduce heat to a simmer.

Simmer, stirring often until the soup is starting to thicken up. Roughly 45 minutes.

Add your chopped up ham and simmer for another 45 minutes or so, stirring often.

At any time you can remove the soup from the stove if you are happy with the consistency, but I highly recommend simmering for the full time as it makes a very thick and creamy soup. It should look something like this.

Remove the bay leaves and serve.

If you are doing this meal for meal prep, divvy out into 6 containers and store in the fridge or the freezer. If you store it in the fridge, eat within 1 week or less.
Nutrition
Serving:
6
g
Calories:
327
kcal
Carbohydrates:
17.5
g
Protein:
23.7
g
Fat:
17.2
g
Saturated Fat:
3
g
Polyunsaturated Fat:
0.1
g
Monounsaturated Fat:
0.7
g
Trans Fat:
0
g
Cholesterol:
51.4
mg
Sodium:
2221
mg
Potassium:
1052
mg
Fiber:
6.5
g
Sugar:
3.2
g
About the author Tara Klippert
Tara Klippert is a Registered Health and Nutrition Counselor and holds a diploma in Holistic Nutrition and Health Coaching. She shares her gluten free, dairy free & allergy friendly recipes.