This healthy salad is fresh, colorful and full of flavor! It combines mixed greens, fresh chopped vegetables, nuts and fruit, and an easy homemade maple balsamic salad dressing.
I use maple extract in the salad dressing to make it sugar-free, but I provide options to swap it out for real maple syrup.
Recipe ingredient substitutions
Spring mix substitutions
Instead of spring mix, there are a ton of different mixed greens at the grocery store. You can also use any combination of romaine lettuce, iceberg lettuce, arugula, spinach, micro greens etc.
Vegetable substitutions
Consider adding or swapping out additional vegetables such as carrots, pickled beets, pickled onions, red onion, red pepper, cauliflower, etc.
Green onion substitutions
Instead of green onions, you can also use fresh chives. Alternatively, any onion will do, such as white onion, red onion or shallot.
Blueberry substitutions
Instead of using fresh blueberries, use other berries such as raspberries, blackberries, or strawberries.
Pecan halves substitutions
I used pecan halves for this salad, but you can also use whole pecans or pecan pieces. You can find these in the baking section of your grocery store. If you want to add more crunch and sweetness, you could also use homemade candied pecans! Or even swap out the pecans for another type of nut such as cashews, almonds, walnuts or pine nuts.
Olive oil substitutions
Instead of olive oil, you can use avocado oil, liquid coconut oil, canola oil, safflower oil, sunflower oil or any other oil of choice.
Balsamic vinegar substitutions
Although this is a balsamic dressing, you can still use other vinegars such as white wine vinegar, red wine vinegar, rice vinegar or apple cider vinegar. You can even swap the vinegar out for fresh squeezed lemon juice.
Garlic powder substitutions
Instead of garlic powder, you can use 1 fresh garlic clove. If you do this, you may need to make the dressing in a blender or food processor. Or you can dice the garlic up finely yourself before adding it to the dressing.
Onion powder substitutions
Instead of onion powder, you can use diced up white onion, red onion or shallot. If you want your dressing to be smooth, blend it in a food processor or blender for a minute.
Maple extract substitutions
I chose to make this maple balsamic vinaigrette sugar-free by using maple extract, but you can easily swap it out for 1 tablespoon of maple syrup if you want a bit more sweetness.
Recipe variations
Add vegan or regular cheese
I didn't use cheese in this recipe, but it would taste absolutely fantastic with it. If you don't do dairy, try adding vegan feta or parmesan cheese. If you do dairy, consider adding regular feta cheese, goat cheese, or parmesan cheese.
Add protein
Make this salad a full meal deal by adding additional protein such as grilled chicken, baked smoked salmon, beef strips, or tofu.
Use a blueberry vinaigrette dressing
Instead of including whole fresh blueberries in the salad, you can blend them right into the dressing by making a blueberry vinaigrette!
Dietary modifications
Make this recipe lower calorie
If you are following a low calorie diet, reduce the amount of olive oil to 1/8 cup. Or if you want, you can completely omit the olive oil. You can also omit the avocado.
Make this recipe candida diet friendly
Omit or reduce the amount of blueberries. Swap out the balsamic vinegar for fresh squeezed lemon juice. Make sure to use maple extract and not maple syrup.
Make this recipe AIP friendly
Omit the pecans. Swap out the balsamic vinegar for apple cider vinegar with mother.
Make this recipe low FODMAP
Omit the broccoli and avocado from the salad. From the salad dressing, omit the onion powder and garlic powder.
Recipe pairings
This salad makes a great side dish for the following meals:
burgers
grilled chicken or chicken salad
baked salmon
barbecued ribs
homemade soup
On its own with some added protein like chicken, salmon or beef strips!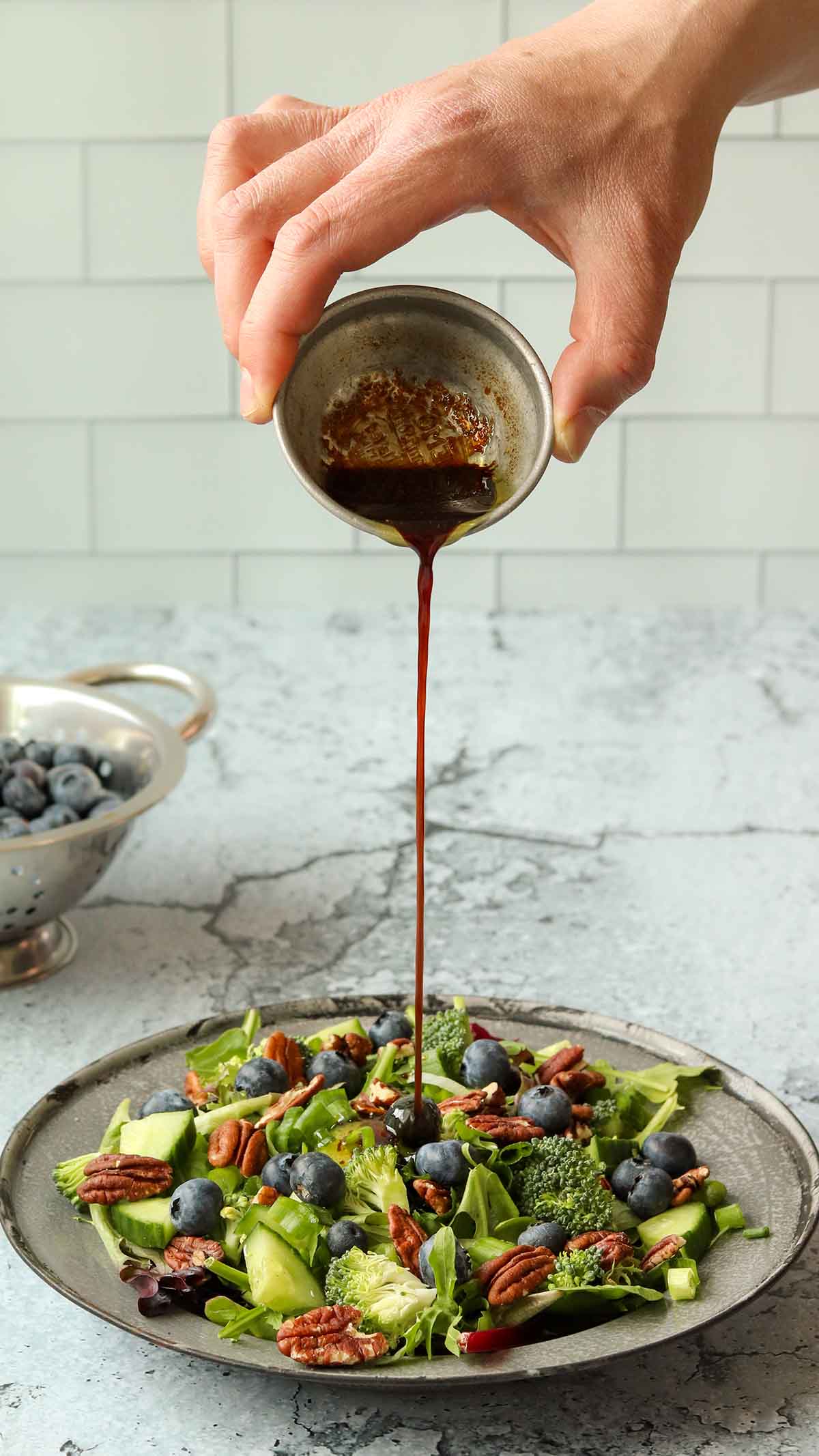 Storage tips
If you have leftovers, or want to prepare this for lunches or dinners throughout the week, I suggest storing your green salad ingredients separately in a container. Store your blueberries, pecans and salad dressing in their own containers. When you are ready to eat your salad, then add your blueberries and pecans as well as your dressing.
Frequently asked questions
Why is my dressing separating?
This maple balsamic vinaigrette does not contain any emulsifying agents that prevent the oil and vinegar from separating. Before you add some to your salad, put it in a mason jar with a tight lid and shake it up first. If you want to prevent your dressing from separating, add an emulsifier such as mayonnaise.
How can I prevent my salad from getting soggy in the fridge?
If you think you will have leftovers of this salad or are making it ahead of time, I highly suggest storing all of the individual ingredients in separate sealed containers in the fridge – salad greens, chopped cucumber, chopped broccoli, chopped green onion, blueberries, and pecans. Only cut up as much avocado as you need for the current sitting. Once chopped, avocado gets very brown, very quickly. Regarding the dressing, keep it separate from the rest of your salad ingredients. This way, your salad will last for up to 2 – 3 days in the fridge.
Tried my blueberry pecan salad recipe?
Please leave me a rating and review below, and post a picture of the dish to Instagram and tag me at @foodsnfeels 🙌
You might also like
If you liked this recipe, check out my other salad recipes:
If you are looking for more, download one of my free seven day meal plans!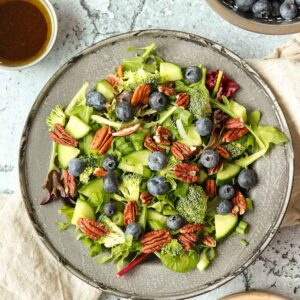 Blueberry Pecan Summer Salad with Maple Balsamic Vinaigrette
This healthy salad is fresh, colorful and full of flavor! It combines mixed greens, fresh chopped vegetables, nuts and fruit, and an easy homemade maple balsamic salad dressing.
Ingredients
Summer salad
1

container salad greens spring mix

(142 g)

1

stalk broccoli

1/2

cucumber

1

bunch of green onions

1/2

cup

fresh blueberries

1/2

cup

pecan halves

2

ripe avocados
Maple balsamic vinaigrette
Instructions
Start by adding your mixed greens to a large salad bowl.

Then wash and chop the broccoli, cucumber and green onions and add them to the bowl.

Measure out and add your blueberries and pecans.

Open and slice up your ripe avocado.

Store these in a separate bowl, and once you are ready to eat you can add them to the rest of the salad ingredients.

In a mason jar, mix up your olive oil, balsamic vinegar, garlic powder, onion powder, salt and maple extract (or maple syrup).

Give it a good shake or stir before pouring on your salad. Don't add the dressing until you are ready to eat so that your salad does not get soggy. Enjoy!
Notes
Above in the blog post I provide ingredient substitutions, recipe variations, dietary modifications, FAQs and storage tips.
Nutrition
Calories:
282
kcal
Carbohydrates:
13
g
Protein:
4
g
Fat:
25
g
Saturated Fat:
3.5
g
Polyunsaturated Fat:
2
g
Monounsaturated Fat:
13
g
Trans Fat:
0
g
Cholesterol:
0
mg
Sodium:
120
mg
Potassium:
440
mg
Fiber:
6.5
g
Sugar:
3.5
g
Disclaimer: This recipe post contains Amazon affiliate links. This means that if you click on a link and make a purchase, I will receive a small commission (at no extra cost to you). This helps support me so that I can continue to put out high quality, free recipes for you guys! Thank you 😁🙌