This healthy salad dressing recipe is quick, easy and nutritious. It is creamy and rich, even though it is vegan and does not contain dairy.
There is a local bar and restaurant where I live in Whitehorse, Yukon called The Ridge that has homemade dressings that they serve with their salads. My favorite is their creamy balsamic vinaigrette dressing! So obviously I decided I had to try and replicate it myself.
It's quick and easy with simple ingredients, and tastes way better than the store-bought salad dressings.
Below I provide options for ingredient substitutions and recipe variations.
Recipe substitutions
Olive oil substitutions: Instead of using extra virgin olive oil, you could use any other type of cooking oil such as safflower, sunflower, canola oil or a vegetable oil mix. Avocado oil is also good. Just make sure that its a type of oil that stays liquid at room temperature.
Balsamic vinegar substitutions: Instead of balsamic vinegar, you can swap it out for any other type of vinegar such as rice vinegar, apple cider vinegar, white vinegar, distilled vinegar, or red wine vinegar.
Maple syrup substitutions: Instead of using maple syrup for a touch of sweetness, you could also use honey or agave syrup. I wouldn't suggest using granulated sugar or brown sugar because it may taste a bit gritty. Alternatively, you could omit the sugar altogether.
Garlic clove substitutions: Instead of using fresh garlic cloves, you could swap it out for 1/2 teaspoon of garlic powder.
Fresh shallot substitutions: Instead of using fresh shallot, you can swap it out for 1 teaspoon of onion powder. Alternatively, you can also just use 1 to 2 tablespoons of white, red or yellow onion.
Yellow mustard substitutions: Instead of yellow mustard, you could also use dijon mustard or any other type of mustard. If you are using a really spicy mustard, you could reduce the amount to 1/2 teaspoon.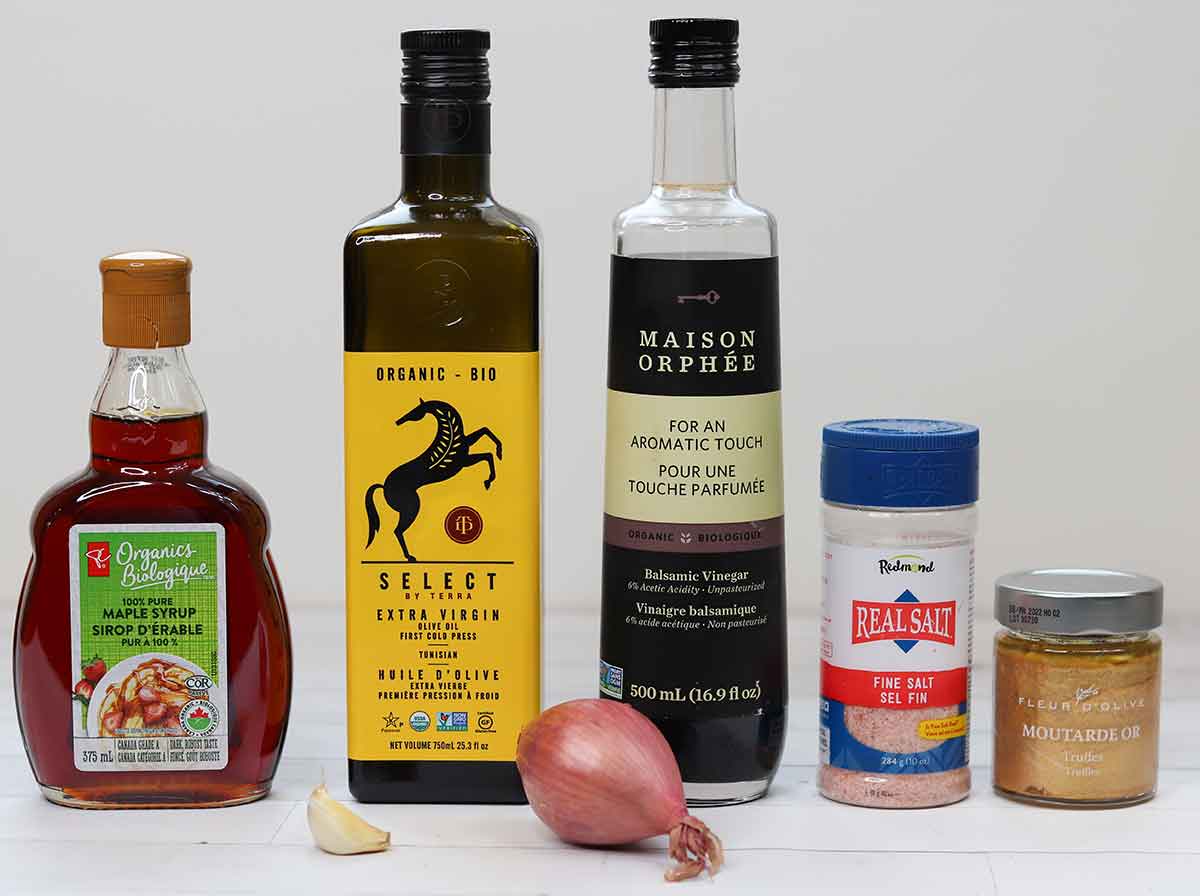 Recipe Variations
Flavor substitutions: Feel free to change or add other flavors to suit your tastes. Homemade salad dressings can have almost anything in them. Black pepper, lemon juice, dried herbs, gluten-free soy sauce, egg yolks, or even dairy-free sour cream all add extra flavor and texture. Use whatever you have on hand and skip the trip to the grocery store.
Dietary modifications
Make this recipe lower calorie/fat: To make this dressing with fewer calories, reduce the amount of extra-virgin olive oil to 1/4 cup instead of 1/2 cup.
Make this recipe lower sugar/carb: Instead of using regular maple syrup, you could also use a sugar and calorie free keto friendly maple syrup. Alternatively, you can just omit the maple syrup altogether.
Make this recipe lower FODMAP: Omit the garlic clove and shallot.
Make this recipe candida diet friendly: Swap out the balsamic vinegar for raw organic apple cider vinegar with mother. Omit the maple syrup.
Make this recipe AIP: Omit the mustard.
Recipe pairings
Garden Salad: Use this tangy vinaigrette dressing in the way it was intended. On a garden salad with salad greens, cucumber, cherry tomatoes, and red onions. At the restaurant I got inspiration for this from they also add grated beets and carrots which are the best part. Any fresh vegetables will work.
Spinach Salad: Mix together a little spinach, some strawberries, walnuts, red onion and a little dairy free feta. Add this balsamic salad dressing and you're done!
Pro tips for this recipe
Blend thoroughly on high power: You'll want to make sure you use a high-powered blender to make this dressing. Because it uses fresh garlic and shallot, you'll want to make sure they get completely blended up otherwise you may have little chunks of garlic or onion in your dressing. I make sure to blend mine on high for at least two or three minutes.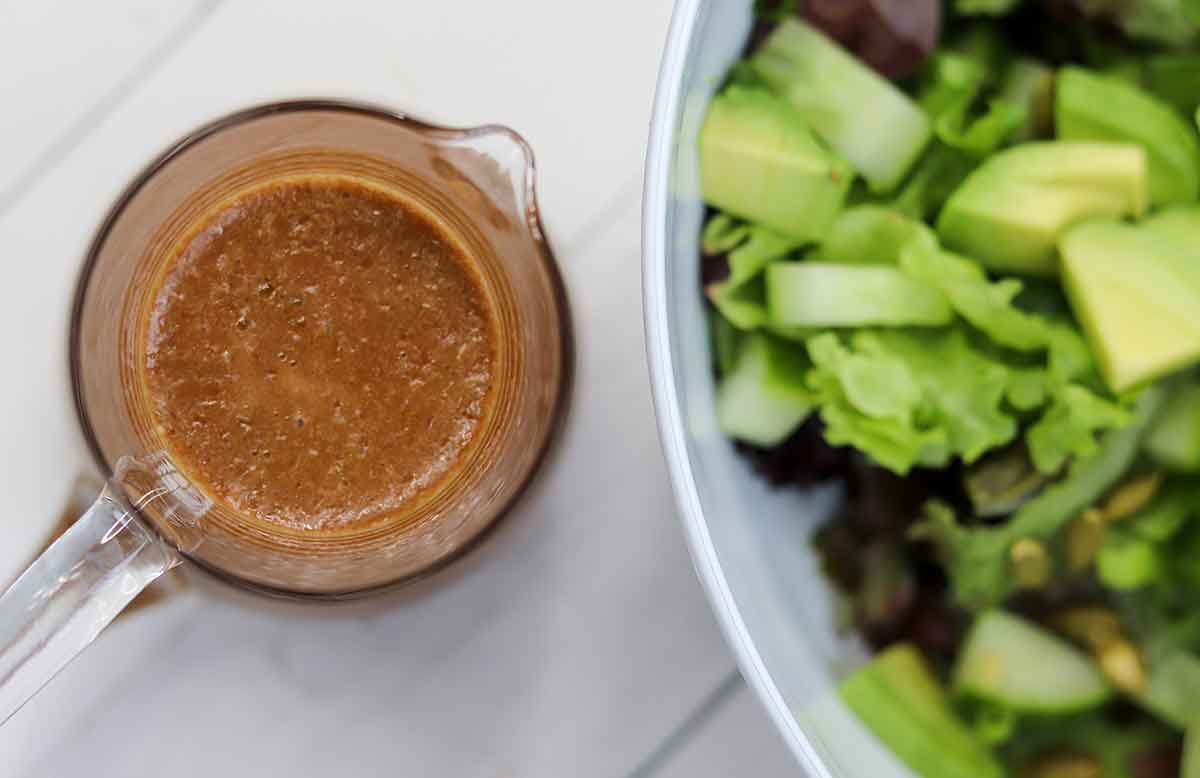 Frequently asked questions
How is this recipe creamy without dairy?
By blending it, it gives it a creamy texture without actually adding any cheese or other milk products. Trust me, you won't miss it in this one. The acidity of the vinegar combined with the sweetness of the syrup and the bite of the mustard gives this dressing a great taste with all the bold flavors.
How long does this dressing last in the fridge?
Because this dressing contains fresh garlic cloves and shallot, it will only last in the fridge for up to seven days maximum. Ideally though, you'll want to eat it up within 3-5 days. Make it in small batches every few days to have it on hand all week long.
What should I eat my maple balsamic vinaigrette on or with?
My favorite way to eat this dressing is with a huge salad containing mixed greens, half a ripe avocado, green onions, diced up cucumber, roasted and salted pumpkin seeds, and cut up cooked boneless skinless chicken breast. This dressing would taste amazing with any other combination of salad ingredients. Other foods you could use this creamy dressing on are: pasta salad, roasted chicken, or roasted vegetables.
Can I make this with an immersion blender?
Yes, just make sure you use a thin tall glass or jar to mix it in so that it doesn't splash.
Tried my homemade balsamic dressing recipe?
Please leave me a rating and review below, and post a picture of the dish to Instagram and tag me at @foodsnfeels 🙌
You might also like
If you liked this recipe, check out my other salad & salad dressing recipes:
If you are looking for more, download one of my free seven day meal plans!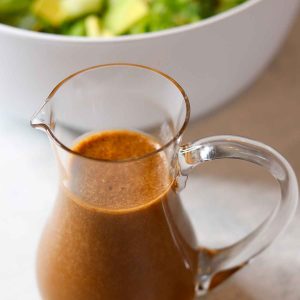 Creamy Balsamic Dressing Recipe
This creamy balsamic dressing recipe is quick, easy and nutritious. It is creamy and rich, even though it is vegan and does not contain dairy.
Equipment
Reusable salad dressing container

(or mason jar with lid)
Instructions
Add all ingredients to your food processor or high speed blender and blend until completely smooth – roughly 2 to 3 minutes.

Store any leftover dressing in a mason jar or airtight container in the fridge for 3-5 days. It is common for this dressing to separate in the fridge. When you are ready to use it, just give it a good shake and you are good to go!
Notes
In the blog post above, I include recipe ingredient substitutions as well as recipe variations.
Nutrition
Calories:
158
kcal
Carbohydrates:
9.8
g
Protein:
0.1
g
Fat:
13.5
g
Saturated Fat:
1.9
g
Polyunsaturated Fat:
1.4
g
Monounsaturated Fat:
9.9
g
Trans Fat:
0
g
Cholesterol:
0
mg
Sodium:
154.1
mg
Potassium:
31.7
mg
Fiber:
0.1
g
Sugar:
8.8
g
Disclaimer: This recipe post contains Amazon affiliate links. This means that if you click on a link and make a purchase, I will receive a small commission (at no extra cost to you). This helps support me so that I can continue to put out high quality, free recipes for you guys! Thank you 😁🙌