This dairy-free caesar salad dressing contains no mayo and no raw eggs. It is made with extra-virgin olive oil, white vinegar, nutritional yeast, anchovy paste, fresh garlic and onion, and salt. Super simple and delicious. It's also low carb and keto friendly. The key ingredients for that classic caesar dressing taste are the fresh garlic cloves and the anchovies. This recipe brings those flavors to the forefront.
This creamy dressing does not contain any emulsifying ingredients (like raw egg yolk) or thickeners (like xanthan gum). This basically means that there is nothing that holds the oil and other sauce ingredients together and prevents it from separating. For this reason, you will want to stir or shake it before each serving.
Recipe ingredient substitutions
Extra-virgin olive oil substitutions: Instead of extra virgin olive oil, you can use any other type of neutral oil you prefer such as avocado oil, canola oil, soybean oil or a vegetable oil blend. If you just find extra-virgin olive oil too strong, you can swap it out for a lighter tasting olive oil. For the best results, a good quality oil here makes a big difference.
Anchovy paste substitutions: Instead of using anchovy paste, you can also use whole anchovy fillets. Probably one or two whole anchovies would be sufficient. If you want to make a vegan caesar dressing, swap out the anchovies for capers.
Shallot substitutions: Instead of using shallots, you can use white or red onion, or even green onion. Or feel free to use 1/4 teaspoon of onion powder, or omit the onion altogether.
Fresh garlic clove substitutions: Instead of 1 fresh garlic clove, swap it out for 1/8 teaspoon garlic powder.
White vinegar substitutions: Instead of white vinegar, I have also used white rice vinegar with good success. You could also swap it out for white wine vinegar, apple cider vinegar, or lemon zest. Fresh lemon juice or lemon juice concentrate is fine too!
Recipe variations
Flavor variations: For a bit of extra zip, you can add a splash of gluten-free worcestershire sauce, dijon mustard, ground mustard seed or black pepper. Vegan parmesan cheese will also give it a bit of a cheesy flavor. Any other organic spices or herbs that you want to add will work.
Make this recipe thicker: If you're looking for something to thicken up this dressing, you can try adding some vegan greek yogurt, just make sure it's not vanilla flavored.
Add egg yolk: If you tolerate eggs, feel free to add 1 egg yolk.
Use vegan mayo instead of regular mayo: If you are just avoiding the egg yolk in the mayonnaise, feel free to add some vegan mayonnaise instead. This will help your homemade dressing thicken up and prevent the ingredients from separating.
Make your own homemade mayonnaise: If you are avoiding the more processed store-bought mayonnaise, you can also make your own homemade mayonnaise to add to the dressing.
Dietary modifications for this recipe
Make this recipe vegan: Omit the anchovy paste and replace it with capers. They wont have the same anchovy flavor, but they're similar enough.
Make this recipe low FODMAP: Omit the garlic and onion.
Make this recipe AIP: Use raw apple cider vinegar (with mother) instead of white vinegar.
Make this recipe low acid: Omit the vinegar. I have done this recipe many times without the vinegar and it still tastes really good.
Make this recipe candida diet friendly: Omit the white vinegar. Replace with fresh lemon juice (or raw organic apple cider vinegar if tolerated).
Make this recipe keto: It's already keto as it has a negligible amount of sugar or carbs.
Pro tips for this recipe:
Always shake or stir before serving this dressing
Traditional caesar dressings often use emulsifiers such as egg yolk or mayonnaise to ensure that the oil does not separate from the rest of the ingredients. Because this recipe does not use egg or mayonnaise like the original recipe, it does not contain emulsifying agents and separates very quickly. Give it an aggressive shake or stir before you pour it on your salad!
Recipe pairing ideas
Salads: My favorite way to eat this dressing is on romaine salads with homemade bacon bits, roasted seasoned chicken breast, avocado, green onions, and roasted/salted pumpkin seeds. It's also fantastic as a classic caesar salad with just romaine lettuce, gluten-free homemade croutons and vegan shredded parmesan cheese on top. And then top it with extra protein as desired!
Dip: In addition to being a tasty salad dressing, this will also taste great for dipping gluten-free bread or veggies like broccoli or cauliflower in. You could even roast them first and drizzle this dressing on top after. Caesar dressing tastes great on everything after all!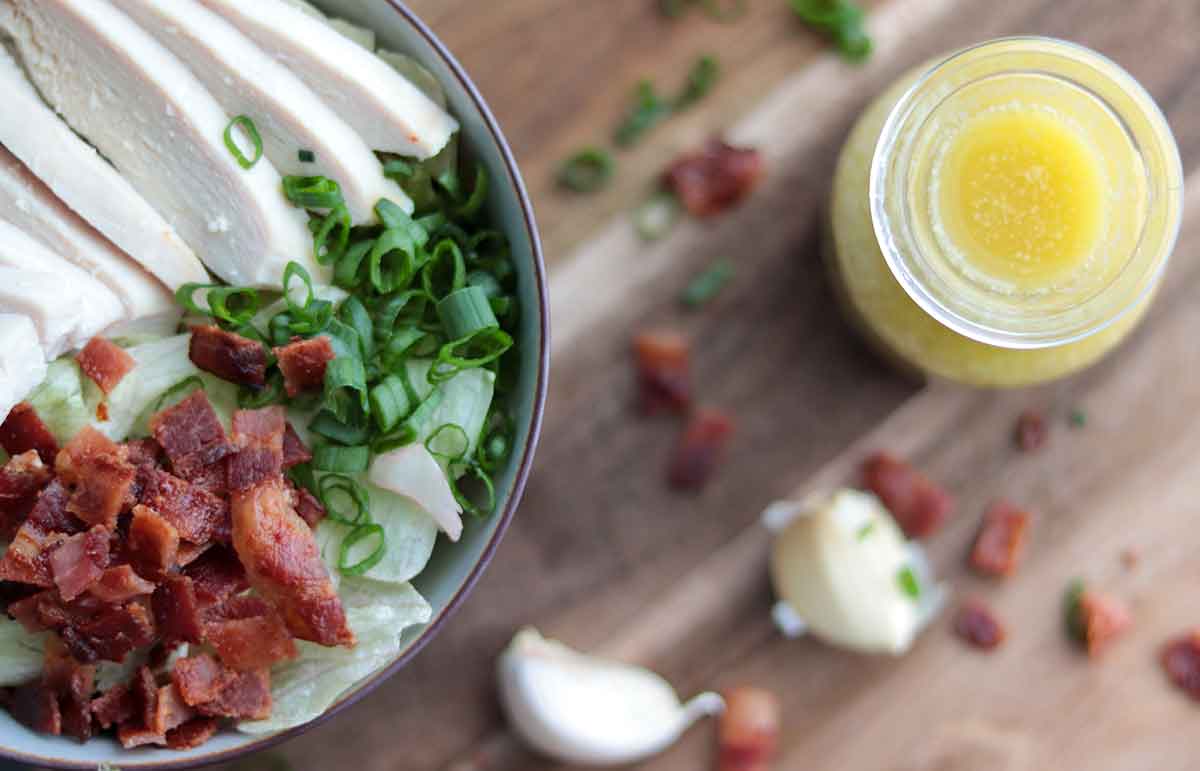 FAQ
I don't have a food processor, what else can I use?
A blender works, or an immersion blender. The big thing here is a smooth consistency and so I recommend something that can blitz it all together. No one wants a dressing with chunks in it!
I don't like vinegar or lemon juice, is there anything else I can use?
Coconut aminos, gluten-free soy sauce, or even a bit of fish sauce will also work. It might not taste exactly like real caesar dressing but it will still be great!
Tried my homemade dairy-free caesar dressing?
Please leave me a rating and review below, and post a picture of the dish to Instagram and tag me at @foodsnfeels 🙌
You might also like
If you liked this, check out my other dairy free salad & salad dressing recipes:
If you are looking for more, download one of my free seven day meal plans!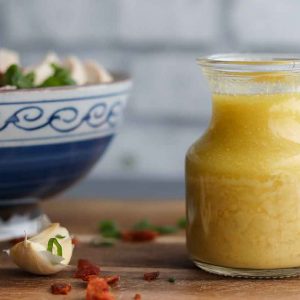 Dairy Free Caesar Dressing (No Mayo & No Egg)
This healthy homemade caesar dressing contains no dairy, no mayo and no egg. It's also low carb and keto friendly.
Instructions
Add all of the ingredients to your food processor or blender including extra-virgin olive oil, anchovy paste, nutritional yeast, shallot, garlic, white vinegar and salt.

Blend all of the ingredients together on high until you get a smooth sauce free of chunks.

Make sure to shake or stir before serving. It lasts in the fridge for roughly one week in sealed containers or mason jars.
Notes
Above in the blog post I provide recipe ingredient substitutions as well as dietary modifications. 
Nutrition
Calories:
141
kcal
Carbohydrates:
1
g
Protein:
0.2
g
Fat:
14.6
g
Saturated Fat:
2
g
Polyunsaturated Fat:
1.5
g
Monounsaturated Fat:
10.6
g
Trans Fat:
0
g
Cholesterol:
0
mg
Sodium:
295
mg
Potassium:
9
mg
Fiber:
0.5
g
Sugar:
0.6
g
Disclaimer: This recipe post contains Amazon affiliate links. This means that if you click on a link and make a purchase, I will receive a small commission (at no extra cost to you). This helps support me so that I can continue to put out high quality, free recipes for you guys! Thank you 😁🙌