If you're looking for a treat that also packs a serious health punch, these pomegranate gummies are for you.
Compared to their processed refined counterparts, these gelatin gummies are rich in nutrients, amino acids, protein, and all the healing properties of grass fed gelatin.
On top of that, pomegranate juice is high in antioxidants and vitamin C. Read more about the benefits of pomegranate.
Recipe substitutions & variations
Recipe substitutions
Pomegranate juice substitutes: instead of using pomegranate juice, you can use literally any other kind of juice you want! This includes orange juice, apple, grapefruit, peach, strawberry, cherry, and even vegetable juices like carrot if you want to get really fancy.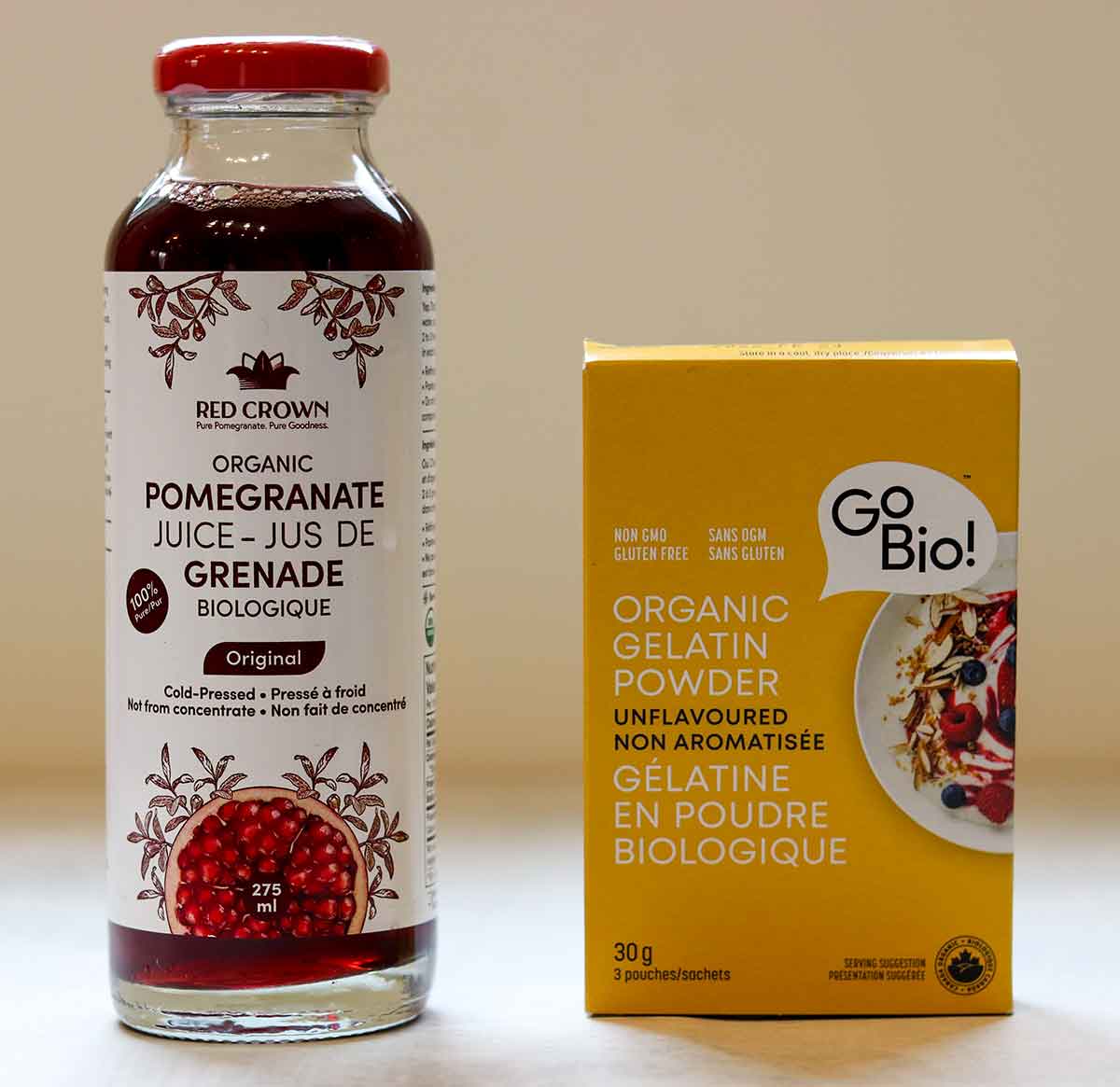 Bottled juice substitutes: instead of using bottled juice, you can often find fresh squeezed juice at your local supermarket or health food store. Or alternatively, if you have your own juicer, you can make any type of juice that you want. If you end up with more juice than the recipe calls for, adjust the amount of gelatin as needed.
Organic/grass fed gelatin powder substitutes: If you can't access organic and/or grass fed gelatin powder, you can also use non-organic gelatin powder. Use the same amount.
Recipe variations
Increase the amount of gelatin: if you want to access more of the healing benefits of gelatin in this recipe, you can use up to 4 tablespoons of gelatin with the same amount of liquid.
Reduce the amount of sugar: If you are watching your sugar intake, you can cut down the amount of juice that you use and add additional water to make up for the lost liquid. Also make sure to look for juices that are not from concentrate as they tend to be more tart and lower in sugar.
Pro tips for this gelatin gummies recipe
Pro tip #1: Make sure to spray your silicon moulds with coconut oil cooking spray. This will ensure that the gummies will not break or stick to the moulds when you pull them out. This is especially important if you want them to look pretty! If you don't care how they look then it's all good if you don't spray them. You can also put them in the freezer after they have set and this will allow them to pop out a little bit more easily.
Pro tip #2: before you pour the pomegranate juice gelatin mixture into your silicon moulds, place the moulds on top of a baking sheet or pan. This will catch any liquid that spills, and will make it super easy to move the moulds into the fridge to set. Because silicon moulds are super floppy, you will spill juice everywhere if you try to lift them up with your hands.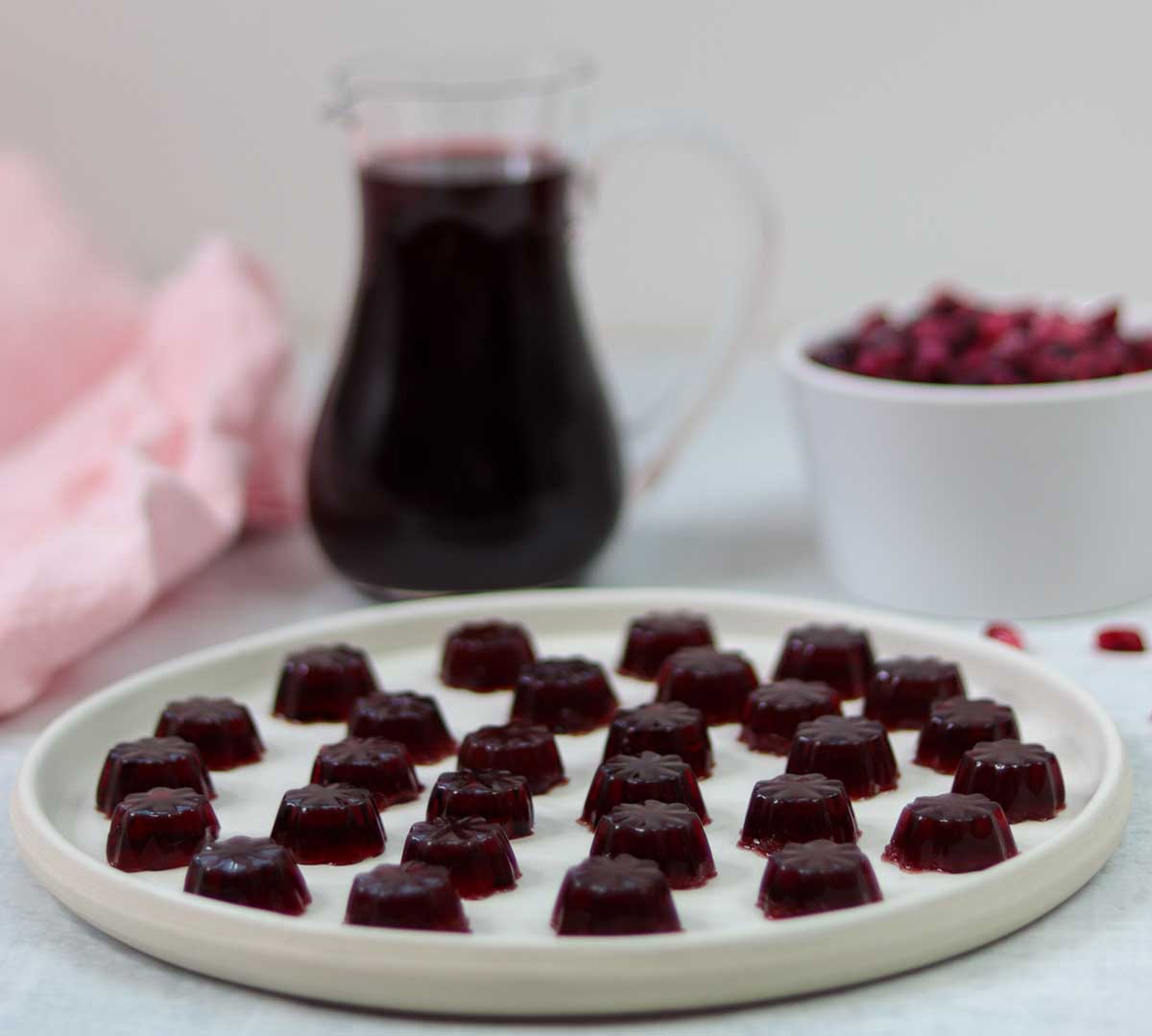 Recipe FAQs
How long do gelatin gummies last?
Homemade gelatin gummies will last up to 1 week in the fridge. They will last for much longer in the freezer if you aren't able to eat them up within 1 week.
What are pomegranate gummies good for?
Pomegranate juice is high in antioxidants and vitamin C, and may help reduce inflammation. Gelatin, which is used to harden up gummies, is rich in amino acids and protein, and may help to boost collagen in the body. Read more about the benefits of pomegranate as well as the benefits of gelatin.
Pin this recipe for later
If you can't make my healthy homemade gummies now, make sure to pin the recipe for later so you have it handy!
Tried the recipe?
Please leave me a rating and review below, and post a picture of the dish to Instagram and tag me at @foodsnfeels 🙌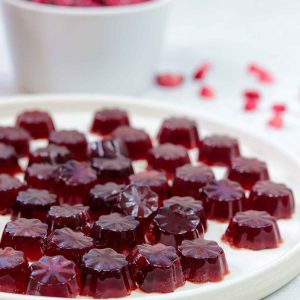 Pomegranate Gelatin Gummies Recipe
These pomegranate gelatin gummies are rich in nutrients, amino acids, and protein.
Equipment
Stove

Medium-sized pot

Measuring cups and spoons – including a 2 cup (500ml) glass measuring cup

Silicon moulds (enough to hold roughly 300 mL of liquid)

1 to 2 baking sheets/pans
Ingredients
275

ml

pomegranate juice

2

tbsp

gelatin powder

(preferably organic and/or grass fed)

Coconut oil cooking spray

(optional but highly recommended)
Instructions
In a medium-sized pot, heat your pomegranate juice on low until it is hot (but not quite boiling).

Turn off the burner and whisk in 1 tablespoon of gelatin until dissolved. After the 1st tablespoon has dissolved, add the 2nd tablespoon and again whisk until dissolved.

Spray your silicon moulds with a small amount of coconut oil cooking spray. This step is optional but highly recommended. The first time I made these, they were really hard to get out of the silicon moulds and many of them fell apart through the process. If you don't have cooking spray, you can also put your silicon moulds in the freezer once they have set and then they will pop out a bit easier.

Pour your pomegranate and gelatin mixture into a glass measuring cup.

Place your silicon moulds on top of a baking sheet or pan. This will catch any liquid that might pour over when you are filling the moulds. This will also allow you to transport them into the fridge more easily without spilling it.

Slowly and carefully pour the pomegranate gelatin mixture into the silicon moulds, filling them just up to the top with liquid. If you happen to run out of all the liquid, you can pour the additional liquid into muffin cups or even a small glass dish.

Transport your silicon moulds into the fridge and chill for roughly 2 hours. At this point, they should pop right out of the silicon moulds.

Store your pomegranate gummies in the fridge for up to one week.
Nutrition
Serving:
1
gummy
Calories:
4
kcal
Carbohydrates:
0.7
g
Protein:
0.3
g
Fat:
0
g
Saturated Fat:
0
g
Polyunsaturated Fat:
0
g
Monounsaturated Fat:
0
g
Trans Fat:
0
g
Cholesterol:
0
mg
Sodium:
0.7
mg
Potassium:
11.7
mg
Fiber:
0
g
Sugar:
0.6
g
About the author Tara Klippert
Tara Klippert is a Registered Health and Nutrition Counselor and holds a diploma in Holistic Nutrition and Health Coaching. She shares her gluten free, dairy free & allergy friendly recipes.